An Ultimate Guide to Convert Aol PFC to PST File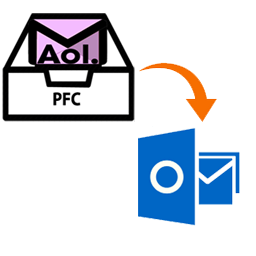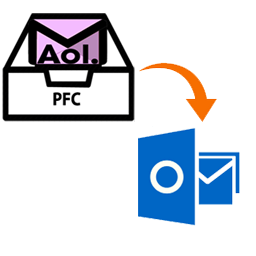 Want to Move AOL PFC to Outlook?
Know How to Convert AOL PFC File to PST Here
!
Accessing AOL Desktop Software emails in Outlook in an organized manner is not an easy task. Users have to convert emails from AOL Personal Filing Cabinet file to PST.
---
DISCOVER HOW TO PERFORM CONVERSION
METHOD TO TRANSFER AOL EMAILS TO OUTLOOK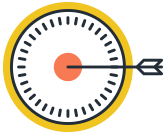 Challenge:
I have PFC file belonging to my previous accounts which hold many crucial emails. Now I am using MS Outlook application and I have an urgent need to move my old emails to MS Outlook application. How is it possible to convert AOL PFC file to Outlook PST?
Proposed Solution:
Examine the manual procedure to move AOL emails to Outlook PST file
Find a mode to perform conversion of multiple AOL emails to PST file
Use AOL PFC Converter to convert emails in bulk to Microsoft Outlook
---
Download AOL PFC Converter
Download the AOL PFC Converter and export your PFC files into various file formats. Click on the button below to start the downloading.
Download Now
AOL PFC Converter
---
Features of AOL PFC Converter
The AOL PFC converter tool is packaged with lots of advanced features. These are some of the key features embedded in the software: –
The Tool convert AOL PFC files to Outlook PST completely.
User can preview the emails items too during the process.
You are provided with the filtering option for AOL PFC files according to date range just in case if you want to convert certain items of PFC file.
The additional features emerged here is that the AOL PFC converter tool can not only convert PFC files to PST but also able to :-

Convert AOL PFC to thunderbird MBOX
Convert PFC to EML
Convert PFC files to MSG
Convert AOL PFC to PDF. Hence makes it an all-rounder AOL PFC File Conversion utility.

Moreover, not only PFC mails, the tool also convert AOL PFC attachments with email.
The PFC Converter is a standalone tool which does not require AOL installation to perform the conversion.
You are provided with the conversion's detailed report & latterly you can save the success count report in .csv format too.
Fully supports Windows 10 & below versions.
---
GUIDE TO CONVERT AOL PFC EMAILS TO OUTLOOK PST
Conversion via AOL PFC Converter
Below are the steps explain how to convert AOL PFC files: –
1. Download the software from above link and double click on the setup.
2. The next screen will ask you to add your PFC file. Click on Add File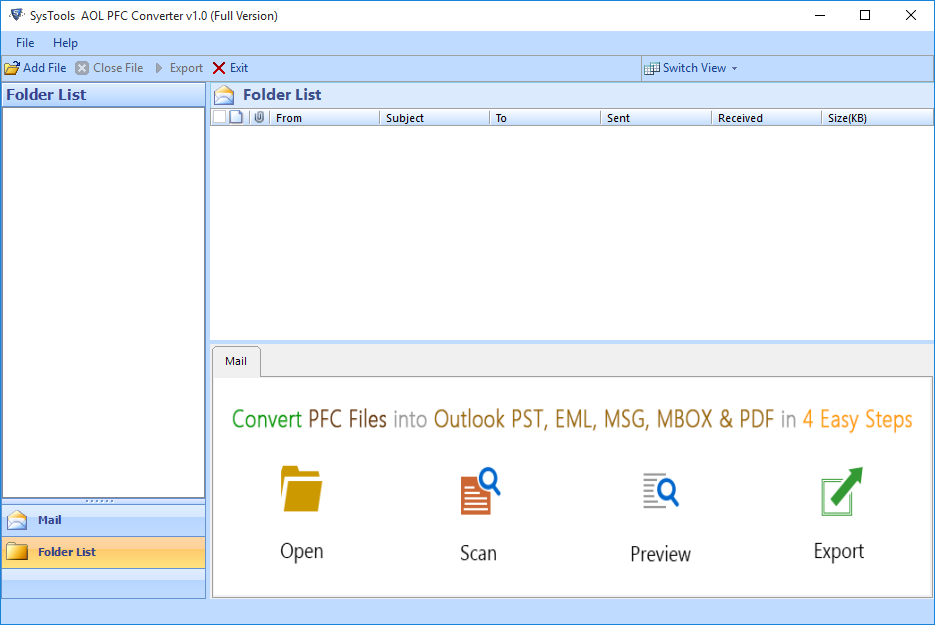 3. In the next step after clicking add option a box will pop-up asking for the path of PFC files in your system. Browse the path.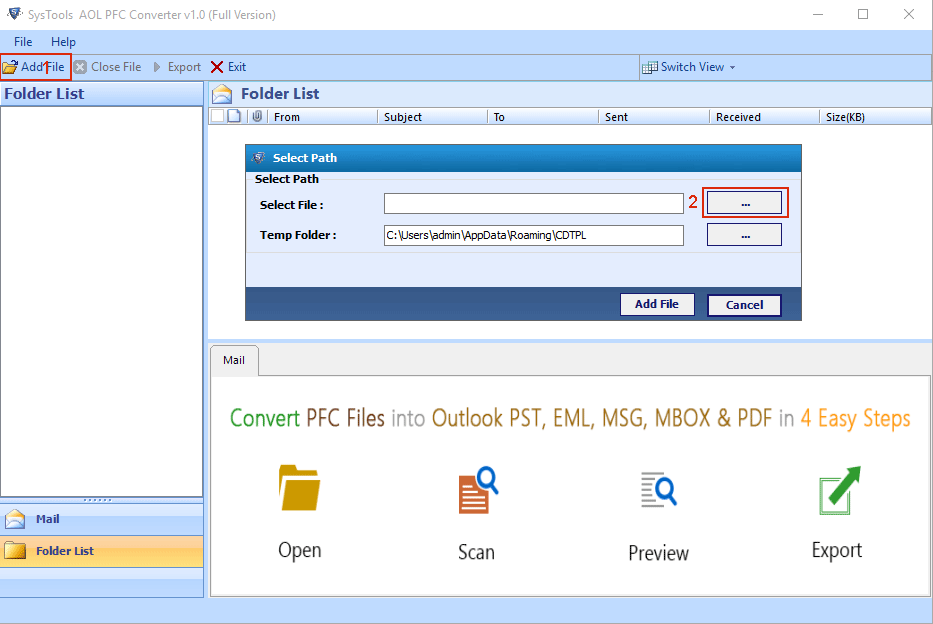 4. The AOL PFC converter tool auto scans your PFC data file. The scanning process takes only few seconds.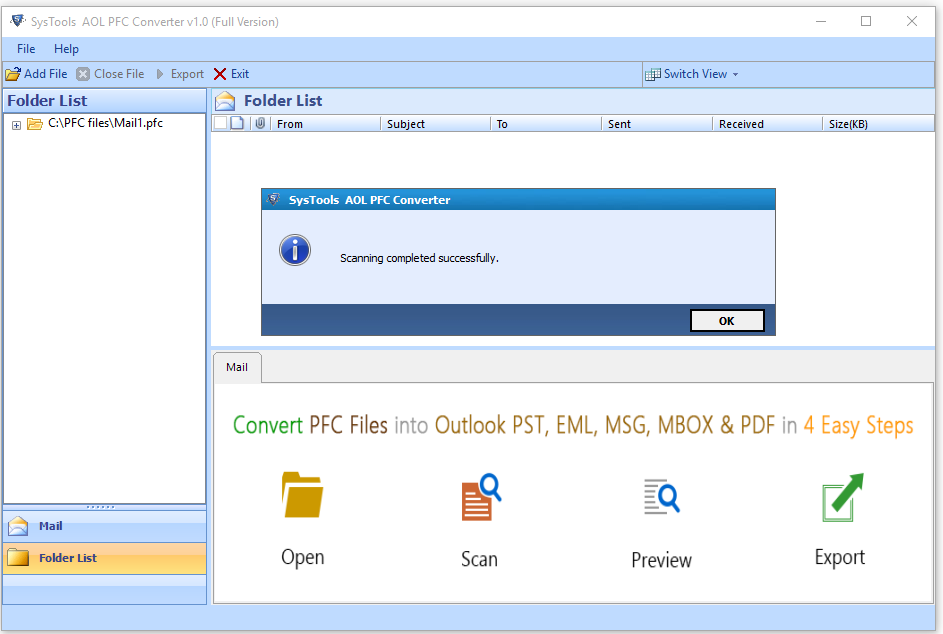 5. The next step will take you to your PFC file data, where your PFC file data can be viewed in hierarchical format, at left pane of the screen.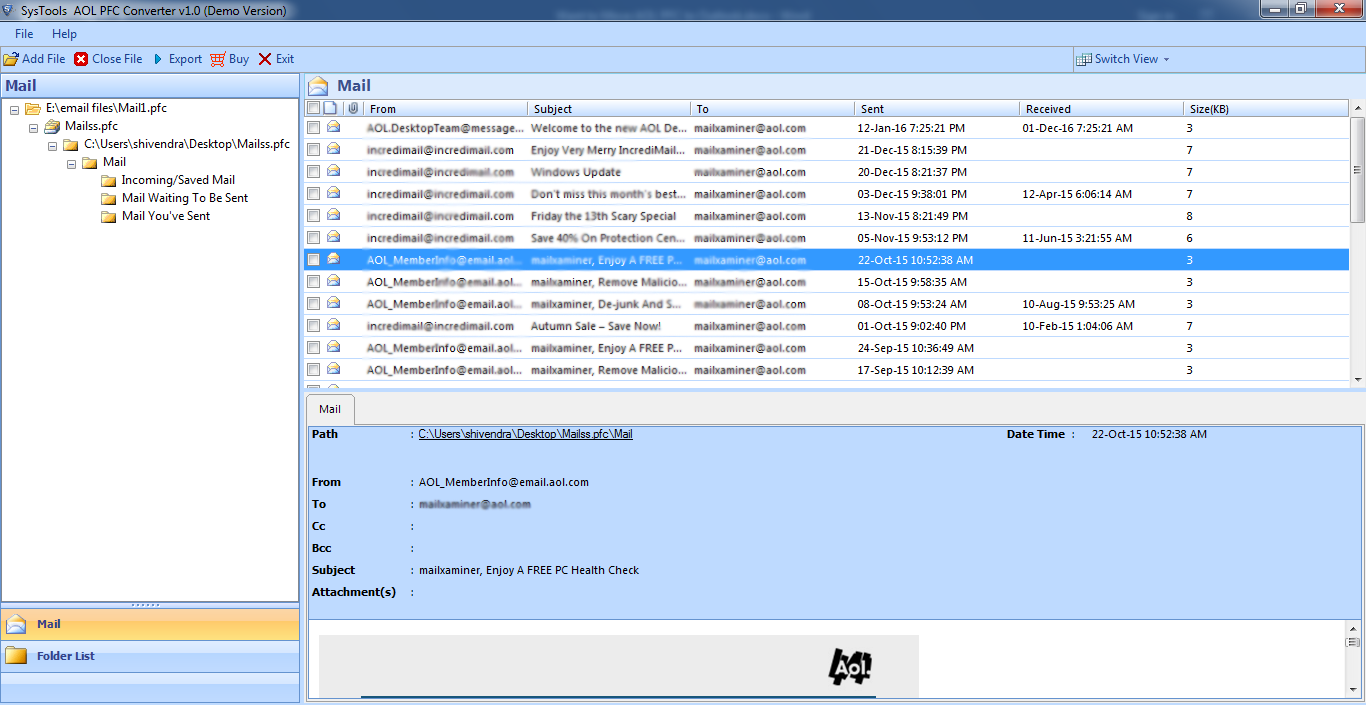 6. You can see the export format at the top left of your screen. This feature allows you to export AOL PFC file to Thunderbird MBOX, PST, PDF etc. formats. Now click on export option for processing to next step.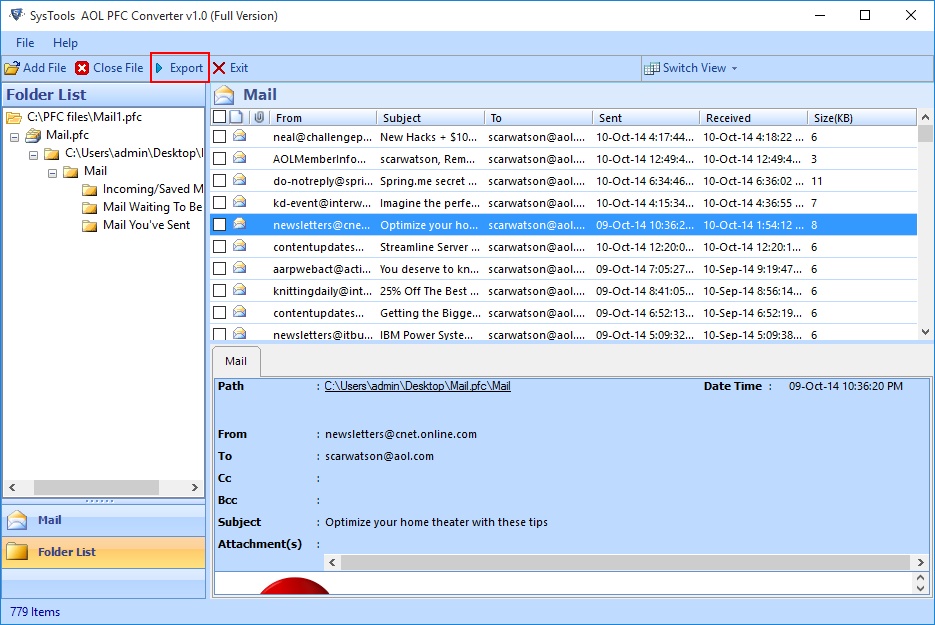 7. Export option will take you to the screen where various export formats, and PFC filtering options along with the customized destination location option resides.
8. The screen will ask you to choose specific file format for export PFC files into.
To convert AOL PFC to PST, enable the PST option, you will get the option of date filtration and also asks for a destination folder.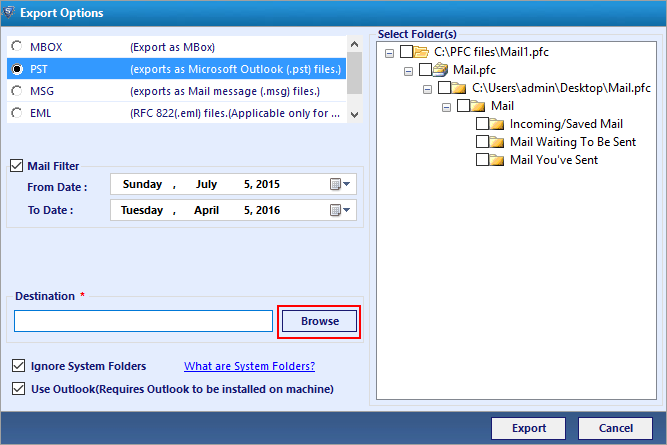 After applying the filters and providing a destination location by clicking browse, click on export option to start the PFC file to PST file conversion process.
9. The tool allows also you to convert AOL PFC to MBOX which you can access in Thunderbird latterly. Enable the MBOX option to do so.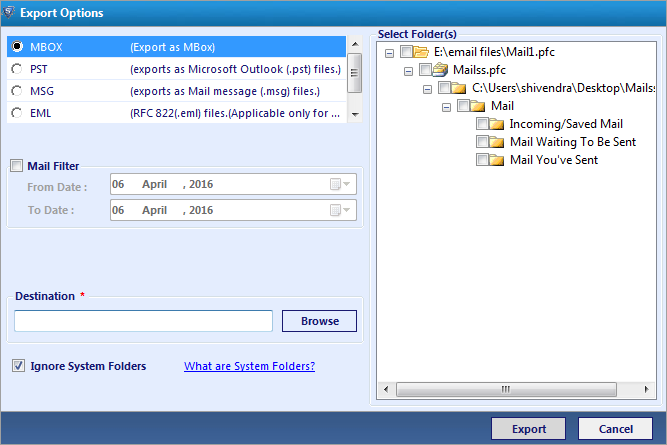 10. To convert AOL PFC file to EML, you are provided with the EML option in the scrollbar section. Enable the EML radio button to convert PFC to EML.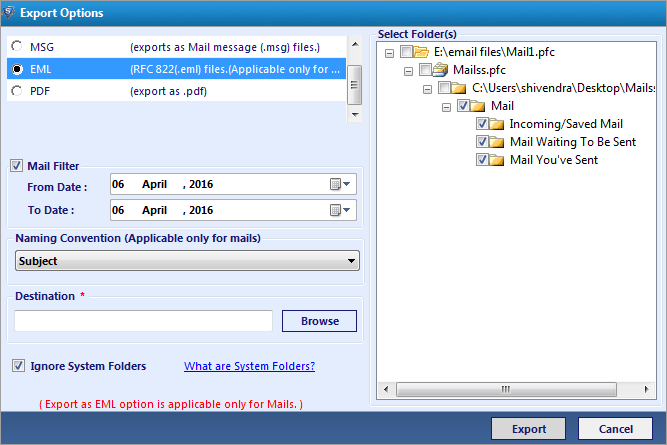 Moreover, you can rename the converted PFC files according to date, subject etc. with naming convention feature.
11. You can also convert AOL PFC to PDF, the utility allows you to export AOL email to pdf file format for user easiness. Enable the pdf option to do so.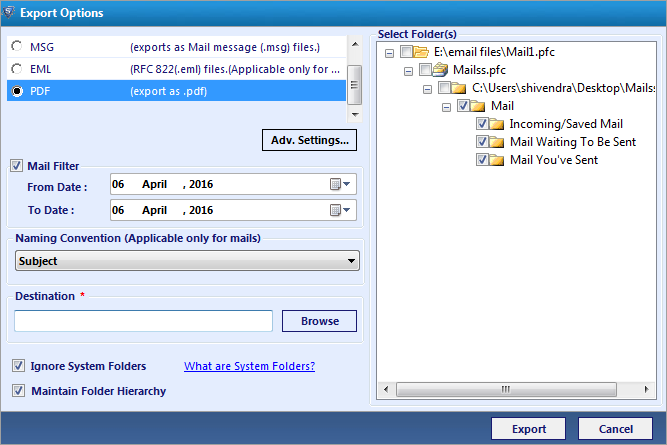 PDF option comes along with advance settings for PFC to PDF conversion. Click on advance settings and you will be asked for more specific details Margin from all sides of the pdf file you want.
What type of page orientation you preferred?
The size of page either A4 or letter etc.
The option is also there to include the message header of your PFC mail to PDF.
Save the settings then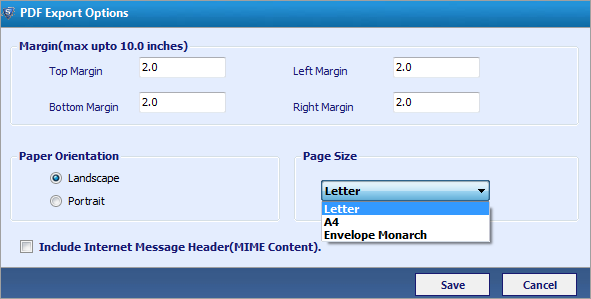 12. Now according to your need of conversion, Choose the options either you want to convert AOL PFC mail to MBOX/PST/PDF/EML/MSG. After clicking on export option the process starts and within few seconds your PFC file is converted into desired file format.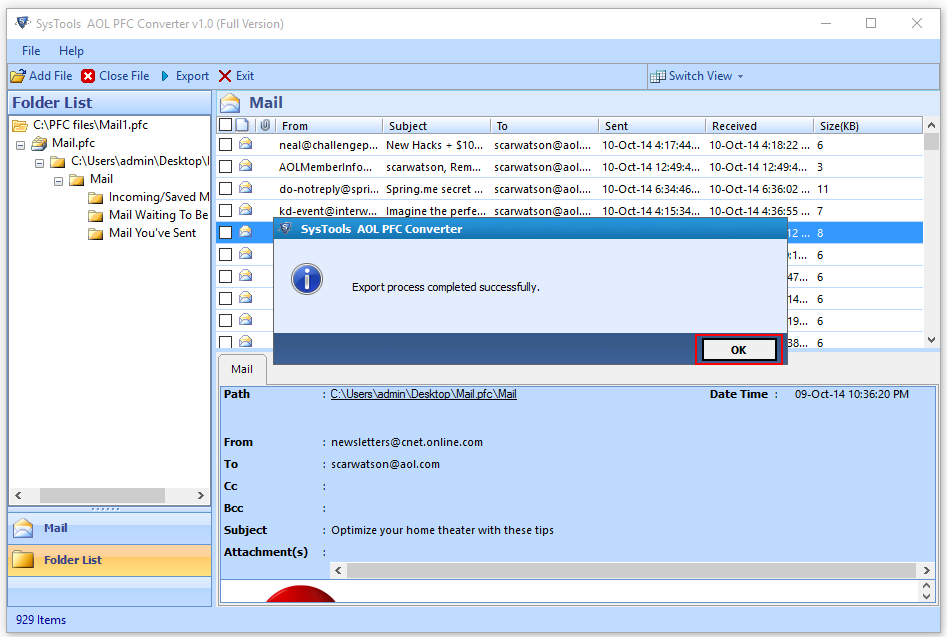 13. Moreover, you can see the auto generated report. It displays every file count.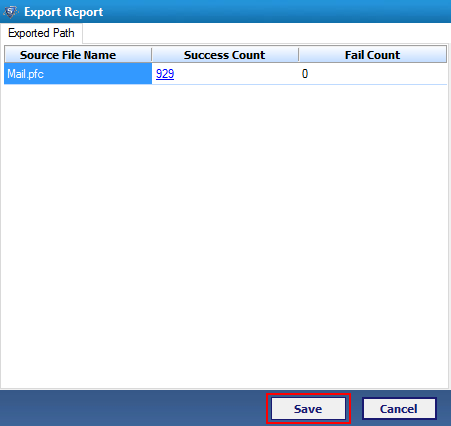 14. Latterly save the report in .csv format and read it anywhere in the spreadsheet, it's all upon your convenience.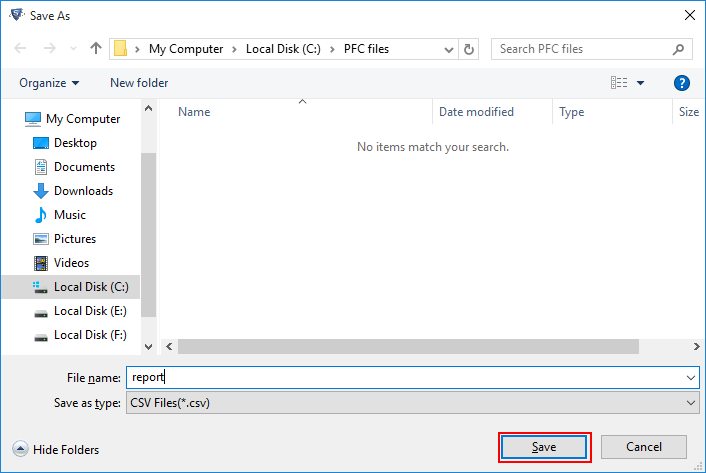 15. Now you are done with the processing and you have successfully converted AOL PFC files into different file formats.

Manual conversion
One manual procedure which fits the situation where there is a requirement of few email conversion from AOL Desktop software to MS Outlook application can be transferring emails of AOL Desktop Software directly. If the AOL Desktop software account is active in any system and all the emails are still stored in the account one can create a dummy account, configure it in MS Outlook application, and then send the selected emails from AOL Desktop software to Outlook application ID. And alternatively user can download the AOL mails by using AOL Email backup software which easily download email from AOL server to Outlook PST format.
In this way all the emails will be saved to the PST file of MS Outlook, this PST file is stored by default in following location (depending on the version of Windows and MS Outlook application);
C:\Users\admin\Documents\Outlook Files\Username.pst
This file can be copied from its location and then can be imported to other MS Outlook applications as well.
This method however is quite hectic if user has to transfer emails in bulk. Moreover if user has already extracted emails to PFC and deleted the AOL desktop software, the sending of emails will not be possible. This inconvenience can be overcome by using a commercial utility which is capable to extract AOL PFC file to PST.
After a thorough research, I came across a perfect and suitable PFC extractor which is capable to extract the AOL PFC file emails to Outlook PST file. This converter is designed to perform PFC to PST conversion without any hassle.
---
Upshot – AOL PFC converter
As the manual method is not so user friendly and often cannot ensure the complete secure conversion also, you should opt for an automated reliable converter tool in such cases. The AOL PFC converter tool here fits perfect because it an automated reliable and user friendly interface.
As the utility converts AOL PFC to Outlook PST, PDF, MBOX, EML & MSG, but not only the mails also export the attachments in their inherent format. This standalone tool doesn't need any AOL installation to convert PFC file. The profound features like naming convention, date filter, advance settings along with these different export formats makes the AOL PFC converter tool a powerful utility among its kind.
---
Watch Live Video
Working on something is much easier if you have a live example explaining you the whole procedure counting in the particular process, Hence here is the live demo for you.Watch the live video explaining about how to convert AOL PFC mails into different available formats (mentioned above) step wise.
Reference Web Page: https://www.systoolsgroup.com/aol-pfc-converter/