Convert MAB To CSV: Get to Know About Different Approaches
Manual & Automated Tips to Export Thunderbird Contacts as CSV
Introduction
Nowadays, there is a most widely used email application available in market i.e., Mozilla Thunderbird. It is a free and an open source email service developed by Mozilla foundation. Users can create their profile on Thunderbird and each profile stores emails, contacts, and other information in it. Since this application is desktop-based therefore, it stores the file on the local machine in some specific file format. Well, Thunderbird saves its contact items in a MAB format. This file format can only be accessed by using Thunderbird. However, it is not possible that each and every user around the world is having Thunderbird, therefore, there is a need for some common file format which is easily supported on all computer systems. Therefore, we had decided to convert MAB to CSV format because this file is easily supported on all Windows OS.
About MAB And CSV File Format
MAB is an address book which stores records of all contacts in various email applications like Mozilla Thunderbird, SeaMonkey, Netscape etc. It stands for Mozilla Address Book and is mainly of three types: Personal address book, collected address book and imported address book. Personal and collected address book are visible but, imported address book are hidden file. There is always a need to install a driver to open MAB file on systems
On the other hand, CSV stands for Comma-Separated Values. It is a simple file format used to store data in a tabular form such as database or spreadsheet. CSV files are supported by computer programs like Microsoft Excel, Google Spreadsheets, or Open Office Calc. It is very easy to import and export data in CSV file format.
Need To Export Thunderbird Contacts To CSV File
Apart from Thunderbird, Mozilla address books can not be easily opened by any other computer program. Therefore, there exists a need to convert MAB file into CSV format for operating address books on any another application of the machine. In addition, the another reason for exporting MAB to CSV might be backup creation of Thunderbird address book.
Solutions To Convert MAB To CSV
There are mainly two methods to export Thunderbird address book to CSV file. First is manual method and second is automated method, which uses third party utility like MAB converter. Following is the description of both these methods to import MAB file to CSV:
MAB to CSV Conversion By Using Mozilla Thunderbird
Go through the following set of instructions to perform conversion using Thunderbird:
STEP 1: Firstly, open Mozilla Thunderbird application on your machine
STEP 2: Click on Tools and then select Address Book from context menu

STEP 3: An Address Book window gets to appear on your screen from which you have to select the address book which you want to save in CSV file format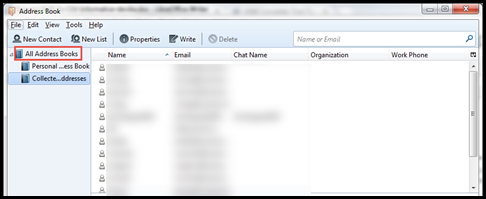 STEP 4: After that, click on Tools and then choose Export option from provided list

STEP 5: In the current window i.e., Export Address Book browse towards the desired location where you want to save your file. For example, I have selected E drive to save file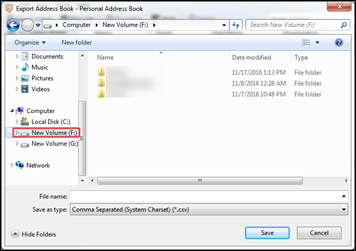 STEP 6: Now write the name of output CSV file in File Name and then select .csv file format from drop down list that appears in Save as type menu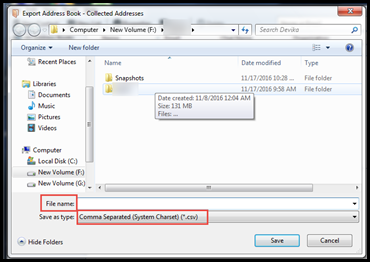 STEP 7: Now click on Save button. After clicking on save button the file will be saved to the location, where you have browsed in Step (4)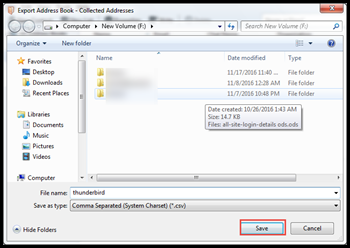 STEP 8: Now minimize or close currently opened windows and then navigate towards the location, where you have saved CSV file. Here, you can see your converted CSV file.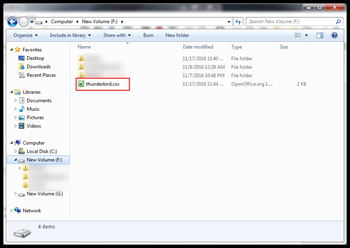 Limitation Of Manual Method
There is a need to install and configure Mozilla Thunderbird on your machine to convert MAB address book to CSV with help of manual trick. Performing MAB to CSV file conversion using Mozilla Thunderbird, a user can face the problem of data loss with it.
An Alternative Approach To Convert MAB File To CSV
The approach will overcome the limitation of the manual method by making a right selection of a third-party utility i.e., MAB converter tool as an advanced solution. It is third party utility, which can be considered as an automated means to convert MAB To CSV. This software includes the following steps of conversion:
Firstly, Download and install MAB Converter tool on your machine
After installation, launch the software and go to Start>> All Programs. Now click on MAB Converter Software
Go to File and click on Open to add MAB file
Now select the CSV file format among different options available on current window
After that click on the Export option which appears on the top of the software screen
Then, choose the desired location on your machine to save CSV file
Conclusion
Well, in this post we have described two approaches to convert MAB to CSV. The first approach involves conversion using Thunderbird application itself and the another solution is MAB Converter tool. This software provides ultimate features to migrate contacts from MAB to CSV file without any complications.Get to Know About Different Approaches To Convert MAB To CSV file without any complications.