An Effective Solution to Convert MAB to vCard Without Any Hassle
MAB to VCF Conversion: Exporting Thunderbird Contacts to vCard
Introduction
In today's date, Mozilla Thunderbird is one of the most widely used email application. It is so because this program is absolutely free of cost and works even in absence of internet. Like other desktop-based email clients, it requires the internet only for downloading emails from the server and then, the application saves entire Thunderbird emails on the local machine. Apart from emails, the Thunderbird software also provides the feature to manage contact list into it. The file generated on a local machine to store contacts of Thunderbird is in MAB i.e., Mozilla Address book format. Therefore we need to convert MAB to vCard file and in this article, we'll learn the same with the help of the below described simple procedure. Let's start with the introduction to MAB and vCard file.
What is MAB and vCard/VCF File?
MAB is an address book format, which is created by Thunderbird, SeaMonkey, older version of Netscape, and other Mozilla mail programs. This file comprises of complete contact information within it, with different attributes like names, email addresses, and phone numbers. It is used to manage personal as well as enterprise contacts. Well, address books are considered as a vital part of Mozilla mail applications and there are following three main types of MAB file:
abook.mab: By default, this file is considered as personal address book of Mozilla Thunderbird, which stores contacts within it.
impab.mab: It is used to archive imported contacts or address book.
history.mab: This file maintains the history of entire addresses.
vCard file (also known as VCF) is a standard file format for e-business cards. These files are imported to electronic and portable devices for viewing contacts in them. The devices may be iPhone, Android phone, Smartphones, etc. Moreover, these files are used for sharing multiple contacts in one file via email or any other communication means. vCard files are generally attached as an attachment in email messages, but can only be exchanged through the internet server or instant messaging. There are many applications/devices (like android, Outlook, iPhone, etc.) around the world, which supports vCard file format.
Need to Convert MAB to vCard file
There are several requirements to convert Thunderbird address book to vCard and they are as followed:
Access Thunderbird Contacts on Several Platforms: For operating contacts of Mozilla Thunderbird on any other platform, there exists a need to import MAB file to VCF. This will help users to access Thunderbird contacts in Outlook, Gmail, iPhone, etc.
Means to Create Backup of Thunderbird Contacts: The another reason to export Thunderbird contacts to VCF is to have a copy of Thunderbird address book on a local machine. One can also migrate from one computer to another, which is not having Thunderbird installed in it.
Possible Ways To Convert Thunderbird Contacts To vCard
There are following two ways for MAB to vCard conversion:
Exporting MAB to vCard Through Mozilla Thunderbird Inbuilt Features
1. Launch Mozilla Thunderbird application on your machine
2. Go to Address Book button of the Thunderbird program and select the folder for which you want to export contacts in vCard file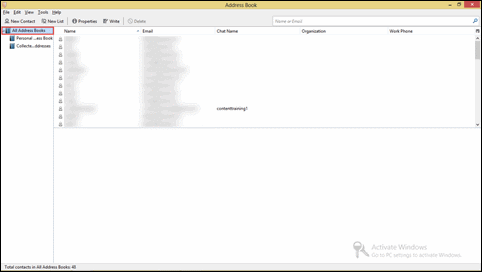 3. Go to Tools >> Export for launching export window of Thunderbird on your system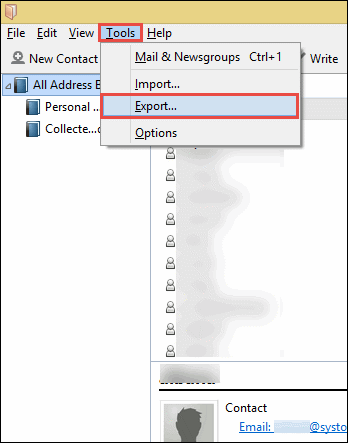 4. In current window, browse towards the location where you want to save vCard file and then mention VCF file name in File name field
5. After mentioning file name of vCard file, click on the drop-down button of Save as type and then choose vCard option from it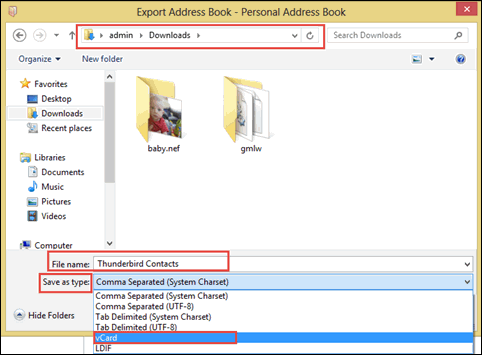 6. Click on Save button and then on Cancel button (on current window) to proceed further
7. Close or Minimize current window of the computer screen and then go towards the location where you have saved the file in Step (5). Here, you will find your desired vCard file and then you can further accomplish your task
Export Thunderbird Address Book to vCard using MAB Converter Software
There is a limitation of manual strategy that it is mandatory to have Thunderbird installed on your system. The above-mentioned procedure fails when your machine is not having any Mozilla application installed in it. Therefore, there exist a need to have an independent approach which converts Thunderbird address book to vCard. One such approach is MAB to vCard Converter utility that effortlessly converts Thunderbird MAB to vCard file. The procedure for converting Thunderbird contacts into VCF file format is given below:
Download and install MAB converter software on your machine
Launch MAB to vCard Converter and then go to File >> Open to browse MAB file
Move towards the location where MAB file is saved and then click on it
Now click on Export button of MAB converter software window, available on top of the screen
Navigate towards the desired location where you want to save resultant vCard file
Conclusion
In order to transfer Thunderbird address book to iPad or any other electronic device, there exist a need to convert MAB file to vCard. Here, in this post we had discussed all possible ways by which one can easily convert MAB to vCard file format.