3 Simple Tips to Edit the Secured PDF

Tips to Edit Secured PDF
Simply by Using a little trick, we can easily edit any PDF and use it for further optical character recognition and editing. Sometimes various edits and comments to the documents are needed to make it more interactive or maybe we need to extract some Images from a PDF file. Unfortunately, sources from which we acquire our PDFs, some of the files are secured, which leads to no changing or editing can be done in the document because of content-integrity.
---
Let's assume the following Scenario:
As a query generated " I have 20,000 worksheet in PDF format and they are scrambled. But I have to edit the worksheet and image in PDF. Because I have to send the worksheets and get it filled, but they can't be edited because of document restrition rights are enabled, so how to get it done?"
Thinking the solutions to edit secured PDF
We can get it done by 2 different simple methods. Whichever suits us we can adopt:
By using Adobe Acrobat
By using Google Drive
By using SysTools PDF Unlocker
First Solution: By Using Adobe Acrobat
Click on the "Touch up Objects" tool on the right end of the Advanced Editing toolbar.
Then click on the image and then on "Edit image" This will open the image in Adobe Photoshop, and will also automatically update the image in Adobe Acrobat.

After Editing the image we have to edit the order of the pages of the worksheet. To do this, click on "View" then to "Navigation Panels" and then "Pages".
Now the Next task is to Edit the text in the PDF. Click on the "Touch up Text Editing" tool located on the Advanced Editing toolbar. Then, click on the text and make the changes you want.

Now "Save" the file.
Second Solution: By using Google Drive
Go to www.Google.com
Search for Google Doc and open it.
Drag and Drop the file you want to edit.
Wait until uploading and it will be displayed in the drive as shown in the fig.
Right click on the File and choose the file to OpenWith the Google Docs
Now, the File would open in New Tab and you can Edit it in the way you want.
Third Solution: By using SysTools PDF Unlocker

Conclusion
By using any of these solutions we can edit the text, Image and  arrange the  PDF even in scrambled form. This article completely describe the solutions and tips to Edit the Secured PDF. SysTools PDF Unlocker has following features: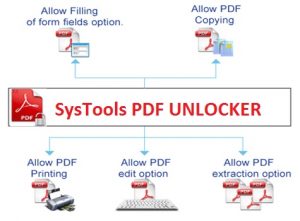 Remove PDF file restrictions: Printing / Copying / Editing / Extracting text
Supports Unlocking the PDF file from Owner Level password security
Adobe Acrobat Installation is not required to remove PDF file security
Supports Adobe Acrobat 9 & below versions with 128/256 bit encryption
Unlock PDF File in Batch with Business or Enterprise License
Does not recover or remove restrictions from corrupt PDF files
Compatible with all Windows versions: Win 10 & all below versions