Exchange 2010 Restore Deleted Mailbox Folder in 3 Simple Steps
Have you deleted a mailbox folder in the Exchange server 2010 database, that your organisation is using? And now you want to restore mailbox database in Exchange. Read this blog in details to know about the Exchange 2010 Restore Deleted Mailbox Folder in a proper manner.
Reasons to Deleted Exchange Server Mailboxes
When a user account that is email-enabled is deleted from the Exchange active directory or if a mailbox is deleted with the use of Exchange management console. Then, the deleted mailbox is retained as a disconnected mailbox. It is according to the mailbox retention setting. Users can reconnect mailbox to the original or another user account if the same is necessary.
Points to be Noted
The mailboxes that have been deleted can or cannot appear as a "Disconnected Mailbox" immediately they have been deleted. Before the mailbox is marked disconnected, it can take about 15 minutes an hour.
It is possible to connect a disconnected mailbox with user account, if the account does not have a mailbox to associated with it already.
Connecting Disconnected Mailbox in Three Different Ways
The disconnected exchange 2010 mailbox can be connected in different ways such as Exchange Management Console (EMC), Exchange Management Shell (EMS), and also third party Exchange recovery application.
Technique 1: Connect Disconnect Mailboxes Using EMC
To restore the Exchange mailboxes with the help of EMC you need to execute certain steps that are as follows:
Step 1: First, you have to open EMC
Step 2: Now, in the dialog box, expand Recipient Configuration node and then choose the Disconnected Mailbox node present under it.

Step 3: You have to click right on the mailbox that has to be recovered and then hit on connect to Exchange 2010 Restore Deleted Mailbox Folder.
Step 4: Now, select the Mailbox Type into the connected mailbox, after that click on Next.
Step 5: In the next step, from Mailbox Setting in Connect Mailbox dailog box choose the Existing User and further hit on the Browse tab to restore mailbox database Exchange 2010.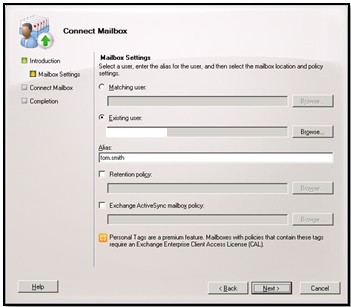 Step 6: Now, from the Select User dailog box select the user account which is connected to the mailbox. Then, hit on OK button
Step 7: In Alias box, put the mailbox name and hit on the Next.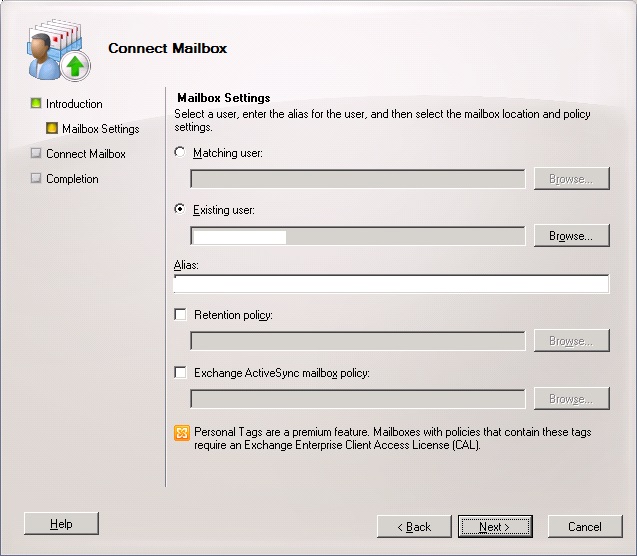 In this way by following the above mentioned steps the user can connect disconnected mailboxes using EMC.
Disadvantages to Connect Mailboxes Using EMC
1. This is very time consuming
2. It requires the good technical knowledge
Technique 2: Connecting Disconnecting Mailbox with EMS
The another way to connect the disconnected mailbox is EMS. Here users need to use the Set-Mailbox. The syntax is as follow: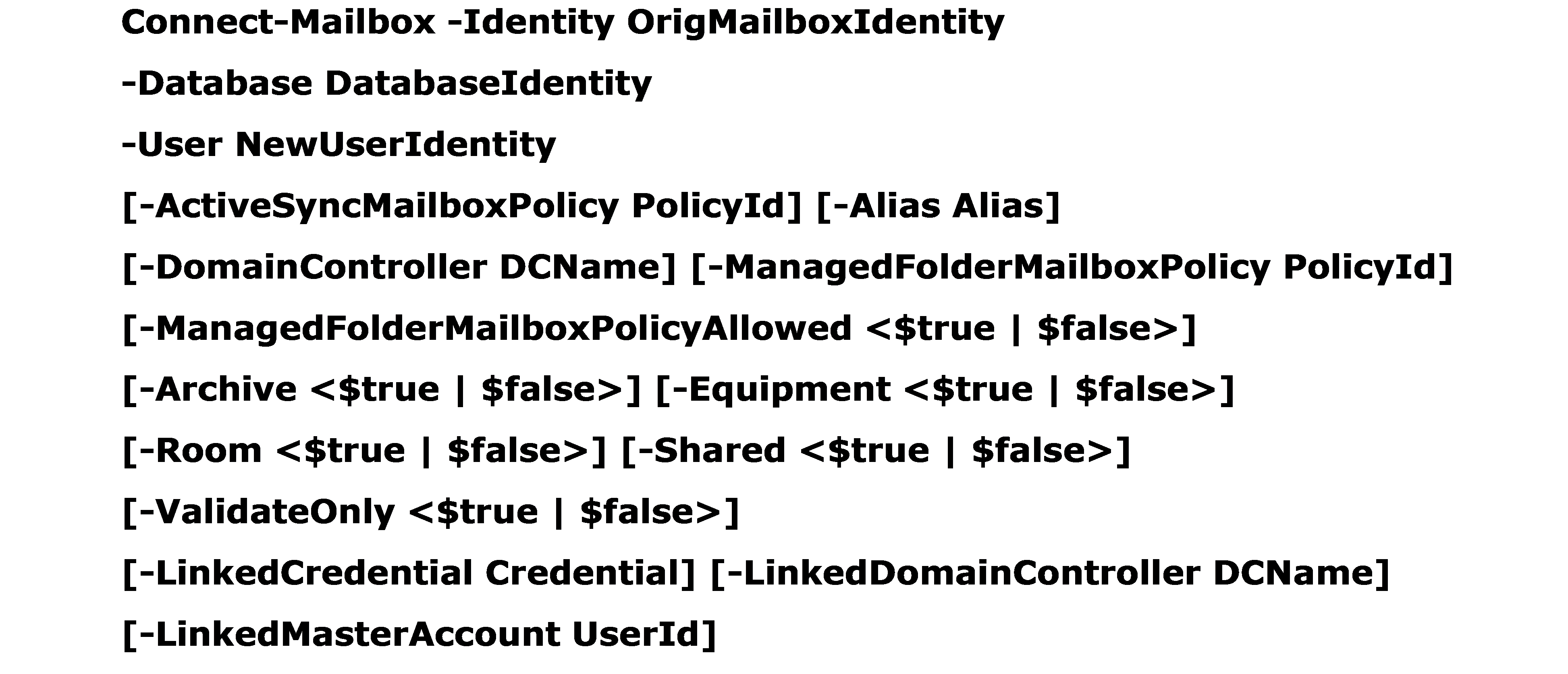 With the help of this above mentioned syntax, users can connect disconnected mailboxes to restore email on Exchange 2010.
Disadvantages of Connecting Mailbox with EMS
1. It is not provide the 100% oriented results
2. Need experience and technical knowledge to execute the process
Technique 3: Exchange 2010 Restore Deleted Mailbox Folder Using Third Party Tool
The perfect way in which users can restore their deleted mailbox in Exchange Server 2010 i.e., alternative solution. However, the difficult task is selecting one of the best from the plethora as such applications available in the online market. Furthermore, to make the task easy for users it is suggested that SysTools Exchange Server Recovery utility to recover deleted or disconnected mailboxes. Apart from this, software is having some other benefits, which are mentioned below:
Why Choose EDB Recovery Tool?
Users should go for Exchange Server Recovery program because it-
Support to recover deleted emails from Exchange mailbox
Export by category Contact, Calendar, Mail, Task, Journal, etc.
Maintain folder hierarchy during the Exchange recovery process
Compatible with Exchange server 2019, 2016, 2013 or below versions
Repair Exchange Public or Private both folders (Priv.edb, Pub.edb) & STM Files
Working Method of Using Exchange Recovery Application
Step 1: Download and install the software to Exchange EDB file Recovery  and Click the "Add File" button to select single or multiple dismounted Exchange mailboxes.
Step 2: Now, you can preview all the mailboxes in an EDB file.
Step 3: Then, choose the "Export" option to transfer the all selected emails to restore mailbox database Exchange 2010.
Step 4: After selecting the export option choose from with multiple export choices such as Export As PST/ EML/ MSG/ PDF/ HTML/ Live Exchange.
Export as Outlook PST
Step 5: Hit on the PST radio button to "Export" the EDB files to Microsoft Outlook PST format.
Step 6: In the next step, it will show Advanced Date Filter option user can use this according to their need. Now, hit on save button to save the setting.
Step 7: After choosing the file formats or saving the setting a dialog box appear. Then, click on the OK button for Exchange 2010 Restore Deleted Mailbox Folder.
Step 8: Now, click on the "Browse" button to select the location of destination folder.
Step 9: Choose the desired location or you can also create the new folder to save the exported files. Hit on OK.
Step 10: After this, you can see the path of the file. Now, click on Export button.
Step 11: Export process will Start and it will show the exporting folder along with number of items and destination path.
Step 12: After this, export report pops showing the details of the exported mails along with source file name, fail or success count also. Click on the Save option for successfully saving the CSV report in your system.
Cessation
All possible measures to restore mailbox database Exchange 2010 are described in this blog. However, their are chances where these approaches might fail, therefore, here is third party tool for Exchange 2010 Restore Deleted Mailbox Folder. This alternative solution is Exchange Recovery Software, which provides a graphical user interface mode to either restore deleted mailbox folder from an EDB file and save it in any of the desired file formats.