Gmvault Alternative
Alternative of Gmvault to Overcome its Drawbacks
"I am glad that we have a free software like Gmvault available to copy Gmail emails to hard drive. Thank you for making this tool but, I must mention that I don't understand how to use this software. My motive is to save multiple Gmail account emails to my PC. Could someone guide me how to do this or suggest me a Gmvault alternative to backup Gmail account offline? I have installed and configured both of my Gmail accounts. What should I do after this?
I have gone through "Quick Start page" but it is not what I want as I am trying to transfer two Gmail email address data. Still, I typed the command given in the Quick Start section but it doesn't work and gives the error that it cannot find the specified path.
Thanks for any relevant suggestions."
Apart from the user query mentioned above, there are many scenarios where users face problems when they use Gmvault. This blog is aimed to discuss most common Gmvault errors that are faced by the users and to suggest a Gmvault alternative to extract email from Gmail account.
Why Users Want a Gmvault Alternative?
Some Gmvault issues that the users are facing are as follows:
Query #1: "I have set up a Gmail account with 3500+ messages. I did initial sync with Gmvault. When I do a full sync, it takes about 8 minutes and 30 seconds to complete the sync process. Even after I just did a sync earlier, it still takes 8 minutes for Gmvault to understand that it has nothing to do.
The condition becomes worse when the size of the Gmail account data is increased. On my main account with 75546 emails, Gmvault takes over 8 hours to sync.
Please suggest a Gmvault alternative tool. I do not want to use Gmvault. Thanks in advance."
Query #2: "I am receiving this error : Received an IMAP abort error.
This is quite frustrating as even after following all the steps correctly, I still get this error.
Please guide me on how can I resolve this Gmvault abort error. "
Query #3: "I left my Gmvault to extract my emails up overnight. I have around 1,11,978 emails in my Gmail and it showed estimated time as 18-19 hours. When I checked the status in the morning, it had failed with an SSL timeout exception. It seems that this error of Gmvault timeout occurred because there was a problem with the network connection as there were several alerts about not being able to contact the Gmail servers. Please help me as I want to transfer Gmail emails to my desktop urgently.
Thanks"
Query #4: "I am unable to save multiple Gmail account emails using Gmvault. Please suggest me a substitute to Gmvault."
Query #5: "I want to transfer Gmail contacts to VCF file format. Please help me how can I do that using Gmvault. If this is not possible with Gmvault software, is there any other automated way that would help me do this?"
Gmvault Errors
Looking at the above user queries we can deduce the following issues of Gmvault that made the users search for Gmvault alternative:
1. No User-Friendly Interface: as the interface is command prompt based so non-programmer users face difficulties in using Gmvault. See the following images of the User interface of Gmvault: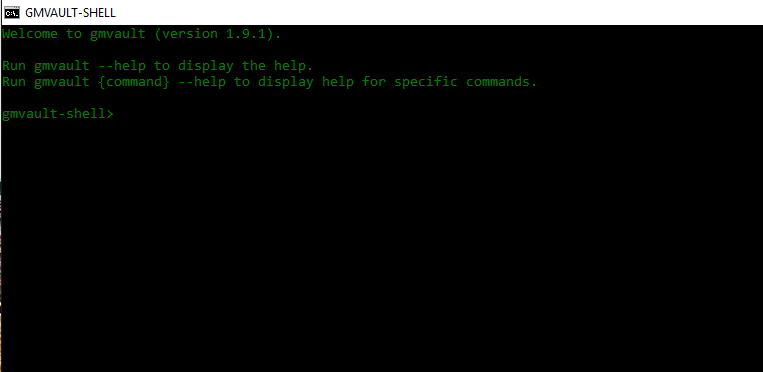 2. Gmvault Slow: It consumes a lot of time when we have a large number of Gmail emails.
3. Gmvault Abort Error: It shows this error when there is some error with IMAP settings or email configuration settings.
4. Gmvault Timeout: This error occurred when the network connectivity failed & there was no option to resume the process even when the network was connected.
5. No Multiple Gmail Accounts Data Transfer: There is no option to save multiple Gmail user account emails to a computer.
6. Cannot Save Contacts & Calendars: Gmvault only gives the option to extract email from Gmail account and does not provide any option to save Gmail contacts or calendars.
An Efficient Gmvault Alternative
As we can see above that Gmvault has various shortcomings. The users can not compromise on these issues and hence they should try a substitute program of Gmvault.
Let us explore about a Gmvault alternative tool that helps us in overcoming the shortcomings of Gmvault.
Note: This application is recommended on the basis of excellent customers reviews & features.
Why should we use this software as a Gmvault Alternative?
This tool has a user-friendly UI which allows the user to use and save their Gmail account data efficiently. The following is the screenshot of the User interface of this tool: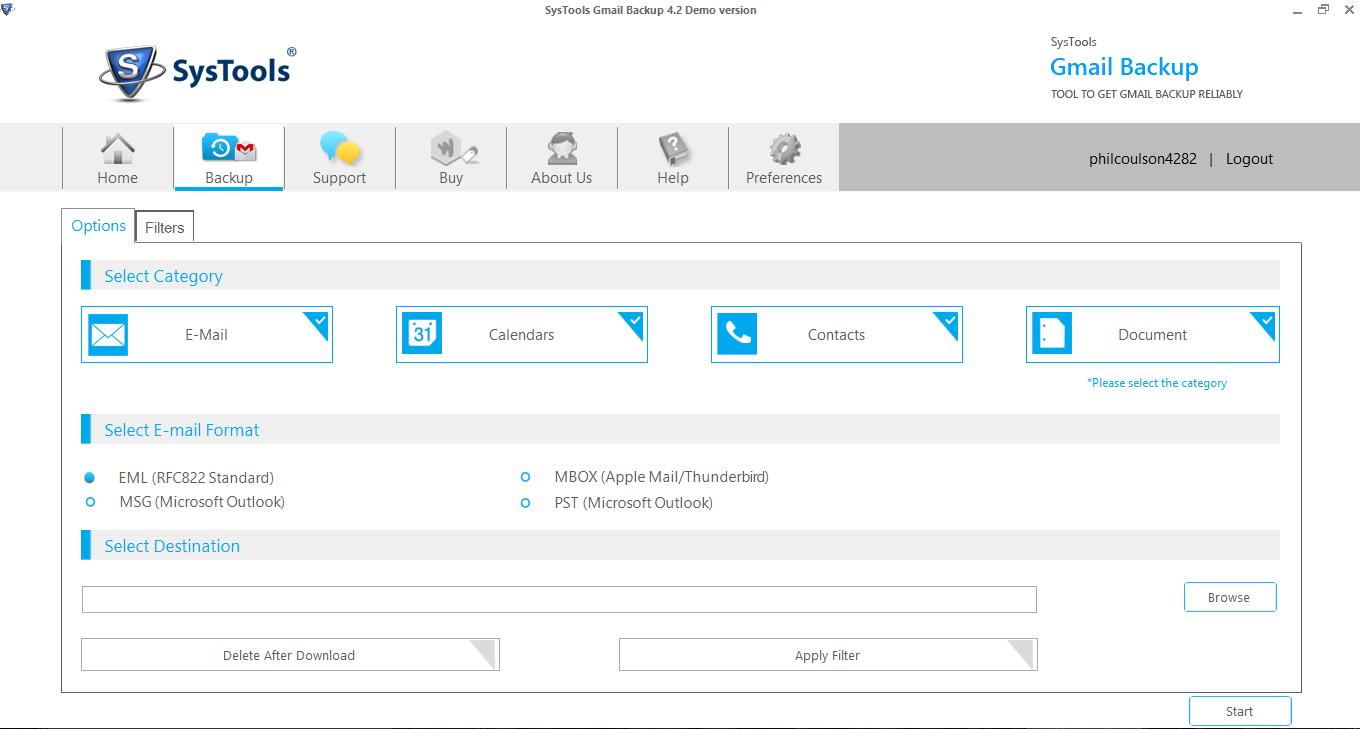 This application is fast and reliable as it gives options to manage internet bandwidth.
Once you enter your email ID & password, you just need to select the data items you want to extract and you are good to go.
You can resume transfer process from where it stopped even if the internet connection is lost. So we can say that this application provides uninterrupted facility to save Gmail account data.
This Gmvault Alternative tool provides an option to save single as well as multiple Gmail user account data to their local drive.
Another plus point of this software is that; It provides an option to migrate Gmail calendar to ICS and Gmail contacts to VCF files.
You can migrate Gmail emails to PST, MBOX, MSG or EML file formats which can be accessed on Outlook, Thunderbird, Outlook Express, Mac Mail, etc.
This utility also saves your email attachments and keeps the formatting of the Email & its meta attributes intact.
Conclusion
In this blog, we have discussed that why users look for a Gmvault alternative, the errors of Gmvault, a tool that is much more efficient and easy to use as compared to Gmvault & the features of this tool.
We can hence conclude that the users are frequently facing multiple errors when they use Gmvault; Hence a Gmvault alternative software can be used by the users in order to achieve the following:
Migrates single or multiple Gmail account data.
Extracts contacts & calendars from Gmail account to your hard drive.
Keeps formatting of the emails & meta attributes intact
Consumes less time
Note: It is suggested to use the trial version of this Gmvault Alternative tool before investing money on this software.