Google Takeout Viewer Software
Are you using Gmail Application to send and receive emails from now you have to take a backup of your data via Google takeout but from now can't access and view Google takeout file? After that, you are finding a solution for Google takeout Viewer?
If yes then here is the best and free solution to view Google takeout files.
As we all know, Google Takeout is an application that allows you to export data from your Gmail account. The MBOX file type also saves the data from Gmail.
If your system will not have an email client that supports MBOX, then will be unable to access the files.
So, there are two ways to get Google Takeout data: first, install and configure an email client on your platform that supports MBOX files.
And second, read Google Takeout files with a free MBOX file viewer. Today, this is discussed in great detail.
User Query for Google Takeout Viewer
"Hey, I uncovered some files I had exported from Gmail 5 months ago using Google Takeout when wiping my laptop. However, I have no clue what details that file contains. So, can you tell me how I may access Google Takeout data on my laptop?"
Method 1: Manually view Google Takeout Files  
Firstly, download your mailbox mails using Google takeout.
Secondly, it provides you with the data in the ZIP file.
Google Takeout's components should be extracted.
Get the Google Takeout File in MBOX format by opening the Mail folder and getting the Mailbox.
Step 2: Download MBOX Supported Mail client
Firstly, download the Mozilla Thunderbird mail client.
Secondly, Import the MBOX file into Thunderbird.
Finally, you can view the Google Takeout file.
Manual Method Drawback
Then, to import the Google Takeaway data into your chosen email client, you'll need some technical know-how.
So why bother when you can just open Google Takeout with a free Google Takeout viewer?
Method 2: Automated Method to Access Google Takeout File
This Free MBOX Viewer software is a one-stop shop for all of your problems. You may quickly open takeout files in any cloud-based email account or read them by Google Takeout Viewer files into numerous easy-to-access file formats with this tool.
This tool is completely automated, and it just takes a few minutes to produce takeout files for simple viewing. Take a look at the following:
Step-by-step Method to Using Google Takeout Viewer
Download and Run the software in your os.
Now, add your MBOX file to your software via Add file/Add folder option.
After uploading the MBOX file you can get a complete Preview with attachments of your data.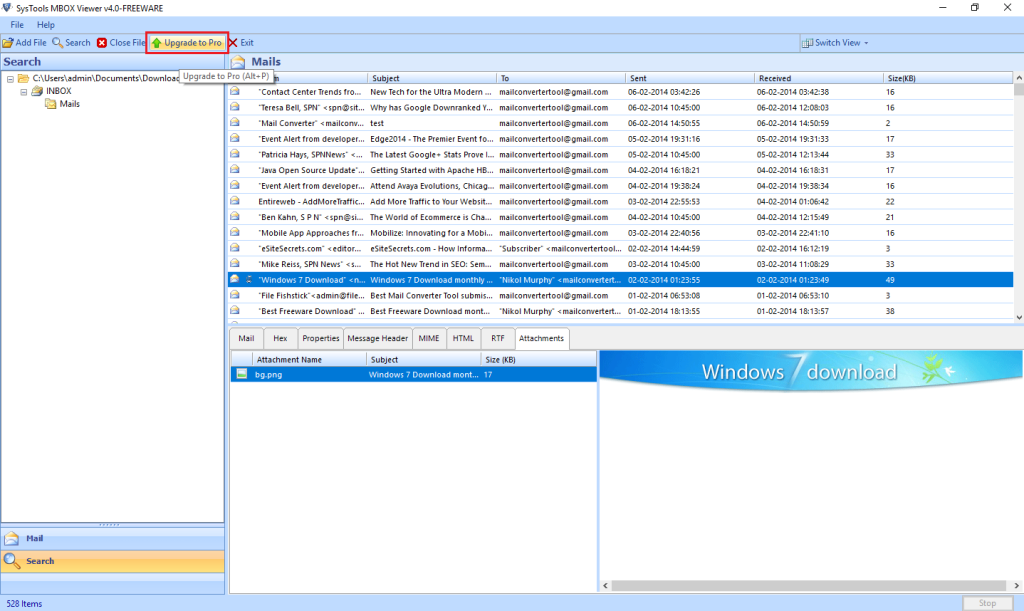 Note: If you want to print, edit, and export then you have to go with the upgrade version.
The Useful Features of This Tool
Individual Google Takeout Viewer file attachments can be accessed by this software.
The software's search tool allows users to look for individual emails by date, from, subject, and received date.
Users may save Google Takeout files as PDF, CSV, HTML, or TXT files, with all email properties included.
This wizard has a user-friendly style for both technical and non-technical users.
Users may open any size Google Takeout file, and this tool can easily recover data from any size file.
Final Words
After everything is said and done, the team is dedicated to providing, we explained how to access Google Takeout Viewer files for free using free software. What are you waiting for? Which also allows you to store emails after seeing them, so what are you waiting for? Get the software for free now, and we'll be back with another post shortly to assist you with your problems.