Need to Merge Multiple NSF Files and Folders?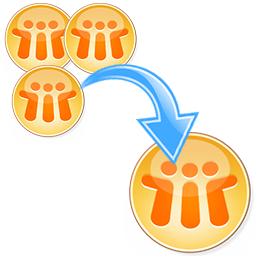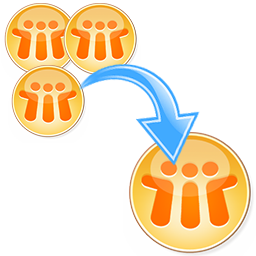 Need to Merge Multiple NSF Files & Folders?
The NSF is an acronym for Notes Storage Facility database file used by the IBM Lotus Notes to store email messages, tasks, calendar entries, appointments and many more. The Lotus Notes is a desktop-based email client that is widely used in organizational level. Regular work on Lotus Notes leads to increase in multiple NSF files or folders. Dealing with heap of files in a computer is always strenuous. There may be a situation in which, data gets corrupted, accidentally deleted; therefore for superior management user needs an advanced software like NSF Merge to merge multiple NSF files into a single folders or files.
---
Tackle Challenges with NSF Merge Software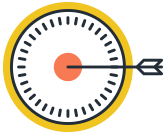 Challenge:
There may be many challenges faced by users, but the foremost and most common challenge during merge of NSF files and folders is removal of duplicate or deleted items from database. However, the presence of duplicate items not only increases the size of NSF file but also creates difficulty in handling them.
Proposed Solution:
NSF Merge software is embedded with flexible features like removal of duplicate & deleted items, merge multiple NSF files, no size limitations and many more. In addition to this, the utility supports all the versions of Lotus Notes such as 9.0, 8.0, 8.5, 7, 6 & below versions. In other words, we can say that NSF Merge is a comprehensive solution for all issues related to NSF file.
---
Learn How to Merge NSF Files via Innovative NSF Merge Tool
The NSF Merge tool is the most robust application that assists users to combine multiple NSF files and folders into a single file without any data loss. It works with all versions of Windows Operating System like 8.1, 8, 7, Vista and XP. The program needs 1 GB of RAM, 1GHz processor speed and 80 MB of hard disk space. Simple installation and user friendly GUI helps experts to easily analyze live report of joining and merging of NSF files.
Download and Launch the software from the installed location in few simple steps and then select either Add Files or Add folder to start the process.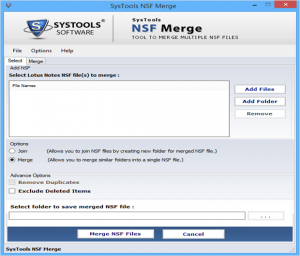 Before browsing NSF file from desired location, firstly select one option between Join and Merge.
Consider a situation in which a company required joining all Inbox folders into a single folder. In this condition Join option of NSF Merge software will prove very helpful to combine all database. The software is known for its ability of providing a join option along with an advanced option i.e. "Exclude Deleted Items" to remove all deleted records from the file(s).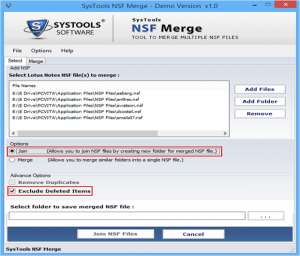 There may be other situations in which user needs merging of multiple NSF files into a single file. At that moment select Merge option of the software in combination with the option for removal of duplicates as well as deleted items.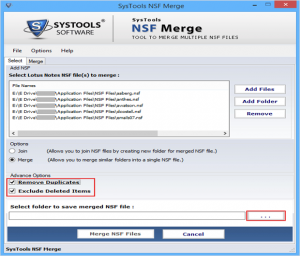 After performing all the functions, create a folder to save merged NSF file database. Within a couple of minutes, software will show a message stating, "merged successfully". Click OK and then close the application. NSF Merge is a superlative application enriched with homogenous features. Download the demo version of the software and start the process. It provides a comprehensive platform to the users that not only merge NSF files instead provides lots of other essential features.