How to Open Attachments Embedded in a PDF File Effortlessly
How to Open Attachment in Adobe PDF?
In this modern era of technology, PDFs are not only used for sharing and viewing data but also you can embed attachments in a PDF. Embedded attachments can be of any file format such as XLSX, DOCX, PPTX, JPEG, MP3, MP4, etc.
But if you want to open these attachments that are embedded in a PDF file, you need to use some automated software.
Well, there are several professional utilities that are available to give you a hassle-free solution regarding 'how to open attachments embedded in a PDF file?'.
Professional Solution To Open Files Embedded in PDF Document
One such utility is a PDF Attachment Extractor Tool that helps to save embedded attachments from a single as well as multiple PDF files at a time. It is feature-rich and versatile software that can be used to export images, text, and attachments from the PDF file.
However, in this write-up, we will discuss the procedure on how to open attached files in PDF.
Free download the demo version of the application program from the below-mentioned button.
Additionally, the tool offers a wide range of options that can be managed by the users to get the desired results.
I. Apply Attachment Filters
File Size: The tool provides two file size options i.e. "Up To" & "More Than" to export PDF file attachments of any specific size. You can select any of these options and enter the size to extract attachments of the size according to the selected file size option. It has a size limit of a minimum of 1 KB to a maximum of 100 MB.
File Type: With the File Type filter, you can open selective types of attachments from PDF files. You can select either the Include / Exclude option for saving the required attachments embedded in a PDF file.
II. Apply Page Settings
The utility provides the option to save data from specific pages of the file. Users can easily save attachments from PDF files by All pages, Even Pages, Odd Pages, by Page Range, and Page Number.
Now, let's dive into the working of the software.
How to Open Attachments Embedded in a PDF File? -Just in Few Clicks

Go through the steps to know how to save attachments files embedded in a PDF document.
1. Run the offline utility on your local machine.
2. Click on the "Add Files / Add Folder button to insert PDF documents.
3. Click on the"Change" button & select the destination location to save the attachments of the PDF files.
4. Select the item type "Attachments" to open attachment embedded in PDF.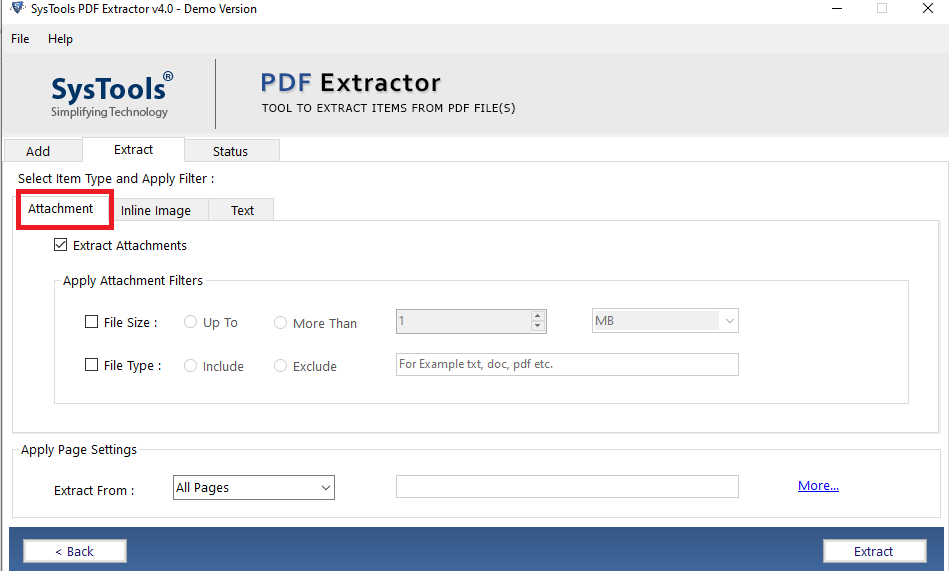 Note: You can Apply Page Settings to open the embedded file from selective PDF pages.
5. Click on the "Extract" button to start the PDF attachment extraction process.
6. Lastly, a successful "process completion message" will be displayed on your screen.
Now, you have saved the attachments from a PDF document. Besides this, you can use this utility to export images from PDFs without losing their quality.
Why it is the Best software to Open Embedded PDF file in PDF?
Some of the key features of the versatile software are listed below:-
Allows to save attachments embedded in multiple PDF files.
Support to extract attached files from restricted / known password-protected PDF document.
The tool shows the progress status like total file count, success count, failed count, and destination.
Gives the option to save extracted attachments in an individual folder or single folder
Enhanced GUI with an intuitive approach
100 % safe and secure solution to save attachments from PDF files
Support Windows OS 10 & below versions and Mac OS X 10.8 & above versions
Final Verdict
In this guide, we have provided a reliable solution on how to open attachments embedded in a PDF file. With the help of above-mentioned tool, you can easily open files embedded in PDF without any interruption. Besides this, if you are having more than one file then the utility provides the option to add multiple files to export attachments from multiple PDF documents. Further, it will save both the time and effort of user.