How to Recover Deleted DVR Recordings Xfinity – 4 Working Solutions
How to Recover Deleted DVR Recordings Xfinity – 4 Working Solutions
You were planning to come home and watch your long-awaited shows on your weekend.
But things don't go as planned… The recordings have been missing/deleted from your Xfinity DVR.
After getting a panic attack, the user now starts looking for ways on how to recover deleted DVR recordings Xfinity.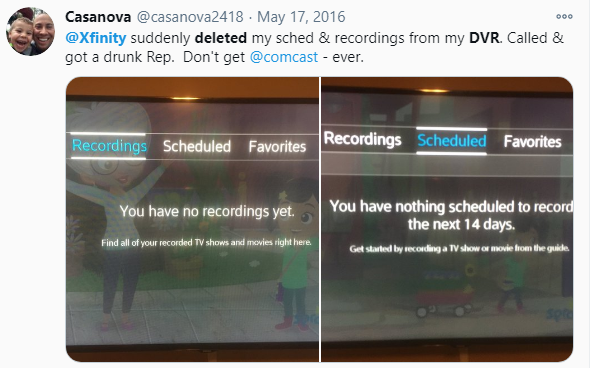 Xfinity DVR Overview
Xfinity is a consumer cable service provider that heightened the level of DVR services and user experience. It provides decisive functions that benefit the user and enhance the television watch time.
It accelerated its serviceability to provide the best for the users. But nothing is perfect, everything has its limitations, so does Xfinity DVR.
While exploring aspects of Xfinity DVR, few of the user query got the attention. This has been discussed here.
"I noticed an update last night and my Xfinity DVR restarted on its own. After that I went through my recorded shows but was in shock after not finding anything there. It's frustrating that recordings are not even in the recent deleted folder.
Is there any method how to recover deleted DVR Recordings Xfinity DVR X1 TV Box and why it is happening?"
Here comes the real question…
What are the reasons for the recordings deletion and why it keeps happening? See here for the legit possible reasons.
Why Recordings Deleted from Xfinity DVR
Sudden Power Shutdown – In the Power outage event, the ongoing recordings during broadcast get interrupted and due to its unsupportive form, it gets eliminated from the recordings content list.
Scheduling Conflict – When user sets up more than certain recordings on the same timeline, there is conflict while recording the shows. So, in the absence of any command or prioritizing the recordings, DVR itself deletes the less prioritized recordings depending on the user history.
Corrupted Hard Drive – A Faulty hard drive directly affects the DVR functioning. Hard drive failure occurs due to long time use, wear & tear, bad sectors, power strike effects, temperature, etc. Often, hard drives signal their dysfunction, if any strange or unusual sound emits from them.
Space Issue – DVR took the matter in its hand and started deleting recordings to make space for new/scheduled recordings. This automatic deletion is caused when the available empty space is below 10-20 percent left.
Accidental or Intentional Deletion – While deleting unwanted recordings, the user accidentally deletes the recordings he actually wanted to keep. So, in that condition user only seeks to recover deleted DVR recordings from Xfinity DVR
Well, after going through the reasons it's time to select the accurate solution. Recovery of recordings is not hard nut to crack if the reason for the deletion is manual.
Look below to learn about the recovery of deleted Xfinity DVR recordings.
Solution#1. Recordings Recovery from Recently Deleted Folder
All deleted shows stacked in the recently deleted folder, unless the hard drive space is full.
Press the Xfinity button on the remote.

Go to the Saved option using the Arrow buttons.

Select Recordings and then Recently Deleted

Navigate using the arrow button to select the deleted show recording you want to recover then press OK.
Choose Recover option (be attentive while selecting the option) and press OK to restore the recording.
Solution#2. Recovery Using Xfinity Stream Application
Xfinity Stream Portal is only accessible by Xfinity services customers. It is available for both Android and Apple users. To access the user must have an active Internet connection using WiFi or 3G/4G.
Before pursuing, please determine if you fulfill these minimum device requirements.
Android Device Requirements
Device (Smartphone, Tablet or Fire TV device) running on Android 5.0 or later
Supported Xfinity Stream Application
Logged in to Xfinity Stream version 6.3.2 or later is needed (Visit Google Play Store to download)
Apple Device Requirements
The device running on iOS 12.0 or later
Supported Xfinity Stream application
Logged into Xfinity Stream app version 6.3.0 or later
Step 1. Login to the Xfinity Stream app using your username and password.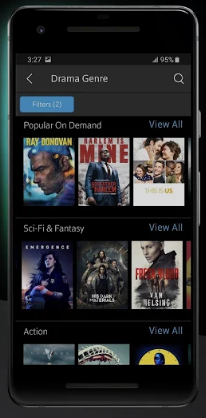 Step 2. On the menu bar, click on the Saved >> Recordings option.
Step 3. Scroll until the end and choose Deleted Recordings.
Step 4. Select the recordings you want to recover and select Recover.
(Recovery of recordings is only possible until 30 days from the day the recording is deleted)
Solution#3. Recovery of Deleted Recordings on Roku Application
Step 1. Go to Main menu>>Saved option.
Step 2. Then, For You menu will appear as default. Press the Right button on your Roku remote and highlight the recordings
Step 3. Using the Down button select the Deleted Recordings folder and press OK to view the deleted program recordings.
Step 4. Select the show recording you want to recover by pressing OK. Select the highlighted Delete Options and press OK.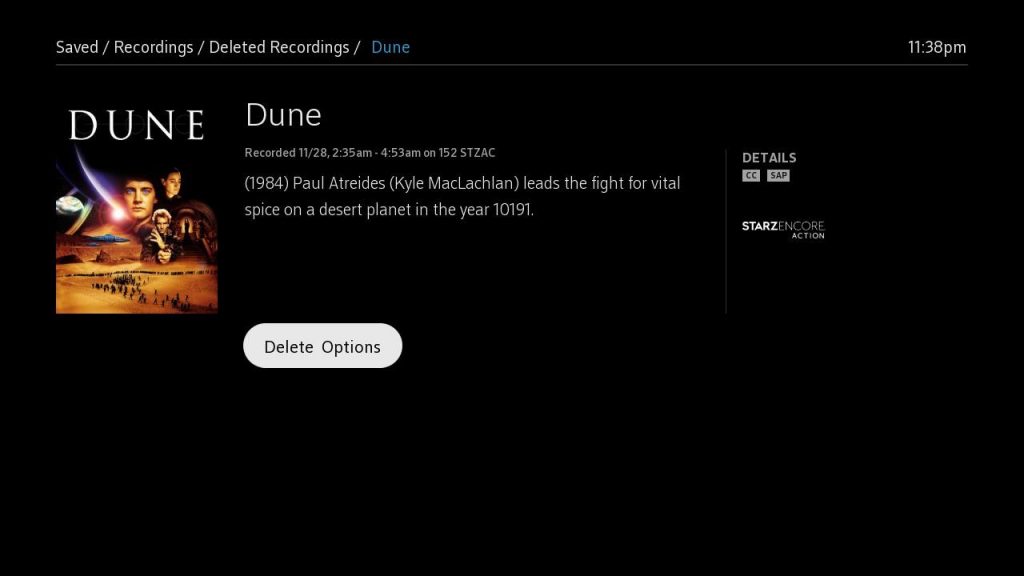 Step 5. Select the Undelete Recordings option for recovery.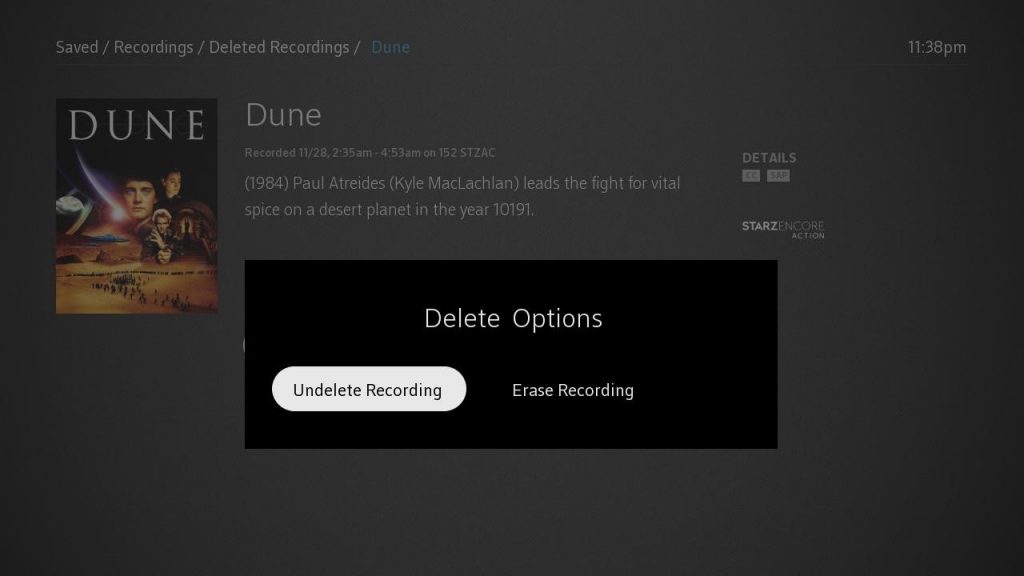 Step 6. This will return the deleted recordings to the recording folder, and a confirmation message "Recording is recovered" will denote the recovery completion.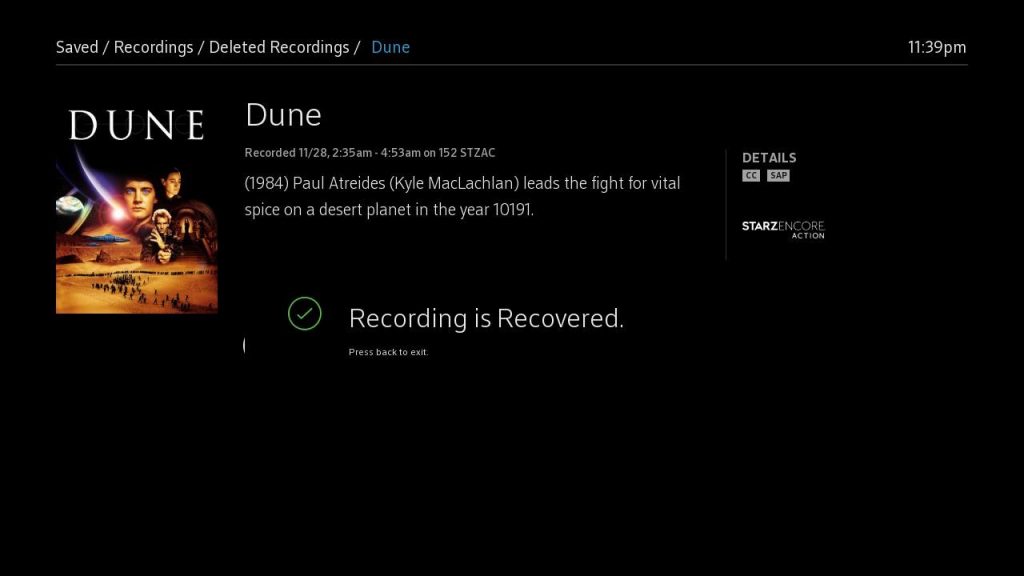 Solution#4. Restore Using DVR Recording Recovery
While you are assured that neither you nor any family members have deleted the recordings, additionally there is plenty of space already in the DVR drive. You can try SysTools DVR Recovery Software to recover your data. You can also download this utility on any version of Windows.
You can doubt your hard drive for this suspicious deletion. Make sure to instantly stop using the recorder. Otherwise, after the overwriting of recordings, there are negligible chances for the recovery of recordings.
Winding Up
Losing recordings can be hurtful, especially when they are very much close to your heart. You are looking forward to the upcoming episode.
Well, this post has given a very detailed look at how to recover deleted DVR recordings Xfinity user query.
If the recordings aren't manually deleted, and no other method is left to recover recordings, you can rely on DVR recordings recovery solution.