How to Import EML Files into Outlook 2019, 2016, 2013, and 2010
Do you know how to open import EML files into Outlook 2019, 2016, 2013, 2010, or earlier versions? Don't be alarmed if this is the case.
We'll show you one of the best and most easy ways to migrate EML files into Outlook in this post.
Many people used email applications that supported EML, such as Outlook Express, Windows (Live) Mail, Thunderbird, or Lotus/IBM Notes, and their data was almost certainly stored in EML format.
Certain customers require the ability to import numerous EML files into Outlook 2019, 2016, 2013, 2010, and older versions due to unique circumstances.
Because, as we all know, Outlook has a plethora of features that rival those of competing email clients. Many Outlook users would like to import data from another email software.
User Query
"Hello there, my colleagues have emailed me a large quantity of EML files (about 500). In addition, I utilize the Outlook application. As a result, I'd want to import EML files into outlook 2019. Please provide me with the latest recent software."
"Hey, I was using Windows Live Mail before that, but Windows Live Mail is no longer available, as we all know." As a consequence, all WLM data is exported to an EML file. However, I'll have to use my Outlook account to open those EML files. But I'm not sure how to accomplish that because I'm not familiar with Outlook's features. So, could someone advise me on a suitable strategy?"
Manually Import EML Files into Outlook 2019
We'll show you two free methods, each with its own set of constraints. Please read all of the restrictions before beginning the procedure. The phases and specifics are as follows:
Method 1: Drag and drop EML files into Outlook
Select the email that you wish to import.
The email will then be dragged and dropped into Outlook.
Your EML file will be imported into Outlook.
Limitation:
Each email requires the user to repeat the process.
The operation is extensive and time-consuming.
The EML file's structure and layout will be lost.
The formatting has gone missing.
Method 2: By Using Thunderbird Mail Application
In this tutorial, we'll show you how to import EML files from Thunderbird to Outlook. The steps are as follows:
Launch Thunderbird and drag all EML files into it.
Select "Tools" >> "Import" from the drop-down menu using the Menu button or the ALT key.

Next, choose the required information and click the "Next" option.

Click the "Next" button after selecting Outlook from the drop-down box.

Finally, complete the relevant fields and press the "Finish" button.
After you've successfully set up your Outlook account in Thunderbird, select the EML files and right-click to select "Move to," then select your Outlook account and folder.
Finally, Import EML Files into Outlook 2019, 2010, 2013. There are, however, certain limitations.
Limitation
Thunderbird and Outlook must be installed on the PC.
Your data will be gone if you make a single error.
You may run into problems when creating accounts.
Manual techniques, as you can see, have a lot of disadvantages. So don't waste your time on free techniques. We have a terrific and straightforward method for multiple import EML files into Outlook 2019.
Method 3: Importing Multiple EML Files Using Outlook
Because of its broad capabilities, the highly renowned SysTools EML file Converter is strongly recommended for mass conversion. The Bcc and To fields, as well as the Date, Subject, and other properties are all maintained in the email header.
Aside from that, users may import several EML files into Outlook at the same time without having to worry about file size limitations. The application offers a straightforward and user-friendly interface that is suitable for both technical and non-technical users.
Step-by-Step Process to Import EML Files into Outlook 2019
Download and Run the software in your Operating system.
Explore EML file Containing Folder from in left Panel.
Preview Emails with all Attributes in Software UI.
After that, click on Export Button and Select PST from the Drop-Down menu.
Now, Click on Export Button.
Finally, your data Imported EML Files into PST.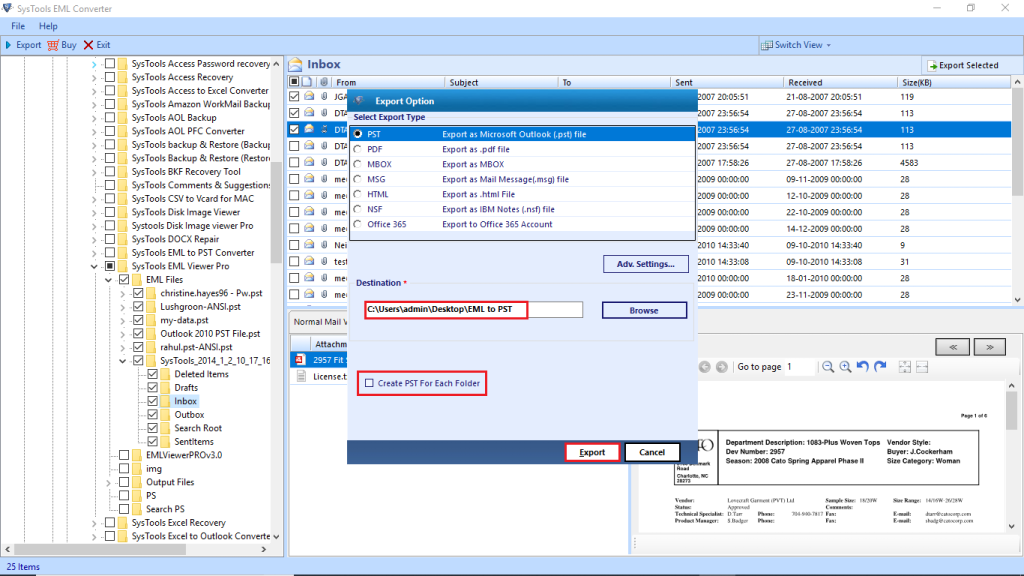 After that, import PST files into Outlook.
It's time to Say Final Farewells
Microsoft Outlook is becoming increasingly popular among clients due to its usability and performance. The processes given above are the best way to bulk import multiple.eml files into Outlook. It covers how to import EML files into Outlook 2019, 2016, 2013, and 2010.