How to Import IncrediMail Emails into Thunderbird? Simplified Approach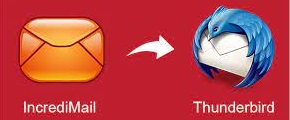 If you're also looking for a valuable solution for exporting email messages from IncrediMail to Thunderbird, you've come to the right place. This blog is created to help you overcome your IncrediMail emails into Thunderbird conversion issues. Here we will explain a complete and simple method to accomplish the migration task without much effort. Before explaining the solution, let's focus on the queries of some users who are having trouble solving this task:
"The company I recently joined advised me to use Thunderbird and previously I used to work on IncrediMail email client. Therefore, I want to convert all my data from IncrediMail emails into Thunderbird without any data loss. Is there a perfect program or solution that can do this without errors? Help me find an exact solution for this. "
IncrediMail supports IMM and IML file formats, while the MBOX file extension is supported by Mozilla Thunderbird for storing mailbox data. Both email clients are also absolutely different from each other, so no direct conversion method is available. And both IncrediMail and Thunderbird don't have any export or import functionality to accomplish this task. But a manual trick can do that. But the manual hack is not a guaranteed data migration solution to import IncrediMail messages into Thunderbird in MBOX file format. Because it has some disadvantages, which are:
Manual hacking is a long and time-consuming process.
Any skipped step can lose your data.
Non-technical users cannot handle this easily.
Sometimes it crashes and loses data.
It has some confusing steps, so I don't recommend using it for a safe process.
Import IncrediMail Messages into Thunderbird – Automated Solution
To overcome all difficulties of converting IMM and IML files from IncrediMail to Thunderbird, you can go to SysTools IncrediMail to Thunderbird Converter. It is a reliable and error-free solution to solve this problem and can import IncrediMail messages into Thunderbird file format. It automatically finds the default IncrediMail data files and also supports the option to import orphaned IMM and IML files from IncrediMail 2.0 and 2.5 into Thunderbird. You can easily import IncrediMail data files into Thunderbird in MBOX file format with attachments, formatting, metadata, hyperlinks, images, etc. It supports very simple working steps. If you want to know the process, follow the step-by-step procedure provided on how to import IncrediMail into Thunderbird:
Import IncrediMail Emails into Thunderbird – Workarounds
Step 1. Download the IncrediMail to Thunderbird application and launch it on your computer screen.
Step 2. Now click the Add File button and go with the two options provided: the Select File option for converting orphaned IMM and IML files and the Select Folder option to automatically find all IncrediMail databases.
Step 3. Now you can view the selected database, check and uncheck the mailbox you want to convert in Thunderbird. Now click on the Save button.
Step 4. Choose the MBOX file format and other options you want. Click on the Export button.
The application starts the conversion process and completes with a success message. After that, you can easily import MBOX files into Thunderbird using the import/export tool plugin or copy and paste all converted files into the Thunderbird message storage location.
Still, if you want to check your processing and then use the free demo, it will import 25 messages from IncrediMail into Thunderbird for absolutely free.
The Final Verdict
In this article, we demonstrated a solution to the most requested query: How to Import IncrediMail Emails into Thunderbird. With this simple method users can export IMM files to Thunderbird in batch mode easily.