Import MBOX to Microsoft Office 365 – 2 Assured Methods
If you're looking for a way to import MBOX to Microsoft 365, this article will walk you through the two most effective methods.
We all know that the cloud is the way of the future, and the majority of users desire to shift to cloud technology. And Microsoft 365, formerly known as Office 365, is one of the finest solutions for people seeking a cloud email management solution.
However, many people continue to use desktop-based email clients, and MBOX is one of the file formats supported by Apple Mail, Thunderbird, and other email clients. Now, if this email client's users wish to import MBOX to Office 365, things get a little trickier.
Why is MBOX to Office 365 Migration a Complicated Process?
It's simple – Because MBOX is not supported by Microsoft 365. In fact, even importing PST to Office 365 is a difficult task even though both originate from Microsoft. This is because M365 is a cloud platform while MBOX and PST are file formats used by the on-premises email clients. Furthermore, there is no direct solution for importing all MBOX data into Office 365. As a result, users are unable to finish the assignment.
Now that you are aware of this issue, we will examine two solutions that can assist you in importing MBOX files to Office 365 in this article. So keep reading the blog because you're on the verge of finding out the solution.
Two Assured Ways to Import MBOX to Microsoft 365?
There are several reasons a user would want to move their mailbox files into Office 365 account. Switching from a desktop email client to cloud-based email service is the initial cause of this move. The majority of users want to be able to access their email from anywhere, anytime.
Anyhow, regardless of the reasons, we have 2 methods to get the job done:
Manual Method that makes use of a desktop email client
Direct Solution to move MBOX files in preferred accounts
Let's start with the free manual method first!
#1 Manually Import MBOX to Microsoft 365
If you're seeking a free option, we'll go through one in this part that will allow you to effortlessly import MBOX to your Office 365 account.
Step 1: Set up Microsoft 365 to work with Thunderbird
The Mozilla website offers a free download of the Thunderbird email client.
Launch the email client.
On the first run, it will ask for email creation. Choose skip and use existing email account option.
In the next window that appears, fill up the name, M365 email address, and password and click on Configure manually option.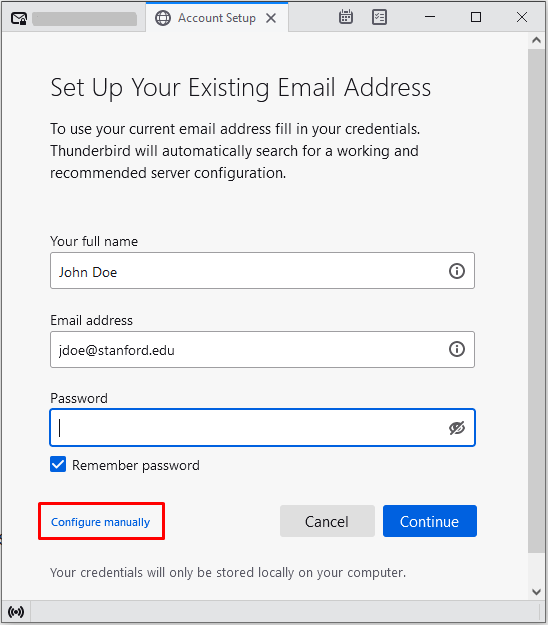 Now, enter the details from the screenshot given below:
Authenticate the account and finish the configuration process.
Step 2: Import MBOX files in the Same Application
If the configuration process is successful, the Office 365 account will appear in the email client panel.
In Thunderbird, choose Add-ons from the Tools menu.
Search for ImportExportTools NG in the Extensions tab.
Select +Add to Thunderbird.

Proceed to restart the application once the add-on is installed.
Then, right-click on the Local Folders, select ImportExportTools NG, and then Import MBOX File.
Finally, select and import the file.
Step 3: Upload Your Files to Microsoft Office 365
Select all the MBOX emails imported earlier.
Next, right-click and select Copy To from the menu.
Finally, select the Office 365 account.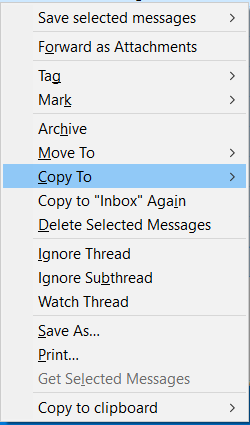 Well, there you go. The emails are successfully moved from MBOX to Office 365 account.
#2 Direct Solution to Import MBOX to Microsoft 365
As you can see, the preceding method is rather time-consuming, and users must complete three lengthy stages to finish the work. Furthermore, this method is not intended for non-technical users. So, to address this, we'll go over the easiest approach to finish the import process in this part.
MBOX to Microsoft 365 Migrator is the best software for this job. It supports batch import of multiple MBOX files at once. In fact, one can even map and upload files to respective accounts via impersonation. The tool is created in such a way that anyone may utilize it without the assistance of an expert.
Step-by-Step Method to Import MBOX Files to Office 365
Download and Launch the MBOX to Office 365 software in your Software.
Now click on Add file option and upload your MBOX file.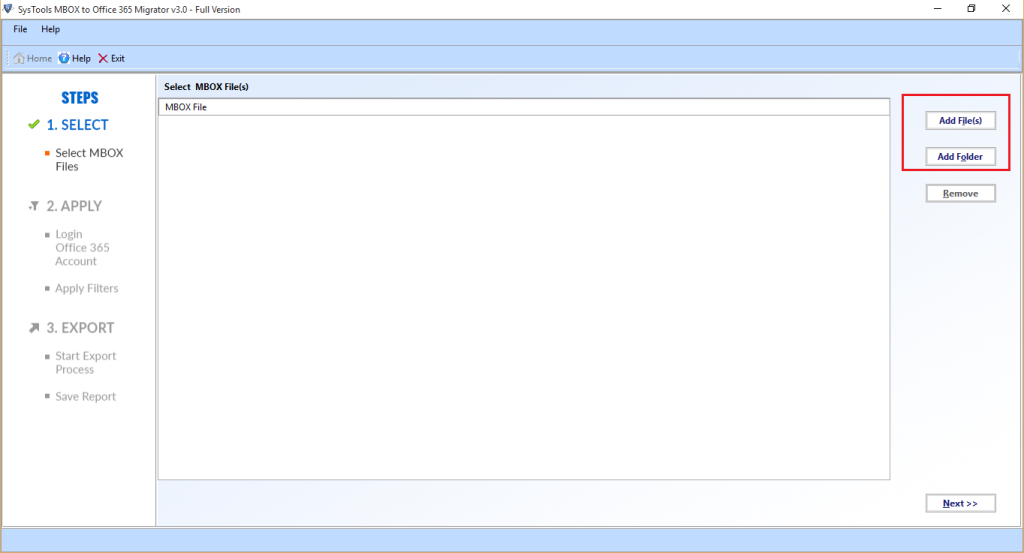 After that, select Office 365 and click the OK button.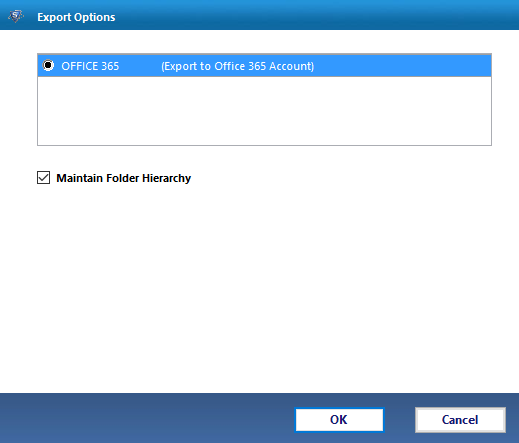 Fill in the Office 365 details in the software.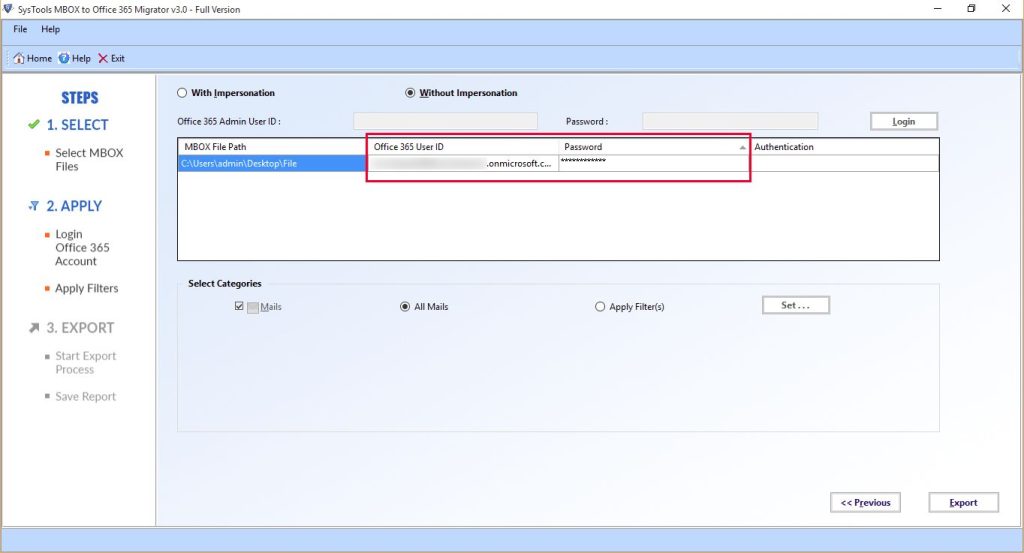 Now, click on Export Button to start the process.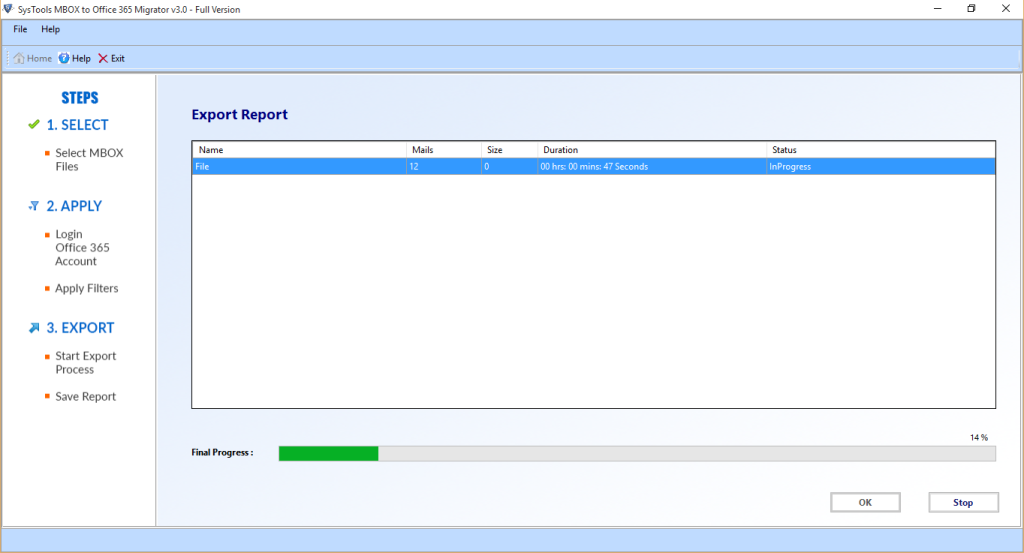 Finally, all the emails will be moved into the O365 account successfully.
Conclusion
Here you can discover the two most effective options for importing MBOX files to Office 365. Now it's up to you to decide which operation is best for you.