How to Import OLM to Microsoft 365
For sending and receiving emails, Outlook is the most extensively used email application. This application works on both Windows and Mac systems. The only difference between the two is the file formats. This article is for users of Outlook for Mac who need to import OLM to Microsoft 365 accounts.
Microsoft's 365 is a cloud-based service that lets users send and receive emails via the internet. It comprises cloud-based applications such as Microsoft Online, Microsoft 365, and Yammer. Microsoft 365 data is stored in the cloud and may be accessed at any time from anywhere.
Why would a user want to import OLM to Microsoft 365 account in the first place? If you're interested, have a look at the links below.
What are the benefits of importing OLM to Microsoft 365?
You might want to save an OLM file to Microsoft 365 for a variety of reasons. A partial list of some of them is as follows:
Microsoft 365 is a cloud-based service.
It may be accessible at any time of day or night from anywhere.
It has a lesser chance of data loss because it keeps data on the cloud.
Microsoft 365 is more secure and safe than the Mac version of the identical Software.
Also, read the Following Question 
"Hello, I'm attempting to integrate OLM to Microsoft 365 account since I have certain official duties. I tried doing it by hand but wasn't able to get an accurate result. I need to bulk import hundreds of crucial OLM files but don't know how to do it. If you have any expert recommendations that would match my needs, please let me know. Please accept my heartfelt thanks. Your participation would be much appreciated."
How to import OLM to Microsoft 365
Manual Method: Currently, there is no direct manual technique for importing several OLM files into Microsoft 365 in one transaction. To do so, you'll need to follow the two steps outlined below.
To import OLM into a format that is compatible with other applications, you must first create an IMAP email account. After that, you may use it to move data from a Mac OLM file to a Windows PC. To convert an OLM file to a format that can be read by other applications, follow the procedures below:
To authorize IMAP access, you must first sign in to your Gmail account.
Set up this Gmail account in Mac Outlook using the OLM file data that was previously downloaded.
If your Outlook Mac does not already have OLM data, you can import it from an OLM file.
Then, with the use of a Gmail label, start moving all of the data from the Mac OLM file to the Gmail labels, allowing it to sync with your other devices.
Configure your Windows Outlook email client to use the same Gmail account as before.
After that, you may use the "Import/Export option" to export OLM emails from your IMAP mailbox to a PST file.
Once you've finished importing all of your files, log into your Microsoft 365 email account. Manual approaches can be used to do this.
Use the Manual Approach Analyzed Drawbacks
There are various drawbacks to using the manual data entering the approach. A list of some of them is provided in the following section:
A user may only import emails into Microsoft 365 from an OLM file when utilizing the manual technique.
It's also possible that data will be lost during the transfer.
Importing OLM into Microsoft 365 is a labor-intensive and time-consuming process.
The data integrity of the OLM file is not maintained throughout the transfer or copying of the OLM file to Microsoft 365.
Users can utilize a third-party solution to get past the limitations of the manual technique indicated above.
Professional Solution
This OLM to Microsoft 365 Converter is feature-rich software that can quickly generate a preview of Mac OLM data items. The OLM files can be read in a precise and sophisticated manner after they are submitted into the software interface during the conversion process.
Step-by-step Method
Download and Run the Software in your Operating System.
Click on Add File option and upload your OLM File.
After that, you can get a complete preview of your OLM data file.
Now, click on the Export button and select the Office 365 file option.
After that, you have to provide your login id and password and click on the Save button.
Finally, import OLM to Microsoft 365 file.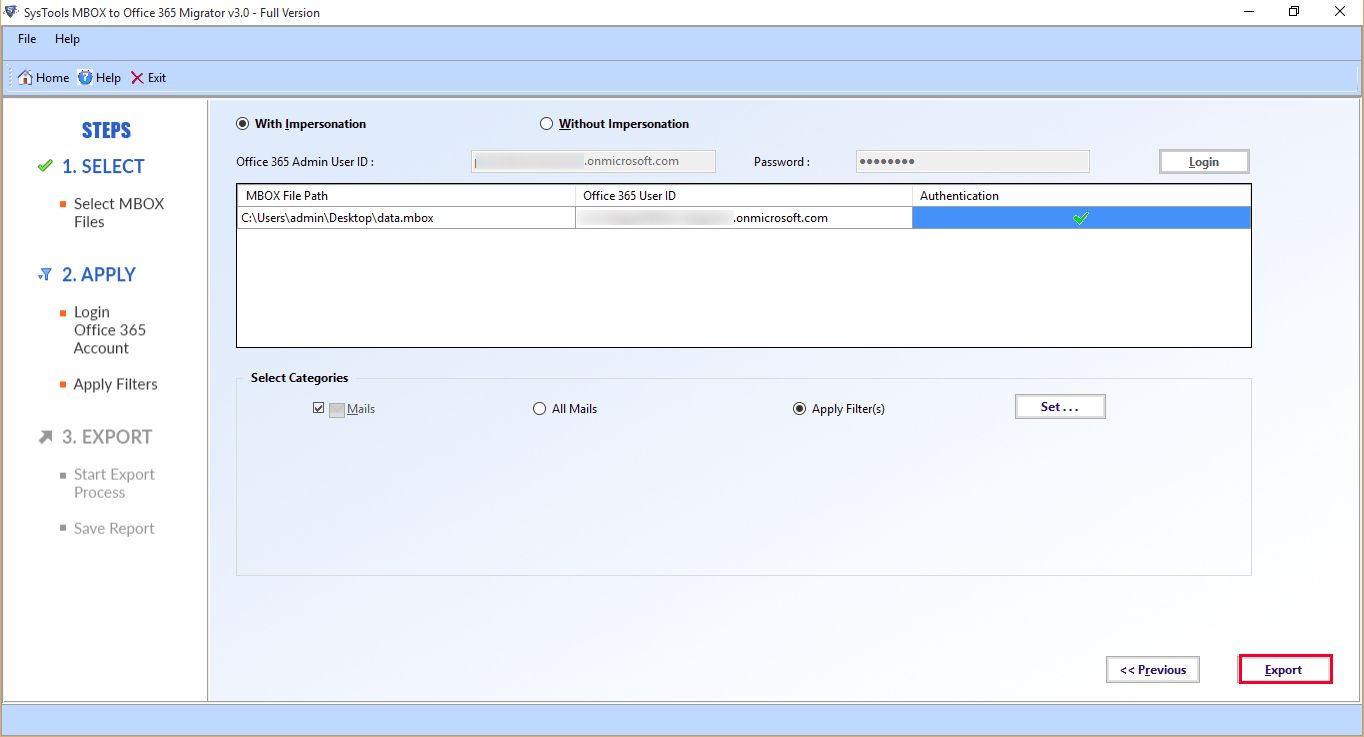 The OLM to Microsoft 365 Migrator tool benefits
The software can import OLM directly to an Outlook 365 account without the need to install any other applications.
To import OLM to Microsoft 365, all you need is your Microsoft 365 account sign-in credentials.
You may batch import Outlook OLM files to Microsoft 365 without losing any data using the software.
Users may preview the OLM file and attachment using the software's convenient preview tool.
This utility allows users to import an unlimited number of OLM files, with no limits on file size or quantity.
All data structures, including CC, BCC, subject, date, and so on, are safely supported.
Another feature of the application is User Impersonation, which allows you to move data from several mailboxes (under a single domain) at once.
Last Thoughts
In the user guide above, we provide a simple method for import OLM to Microsoft 365 account. We've gone over how to import Outlook Mac OLM files to Microsoft 365 fast and easily. The best platform for completing the same operations without needing to install any additional software is the OLM to Microsoft 365 import tool. You may test out a demo version of the application to see how well it functions and operates.