IMAP Migration from Lotus Notes to Office 365 – Step by Step Guide
Migrate Lotus Notes NSF to Office 365 Manually – Complete Guide
Nowadays, most of the users are availing feature-rich cloud-based email applications like Office 365. With the development of Office 365 cloud platform, users are swiftly moving towards MS Office 365 from various different Emails platforms. The users may prefer to migrate their database of different email clients such as Outlook, Thunderbird, IBM Notes and much more. This discussion is useful for the users who are still using Lotus Notes as an emailing application. But they are searching the easier solution to know How to migrate Lotus Notes to Office 365 manually?
After reading the below-discussed article you'll know solutions of IMAP migration from Lotus Notes to Office 365 or using a direct solution. You can perform the conversion in a step by step manual method using IMAP connector.
What are the Benefits of Office 365?
Office 365 is an application suite developed by Microsoft containing Word, Excel, Powerpoint, Outlook, One Drive and much more. It is provided by Microsoft for software as a service. There are many features of Office 365 which provide the number of services to users. Users thinking of how to migrate NSF to Office 365 manually may consider many reasons to move to the cloud. Some of the main features are listed below:
Web access of all Microsoft Office documents
Sync Outlook between multiple devices completely
Accessible by all smartphones and tablets
Instant messaging, voice and real-time video conferencing
File sharing and storage becomes easy for corporate environment.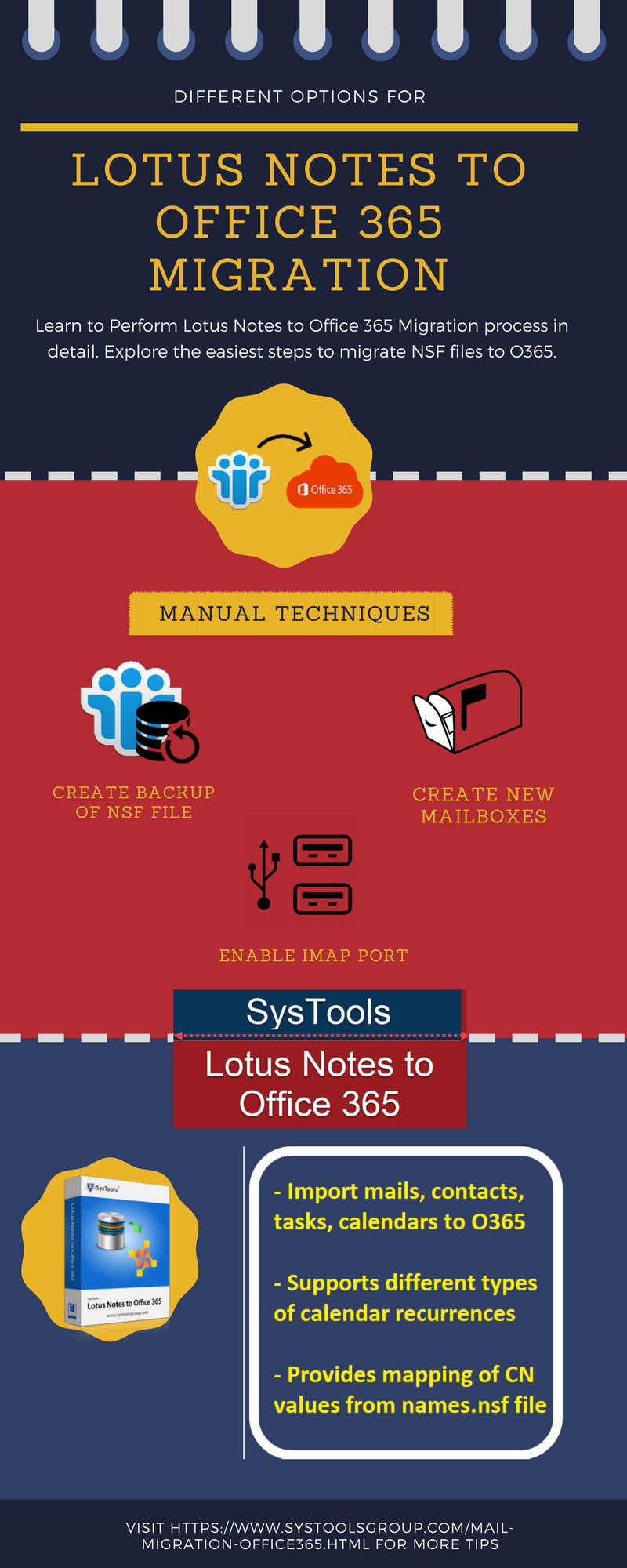 Main Reasons to Migrate Lotus Notes to Office 365
Office 365 manages emails much better.
To handle Lotus Notes, technical expertise is required.
Maintenance cost of IBM Notes is high.
Office 365 can be accessed anywhere through web.
Interface of Office 365 is user – friendly
Office 365 stores data on cloud – no worry about data loss
IMAP Migration from Lotus Notes to Office 365 – Step by Step Procedure
Create & Keep the backup of Lotus Notes NSF files.
Take the backup of all users mailboxes which is stored as NSF files. It is done to avoid any kind of data loss because we should not take a risk while migrating the database by the manual method.
Create different new mailboxes
For all the existing users of Lotus Notes, you'll need to create new mailboxes. This step is essential to perform Notes to Office 365 migration.
Enable IMAP for all users of TCP / IP ports.
Follow the below-given steps to enable IMAP:

Open IBM Domino Admin from IBM Notes to migrate Lotus Notes to Office 365.
Select the configuration tab there.
For the server which runs IMAP service, open the server document.
Click on Ports > Internet ports > Mail tab
Next, enable the IMAP TCP/IP default port.

Made connection and sync using IMAP Connector.
Make the connection to synchronize Office 365 emails from emails of Lotus Notes using the IMAP connector.
Limitations of Migrating from Lotus Notes to Office 365 Manually
Complete migration of Lotus Notes database does not take place.
Notes calendar entries need to move to Office 365 individually.
Size limitation to moving database is only 1 GB.
While processing, need to apply many filters which makes it's more complex.
Use Professional Solution to Migrate Lotus Notes NSF to Office 365
To overcome the manual difficulties which come in the way to migrate Lotus Notes to Office 365, you can take the help of an efficient professional solution. Make the best use of Lotus Notes to Office 365 Migration tool, which is an all-rounder utility to migrate Lotus Notes files to Office 365. It migrates emails along with all attachments & maintains metadata and other attributes. One can transfer single or multiple NSF files to Office 365 using this versatile software.
Some of the impeccable features offered by the software includes:
Migrate single or bulk NSF files to Office 365 cloud platform
Allows to transfer Lotus Notes emails, contacts & calendar data items
Use Date filter option to export selective data by date-wise
Delta migration feature to migrate only the newly arrived Lotus Notes data
Use Re-run migration feature, if you might have missed to migrate any of the NSF data items
Set priority to the Lotus Notes mailboxes, which will be migrated first to the mapped Office 365 account
Make use of Concurrent migration feature to  migrate Lotus Notes NSF mailboxes to O365 in batch-wise
Time to Conclude
For users who want to migrate Lotus Notes NSF to Office 365 might have clearly understood the best approach to be followed after reading this write-up. This blog has elaborated both the manual and automated workaround. However, the manual solution imposes some limitations, hence opting the aforementioned third-party software is the wise option.