NK2 File Format – Outlook Autocomplete or Nickname Cache File
What is NK2 File Format
The NK2 file format stands for Microsoft Outlook Nickname File which is used to represent the AutoComplete file of Outlook. NK2 file basically comes under the miscellaneous files category. This autocomplete file is an important part of Outlook as it stores the names of email addresses to which you have previously sent emails. All the information regarding an email message i.e emails type, to, bcc, cc and other information stored in this NK2 file extension.This is the file which helps you with advance suggestions just by typing only one character in the fields To, Cc, Bcc.
For Example: Let say you sent and email to "jam@gmail.com". Now, when the next time you send email to this particular mail ID and Type letter "j" then, just by typing a single letter j the email address "jam@gmail.com" will automatically appear, along with the other email addresses that start with letter 'j' to which you have sent and email using Microsoft Outlook.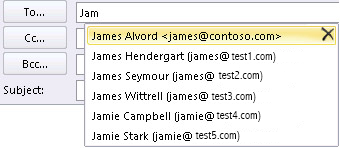 What is NK2 File format Storage Location
The NK2 file storage location for the earlier versions of Outlook stores the Auto complete file in the following folder
Windows XP
Drive:/Document and settings/Username/Application Data/Microsoft/Outlook
Windows Vista and Later Versions
Drive:/Users/Username/AppData/Roaming/Microsoft/Outlook
Number of Entries Saved in NK2 File Extension
Outlook has limited the number of entries that you can be saved into Outlook Cached Contacts. Once you reach this limit. Outlook uses an algorithm of usage weighting to remove them from the list. Therefore some names unexpectedly removed from the nickname cache because the NK2 file limit is as follow
Outlook 2016 = 1000 entries
Outlook 2013 = 1000 entries
Outlook 2010 = 1000 entries
Outlook 2007 = 2000 entries
Outlook 2003 = 1000 entries
Issue with NK2 File format
"NK2 file not showing all Addresses"
I export all the data from Old Outlook PST file to New PST file, and not getting suggestions as offered before. Even I didn't delete or rename any NK2 file?
Follow the below steps
a) In Outlook, Click file >>Options and select the Mail tab
b) Now scroll halfway down until you see Send messages. Now ensure that the last option is checked.

c) If the Option in unchecked then, mark it as checked and restart you Outlook.
"Autocomplete file of Outlook Not working correctly in Outlook Version 2010 or 2013"
I migrate from outlook 2007 to Outlook 2010. Everything going well, except my suggestion list Of Outlook is not working correctly.
Follow the steps to resolve this issue
a) Rename existing file that is not updated with new entries.
b) Copy autocomplete file from a working profile and a different computer and rename it to the original file name.
c) Go to Outlook >> Options >> Mail and click auto complete cache.
d) This will allow new auto complete entries to be created and they will continue to display when you re-opened.
Ways to Clear NK2 file of Outlook
For Outlook 2010 and later versions
1. Open new mail message
2. Now type few characters of the autocomplete cache entry which you want to remove from cache.
3. When the entry appears in the list of suggested names, move your mouse pointer until it becomes highlighted.
4. When X icon appears next to the highlighted name, click it to remove the name from the list.
For Windows 2007 or Outlook 2003
1. Follow the steps 1 and 2 as discussed above
2. Once the entry appears in the suggested names, use up or Down arrow key on the keyboard to select then and then press Delete.
Conclusion:
This blog is aimed to spread the knowledge of NK2 file format. What it is and how the information is stored in outlook Nickname file. Various methods to read and export autocomplete file of Outlook.