How to Open MBOX File – Free Solution
The MBOX file is an email extension that may be stored by a number of email clients, including Apple Mail, Mozilla Thunderbird, Eudora, Sparrow Mail, and others. It includes plain text data that starts with "from" in the header section. We'll eventually learn "How do I open MBOX file?" and "What application do I need to open an MBOX file?"
Try to figure out how to open or import MBOX files now. To open MBOX data in this format, you'll need to install an email client. Any email client may be installed on your PC, but it must be compatible with the platform of the email client. We'll go through the various email clients that support the MBOX file type, as well as how to transfer MBOX data.
Method 1: Automated way to open MBOX file
You may use third-party software to import and view the content of your MBOX files. Apps have produced a reliable and effective solution for opening and examining MBOX files in this regard. SysTools Free MBOX Viewer is a tool that works with MBOX files, independent of whatever client application they came from.
It supports MBOX files written by a variety of applications, including Apple Mail, Entourage, Eudora, Opera, SeaMonkey, Sylpheed, Postbox, and Evolution. Furthermore, you may import and read the contents of an MBOX file regardless of the file size type (supports all formats from the MBOX family). The Software is completely free to download and use.
Step-by-step Method to view the MBOX file
Download and Run the software in your System.
After that, click on Add file option and upload your MBOX file and click the Next button.
Finally, you can get a complete preview with attachment in the Software Panel.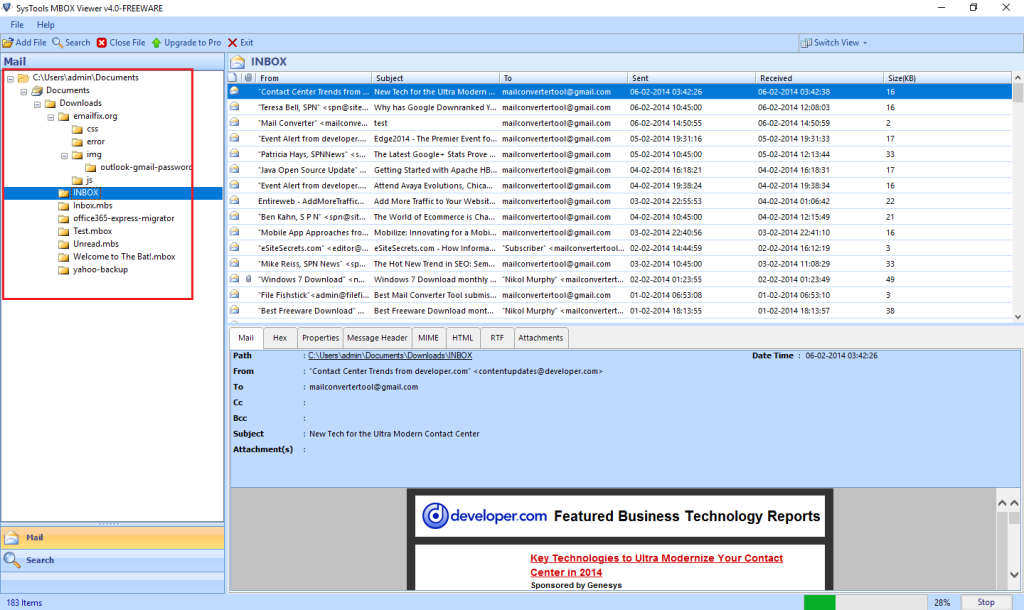 Note: If you want to Extract, Print or convert from an MBOX file then go for Upgrade Version.
Method 2: Manually Open MBOX Files
In Apple Mail, go to File -> Import Mailboxes.
From the Import dialogue box that displays, choose File in MBOX format, then click the Continue button.
Select the MBOX record for import by navigating to its storage location.
Click the Done button while the import is underway.
Method 3: View Mbox File in Thunderbird
Install the "ImportExportTool" Add-on in the Mozilla Thunderbird.
Now, after installing Add-on then go for Open Tool Menu via pressing the ALT key.
Go to ImportExportTool, now the Select Import MBOX File option.
After that, Browse your MBOX file data and hit on ok Button.
Finally, check your inbox after importing.
Where can find MBOX files on Mac?
Perform the processes in the following list to detect the open MBOX file on Mac Operating System Mail Edition 1:
Open Finder on your Apple device and then select Go >> from the menu bar. Choose Folder… from the drop-down menu.
Type /Library/Mail/V2 for Mail 5-8 or /Library/Mail/V3 for Mail, depending on the version of Mac OS X Mail you're using.
Where can find MBOX files on Windows?
To locate Thunderbird data files, follow these steps:
To begin, open the Run window on your computer and type percent APPDATA percent.
Second, pick Thunderbird and then the Profiles folder from the current menu selection.
For each folder that exists inside the profiles, the folder signifies a distinct profile of your system.
MBOX files Supported Email Client
Mozilla Thunderbird
IncrediMail
Spicebird
Opera Mail
Mac/Apple Mail
Sylpheed
Entourage
Opera Mail
Benefits of Using Open MBOX file Viewer Tool
MBOX data may be added in a variety of ways.
To move all data at once, use the Bulk Export option.
View the preview of each email and its attachments.
Emails may be found by their name, to, from, and date.
You may save the email in the format you want while previewing it, such as RTF, MSG, or EML.
The Autoload Button was created specifically for Thunderbird users to load MBOX contents automatically.
Conclusion
So, in the last post, we suggested a secure way to open MBOX file. On any device, the Software is simple to install. It also provides a variety of benefits and features that make the transfer go smoothly. Free MBOX File Viewer tool that lets you open MBOX files without any limitations.