Do you also want to remove password from Word VBA Project? Are you facing any issue to unlock Word 2010 VBA Password protected document? This blog will help you out to crack/break VBA password from .doc file.
The blog familiarizes users with all possible approaches to bypass the VBA project password from Word VBA file. It comprises of all the manual measures for the same and is posted here after a deep researching upon it.
Developers, coders, etc., keep a password on their Word VBA project file to prevent unauthorized persons from opening the file. Basically, they encrypt file because of the security purpose. But, have you ever thought of the time when you forgot the file password or you have lost it? Now, how are you going to open a file without damaging it?
Don't be stressed! Here in this blog, we are going to discuss manual as one of the best-automated solutions i.e. VBA Password Remover tool to open password protected VBA Word file without losing any data.
User's Concern Regarding How to Remove Password from Word VBA Project
Following query was put forward by a user who wants to get rid of encrypted VBA DOC file:
"I am a fresher in my organization who is provided with the first task to recover password from VBA Word file. I know the solution to apply password but, not the way to remove it. I gave thousands and more chances to myself in getting a solution for the same but, unluckily none of them worked. With lots of hope, I am here to get an answer to my question. Please someone help me in fulfilling this activity, Please!"
Many clients like the above on came with a question to bypass the VBA project password from Word. Therefore, the technical team decided to work on the same and finally, came up with the following workarounds.
Measures to Remove Password from Word VBA Project File
The password-protected Visual Basic application file of Microsoft Word can be converted to an unprotected file with help of following measures. Before proceeding further with free approaches, it is an advice to the person that he/she should take backup their data.
It is so because if something goes wrong then, you might have to suffer an unexpected data loss and that to the permanent one. So, let us begin with approaches to crack VBA password from Word 2010 document!
Method #1 : Use VBA Code to Regain Lost Password From Word Document
1. Launch a new MS Word document and press Alt + F11 to open Microsoft Visual Basic for Applications.
2. Go to Insert >> Module and then mention the code, shown in following screenshot. Once you have completely written the code, press F5 key to move further with the process to remove password from Word VBA project.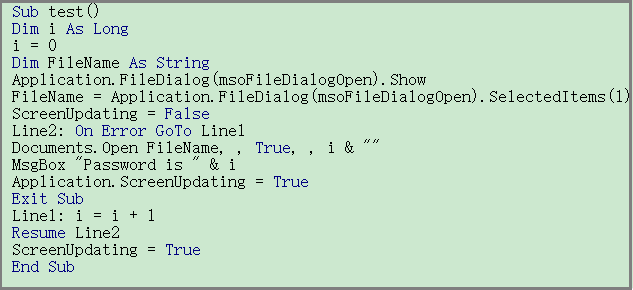 3. Choose the password-protected Word project file from your local machine and hit on Open.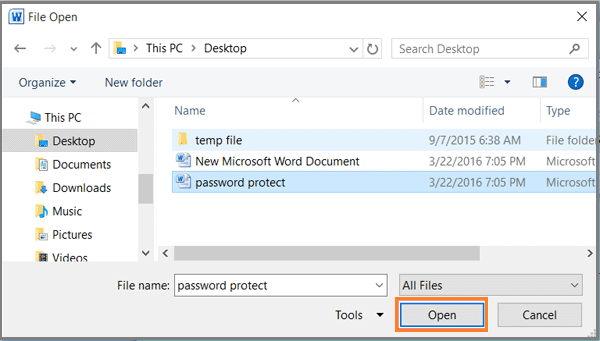 4. Take a pause for a while and then, automatically a small dialog box will appear. The box comes with a message that password from your VBA file is successfully recovered. Hit on OK to close the current dialog box.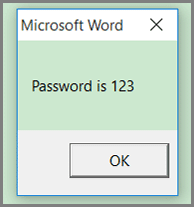 5. Go to File >> Protect Document >> Encrypt With Password.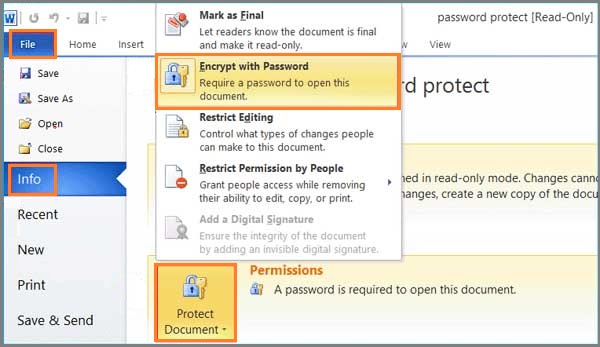 6. Delete the text from Password text box and click on OK to bypass the VBA project password from Word.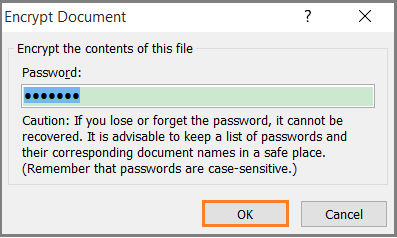 Method #2 : Convert DOC file into DOCX to Break Password
This measure involves conversion of VBA DOC file into DOCX to remove password from Word VBA project. So, learn VBA DOC file conversion with help of following instructions :
1. Before proceeding further, generate a backup copy of file.
2. Change the file extension from .doc to .zip.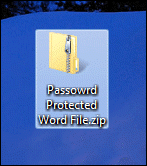 3. Now open the ZIP file and then, extract all items from it.
4. Go to the word\settings.xml in extracted ZIP folder.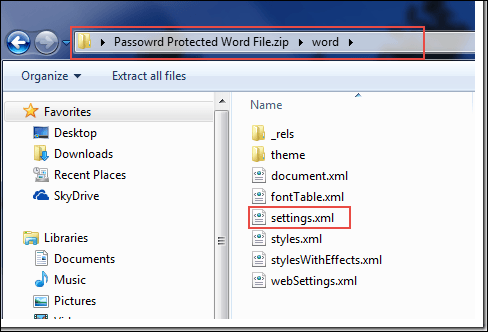 5. Open the settings.xml file and replace the existing code from and then, save file.
6. Copy this newly created settings.xml file to the original ZIP file and then, overwrite the existing ones.
7. At last, change the file extension from .zip to .docx and open the unprotected file.
Method #3: Remove Password from Word VBA Project Using Software
The above-mentioned methods seem easy, but there are some users who find these approaches a bit time-consuming. And there are some users who want a quick and hassle-free solution to crack VBA password from Word 2010 document! In such cases, the users can opt for a third party software like VBA Password Remover to bypass the VBA project password from .doc file. The utility has come up with several features such as:
It easily removes the passwords from all VBA documents.
All Microsoft Office files such as – .doc, .dot, .xls, .xla, and .mdb are supported by the application.
Multilingual passwords are also restored by the program.
The tool eliminates the previous passwords and creates a new VBA project password.
Compatible with the Windows Operating Systems like 32 & 64 bit.
Now towards the steps to remove password from Word VBA project using this tool.
How Can the Software Remove the Password from Required Files?
Go through the steps as discussed in the next segment to learn the process of resetting the password with the help of this smart tool:
1. Download this tool and run it on your Windows OS machine.
2. Click on the Add File(s) option to insert the project files.
3. Select the project files from your desktop and hit Open button to add them on the software.
4. Final step requires you to press the Reset button to complete the process.
If you have a folder containing multiple VBA project files, you can go for the Add Folder option to insert the folder on the software. If by any chance you have added the wrong file(s) or folder, you can remove the file by clicking on the Remove option. For taking out all the file(s) from the software panel, choose the Remove All option.
Conclusion
The free and manual measures to remove password from Word VBA project file is given here. It might be quite challenging for an individual to attempt these approaches so, there is the alternative to this problem, as well. If manual tips and tricks are troubling you then, you can go for VBA Word password remover. This program removes password from an encrypted VBA file in just 3-mouse clicks. The application is providing an independent way to bypass the VBA project password from Word.