How To Backup Google Calendar To ICS File?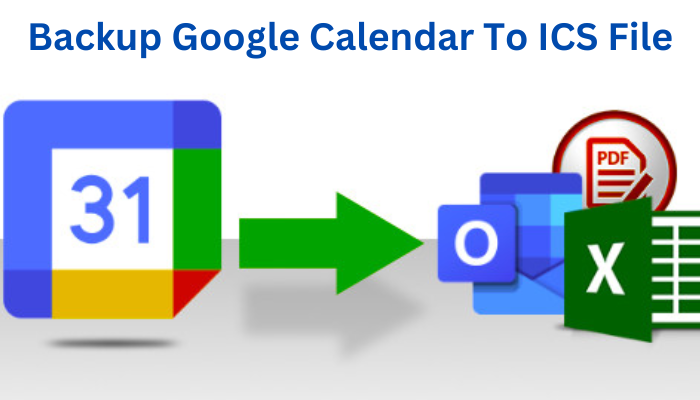 Google Calendar is a very well-known time management and scheduling calendar service used by multiple users across the world. It helps users to keep a check on their important days, tasks, and events, thus, saving their valuable time and making the most out of their day. But what if you want to shift to another calendar app or migrate to some other Google account? In this scenario, the best solution would be to backup Google Calendar to ICS file. 
Why Is It Important To Export Google Calendar To ICS
Google Calendar is a time management and scheduling tool that allows you to make appointments, organize your daily tasks, and more. It helps you to set event auto reminders, create automatic events in Gmail, get your daily agenda emailed to you, add holidays, etc.
But then what is the need to export Google Calendar to ICS file? The following are the reasons:
You can open ICS files on various platforms such as Microsoft Outlook, Mozilla Thunderbird, Apple Calendar, etc.
ICS files are helpful in scheduling and sharing calendar events and deadlines with other users through web pages, emails, etc. other platforms.
ICS files are designed in a way that they are independent of the transport protocol. For example, certain events can be sent by traditional email and even whole calendar files can be shared and edited.
How To Backup Google Calendar To ICS File?

Step 1. Go to your Google account and open the "Calendar" application.
Step 2. On the top right corner click on the gear button and select the "Settings" option.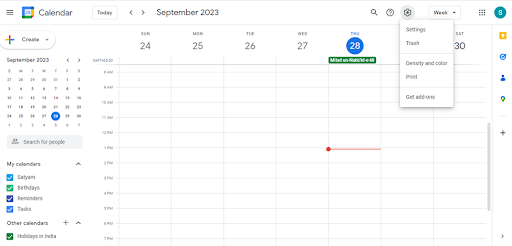 Step 3. Now, click on the "Import & Export" button and after that click on "Export".

Step 4. Next, click on the "Export" button to download all the calendars.
Step 5. Once the "ZIP" file is downloaded, extract the "ICS" files from it.
That's it, now you are done with the process to backup Google Calendar to ICS file. 
Using A Professional Software To Backup Google Calendar To ICS File
If you want to export Google Calendar to ICS file then you can take the help of a professional backup software. It supports multiple formats like PDF, PST, HTML, EML, etc. It also helps you backup files in an automated way. You can easily set up monthly, weekly, or even daily backups. To do this easily follow the below mentioned steps:
Step 1. Go to "All Programs" and launch the software.
Step 2. Provide your Gmail login credentials and then click on "Login".
Step 3. The software will redirect you to your Gmail login page after you click on "OK".
Step 4. Provide the credentials of the Gmail account for which you want the backup to be taken.
Step 5. Now click on "Continue" to let the application have access to your Google account.
Step 6. Under "Select email format" choose ICS from the drop down menu.
Step 7. Click on the "Browse" button to decide the destination where you want your file to be saved and click on the "OK" button.
This software also provides you features such as "Delete after download", "Apply filter" (in which you can set the time interval of which you want your data to backup), and "Incremental backup" (allows you to save new data to your Gmail account). 
Step 8. Now click on the "Start" button in the bottom right corner and the software will start the process. 
Step 9. After the download has been completed a pop up window will appear. Click on "OK". 
Step 10. The exported ICS file will be shown below.
Manual v/s Automated Method To Export Google Calendar To ICS File
Google Calendar only allows you to manually backup your data. On the other hand, the professional software allows automatic backup of your data on a monthly, weekly, or even daily basis. Automatic backup has multiple benefits over manual backup. The following are some:
Saves Time:

Automatic backup when compared to manual backup saves your time as you need not remember to backup your data every time. All you have to do is set up a schedule for a timely backup in advance and the system will take care of the rest. 

Easy Recovery:

In case anything goes wrong, automated backups help you restore your files in no time whereas if you

backup Google Calendar to ICS

file

normally then you will have to recover each and every lost file individually.

Security:

The security of your data matters the most. When you opt for automated backups, it is responsible for ensuring the security of your backed-up data which is not the case in manual backup of data.

Synchronized Backup:

Automatic scheduled backups help you make the backups synced which means they back up only the changes made after the last backup took place. Whereas in manual backup you have to do it all over again and again.
Conclusion
We all know how important it is to create a backup of your data as no one can entirely rely on a PC due to multiple issues that can even result in data loss. Your Google calendar contains the data of various important events, days, tasks, etc. and hence it becomes more important to create its backup. You can use the above mentioned software to backup Google Calendar to ICS file. Its features such as delete after download, apply filter, and incremental backup will definitely make your backup process a lot easier.