A Guide To Gmail Storage Limit [Complete Explanation]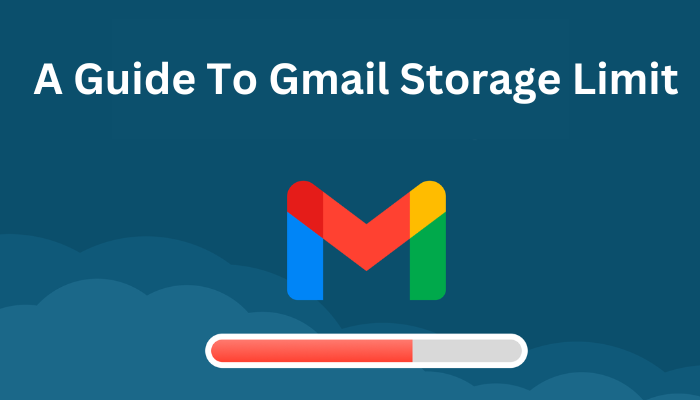 Gmail is one of the most used platforms today providing one of the best emailing services with the most secure and safe system for login and authentication. You can send and receive emails, block spam, create an address book, and perform various other tasks. This is the reason why most mobile phone users, especially those who use Android use Gmail. But do you know what is Gmail storage limit? How can you keep a check on your storage? Read further in this article to get the answer to all your questions. 
What Is Gmail Storage Space?
In simple terms, Gmail storage is the space users get when they create a Google account. Other Google platforms such as Gmail, Google Drive, Contacts, etc also take up this space. The default free gmail storage space provided is 15GB. 
What All Takes Up Your Gmail Storage? 
To learn more about Gmail storage limit you first need to understand what is covered under it and what is not. Emails occupy very small storage compared to others. However, if you have many messages in your account then sure it will take a considerable amount of storage.
There will also be some messages that have attachments, and thus, will take up some additional space. Gmail has a feature to archive your deleted emails. These archived emails and data stored in your spam and trash folders also account for the occupied Gmail storage space.
How Can You Check Your Gmail Storage Space Usage?
Method 1: You can find out how much storage space your data occupies individually in Gmail, Google Drive, and Google Photos. All you need to do is visit the Google One site and click on "Storage". You will see a line graph that shows how much of your Gmail storage limit you have used (in different colors) and how much of it is available (in gray).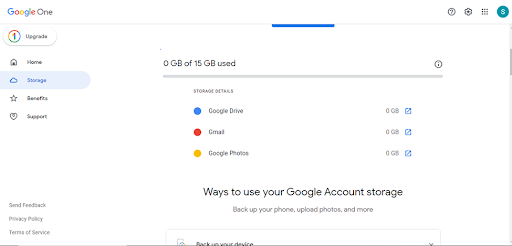 Method 2: You can also get an idea of how much Gmail storage space is left directly from your Gmail account. Go to your Gmail page, scroll down, and look at the bottom left side.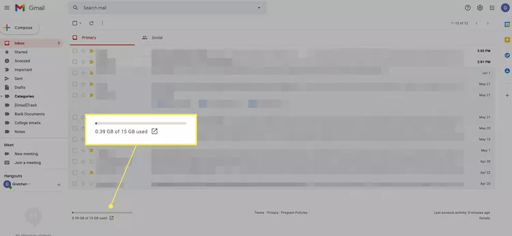 How Can You Check Your Gmail Storage Space On Mobile Devices?
To check your Gmail storage space on mobile devices follow the below-mentioned steps:
Step 1. Open the Gmail app on your phone and click on the icon in the top left corner of the screen. 
Step 2. In the side menu look for the "Storage" option and click on it. 
Now you will be able to see the storage space used in your Google Account for Gmail, Drive as well as Google Photos. 
What Happens If Your Gmail Storage Limit Is Reached?
As soon as the user reaches a certain storage limit, Gmail displays a warning in the inbox. After three months of being over quota, Gmail displays the message that you can't send or receive emails because you're out of storage space. 
At this point, you will still be able to access all existing messages in your account, but you can't send or receive new emails. To resume normal service you have to reduce the amount of data in your account to make up for some space in the storage quota.
However, if you are over your Google storage quota for more than two years and do not purchase more data or free up any space then all your files will be removed from the server. This includes all types of data in Gmail, Google Photos, and Drive. 
Before deleting your data permanently from the server, Google will give you a notice via emails and notifications. You will receive them around three months before your content is eligible for deletion. 
To avoid this situation you can take the help of a professional Gmail backup software which will help you backup all your emails with attachments. You can also delete the emails from the server after backup and save your precious storage space. 
Conclusion
Now you know all about the Gmail storage limit and its constituents. You can also keep a check on your available storage by following the methods mentioned above in the article. If you can't send or receive emails, then one of the possible reasons could be that you have reached your storage limit. To avoid such scenarios, the best method would be to create a backup of your emails with the help of the professional Gmail backup software mentioned above in this article. 
Frequently Asked Questions
Q.1. Is there a limit on Google storage?
Ans: Yes. The default free storage limit provided by Google is 15GB, which is shared across Google Photos, Drive, and Gmail. 
Q.2 How can I see how much storage am I using?
Ans: You can simply search Google One in the search engine. Login to your Google account and then click on the Storage section on the left side. You can now see the storage details.
Q.3 What happens to my files if I have gone over my storage limit?
Ans: Your old files will still be there but you won't be able to add any new files. And if you are over your storage limit for 2 years your data in Gmail, Photos, and Drive may get deleted.
Q.4. What to do if my Gmail storage limit is reached?
Ans: You have to clear up some space by deleting unwanted emails. If the problem still exists, then you might have to purchase a Google One subscription and you will get more data than the free limit as per your plan.