How to Download Yahoo Email to Mac Computer?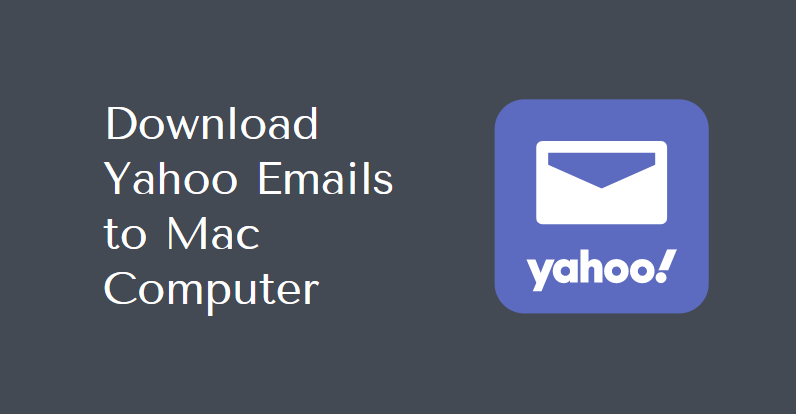 This article is all about how to download Yahoo email to Mac OS machines. Those who are Mac users or switching to Mac OS in the coming time will find this method useful. Here, we have introduced an easy and effort-free technique that will move all your Yahoo mail email data onto your Mac machine. Along with this, a facility provides the option to regain server space in your Yahoo account without losing any data from your end.
Yahoo Mail is a known, well-established email client. Having a user list of more than 10 million, it stands among the leading email service providing Webmail. Though Yahoo has faced many issues with its server management, Yahoo has tried enough to overcome all of them and retain its users within this mail client base.
But this fails sometimes if the occurred issue is not resolved within some time and the users are frustrated with it. With Yahoo, situations as such have occurred. The issue of Yahoo mail Outages are crucial and returns to trouble Yahoo users in time interval. This took many away from Yahoo and shifted to other email clients.
The users who easily move to other mail clients are good, but the ones who get stuck are in a dilemma. So here we are providing the solution for you, The Mac users. Try it out and learn how to download Yahoo email to mac OS.
One Time Solution to Transfer Yahoo mail Folders to Mac
A simple and Effortless solution to backup Yahoo email data on the Mac system is named MacWare Yahoo Backup Tool. This Mac Yahoo Backup Tool is suitable to work on all Mac machines from mac os x 10.8 and above versions. The features included are Include selective folder backup, specific email filtering backup, incremental Yahoo mail download on mac and more. We will get to these features in the coming section. Now we look into the process to export all Yahoo mail data onto to Mac system.
Simple Steps to Download Yahoo Mail on Mac OS X
1: Download and Run Mac Yahoo Backup Wizard
2: Select Email Backup Format: PST, EML, MSG, MBOX, etc
3: Browse destination to save Yahoo email on Mac OS
4: Click on Start Backup button
The emails will be downloaded on the Mac system. Further, you can use this file on other email clients as well as the application supports multiple formats. In the below section, you will find some extended features of these techniques. Read them to know more possibilities held within the method.
The discussed software is for Mac users only. If you want to download Yahoo emails to Windows computer, then try the Verizon Yahoo backup tool.
Functionalities to Download Yahoo Email on Mac OS X
The features offered by MacWare Yahoo Backup Software are described below:
Regain Yahoo mail Server Space: With the option of Delete after Download, you can backup all Yahoo emails to your Local Mac machine, and afterward, the emails from the account will be automatically deleted. Thus, you can create storage space for your account and no data is lost.
Selective Folder Backup: The option to select displayed folders allows to download the folder of our need and skip the ones that are not required at the present backup duration. This feature helps to complete the download process in less time and the storage space is also not wasted.
Date Ranged Email Filtering: This is an extended feature to the above one. You can specify a date range and the emails within the range are only downloaded on the Mac system. All the rest of the mailbox data are skipped. In the case of a selective folder, the emails within the set range of the select folders will be exported and the rest is skipped.
Manage Live Backup: The user is offered a pause and resume option. With the Pause button, you will stop the ongoing download process. With the Resume button, you can restore the stopped process from where it was paused.
File Naming Convention: The file backups in EML, EMLX, MSG are offered a file naming facility. With this, you can save the email file in the respective naming convention of your choice.
These are the major features of the application. Try out and transfer Yahoo mail folders on Mac OSX.
Conclusion
In the above article, we have studied how to download Yahoo email to Mac OS / OSX. We have defined and described an effective solution that will help you back up all yahoo emails on a mac machine maintaining the folder structure and data integrity. Try the process shown above and get succeeded in switching Yahoo emails to another mail client easily.