Two Quick Ways to Export IMAP to PST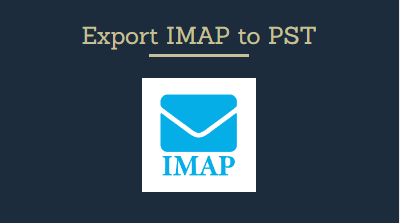 Hi, here we will discuss the solution on how to export IMAP to PST manually and automatically. PST is one of the mailbox formats that Microsoft Outlook uses to store data. When an email account is configured in MS Outlook using IMAP configuration, its default data file is OST. But, in the case of the POP configuration, the default data file is PST (Personal Storage File). So, we can use this knowledge to export IMAP emails to PST using Outlook.
Another way to get the job done is by using a professional backup solution. Since Outlook is a popular email client, PST is considered one of the most important file formats in backup and conversion scenarios. So, many professional tools come with features to export the source file in PST format. By using such a tool, one can easily export IMAP emails to PST.
Let us take a look at some user queries to better understand the situation. Afterward, we will dive into the two solutions briefly discussed above.
Users Query 
"Greetings, professionals! I'm an IT administrator who wants to export IMAP to PST on my Mac OS. I was continuously dissatisfied despite my attempts to use the free internet choices. I can no longer take any chances with my data, therefore I'm looking for an IMAP to PST transfer solution. Please share your response!"
"Is exporting an IMAP account to a PST account possible? If that's the case, please suggest an application for me to download and install on my computer. The data file for Outlook IMAP is backed up. I'd want to store it as a PST file as well."
Method 1: Export IMAP Emails to PST Using Outlook
Initially open MS Outlook application.
Now, configure the IMAP account(Gmail, Yahoo, etc.) that you want to export to PST.
After that, wait for all the synchronization to complete.
Once all the IMAP emails appear, go to the File menu.
Select the Open & Export option, then click on Import/Export option.
Choose the Export to a file > Outlook data file(.pst) option and go to the next window.
Select the configured IMAP account that you want to export to PST.
In the next window, browse the location to save Imap emails locally.
Click the Finish Button.
Voila! You have the PST file.
If you have the IMAP account already configured in Outlook, then do the following as per the configuration type:
IMAP configuration – Simply choose to follow the steps given above from Step 4.
POP configuration – Your emails are already in the PST file. The location can be accessed by going to File > Account Settings > Account Settings > Data Files.
The Manual Method Drawbacks
Severe inconsistency issues might worsen data loss.
Not suitable for non-technical people.
There is no way to selectively export data.
Method 2: Best Solution to Export IMAP to PST
Export IMAP to PST format using the IMAP Backup Tool. The aforementioned technique may result in a degraded file due to underlying restrictions. In contrast, the user can utilize this software to achieve the desired outcome without any issues.
The quality of the final file is improved as the application incorporates features such as maintaining a hierarchical structure, keeping folder data intact, and maintaining data integrity during processing.
Step-by-step Method
Download and Run the software on your Operating System.
After that, choose the IMAP domain, and provide the login credentials.
Now, choose PST as the export type from the drop-down menu.
Then, apply the Advance Settings in the software.
After that, choose the destination location and hit the Start Backup button.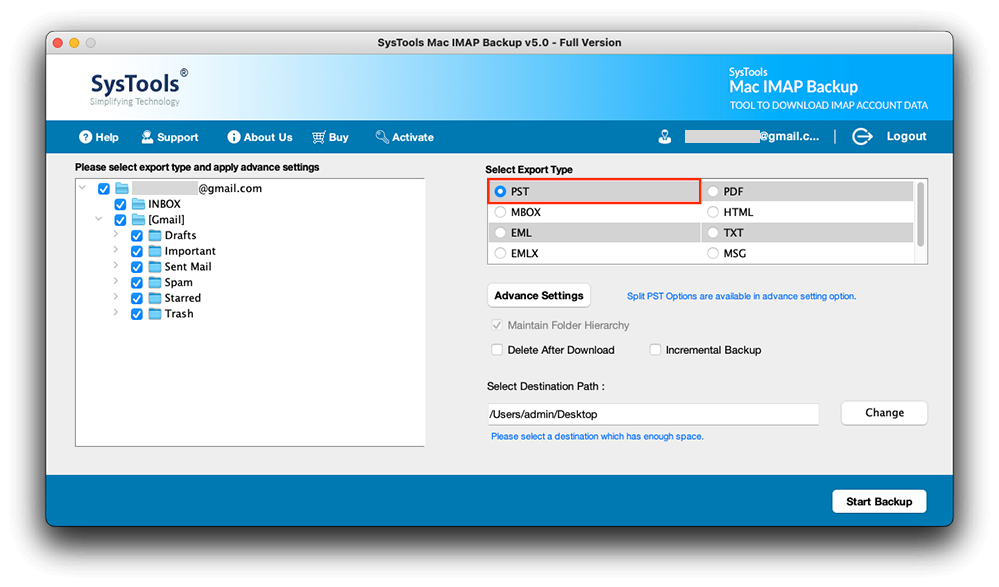 Why do Users Prefer the Professional Tool?
Batch Conversion: On MAC OS, this fantastic tool exports IMAP emails to PST format in batch mode. This approach allows users to backup multiple IMAP emails to PST at the same time.
No File Size Limitations: Users may use this tool with no file size restrictions. Users may export IMAP emails in bulk regardless of the mailbox size.
Selective Export: This feature allows users to backup emails from the Mac IMAP Server to PST and other file formats on a per-email basis.
Compatible: This tool is great for exporting IMAP to PST on the Mac, and it works with all versions of MS Outlook. You can download IMAP emails to Outlook on Mac OS X 10.8 and all the above versions to date.
Final Words
This article explains how to export IMAP to PST file format. Although there are various problems in the manual approach that make it inefficient at times, it is still a feasible choice.
In this case, an automated solution might be advantageous to a person in terms of achieving favorable results. The best technique a user is recommended is to employ an automated solution. Appreciate the ease while achieving the best possible outcome.