Here's How to Backup Gmail Data – The Complete Guide
If Gmail is your primary email application, you definitely need to understand how to backup Gmail data.
Gmail is a web-based email application of Google. It is the most popular email client used worldwide. But, if in case your Gmail account gets hacked or inaccessible due to Google outage or any other reason, it is possible that you will completely lose your data. To prevent such scenarios, it is essential to regularly backup Gmail emails to computer for safekeeping.
There are two ways to backup Gmail data, either by using Google's native backup tool or an automated backup tool for complete Gmail data backup.
LET'S EXPLORE MORE
So, let us start with some scenarios that result in the need for email backup.
Have a look at some scenarios for the need to take backup of Gmail data?
In Jan 2014, Google's widespread outage occurred that lasted for 50 minutes and affected about 10% of the worldwide users of Gmail. What if this situation re-occurs? How will you manage if you don't have a backup of your Gmail data?
Unlike Outlook and other mail clients, Gmail does not provide folder orientation. Gmail gives labels instead of the folder so this makes the organization of emails difficult as compared to other email clients. For instance, if you have a meeting with your boss and you have to show him the emails received from a particular user that you have labeled, how will you show him those emails if the data is not organized?
There are scenarios where there is a need to access Gmail data in offline applications. Some prefer PDF documents, others want something substantial like MBOX, EML, or PST to open Gmail emails in desktop email clients. To handle such scenarios, saving Gmail emails to computer is effectively needed.
Proposed Solution:
Keeping a backup of emails, contacts, calendars, documents from your Gmail account proves to be helpful in the scenario of any disaster recovery
A Gmail backup solution ensures that you can save Gmail emails to local computer and access them in different applications of choice.
Techniques to Backup Gmail Data Effortlessly
Starting with Google's native backup tool i.e., Google Takeout, you can take the backup of complete Gmail into your local computer. First, the tool will compress all your emails into a compressed zip file and then provide you the option to download the file.
Another way is to use a professional tool. Since such tools are recommended by experts, they tend to overcome whatever limitations the manual methods may have.
We also have additional tips that include several tricks to backup Gmail emails manually in different formats that Takeout does not provide.
#1 Google Takeout – The Native Method to Save Emails
The working of Google Takeout is quite simple, follow the steps below to execute it:
First, visit www.takeout.google.com in your web browser and log in to your Gmail account
Here, deselect all the items.
Then, select Mail for backup in the Select data to include tab.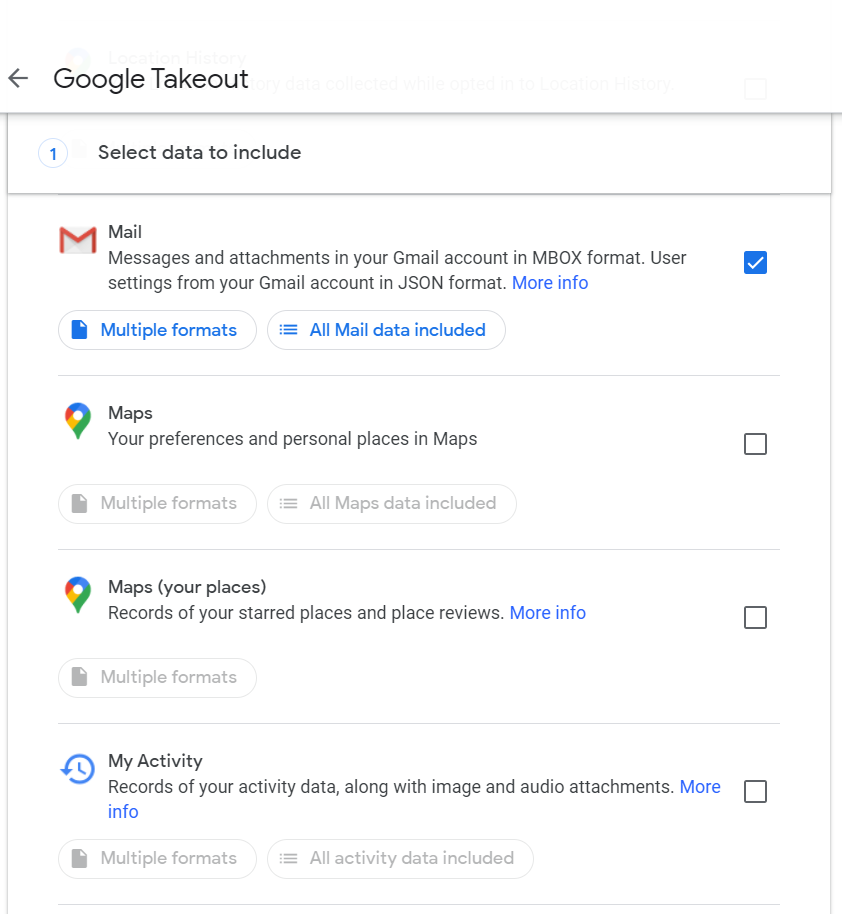 Hit on the Next Step to proceed further.
The second tab consists of options to customize your back-ups like the destination, file size, file type, and frequency.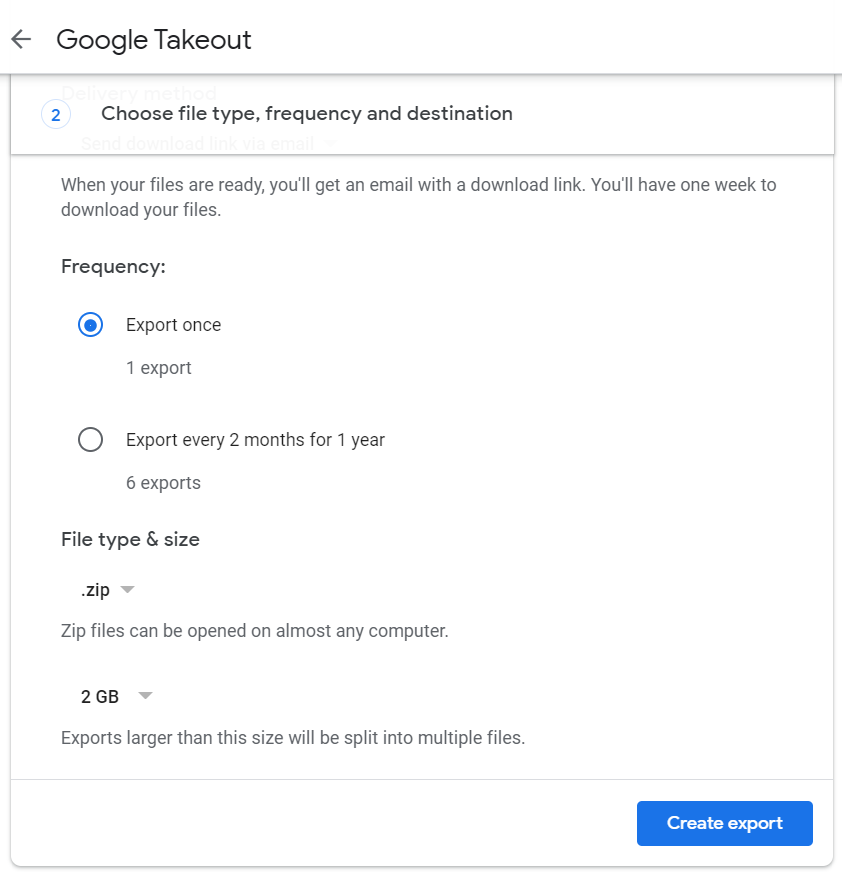 Make sure to select "Send download link via email" and choose other details as per your choice.
Once all fields are set, click on "Create Export" to request archive creation.
Google will process the request and start creating an archive of selected data for backup.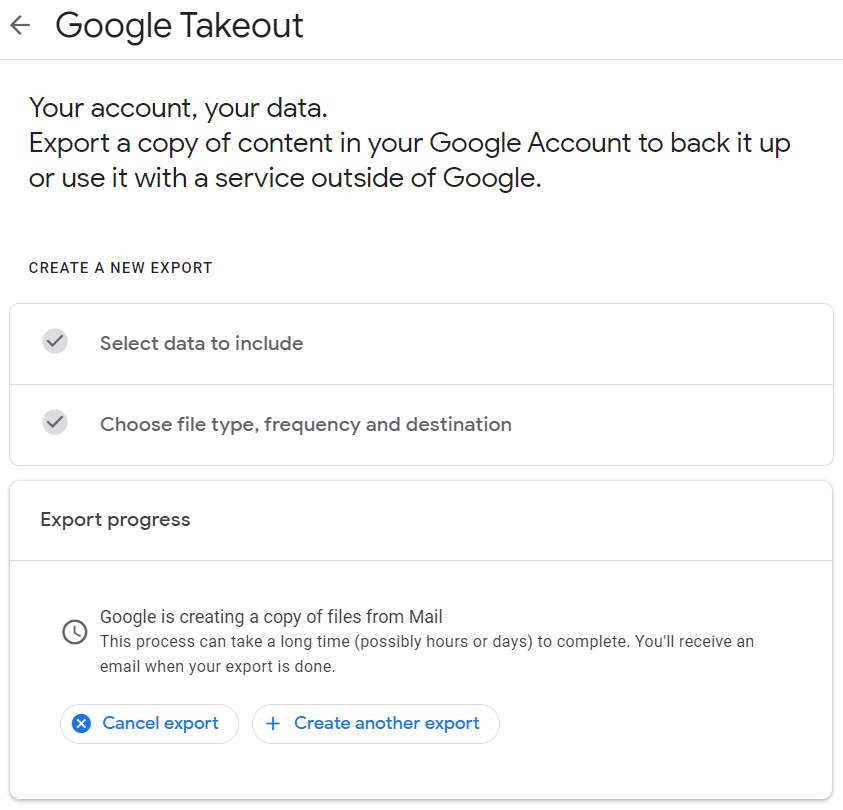 You can close the tab, as Google will send the download link via email as soon as the archive is complete.
Once the archive is finished, you will receive a link to Manage exports and Download the archive file.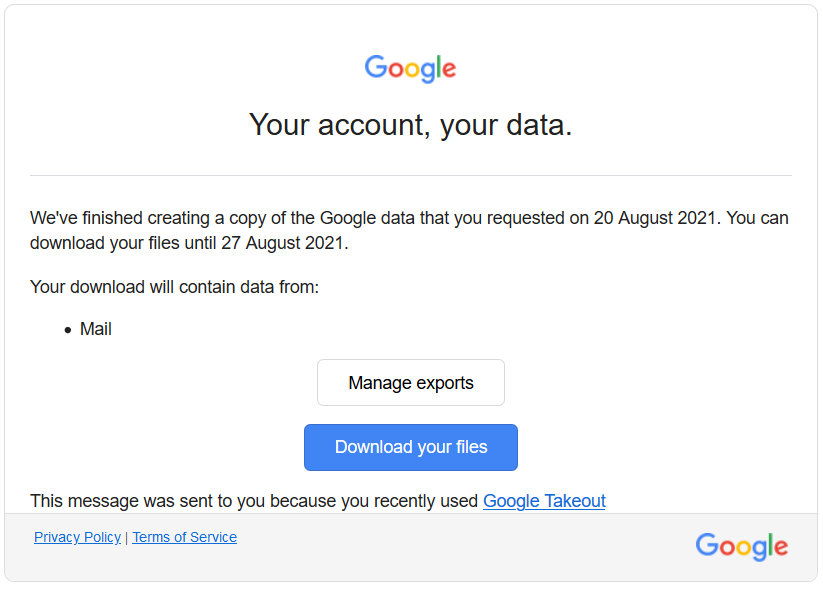 Click on "Download your files" to effectively save Gmail emails to computer 
Although Google's native tool is quite efficient in backup Gmail data, it exports emails in only MBOX file format that is supported by emails clients such as Thunderbird. If you want to backup emails in formats other than MBOX, like PST, PDF, EML, etc. then you can make use of the best Google Takeout Alternative Tool. We have the complete guide to this tool in the next section.
#2 Best Way to Backup Gmail Account Data
Now let us introduce you to SysTools Gmail Backup Software that easily backups Gmail emails, contacts, and calendars to 5+ formats. It allows you to select categories, apply date-range filters and name conventions before the backup process. This is an ideal application to save Gmail emails on both Windows and Mac Operating systems.
Download for Windows Download for Mac
Download the free demo version to understand the working of the tool and get an insight into what it does. It will be helpful in deciding whether you want to use it or not.
Steps to Take Backup of Gmail Account Data are:
Step 1: Launch the tool to backup Gmail data & fill in the required credentials to log in.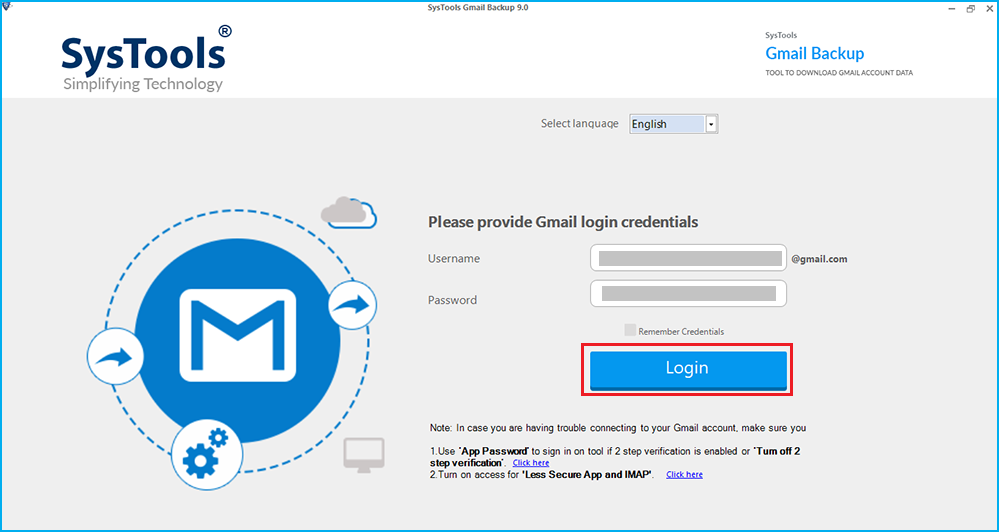 Step 2: Then the message will pop up "You will be redirected to browser for authentication", Click on OK. In the window that appears, re-enter the Gmail credentials for validation.

Step 3: After redirection to the web browser, validate the credentials and allow access to download your Gmail data.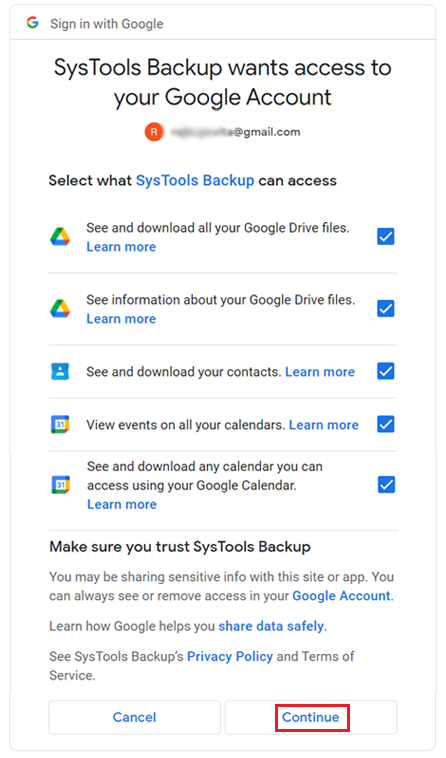 Step 4: Now, this software gives you a chance to backup Gmail data into multiple file formats.
You can select the email format in which you want to take the backup. This seems like a plus point of this software.
Choose the preferred output email file format, like, MBOX, PST, PDF, EML, MSG, ICS, VCF to backup Gmail data accordingly.
Step 5: Select a desired output destination location on your local machine/drive.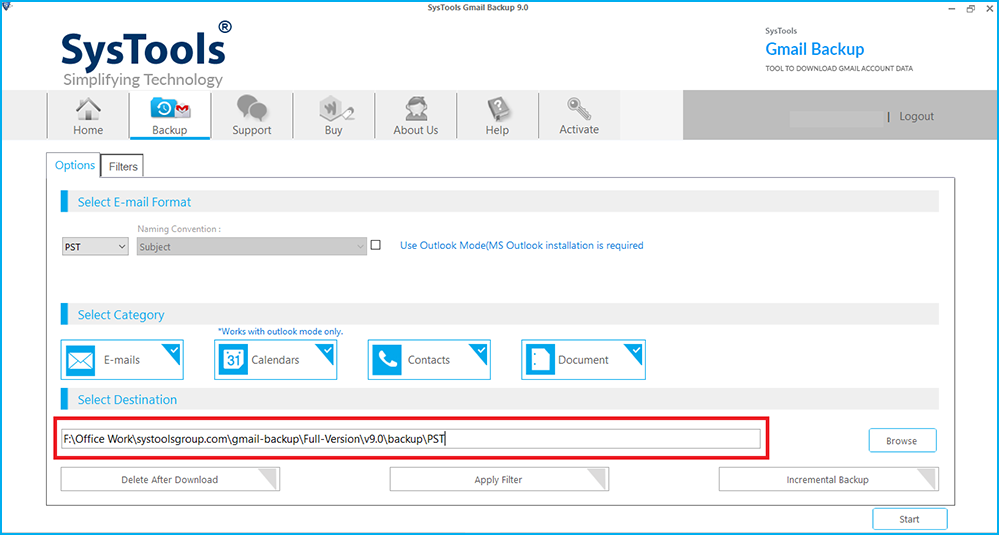 Step 6: Here you can filter the data that you want to backup. Another feature of this software that is unique and makes it easier to backup the data.
Choose among the options:
Delete After Download: this option helps to delete the emails from the server once the backup is complete.
Apply Filter: it helps in selective download of Gmail data for backup using predefined filters.
Step 7: Filter Options
This screen provides you to choose the desired folders and even allows you to select user-defined labels and creates a separate folder of those labels. Which helps in overcoming the shortcoming of managing data in folders.
This screen also provides a Time Interval Filter that enables the user to backup the emails from a defined date range.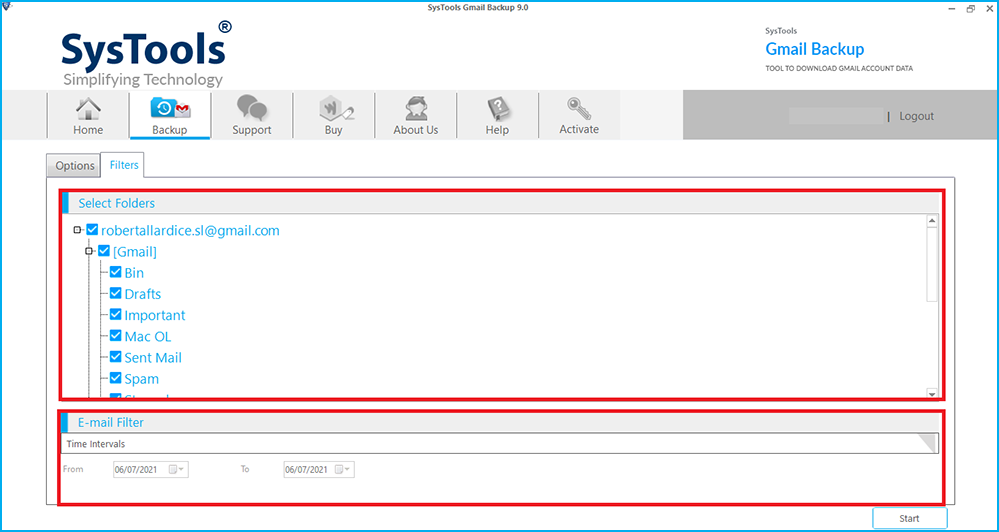 Step 9: Click on Start to begin the backup process.
Step 10: Another amazing feature of this software is that this software shows the status of the backup while it's still in progress. It shows the counts, rates, current folder name, progress (in percentage), destination folder, and connection status.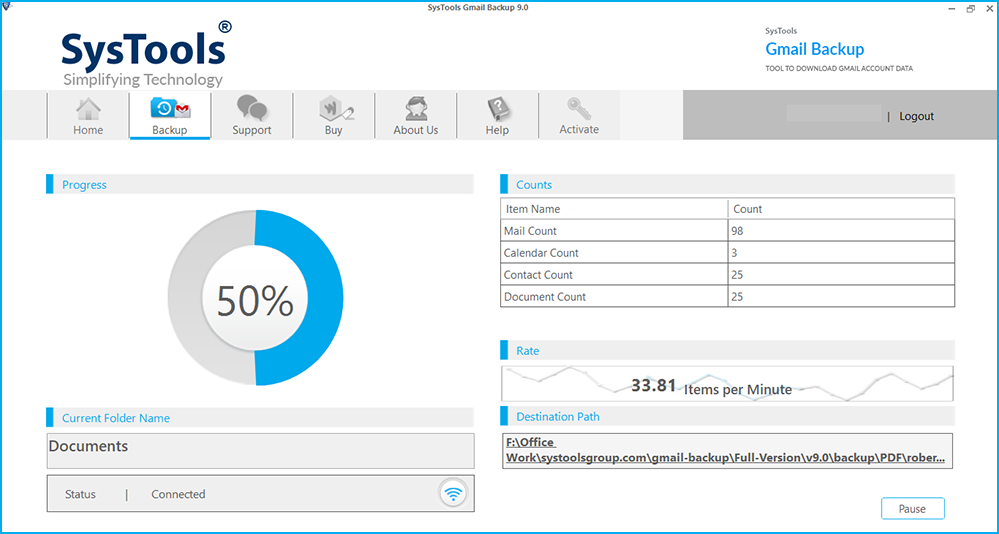 Step 11: The software shows this message "Download Completed Successfully" on the successful completion of the backup. Click OK.

Step 12: Then the software returns to the previous screen and displays full report of the backup task. That's a very useful feature to keep track of the backed-up data.
Step 13: You can go to the output destination location where the software has downloaded a local Gmail backup of your Gmail account data.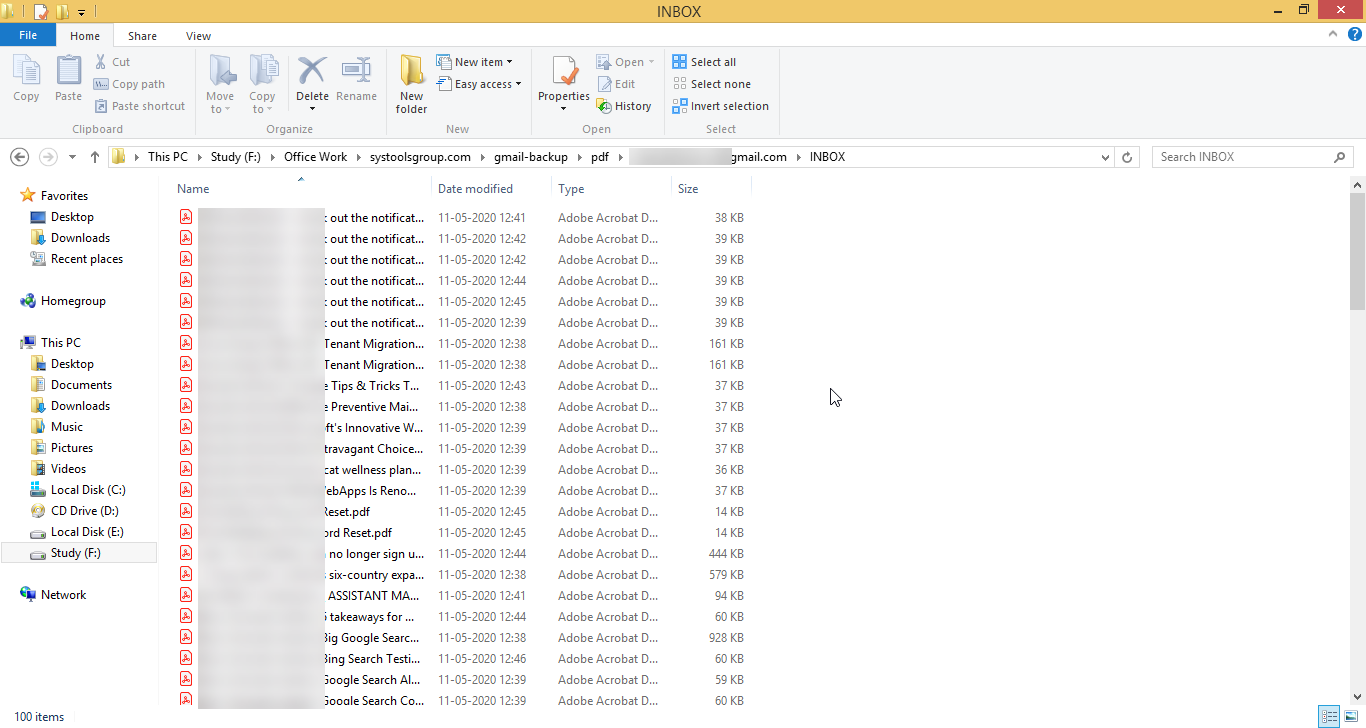 Step 14: Now you can use the backup file as per your requirement. You just need to import the backup file and then you can view all the emails on your machine even when the internet connectivity is unavailable. And you can transfer this backup file to any other computer/ drive as per your requirements.
Woohoo! There you go!!
Now you have backup of all your Gmail data at your workstation.
#3 Additional Tips
There are some tricks that can be used to save Gmail emails other than the aforementioned methods, such as:
Saving Gmail emails to PDF manually. However, this method only works with one email at a time and hence is not suitable for bulk export.
You can also backup Gmail data by configuring Gmail to Outlook but this method requires MS Outlook installation on your machine. Also, since this method exports Gmail emails to PST, the backup would not be portable to other applications/platforms.
So to avoid these shortcomings, we recommend using the previously mentioned methods that allow to backup Gmail emails to computer without all these hassles.
Why Do We Care?
Gmail is the primary email application of millions of users worldwide. So, a lot of important information constantly flows in and out of Gmail. But, Google is not responsible for the protection of this data. It is the liability of the end-users.
Thousands of users lose their emails due to deletion, hacking, ransomware, server outage, etc. But, a simple backup of Gmail data goes a long way in avoiding such data loss. That's why we came up with this write-up to save Gmail emails to computer. With these solutions, not only will you have a copy of Gmail data for disaster recovery, you can even work with Gmail emails on different applications. As for what method to choose, that is up to your requirements.