Google Drive to Google Drive Migration in a Perfect and Professional Way
Google Drive to Google Drive Migration
Google Drive is the most used service globally as it is a file storage and synchronization service. It means users can save their local data to Google Drive cloud storage service. Google Drive offers 15GB of free storage to store users' data that is also shared with Gmail and Google Photos. So, when users run out of space, they start searching for a solution to move their Google Drive to another Google Drive. Now, to know how to perform the migration process in an effortless way, they can simply use this Google Drive Migrator Tool to complete the process.
A Professional Solution to Move Google Drive Data
Google Drive Migrator is the most reliable third-party migration software that helps you move files from Google Drive to Google Drive or Domain. This software move files like image, doc files, video, etc. Along with that, it is capable to move deleted items from the trash folder of Google Drive. It creates a complete export report in CSV format for future reference. This tool provides you an option to move permission for both files and folders to another Google Drive. Apart from all of this, the user interface of the software is well designed for user satisfaction, and no extra installation required to run this software on your local machine.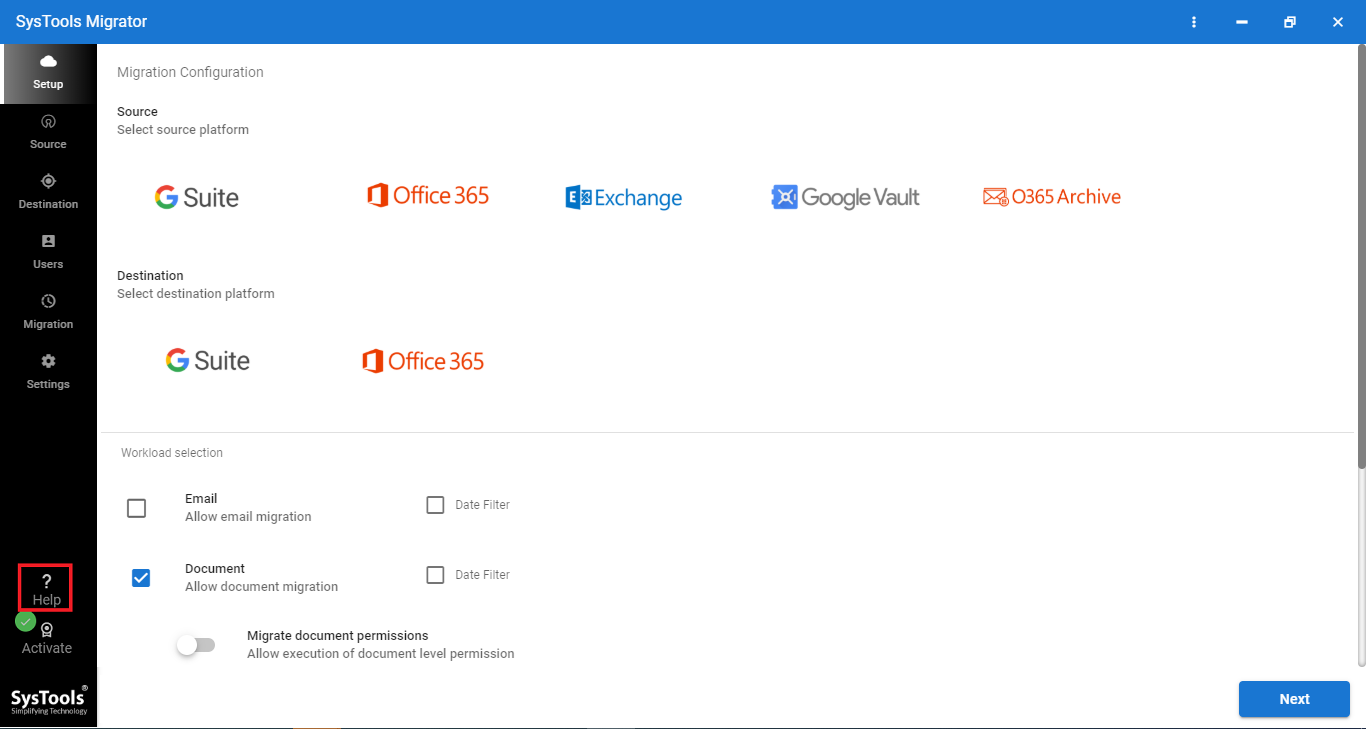 Google Drive Migration Tool Specification
Developer

SysTools Group

Current Version

5.7.0

Price

$25.00 (Basic Version)

Size

86.5 MB

RAM

Minimum 8 GB

Processor

Minimum 2.2 GHz processor

Role

Move Google Drive data like- Image, Doc Files, Video, Audio to another Google Drive

Hard Disk Space

5 GB

Support OS

Windows Server 2012, 2016, Windows 10(64-bit)Ubuntu 18.04 LTS
Architecture: x86-64
Leading Features of Google Drive Migration Tool
Move Data from Google Drive to Another Drive
This software move data items like photo, doc files, PDFs, videos, audio files, email clients data files, excel files, etc to another Google Drive very easily. As well as it allows users to move multiple Google Drive storage at once to save time. Moreover, this software also able to move Google data like Google Docs, Google Sheets, Google Slides, Google Forms, Google Drawing, Google Sites, and Google Jamboard.
Transfer Deleted Item of Google Drive
This software is capable to move deleted data items from the Trash folder of Google Drive. Simply a user has to check on this option, the software will move Trash folder from one to another Google Drive in a separate folder with Trash name only.
Two Different Ways to Move Google Drive Storage
This software gives users an option to move Google Drive files to another Google Drive in two different ways. First is Admin Account- with the help of this option a user can perform Domain to Domain migration. And, the second option is Individual User Account- by using this option users can perform Gmail to Gmail, Domain to Gmail, and Gmail to Domain data migration.
Pause / Resume and Stop Option
Google Drive Migration tool will display the on-going migration process on the screen. However, if a user wants, then the user can pause and resume the outgoing process to manage any interruption. Moreover, a user can also stop the process in between whenever he or she wants.
Have a look: For user's ease, we have provided a solution to sync Google Drive with OneDrive solution. It is an efficient solution which is highly recommended.
This software supports delta migration also. It means that, if a user once copied the data to another Google Drive, it will not move to the same G Drive in the next attempt. And, also it supports delta migration to move newly arrived mail or other items to the destination account automatically.
Date -based Filter Option
This software provides a date-based filter option to transfer specified data from one Google Drive to another Google Drive or Domain. One just needs to specify the date range in From and To field, the software will migrate data that falls under that date range.
Maintain Folder Hierarchy
This software gives an option to the user to maintain folder hierarchy during the migration process. If the option remains unchecked during the process, the software will create a single folder for all data without any folder structure.
Google Drive Migration tool can move the shared with me folder data file from one Google Drive to destination Google Drive. Moreover, it creates a new folder at the destination location with the same name.
Pros
It maintains an on-drive folder hierarchy in migration.

It provides to add an admin account or individual user account.
Cons
Google Drive Migration tool does not available for Mac OS.
Observational Verdict
Google Drive Migration tool is the most sophisticated software that allows the user to move their Google Data to another Google Drive or Domain without any data loss. Considering the features or services offered by this software, I would like to rate this tool as 9.4 out of 10. Overall it is the most reliable and amazing software for the Google Drive Migration process.