How to Import Email From Entourage to Outlook 2019, 2016?
Are you among one of those, who are looking for a method to import email from Entourage to Outlook? Do you know the method used by various professionals for the accomplishment of the same purpose? If no, then you have precisely landed in the right place. Here in this blog, we are going to learn both manuals as well as automated solutions to migrate Entourage Mail to Outlook 2019, 2016 account.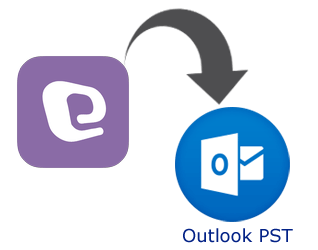 Both Entourage Mail and Outlook, are used for the same purpose i.e. for cross-interaction and management of data. However, Microsoft Outlook is more popular and used on large scale. The reason behind such migration from Entourage to Outlook is the attractive feature suite of Outlook and a very simple interface. Apart from this, Outlook can be accessed with the synchronization of Exchange, which makes it more helpful. Therefore, many organizations and users wish to move their files from Entourage Mail to Microsoft Outlook. Let us now go through the solution part without wasting the time.
Import Email from Entourage to Outlook Manually
Many users want to know a manual workaround for migrating the emails of Entourage Mail to Outlook. This is because the manual trick is free of cost and does not require the need for any third-party utility. However, there are some drawbacks associated with the manual solution, which we will discuss later. Follow all these steps to move the files from Entourage to MS Outlook:
Launch Microsoft Entourage and select the File from the menu bar
Then choose Export option from there.
Choose Export items to an Entourage archive and then select All Items
Browse to the target destination and select Export button.
Launch Microsoft Outlook program. Go to the File option and then click on Import option to import Entourage emails to Outlook
Choose Entourage archive (.rge) and select the right arrow icon of the window.
Click on all the check boxes. Now select the right arrow icon to convert Entourage files to PST.
Select Browse option, and then choose the thumb drive in the window. Select the RGE file that you have saved, and finally select the Choose button to continue.
Select the right arrow, then click Finish button to import Entourage emails and total data to your MS Outlook platform.
Limitation of Method
There are certain drawbacks associated with this manual solution:
This manual method is only available on Outlook for Mac 2011 edition, which is now unavailable.
It requires the installation and configuration of both the email applications properly on your machine
While performing the Entourage to Outlook migration with this method, the integrity of Entourage Mail is at risk.
Last, but not least, in case of any wrong step, you may lose the files permanently.
Therefore, now if the manual solution is not trustworthy then what should we do? Is there any other way to perform the migration of Entourage to MS Outlook securely? The answer lies in the next method we are going to learn.
Migrate Entourage Mail to Outlook with Conversion Tool
In order to do it in a safe manner, users can opt for a professional tool i.e. MBOX to PST Converter. This is an advanced utility that has been designed for exporting email and contacts to MS Outlook. It allows users to perform this task in bulk and has the ability to detect the files automatically.
Moreover, it even gives the option to split the resultant PST file and provides different naming convention options. Users can preview the emails, contacts, calendar items, and attachments in the software panel.
Download Now
(Mac) Purchase Now
(Mac)
2 Steps to Get Your Outlook PST Files Without Any Data Loss
The two steps to import email from Entourage to Outlook are:
Step 1: Extract Emails from Entourage Database
In Entourage, click on File | Export…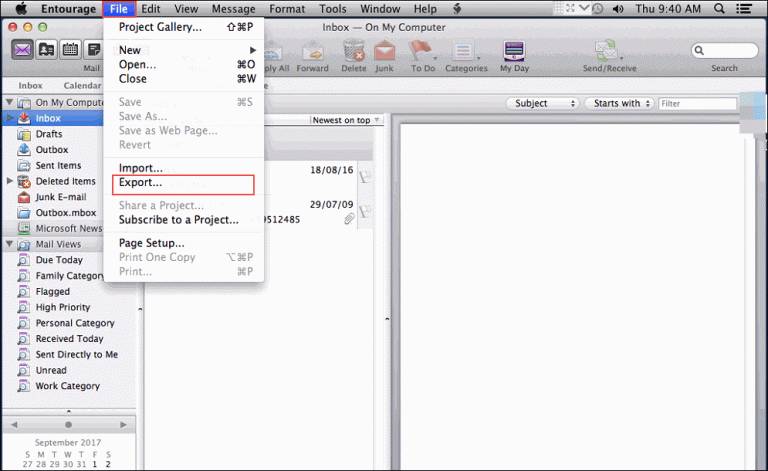 Choose the first option to keep the items in Entourage even after exporting them.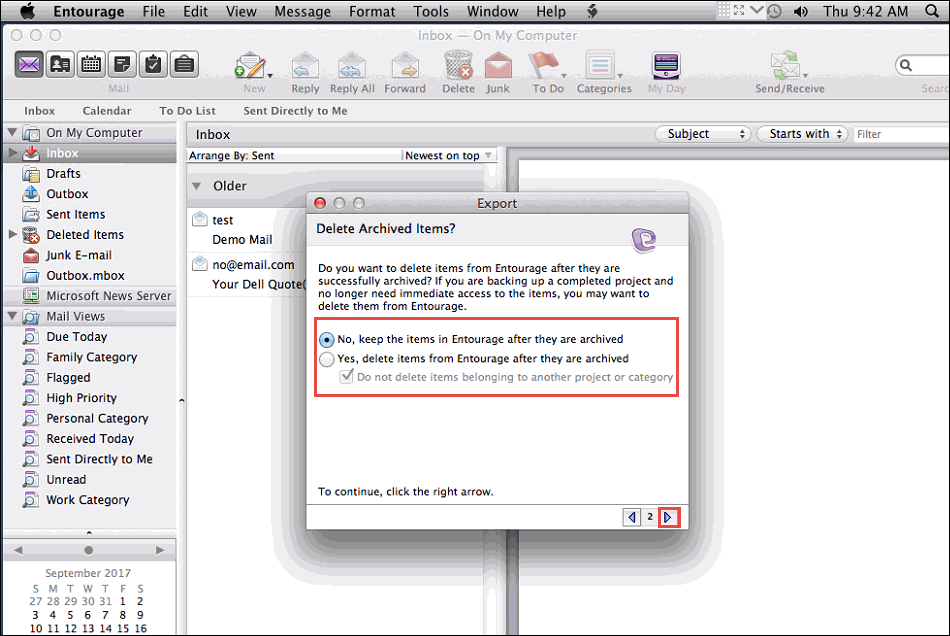 Select Mail from the list of given options.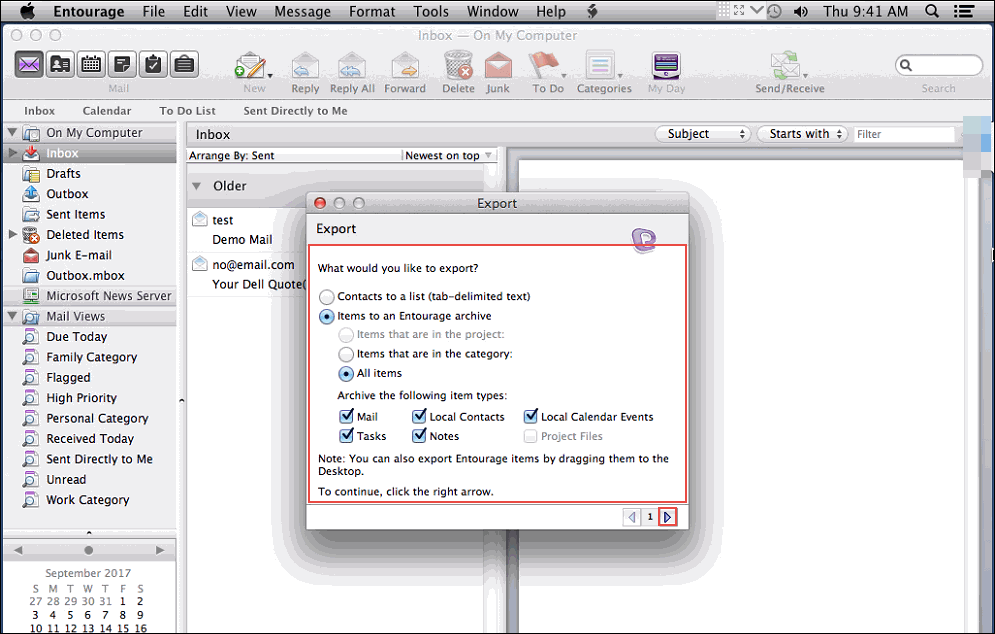 Choose the destination and click on the Save button.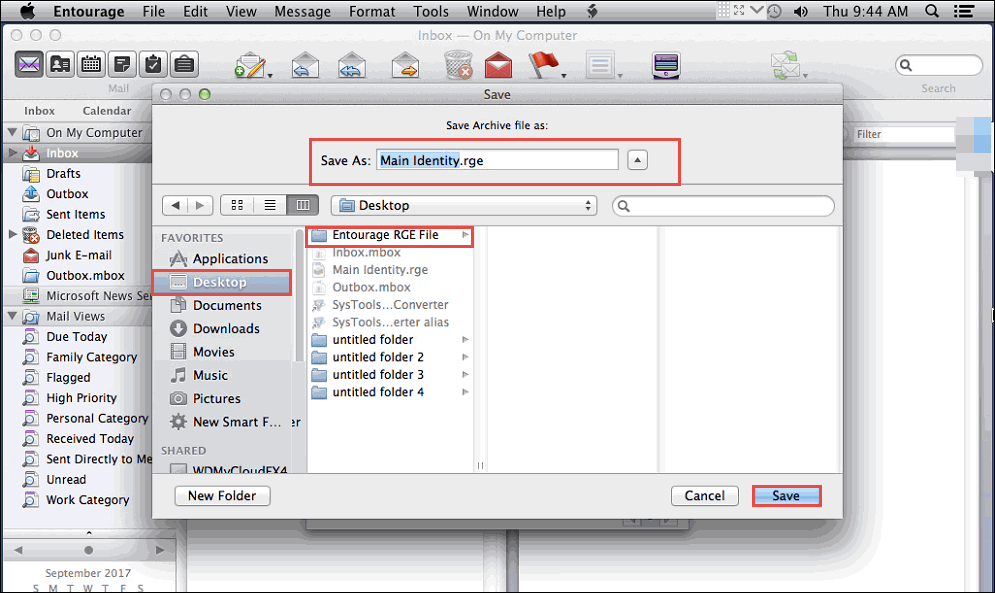 Once Entourage completes the export process, click on Done button.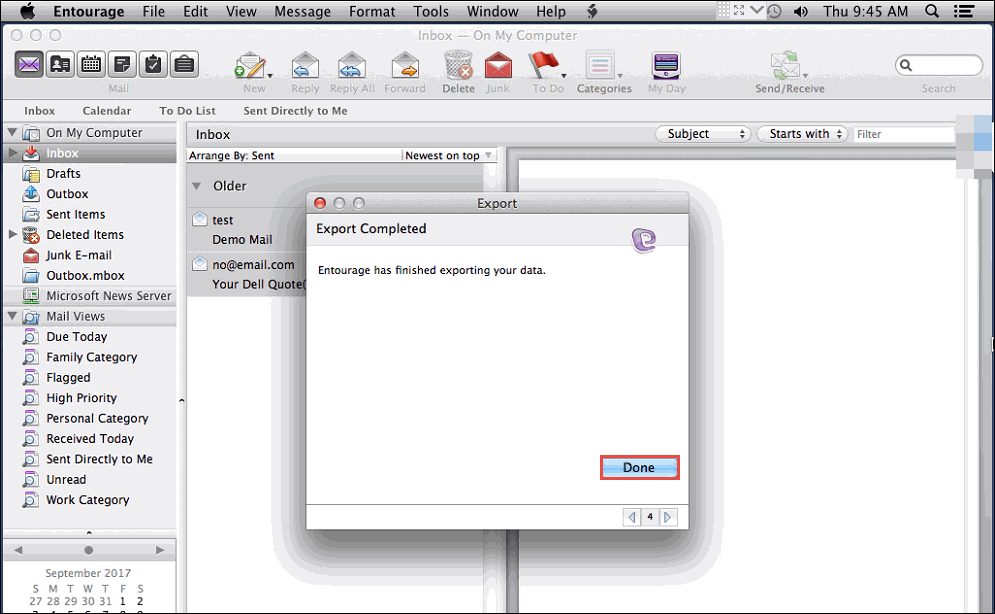 After that, go to the location where your file is exported and click on Show Package Contents.
You will find the MBOX files that contain the Entourage emails.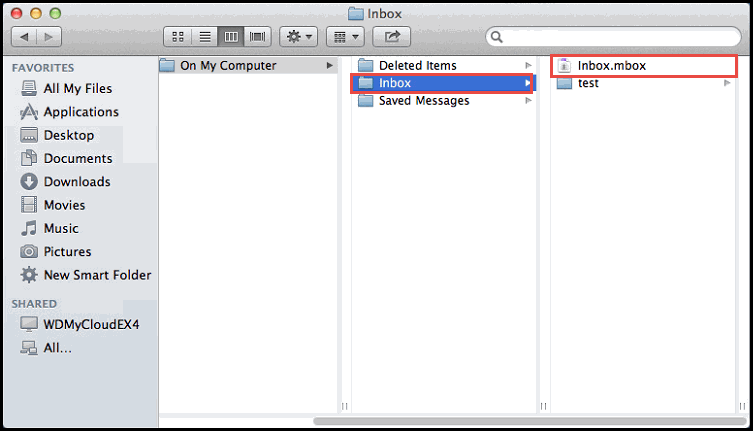 Copy these MBOX files to ensure the migration process.
Step 2: Convert Entourage to Outlook PST File
Run the converter and select MBOX files to add into the software.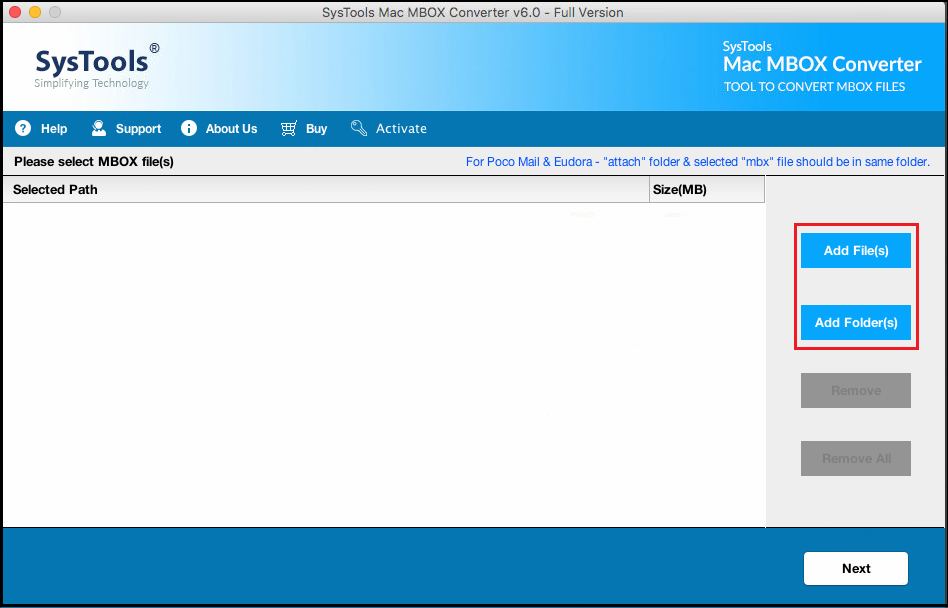 Select the PST format as the export type.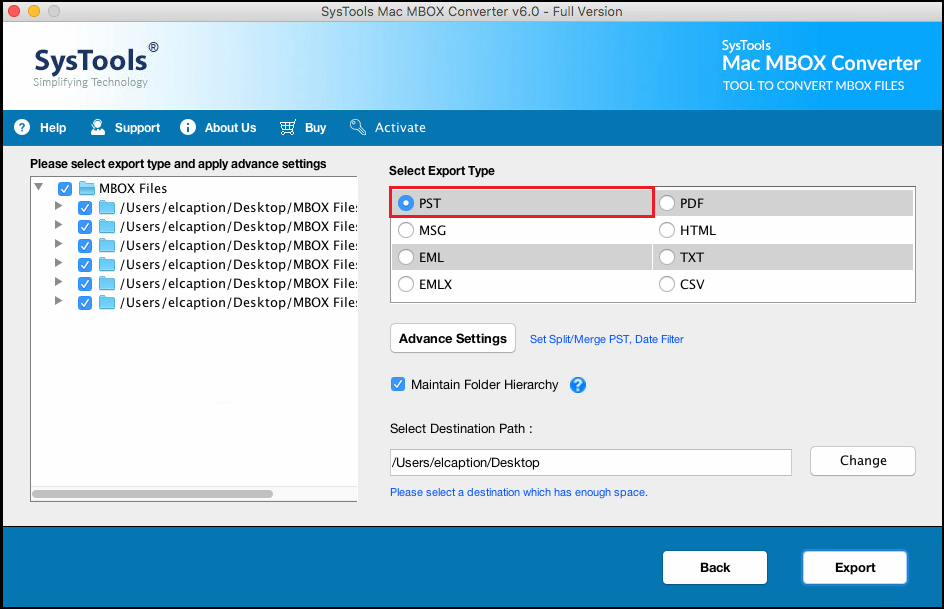 Apply multiple advanced settings as per convenience.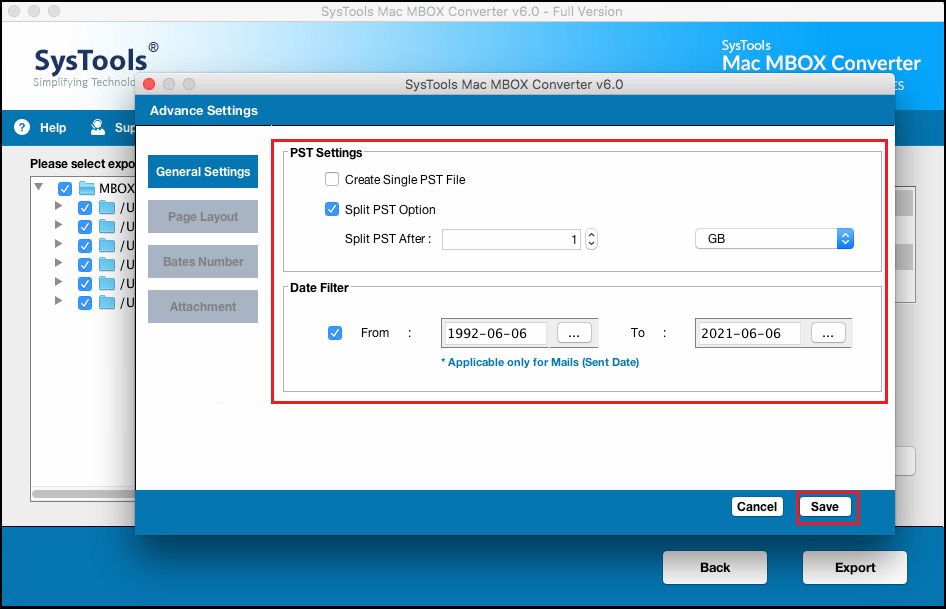 Finally, click on Export button to start exporting Entourage Mail to PST.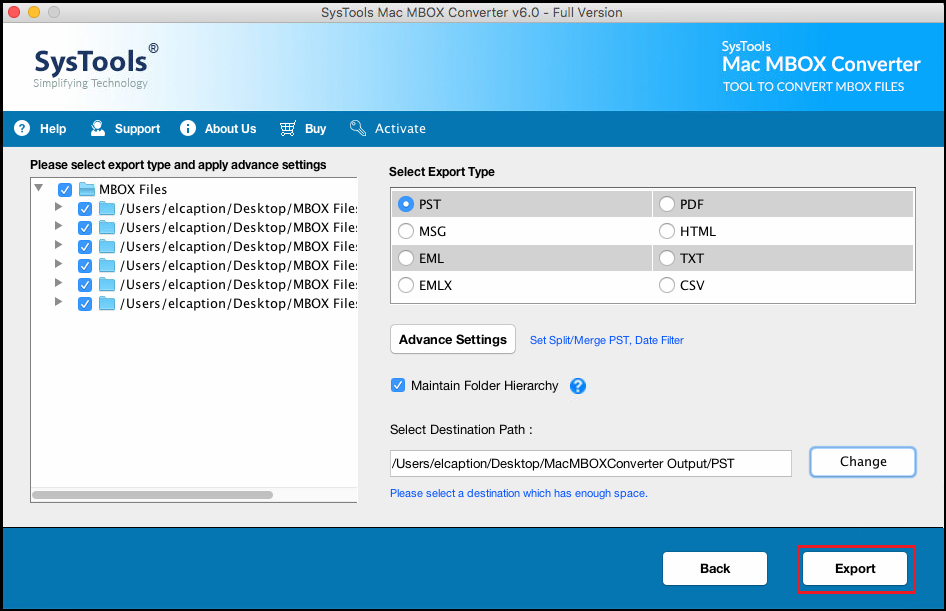 Once you have the PST file, you can easily import it in Outlook 2019, 2016, 2013, 2010, 2007 & 2003 using the built-in Import/Export wizard.
Tool Also Available for Windows OS
If you want to import email from Entourage to Outlook on Windows PC, then you can use the Windows software solution. It helps you open MBOX files in Outlook without any issues. Download the free version here:
Download Now
(Win) Purchase Now
(Win)
Sum It Up
Sometimes, migration from one to another platform becomes necessary to meet the business requirement. Entourage mail to Outlook is one such conversion, which is not easy to achieve. Therefore, in the above blog, we have discussed two solutions to import email from Entourage to Outlook PST. Users can choose any of these workarounds as per their requirement and convenience.