Import Thunderbird to Outlook – The Simplest Methods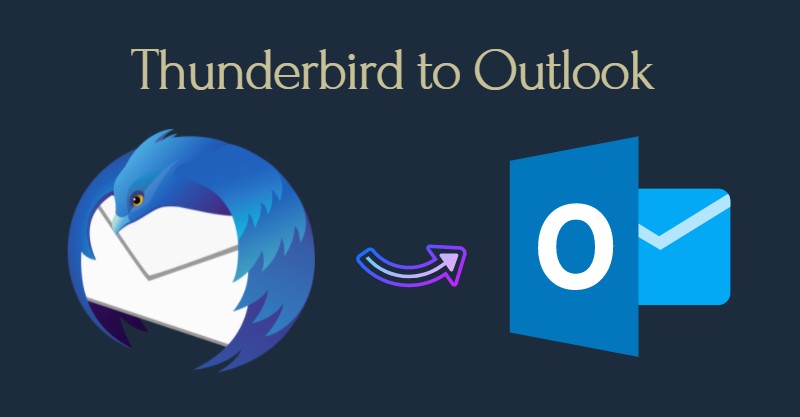 Are you looking to import emails from Thunderbird to Outlook but aren't able to find a reliable solution? No problem. In this article, I will guide you through the two most popular techniques for converting your emails easily. No matter what your technical capabilities are, simply follow the given guidelines and easily accomplish your task.
A little Intro: Multiple email clients like Mozilla Thunderbird, Apple Mail, etc stores all its emails in MBOX format. While MS Outlook is a product of Microsoft which uses PST files to save all its mailbox items. These items include emails, attachments, contacts, calendars & tasks.
Ever since the launch of Outlook, we have seen people migrating towards it in search of better features and data management. And the release of MS Outlook 2019 has fueled this email migration to a larger scale.
Thunderbird & Outlook – Two Email Clients
The problem is that people wishing to import Thunderbird to Outlook 2019 usually face is the incompatibility of the associated file formats. Since they use two different data formats (MBOX & PST), it seems an impossible task for users to find a convenient solution. Something that does not hinder the data integrity of email messages after conversion.
Two Methods for Thunderbird to Outlook 2019 Migration
'Perfection' or 'Best' is a term that we often hear in Email migration scenarios. Like 'I want the best conversion method', 'I strive for perfect results', 'Give me the best possible solution', and so on. But practically, these words are directly related to your requirements. What may seem perfect for you may not be best for another? So, make sure to analyze your requirements and the options that you are provided with. This will help you pick the best possible solution among many that fit perfectly in your Thunderbird to Outlook 2019 conversion scenario.
Now, with an open mind, let us analyze the two popular choices for the discussed conversion.
Do note that, unlike other stupid manual methods, where the sole purpose of the article is the promotion of incompetent third-party tools. This is nothing of that sort. Both of the provided solutions are thoroughly tested by me and has already helped millions worldwide.
What you choose is totally up to you. I will give some directions as to in which case the given solution is better.
Method 1: Free Method to Import Thunderbird to Outlook
Launch Thunderbird email client

Import the mailbox data from MBOX file into Thunderbird

Select all the emails as per requirement

Right-click on it and choose Save as option

Save the files at the desired location

Now close Thunderbird and open MS Outlook 2019

Create a new folder and open it. It will be empty (of course)

Now navigate to the folder where you saved the Thunderbird files (will be saved as EML files)

Select them all and drag-drop them into Outlook interface (middle pane)

Wait till all the files are imported. Check to see if you are missing anything.
Repeat all the steps for each and every MBOX mailbox you wish to export to Outlook.
When to Implement This Solution?
If the concerned email messages are limited in number (less than 500 should be fine)

When your utmost concern is the migration of emails without focusing on the folder structure

When you have both Thunderbird and MS Outlook. In case you have MBOX files, import it in Thunderbird using free 'Import/Export' add-on.

And if you can deal with minor issues in some emails like broken images or missing formatting.

This method is usually preferred by home users as accessing their email in MS Outlook is the primary concern for them. Everything else comes next.
Also Read: How to Open MBOX file in Outlook?
Method 2: Using Professional Solution
The online market is full of third-party solutions for importing Thunderbird to Outlook. It becomes both boon and bane for users. How?
It is a boon because it enables you to select the solution which is perfect for you. It gives you a wide variety of options to choose from. At the same time, it is a bane since you will have to test each of them to ensure it is not money-grabbing incompetent software or malware. And there are a lot of tools to test.
Hence, I will exponentially decrease that load from your mind by providing you with popular software. MBOX to PST Converter simplifies the entire email migration and generates accurate results in a matter of minutes. It provides a secure platform for efficient and safe Thunderbird to Outlook conversion. A multitude of features helps users in customizing the conversion according to their needs.
All you need to do is download its FREE version from the official site and convert MBOX to PST without any complications.
Simple Steps to Export Thunderbird Emails to Outlook 2019
Step 1: Launch the Converter and click on Add File.
Step 2: Select Thunderbird & Click Next.
Step 3: Choose all the MBOX files to import into Outlook.
Step 4: Preview all emails & attachments.
Step 5: Export the required files into Outlook PST format.
Step 6: Import PST file into Outlook with free native Import/Export option.
When to Implement?
If you require fast and accurate conversion

For maintaining folder structure, data integrity and email headers are of importance to you.

When the number of email messages to migrate are large in number (anything above 500)

Both home and professional users have been seen using automated solutions for easy and fast conversion. The focus here is on quickly getting original emails from Thunderbird to Outlook without losing attributes.
Signing Off
Email conversion is always a hectic problem. People think that popular email clients must provide some way to switch to another email client. But that is not the case. In this article, I took one such conversion scenario which is highly complex and provided two of the most effective solutions, both free and professional. Hopefully, concerned users will benefit from it and import Thunderbird to Outlook 2019, 2016, 2013 & below versions.