MAB to LDIF Conversion: An Approach With Manual & Automatic Tricks
Convert MAB to LDIF: A Complete Guide
Introduction
Well, we are going to discuss how to convert MAB file to LDIF. First, we should know about mab and ldif files and what is the need to export Thunderbird contacts to ldif file. However, each email client retains an Address Book to preserve the list of record of all the contacts. Out of which, one such email application is Mozilla Thunderbird that stores its address book data as MAB (Mozilla Address Book) file within the database. Apart from this, due to some reasons a user need to convert mab file to ldif file. Moreover, ldif file can also be utilized to share the information between various email applications by permitting them to store the essential contact information in .ldif file format. In the following section, we will discuss the reasons to export Thunderbird contacts to ldif and manual solution for MAB to LDIF conversion.
Understand the Difference between MAB & LDIF File
MAB file is supported by Mozilla Thunderbird which stores address book data in .mab file format where as LDIF file is a text-based data file that permits a user to share their data between numerous directory servers and applications as well.
MAB files are the data files that saves the information of address book of email applications. However, whenever the contacts are opened from any email client, they are retrieved from this file. Instead, ldif gives a medium to transfer the data and move it to another email client in exact form.
MAB file is impossible to open and view without installing the driver for it. Besides, LDIF files are related to LDAP servers that preserve the contacts structure in an organized manner. It has comprised a complete information corresponding to LDAP directory.
Reasons Behind Exporting Thunderbird Contacts to LDIF
Before conversion of MAB to LDIF file, we have to know why users need to export Thunderbird contacts to ldif. Thus, while accessing personal address book of Mozilla Thunderbird within another application, it is present in the non-readable form. When the MAB file is opened in text file, one can only see the combination of hex digits and codes, which are impossible to read and understand it clearly. Let us discuss manual steps to convert mab file to ldif format.
Manual Procedure to Convert MAB File to LDIF
One can easily transfer thunderbird address book (.mab) to LDIF by following a simple approach. The following procedure need to be performed the conversion those are mentioned below:
Step 1: Firstly, open your Thunderbird account.
Step 2: Now, select an option of Address Book. After that, go to Tools tab.
Step 3: Select Export option. Then, enter the name for the .ldif file.
Step 4: Under Save As option select .ldif format.
Step 5: Finally, Click on Save for exporting the selected address book as LDIF.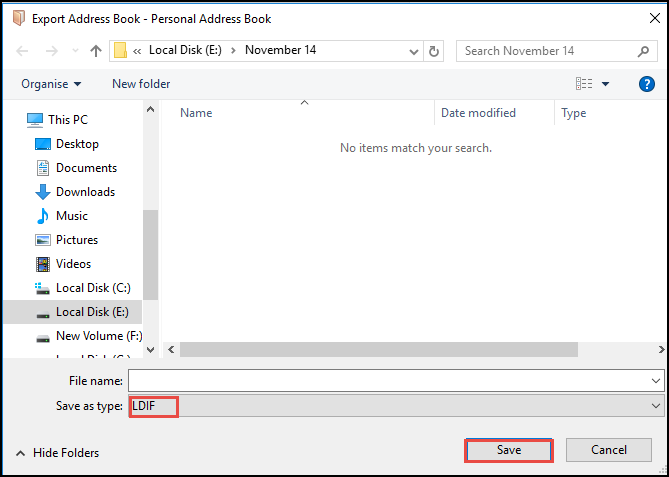 Limitation of Exporting Thunderbird Contacts to LDIF File Manually
There are some limitations of manual procedure while exporting Thunderbird contacts to LDIF such as: no option to merge address book in single file and unable to save MAB to LDAP address book. Therefore, to avoid or overcome such problems a user needs to go for any available third party tool named as MAB Converter.
Automated Approach for MAB to LDIF Conversion
The automated software has always been the choice of the majority of multiple users due to efficient and accurate results. Similarly, using third party utility i.e. MAB Converter Tool which helps Thunderbird users in converting MAB file to LDIF in very efficient manner. The software attempts to view the converted file in original file format. The following steps of exporting Thunderbird contacts using MAB Converter Tool as discussed as below:
1. Launch the Software, select start option and then, go to All Programs and MAB Converter
2. Now, click the open button to add MAB file and choose the desired file to export MAB to CSV, LDAP and LDIF as per users need
3. To view the Mozilla address book which is available on the software screen. After that, Click Export button
4. Point the desired location to save or store MAB files as an LDAP & LDIF files on the local source
Conclusion
Considering the ongoing necessity in MAB to LDIF conversion. Earlier we have discussed the difference between MAB and LDIF file format and what is the need to move .mab files into ldif. A simplified procedure discussed to let the users understand how to convert .mab to .ldif file. Else, a user can go for other solution by using alternate software i.e. MAB Converter Tool. Also, mentioned the automated steps to export Thunderbird contacts to ldif format without any difficulty.