How to Migrate Emails to Google Workspace Domain? A DIY Guide
Migrate Emails to Google Workspace Domain – A DIY Guide to easily Migrate Data From Current Email Platform to Google Workspace
Data migration is not as easy as opting for a new cloud suite. If you are an administrator then probably you know how difficult it is to move each user's data from the old domain. So, if you are troubled with the method to migrate emails to Google Workspace (previously known as G Suite) from your current domain, then this article is for you.
Here, we will provide step-by-step working of Google Workspace data migration tool and service to easily migrate complete data to your new Google Workspace domain. Whether you want to migrate from Microsoft 365 or another Google Workspace domain, using the below method you can move all items. So, without wasting any time let's get started…
Manually Migrate Emails to Google Workspace Suite
Google has launched its own data migration service to allows you to easily import your data to Google Workspace account from Microsoft Office 365, Exchange, and other legacy environments. It a free service offered by Google to assist you in easily migrating emails, contacts and calendars (but not simultaneously).
It is an administrator tool so only admin account is allowed to access this service to migrate emails to Google Workspace from current legacy environment. Admin doesn't need to install any software, they just need to open the DMS in admin console and follow the sequential steps to connect source and destination environment to migrate emails, contacts and calendar data.
Note: If you require to migrate documents from the current environment to Google Workspace, then this method fails to do that. You need to migrate drive data separately one by one for each user.
Pre-requisites of Data Migration Service
Migration can be performed from a single source at a time. It means, during the migration from two different platforms to Google Workspace cannot be performed.
In a single migration process, you can migrate only one type of item from emails, contacts, calendars. There is no option to migrate 2 or more categories of items at the same time.
Before beginning the migration process, the user must already be created in the destination Google Workspace domain. The migration service will not migrate the data to users that are created during the migration.
In case of migration from Exchange or Exchange Online environment, you need to open EWS (Exchange web services) on your source environment.
Steps for Configuring DMS to Migrate Emails to Google Workspace:
1. Visit www.admin.google.com to login into Google Workspace Admin Console.
2. From the Admin console, select the Data Migration tab.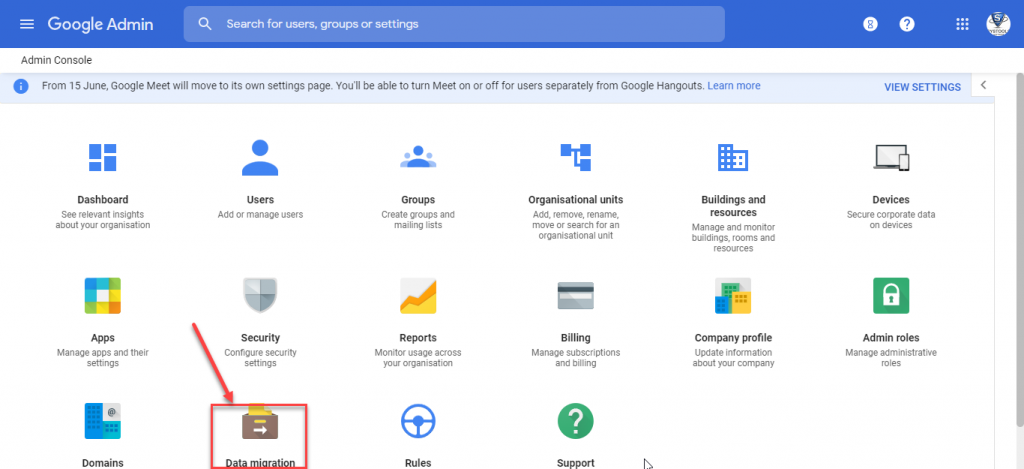 3. Use "SET UP DATA MIGRATION" link to proceed with migration process.

4. In the next window, select the migration source using drop-down option. You can see the number of available migration source from below screenshot.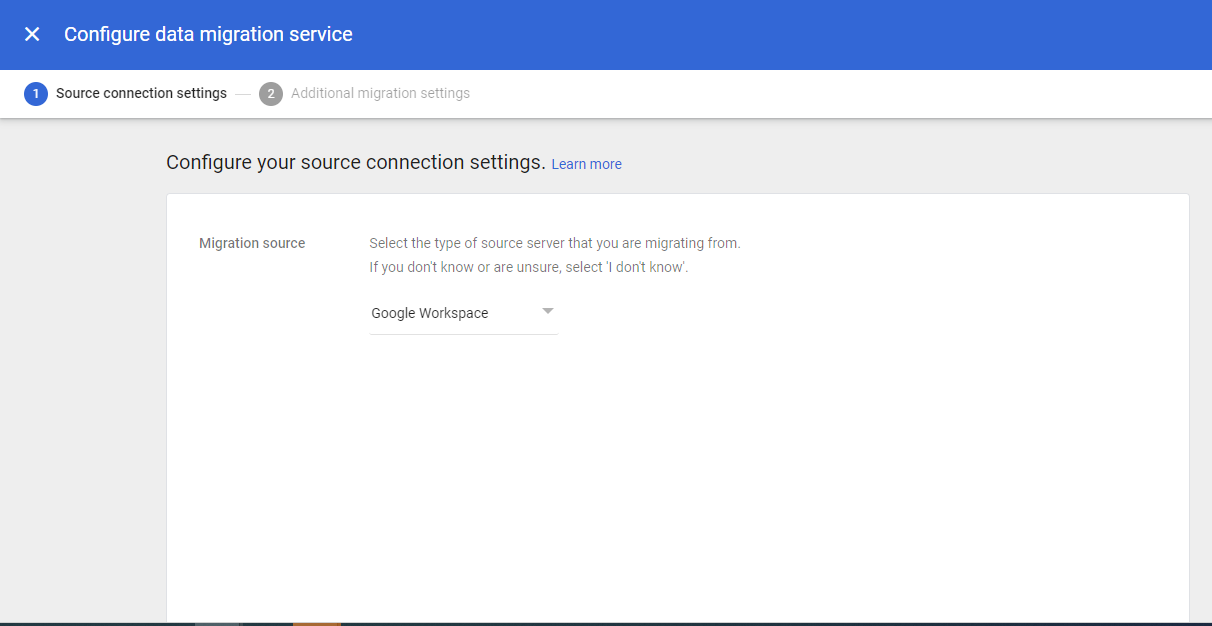 Note: In the case of source as Google Workspace, all the other fields will vanish and the default migration will of emails only.
5. Next, select the type of data you want to migrate from the source domain to the new Google Workspace domain. In this example, we will be migrating emails to Google Workspace domain.
6. Select the Connection protocol to connect and talk with the server. You can either select IMAP, Exchange Web Service or Auto Select (Recommended).
7. In the Role Account, provide the details of the Exchange Admin role username and password. Click on the Next button to proceed with the migration.
8. In the next step, you need to select the Migration Options such as:
Migrate Deleted Emails
Migrate Junk Emails
Exclude folder from migration
Migration Start Date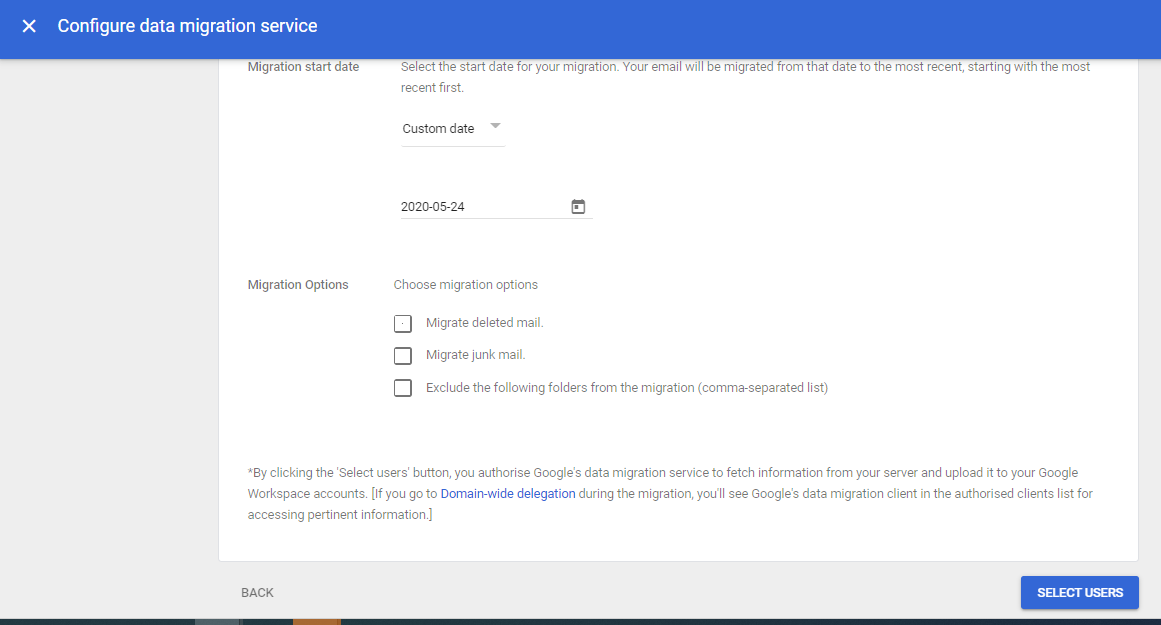 9. In the next window, you need to select single user or Bulk Upload with CSV (for multiple users). Here, we are taking the example of migrating single user account emails to Google Workspace.
10. Finally click on the Start button begin the migration to Google Workspace domain.

Shortcomings of Data Migration Service
Only a single category of items can be migrated at a time.

Doesn't provide any solution for Drive data migration.
No date-range filter provided, all data to selected date will be migrated.
In case of re-migration, data will get duplicate – No delta passes.
Migration of emails of single user can take hours/day
It can migrate only 100 user account at a time.
Alternative Solution For Migrating Emails to Google Workspace
When you migrating to a different environment then its quite complicated to perform such complicated and that too with so many shortcomings. However, it can all be easily handled with the help of automated migration tool such as Cloud Migration Tool from SysTools (available for Windows & Linux).
This automated migration tool is quite feature-rich as flexible than traditional data migration service. Using it you can simultaneously migrate emails, contacts, calendars, and drive data. Moreover, the tool also offers date-range filter for each category of items. In just few clicks you can concurrently migrate emails to Google Workspace for multiple users.
The tool stands tall in various migration scenarios with Google Workspace as destination:
Office 365 to Google Workspace
Google Workspace/G Suite to Google Workspace
Lotus Notes to Google Workspace
IMAP to Google Workspace
UI of the Migration Tool: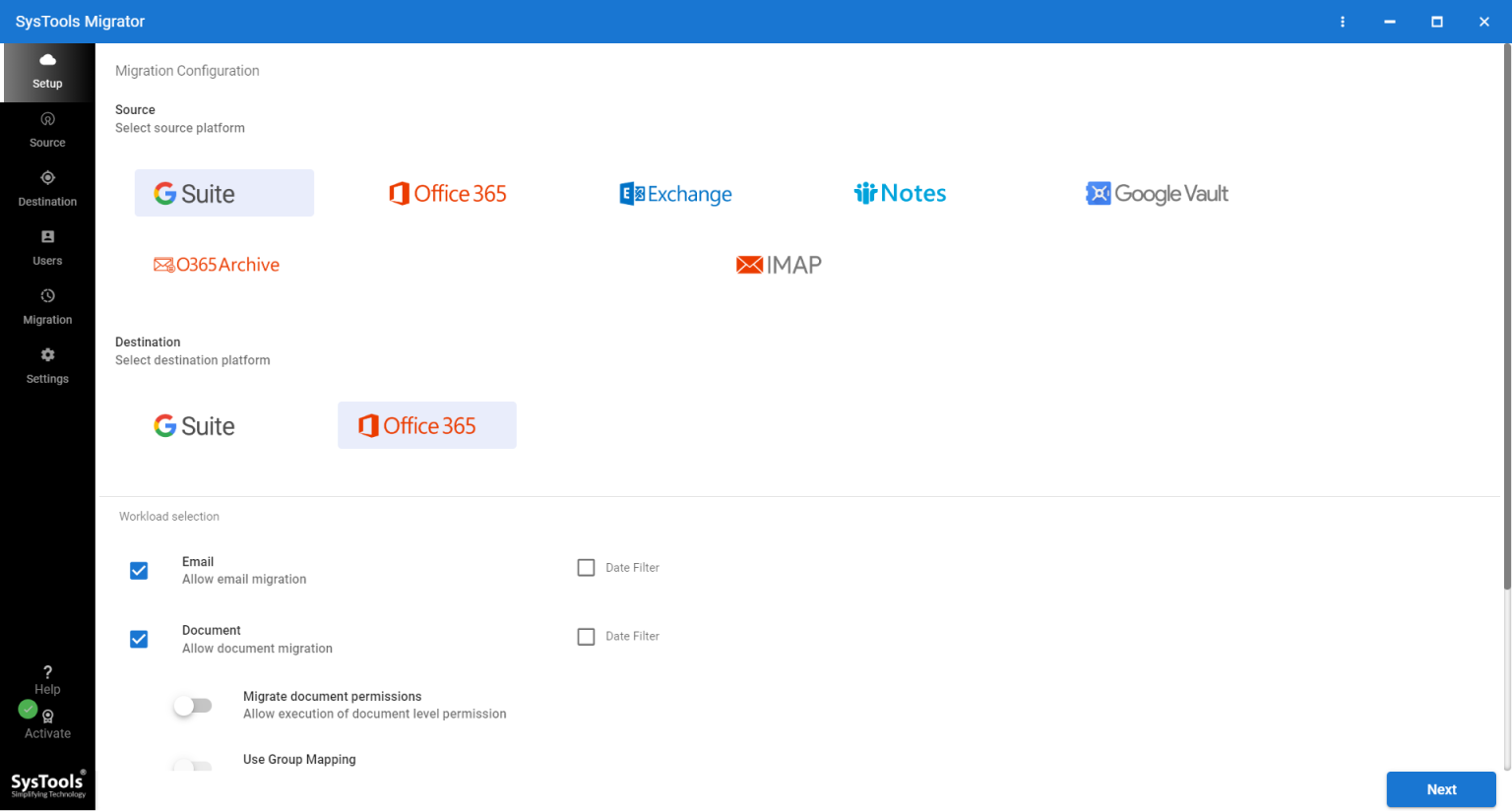 Features Offered by Automated Tool
1. Complete data migration to Google Workspace.
2. No restriction on the number of users that can be migrated simultaneously.
3. Unlimited delta passes to migrate newly arrived emails in source account.
4. Date-range filters available for each category
5. Provide super fast and secure migration to Google Workspace
6. Error handlers to overcome the failure during migration.
To know about the working steps of the tool, visit the official website.
Final Words
In this guide, we have explained various two methods to migrate emails to Google Workspace platform from your current environment. You can either use the manual technique for email migration or an automated solution for complete data migration. Both the solutions are 100 % working solutions and we have explained the steps, benefits, and shortcomings of the methods. Compare both the solutions and choose the one that best suits your organization's requirements.