Summary: In this article, we are going to demonstrate to you the ultimate solution for OneDrive for business tenant to tenant migration, by the end of this article, you will get a productive solution for the same.
Let's start with the root cause/need for data migration in Microsoft 365. Let's discuss few possible reasons for the same.
Why do Users Need to Migrate Their Data to Microsoft 365?
There could be various scenarios for that, some of the conditions are listed below:
Divestiture Condition: A Business Group which currently uses Microsoft 365 has now decided to dissolve one or more companies that are part of the Group and each of these companies wants to keep using Microsoft 365. Now they need to perform data migration within the two.
Merger or acquisition Condition: Two firms are already using Microsoft 365 and now they are integrated into a new firm that will also be using Microsoft 365. In this situation, it might be required that they would need to migrate their data from the source Microsoft 365 tenants to the definitive tenant.
Change of brand name Condition: A firm already using Microsoft 365 decided to change their firm name and now they need to migrate all the data to a new Microsoft 365 tenant that is associated with the new firm name.
We can consider two main approaches for OneDrive for business tenant to tenant migration in Microsoft 365.
Manual Approach – Users can perform this migration project through a manual approach. However, this method is time-consuming, tedious, and error-prone, and also not practical for a large amount of data transfer.
Automatic Approach – Only a few easy steps need to be taken and the rest of all happens in machine AI and for this users need to use a third-party professional tool. Which makes this operation smooth, easy, secure, and reliable.
Let's discuss the step-by-step working of both the approaches for OneDrive for business tenant to tenant migration.
The Traditional Approach for OneDrive Tenant to Tenant Migration
The manual method consists of the manual download and upload of all the files and folders. Follow the given steps to perform this operation using a manual approach.
Step 1. In the first step log in to your source OneDrive account
Step 2. Now manually select all the files and folders that need to be migrated, after selecting download them all to your local computer.
Step 3. In this step log in to the destination OneDrive account and upload all the data files which were being downloaded earlier.
Now let's Discuss Some of the Limitations or Drawbacks of this Method
The major drawback of using this approach that the manual method is unable to preserve the document versions and the metadata.
This method does not migrate the document permissions.
This is a lengthy and time-consuming process.
This method is unable to migrate list and list items.
These are only a few drawbacks of using the manual method for this operation.
The Smart Approach for OneDrive For Business Tenant to Tenant Migration
As, it is evident from the above drawbacks, that the manual approach for OneDrive migration is not suggested for a large amount of data. And in the absence of a direct method or tool, users have to use third-party professional tools for it.
Hence, it is recommended to use OneDrive to OneDrive Migration Tool, a brilliant and modern feature-rich tool that can easily perform OneDrive for the business tenant-to-tenant migration in Microsoft 365. A user without having any prior technical knowledge can also perform this data transfer project easily in Microsoft 365. Follow the working steps of this utility.
Guided Working Steps for OneDrive Tenant to Tenant Migration
Users can carry out the whole migration process painlessly, just in few clicks without any hassle.
Step 1. Download & run the utility on your machine. Now select Office 365, as the source and the destination migration platforms, provided in Workload selection in the utility.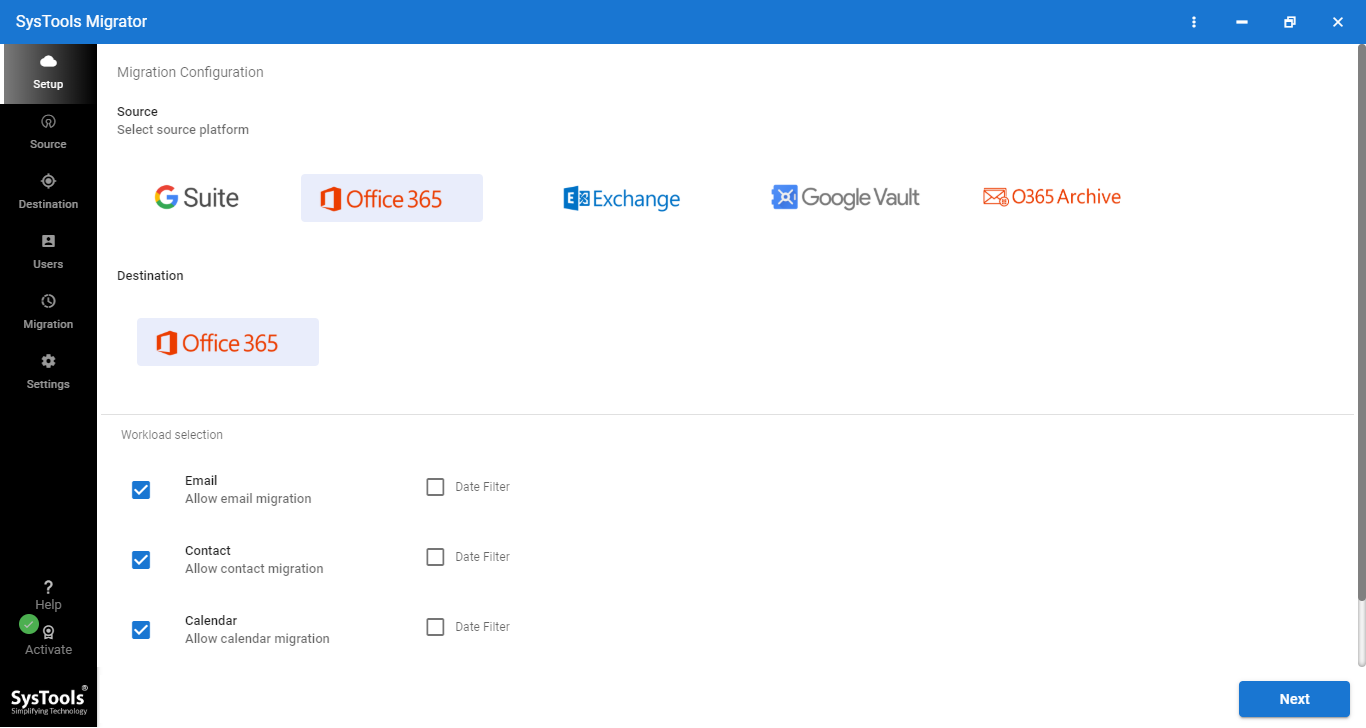 Step 2. Now, in order to migrate only OneDrive data, check the document option which is provided in this software, and also enable migrate document permission. This step is pretty important as it will migrate all the required permissions along with the files.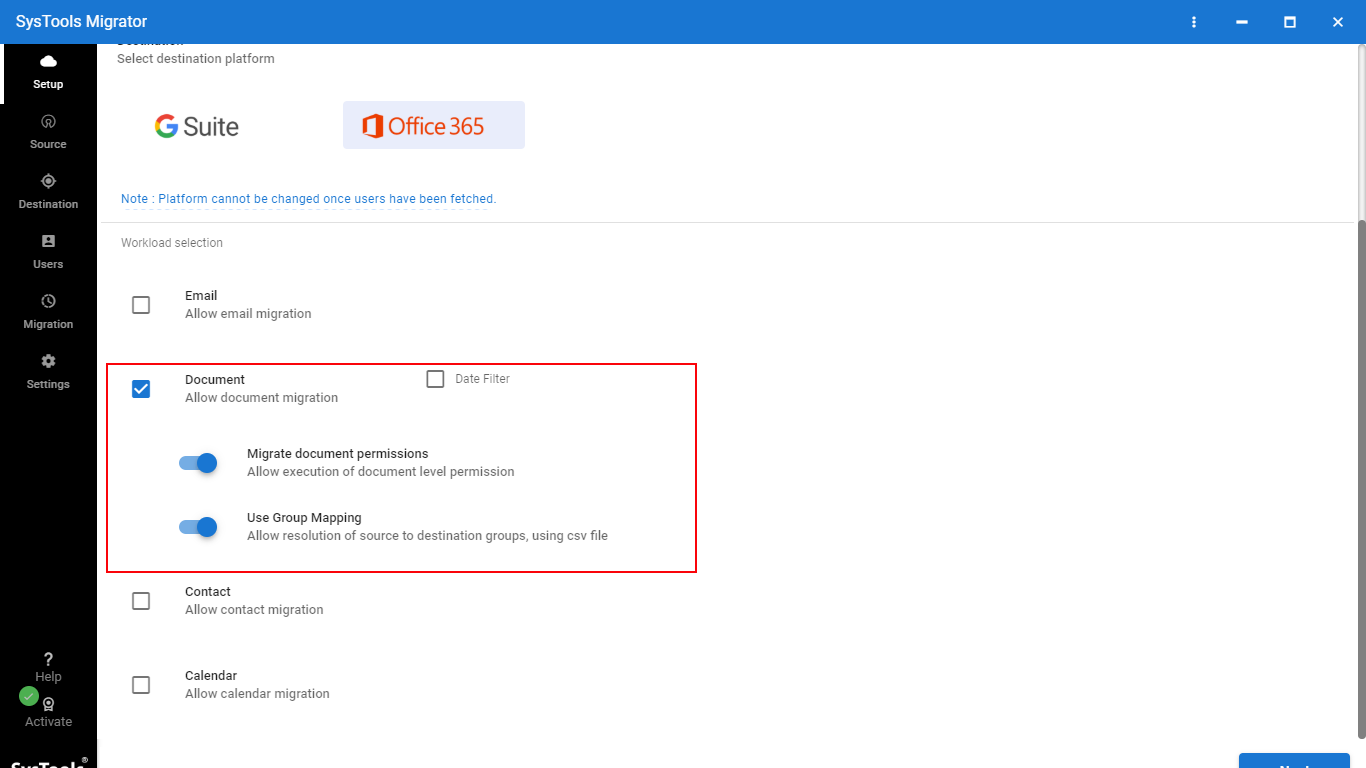 Note: Date-Based Filter provided in this software, enables a facility to transfer data and files selectively for a particular date range.
Step 3. Now validate the associated permissions by logging in with the source and destination Admin ID & Application ID and click on the Next button.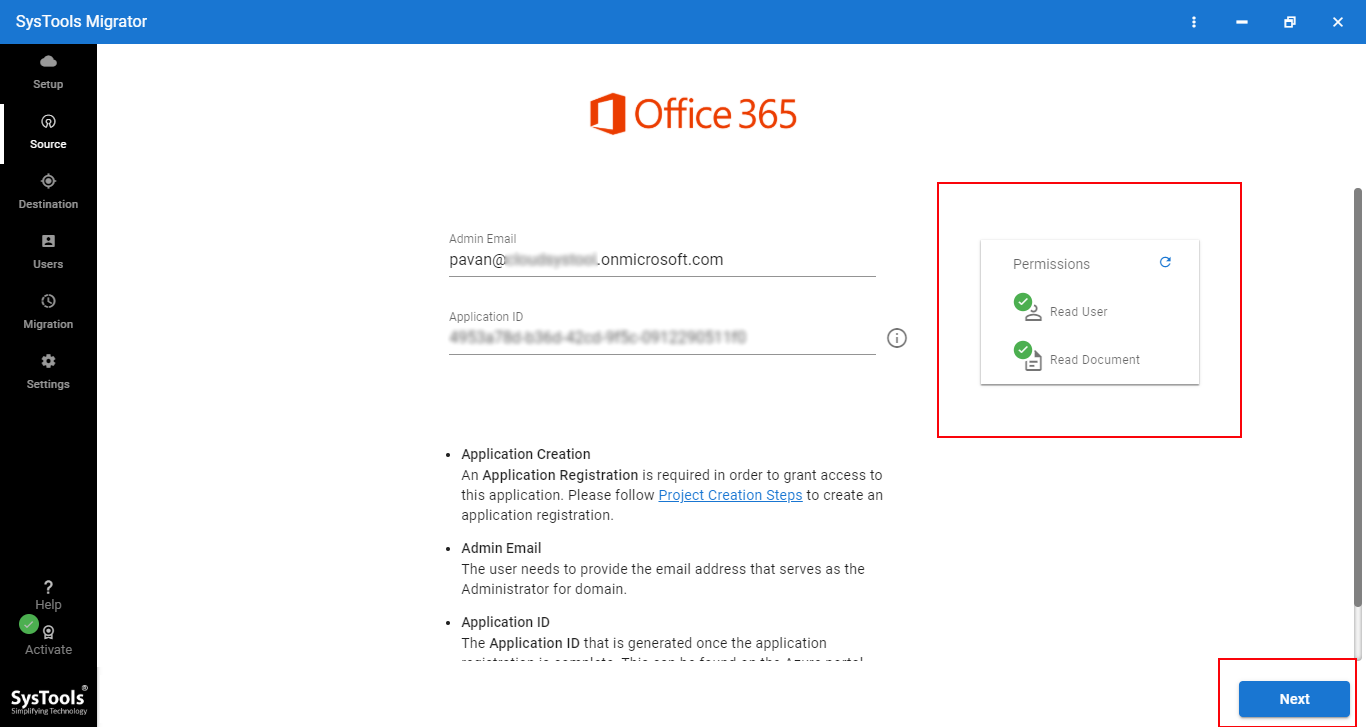 Step 4. Create user group mapping by selecting any of the three options given in this software: Fetch Users, Import Users, and Download Template.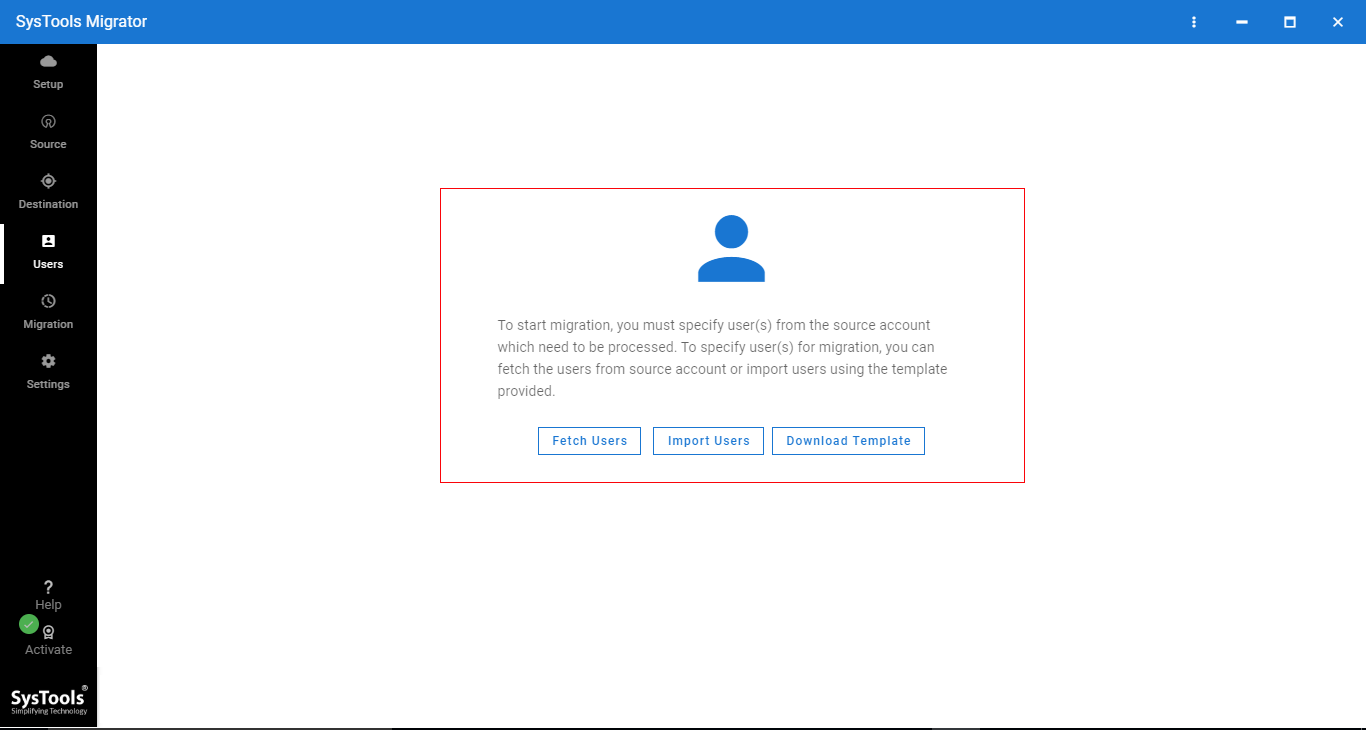 Step 5. After the successful creation of user mapping now clicks on the validate button in order to perform OneDrive for business tenant to tenant migration.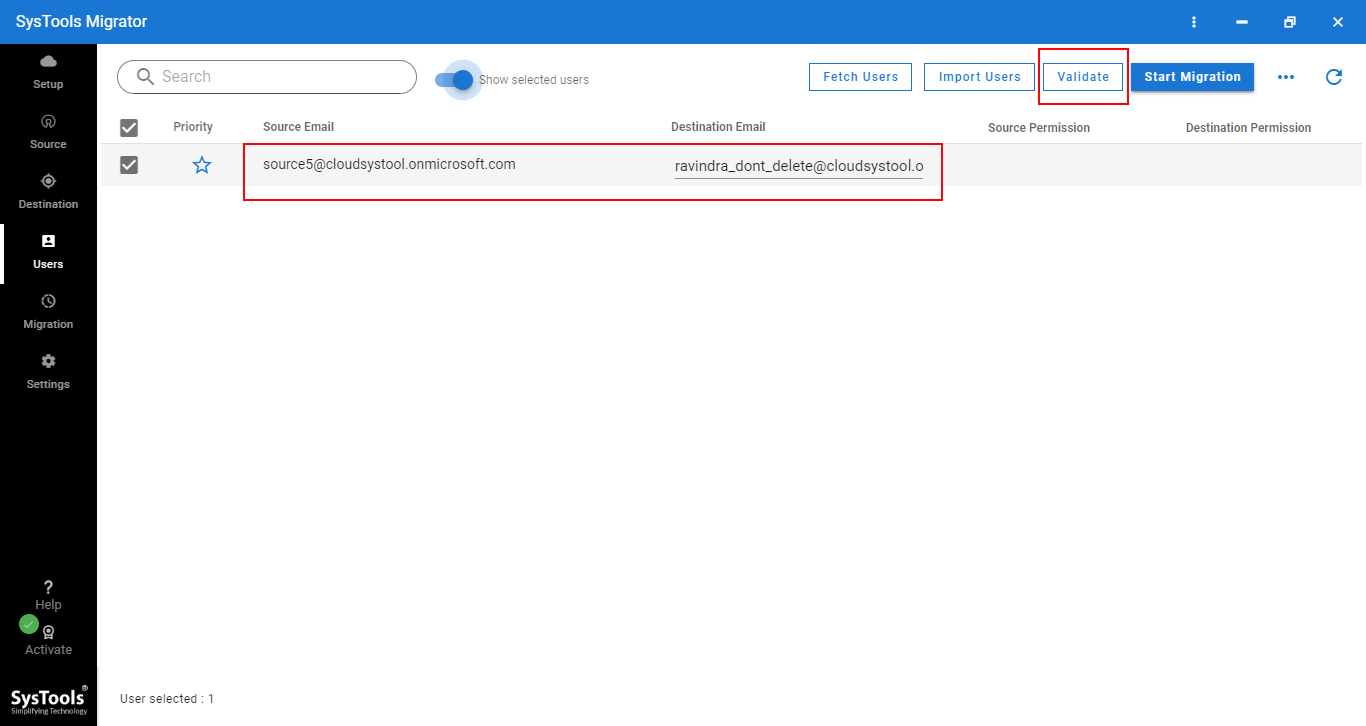 Step 6. This is the last step in which you need to click on the start migration button and migration will start in few minutes.
Conclusion
In this informative article, we have provided our reader two different approaches to perform this operation in Microsoft 365. Now users need to decide whether they need a manual method or an automated approach for OneDrive for business tenant to tenant migration in Microsoft 365.
However, by using the above-given tool, one can easily perform OneDrive migration without losing a bit of data.
FAQs
Can we perform OneDrive For Business Tenant to Tenant Migration without Admin Credentials?
No, this utility maintains a safe environment, that allows migration only using the Admin Credentials.
What would happen, if my internet connection would lose in between the data migration process?
This utility comes with an advanced Error Handling functionality, that allows resuming the migration process after reconnecting to the data network.
How Demo Version is different from the Full Version?
Demo Version of this software allows to migrate only two user's account, on the other hand, the Full version provides unlimited data migration irrespective of user accounts.