Outlook Crashes on Opening Calendar | Know How to Fix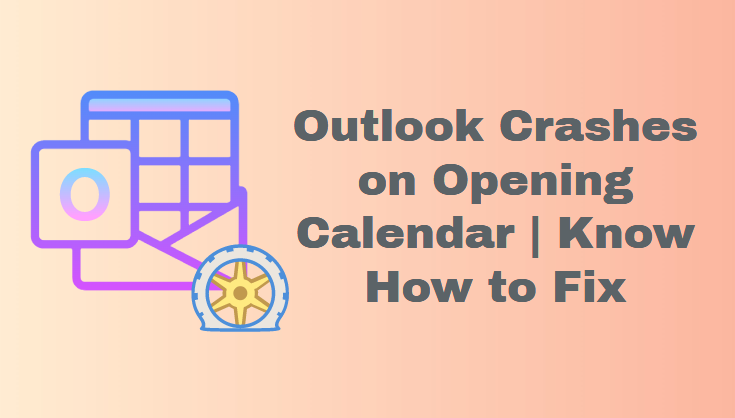 Calendar items in Outlook are important to many users since they are used in their day-to-day or long-term planning. However, some users have noticed Outlook crashes while launching the calendar.
Well, during our study, we discovered that there are a large number of Outlook users who are experiencing this problem and have reported it on numerous community forums in quest of a solution.
But, before we get to the answer, let's figure out what's causing the problem. Because if we understand what is causing the problem, we will be one step closer to resolving it. So, let us go further to discover the causes.
What Causes are Outlook Crashes Opening Calendar?
There are several causes that have an impact on the Outlook program, either directly or indirectly. However, in this part, we will look at some of the prominent ones who are to blame for this problem.
Outdated Outlook Version – Using an outdated version of Outlook can also cause several Outlook difficulties.
Installation or System Failure – If you made a mistake during the installation of Outlook, you will see this error. It can also happen as a result of a system or Outlook problem.
Antivirus Program – Some anti-virus and anti-malware software interferes with system programs. Essentially, it does so for security reasons.
Outlook Add-Ins – We all know that Outlook add-ins are quite useful, yet some incorrect add-ins create errors.
Outlook PST Corruption – If your Outlook data file, commonly known as PST, is corrupted or destroyed, you may experience this Outlook freezing issue while accessing the calendar.
Fixes for Outlook crashes Opening Calendar
In this part, we will go over a few common manual processes that might aid or assist you in resolving the Outlook freezing issue when using the Outlook calendar. So go through the method, and if one of them doesn't work for you, simply try another. We'll go through each of them in depth in this part.
# Method 1: Update Outlook Application
It is critical to update your application on a frequent basis in order for it to work smoothly. Because every software and application fixes problems and errors through the distribution of updates. So, if you're experiencing problems accessing Outlook data items, you may need to upgrade Outlook. You don't need to worry if your update is set to automatic. However, if you wish to manually upgrade the Outlook application, follow the procedures below:
1. Launch the Outlook application.
2. Now, select the File menu item.
3. Now navigate to the Office Account.
4. Then, click the Update Office button.
5. Finally, click the Update Now button.
# Method 2: Disable Unwanted Outlook Add-ins
As previously said, Outlook add-ins are quite beneficial in a variety of situations. However, in rare circumstances, it causes problems with the Outlook application. Many malfunctioning Outlook add-ins have the potential to produce an error in Outlook. In that situation, you must identify the defective add-ins and disable or delete them. Now, in order to accomplish this manually, follow the steps provided.
1. First, open the Outlook application and go to the File menu.
2. Now, choose Options, and then click on Add-ins.
3. Click the Go button in the Manage section.
4. Uncheck any unwanted add-ins and then click OK to preserve the settings.
# Method 3: Outlook PST File Repair
As previously stated in the reason section, one of the probable causes of Outlook crashes while opening the calendar is Outlook data corruption. If, after attempting all of the preceding solutions, Outlook still freezes while accessing the calendar, it is likely that your PST is corrupted or destroyed. So, in order to resolve this issue, you must repair the PST file.
The nicest part is that Outlook has its own Inbox repair tool for minor Outlook issues. As a result, in order to repair Outlook corruption using Scanpst.exe, However, in order to utilize this tool, you must first discover its location, and we have listed all of them below to assist you.
Note: Sometimes the Outlook Inbox repair to"ScanPST is not responding" and there are various reasons for that so remember this while using it
Outlook 2016/2019:
C:\Program Files (x86)\Microsoft Office\root\Office16
Outlook 2013:
C:\Program Files (x86)\Microsoft Office\Office15
Outlook 2010:
C:\Program Files (x86)\Microsoft Office\Office14
Outlook 2007:
C:\Program Files (x86)\Microsoft Office\Office12
1. After you've located the SCANPST.exe, double-click it to execute it.
2. Now, to add the PST file, click the Browse option.
3. After uploading the file, click the Start button to begin the PST file repair procedure.
4. At the end of the procedure, you will see the damaged file and folder. Uncheck the Make backup of scanned file before fixing checkbox.
5. Select Fix to repair the corrupted PST files and folders.
How to Repair Outlook Data File Corruption Professionally
The manual technique for repairing damaged PST files is a wonderful approach, but it will only fix mild corruption and will not work in the event of severe corruption. Outlook PST Repair Tool can be utilized in this situation. This application is one of the most dependable and secure ways to restore Outlook corruption. This application is one of the most dependable and secure ways to restore Outlook corruption.
This tool not only repairs Outlook corruption but also recovers permanently deleted things from Outlook and provides a variety of export options for storing the recovered or repaired PST file.
Five Easy Steps to Restore PST Corruption
1. Get the tool and install it.
2. Open the program and import the PST file.
3. Select a scanning method
4. After scanning, you will get a list of all the files that have been fixed.
5. Select the Export option and press the Export button.
Final Thoughts
Many people throughout the world use Outlook to meet all of their email demands, yet this sort of mistake impedes their work and reduces their productivity. So, after analyzing the demand, we have shared some of the finest solutions to fix Outlook crashes opening calendar in this article. Now, browse the blog for the ideal solution for you.