Scanpst Not Responding After Clicking Repair
Introduction to Scanpst Tool
It is an inbuilt repair tool for Microsoft Outlook. When the PST file bounds to corruption, in such conditions the Scanpst.exe provides assistance to fix the issue related to Outlook PST file. It basically works like a first-aid for the corrupt data files. In this write-up, we will be discussing why Scanpst not responding after clicking repair button and possible solutions.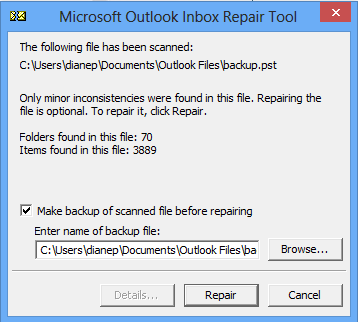 Scanpst Not Responding After Clicking Repair Instances
Send/Receive error
Outlook crashes while displaying its folders
Import/Export process not completed
Scanpst.exe Location for Outlook
The installation location of Scanpst.exe tool depends on Outlook Versions which we are using. I am going to mention below about Scanpst installation location according to Outlook Version wise.
1. Outlook 2019 & Outlook 2016
C:\Programs Files\Microsoft Office\Office16
C:\Programs Files\Microsoft Office\root\Office16
2. Outlook 2013
C:\Programs Files\Microsoft Office\Office15
3. Outlook 2010
C:\Programs Files\Microsoft Office\Office14
4. Outlook 2007
C:\Programs Files (x86)\Microsoft Office\Office12\
When using 2002/XP/203, the location of Scanpst.exe depends on the installed language of Office.
5. Outlook 2003
C:\Programs Files (x86)\Common Files\System\MSMAPI\\
6. Outlook 2002
C:\Program Files\Common Files\System\MAPI\\
Errors Encountered When Scanpst.exe Fails to Respond & Repair
There are many errors related to scanpst not working. Whether it does not open or freezes during the process, it simply is headache-inducing. Below are some errors when ScanPST fails to responds and repairs:
1. Scanpst.exe entry point not found:-
This error generally occurs if the Outlook is damaged or not installed properly. It may also occur if Outlook is not capable enough to deal with the file specified in the error stating that is missing or having some issues. In that case, a third-party tool would be a suggestion.
2. "Scanpst.exe fails with system fatal error: 80040818"
This is the most frustrating error that is observed during the repair process. If scanpst.exe tool gets this error then it will not be able to repair the damaged PST file. Because due to this error Scanpst.exe freezes completely and does not respond.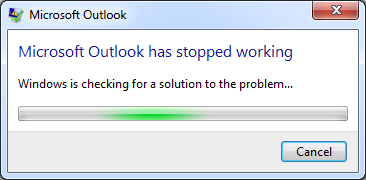 3. "File is not valid personal folder"
This error usually appears when users have either selected a file that is not a PST file, or a file that is as highly damaged as the Scanpst.exe tool can not fix it. In these types of situations, a professional tool can be used.
Why Scanpst Not Responding During Repair?
Although Inbox Repair tool is free and comes officially with the Outlook application, it fails in many scenarios. It is especially frustrating when it stops responding during the repair process.
These are the general reasons which may lead to the "Scanpst not responding after clicking repair" error:
PST file is too big and the Inbox Repair tool cannot handle it
PST files are extremely/highly corrupted
Header corruption in PST that ScanPSt cannot resolve
Outlook upgrade hang up
Scanpst.exe sub-files corruption
Exchange Server Problem
Above are the situations when the Scanpst tool fails and stops responding. In such conditions, we need to use advanced PST repair software which can repair corrupted PST file effectively & efficiently. This tool is designed to resolve all the issues related to damaged or corrupted Outlook data files. It showcases the recovered items within the tool's interface. It recovers each folder data including emails with its attachments, contacts, calendars, tasks, and journals.
Users Queries
1. My PST file size is above 2GB and Scanpst.exe is unable to resolve the error: "80040818". I believe that PST could be up to 20 GB then why this error occurs?
It actually depends on whether you are saving your data in ANSI format or in UNICODE format of PST file. ANSI allows you to store only 2 GB of data in a single PST file. And if you are using UNICODE format and still facing the issue then go for repairing using the aforementioned tool.
2. Does the suggested tool repair damaged files that I have kept for the last 10 years?
Yes, the suggested ScanPST and professional tool will work with all files whether old or new. You just need to understand that the Inbox Repair tool may very well fail if the damage level or file size is too big.
3. Can I try the free demo version to check if the suggested program actually works or not?
Yes, you can definitely use the free demo version to scan the file and it will showcase all the recovered items within its preview panel. Once you are satisfied with its working, then you can opt for the full version.
Conclusion
In this write-up, you got to know about the ScanPST.exe program and its installation location where this tool is stored according to the Outlook version. Plus, discussed the reasons why Scanpst not responding after clicking Repair button. There is no definite solution to this case. It generally happens when ScanPST is unable to handle the corruption level or the size of the PST file.
Anyhow, with our suggested professional tool, you can get rid of this headache and easily fix your data files hassle-free. It is available as a free demo version as well to help you understand its working and results. Simply use it to generate a healthy file free from corruption and you will never have to worry about ScanPST not responding during repair issues.