Outlook Inbox Showing Duplicate Emails – 3 Top-Notch Solutions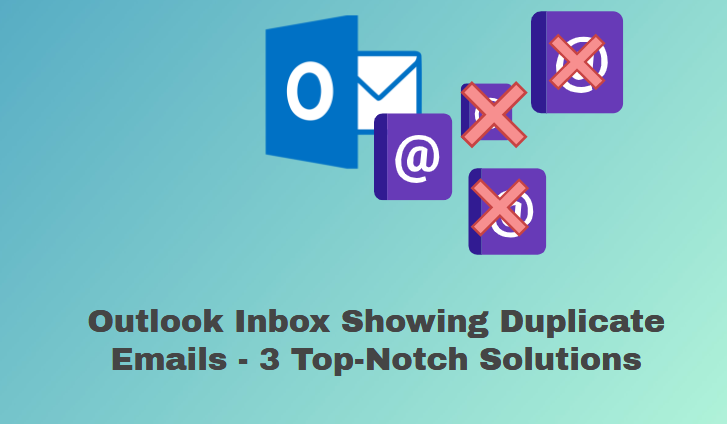 We all know that duplicate item stand for these items that are the same as the original ones. And the worst thing about duplicate items is that they acquire the same amount of space that the original one acquires. Now, if you are one of the Outlook users whose Outlook inbox showing duplicate emails and you want to resolve this issue, then you are on the right page.
Basically, here in this write-up, we are going to discuss reasons and methods to draw out the duplicate emails from Outlook inbox. So keep reading this blog because, in the end, you will be able to know the techniques to deal with duplicate emails.
But before going to the solution part let's find out the reasons that are responsible for the duplicate emails in Outlook.
Causes: Why Outlook Inbox Showing Duplicate Emails for Duplicate Emails in Outlook
Duplicate email in Outlook can cause a variety of issues like it make the PST file big to handle and many others errors, as we've already described. As a result, we'll go through why duplicate emails are created in Outlook and why it's vital to delete duplicated emails from files in this section.
Receiving the same spam emails in Outlook from a number of companies, some of which send the same newsletter or emails over and again, resulting in a duplicate mailbox.
Outlook makes many duplicates of the same email when a user chooses to leave a message on the server.
Outlook emails are synced in real-time with several copies of the same email.
Third-party antivirus software might potentially produce duplicate emails in the Outlook PST file.
Delete Duplicate Emails in Outlook Using Free Methods
To delete duplicate emails from an Outlook PST file manually, there are several options. Each approach is briefly described here; you may choose any of the ways based on your needs.
#Method 1: Use the Import/Export Wizard to Remove Duplicate Emails
Users can erase duplicates from the Outlook PST file using the Import/Export tool.
1. To begin, open Outlook and go to the File menu, and select File >> Open & Export >> Import/Export Option.
2. Select Import from another program of a file >> next from the import/export wizard.
3. Now, using the browse button, find the.pst file and select the Do not import duplicate option >> Next.
4. After you've finished making all of your adjustments, click Finish.
Method 2: Using the Clean Up Tool to Remove Duplicates from a PST File
1. First, you have to Outlook.
2. Then, on the ribbon bar, click the cleaning tool to enlarge it.
3. When you enlarge it, three alternatives will appear: tidy up the dialogue, clean, and clean.
4. Up folders and subfolders, as well as ocean up folders and subfolders
5. Now select Clean-up Folder & Subfolders from the drop-down menu.
6. A dialogue window will now appear, asking whether you want to clear up or cancel. Simply choose the option to clear up the folder.
7. Select the setting option to gain access to the deleted items folder.
8. After you click on settings, an Outlook options box will appear.
9. After selecting the objects to be deleted, click the OK button.
10. To eliminate duplicates from PST files in Outlook, choose the clean folder option once you've made all of your choices.
Limitations of Using a Manual Solution to Remove Duplicate Emails from Outlook
All of the manual procedures described above are only helpful when the mailbox data is modest. However, if you have a big volume of mailbox data in Outlook, you may have issues such as being unable to determine the precise number of duplicate files in your mailbox.
While utilizing the clean-up tool, it begins to generate error messages, such as "No messages were cleaned up." Only messages that comply with the clean-up setting are sent to the trash. As a result, manually deleting duplicates in Outlook is no longer an option.
Professional Way to Deal With Outlook Inbox Showing Duplicate Emails
We mentioned several mistakes that might occur while utilizing the manual technique in the previous section. So, if you want a quick and effective way to delete duplicate emails from an Outlook PST file, then you may use the automatic method.  Duplicate Remover Wizard, which can effortlessly delete all duplicates from a PST file.
This program allows users to remove duplicates from many Outlook PST/OST/BAK files at once. After clearing up duplicate files from Outlook, prepare a report with all information about duplicate items.
Working of the Tool
1. To begin first download and install the tool on your machine.
2. Once the installation is done open the tool.
3. Now, click on the Add Files or Add Folder option to add the Outlook data file.
4. Once the file is added, then choose the Within Folder(s) option.
5. Choose the destination location to save the duplicate free Outlook data file.
6. Select the Mail option from the Select Item Types.
7. Choose the Specify Duplicate Criteria option.
8. After this Choose Action that you want to apply on duplicates.
9. After this click on Next to start the de-duplication process and once it is done click on the OK button.
Conclusion
As we said earlier that duplicate items such as emails, contact calendars, and others items create issues. Now, to deal with this issue here in this blog we have discussed three methods to resolve Outlook inbox showing duplicate emails. Now, go through the write-up and find the best possible solution.