How Can I Batch Convert Multiple MSG to PDF Format?
I have some important emails from MSG in Microsoft Outlook on Windows 10 and I need to keep them safe and secure in Adobe PDF format. I have decided this as it is a very safe and password-protected file format. Now the challenge is that I have no idea how can I batch convert multiple MSG to PDF file format with all the attachments. If you have any idea or method to convert MSG files to PDF then please suggest me.
If you are looking for an instant solution to convert MSG files to PDF format with attachments, then worry no more, here you can find the best and most reliable method to solve the hassle of converting MSG files with attachments as PDF. We present to you the solution to solve the question of how can I batch convert multiple MSG to PDF format?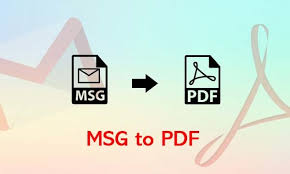 Why Choose PDF over MSG?
There may be numerous reasons to convert MSG emails to PDF. Some of them are given below:
PDF is a secure form that offers password protection and proves that it cannot be easily changed.
To help users back up MSG emails, these need to be exported to PDF.
It is platform-independent, so it can easily be used on any operating system, so it is better to save MSG files in PDF document file format.
No email client application is required to open the PDF file.
Batch Convert Multiple MSG to PDF Format
There are two different ways to solve the problem of saving the MSG file as PDF, mentioned below:
Method 1. Manual Technique to Convert MSG Files
The manual method has some simple steps the user must follow to save the MSG as PDF:
Open MS Outlook and select the MSG files you want to export
Then go to File >> Save As >> Save to HTML menu
After saving in HTML format, open it in Microsoft Word
Now, open Word and click the File menu and choose Save as PDF.
Pros of Manual Method:
Free method
Cons of Manual Method:
It only supports converting 2-3 MSG files to PDF.
High chance of human error because it depends entirely on human activity.
You must have complete technical knowledge of MS Outlook and Adobe PDF application in order to batch convert multiple MSG to PDF format.
Method 2. Automated Technique to Convert MSG to PDF
SysTools MSG to PDF Converter Application is an error-free and handy solution to perform the exportation procedure. This utility will make the entire process effective, smooth, and fast while maintaining data integrity. It allows converting Outlook emails to PDF with attachments.
Run the authorized application on your local machine.
Next, select the MSG files that you need to convert to add them to the interface.
When you add the desired MSG files into the software, then it will load them and display the browsed MSG file. Here you can preview the MSG files.
The next step is to select the PDF option from the Export Type wizard.
Now press Advanced settings to apply filters and convert Outlook emails to PDF file format.
You can choose a destination location for the resulting PDF file by selecting the Browse button. Then click the Export button to batch convert multiple MSG to PDF format.
Here you can see the progress of the conversion on the software control panel.
Click the Save button to save the CSV report for each PDF file scanned.
Converted reports can now be stored and viewed in the preferred location.
Pros of Trusted Method:
Easy to use by novice and professional users
The free trial is available to convert the first 25 emails from MSG file to PDF for free
Can simultaneously convert unlimited MSG files to PDF.
More options for conversion like MSG to PST, EML, MBOX, etc.
Compatible and fully functional with both Windows and Mac.
Multiple MSG to PDF Conversion on Mac Machine
If you are a Mac user and looking to convert MSG to PDF Mac, then click on the link below to effortlessly perform this conversion.
The foremost step is to install the tool on Mac OS
Once the tool gets successfully installed, add the files by clicking on the Add File / Folder button
Then, choose VCF as the export type to begin the process
By clicking on the Change button, you can select the destination location to save the generated output file
At last, complete the process by hitting the Export button
Summing Up:
MSG files are considered unsafe as they can be modified without the consent of the owner. Users can convert multiple MSG files to PDF either for backup or other purposes. There are two main techniques to accomplish this file conversion. The manual method is only suitable when a countable number of MSG files are processed. Otherwise, users can always choose MSG to PDF Converter tool to batch convert multiple MSG to PDF format.