Stepwise Guide to Export Multiple Outlook Emails to PDF
Outlook saves its email messages, attachments, and other data items in a PST format to backup mailbox data locally on Windows PC. Sometimes, users need to export emails as an individual file to another computer or a different Operating System. In such scenarios, users prefer using PDF or Portable Document Format which is easily accessible on all Operating Systems. This post provides solutions to how to export multiple Outlook emails to PDF using both manual and automated techniques. Readers can choose any of the provided approaches to save emails from Outlook to PDF in a batch.
Before proceeding further, have a look at a scenario faced by a person who wants to migrate bulk email messages in PDF format:
"I have a large number of Outlook email messages and I need to export multiple Outlook emails to PDF file individually. I have tried some manual methods to convert PST into PDF but they seem to work only for individual messages. I do not have enough time to spend on creating individual PDF files from each Outlook email. Can someone suggest me a fast and simple solution that will help me to export all the Outlook emails and save them in separate PDF files at a go? Thanks in advance. "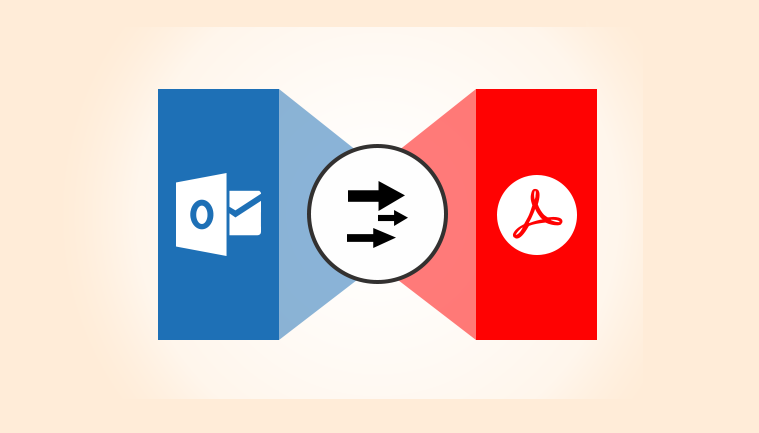 Reasons to Export Multiple Outlook Emails to PDF
Listed here are some of the reasons to export multiple emails from Outlook with attachments to PDF:
Cross-Platform Compatibility: Often the need arises to open or access Outlook email data across the platform to Mac or Android devices. To solve this problem, saving emails as PDF file is a convenient option, which is compatible with any OS including Mac.
Save Outlook Message Locally: This will help users save Outlook emails on the local machine. One can export multiple Outlook emails to PDF and thus, access the data with Adobe and other supported applications.
Legal Evidence: In Court, any digital documents that are evidence are to be shown in PDF format. This is the only standard file supported for evidence displayed in front of the judge. An investigator can print the Outlook messages in PDF and submit them.
Print Outlook Emails in Correct Format: If users want to print multiple Outlook emails, converting them into PDF is the most preferred way. By exporting emails from Outlook to PDF, users can retain the original formatting of the source file.
Techniques to Export Multiple Emails from Outlook to PDF
There are two methods available to export Outlook email messages to PDF. These are:
Manual Method: This allows you to save one Outlook email at a time without exporting attachments.
Automated Method: This technique will let you export multiple Outlook emails to PDF simultaneously using the software.
Solution#1: Export Emails from Outlook to PDF Manually
Open Microsoft Outlook and select the email that you want to save as Portable Document Format (PDF).
Then, go to File>>Save As.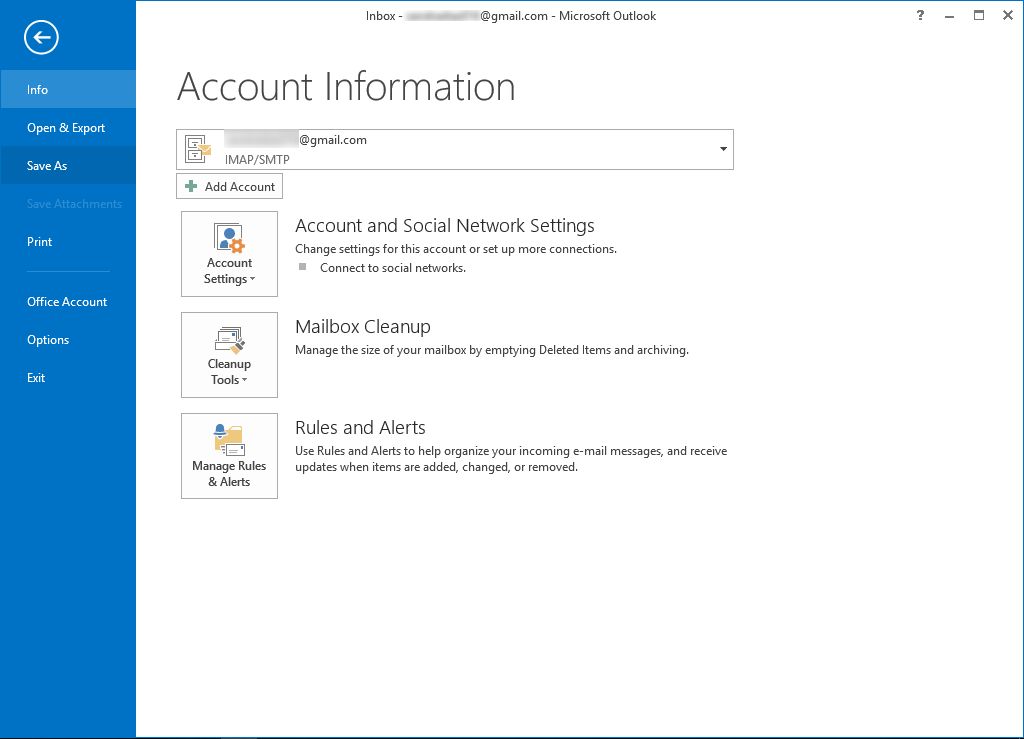 From the Save As dialogue box, browse to the location where the exported file is to be stored and also mention the filename.
From the 'Save As Type' list select HTML and click on the Save button. Repeat the same process to export multiple Outlook emails to PDF.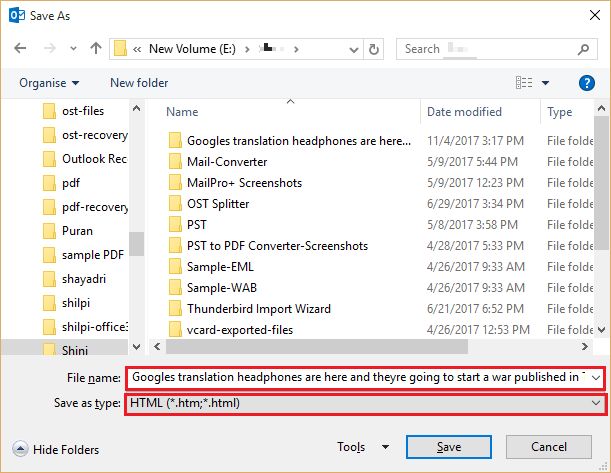 After that, go to the location where the HTML file was saved.
Then, select the file and right-click on it. Choose Open With >> Word.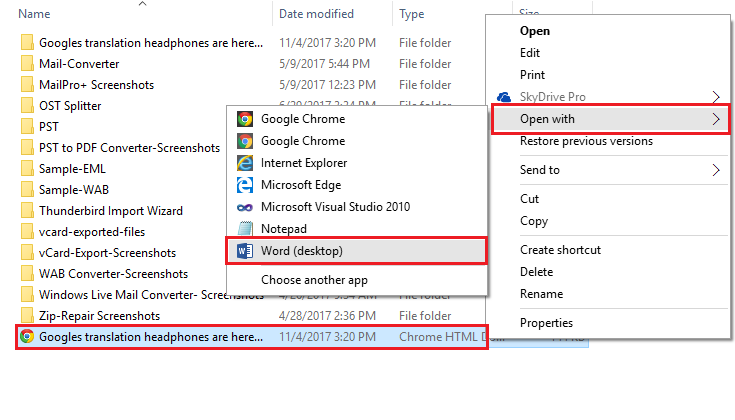 When the HTML file opens in the Microsoft Word application, go to File>>Save As.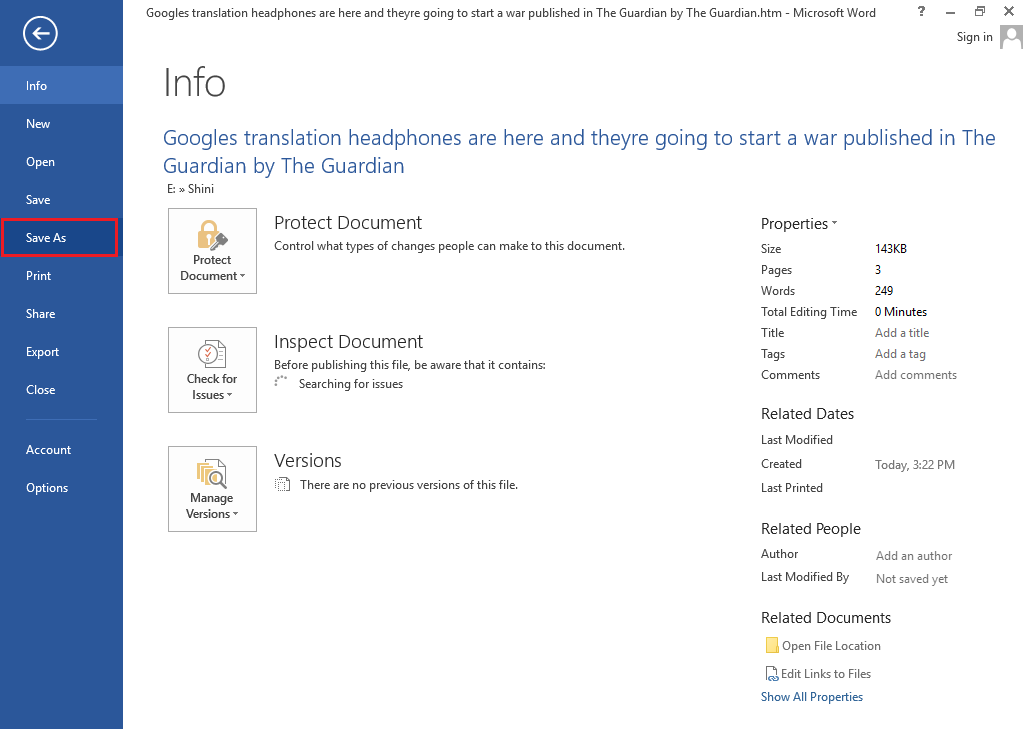 From the 'Save As' dialogue box, go to the location where you want to save PDF files.
In 'Save As Type' drop-down list, select PDF(*.pdf) and click Save.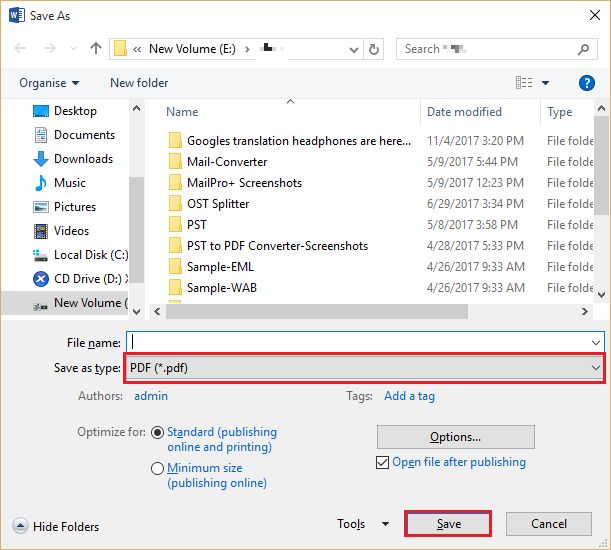 Finally, the email message will be saved in PDF format.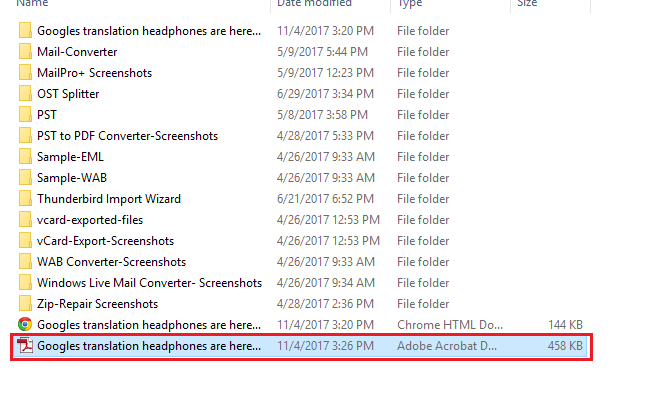 Another method worth mentioning is using the Print command. When printing an email to PDF, users can go to Options and select Microsoft Print to PDF along with Print to a file option. It will allow the user to export Outlook PST or MSG to PDF document. Of course, one can only process one email at a time with this method.
Solution#2: Automated Software to Export Bulk Email Messages in PDF
The manual procedure to export multiple Outlook emails to PDF is long and time-consuming. It further increases when people need to apply this method for a bulk number of messages. It can take a lot of time to manually extract each message one at a time. There are automatic solutions available to make the task to export multiple emails from Outlook to PDF easier. One such tool is the PST Migration tool.
Download Now
(Win) Purchase Now
(Win)
Download the software and perform these easy steps:
Step 1: Launch the software and click on Add File.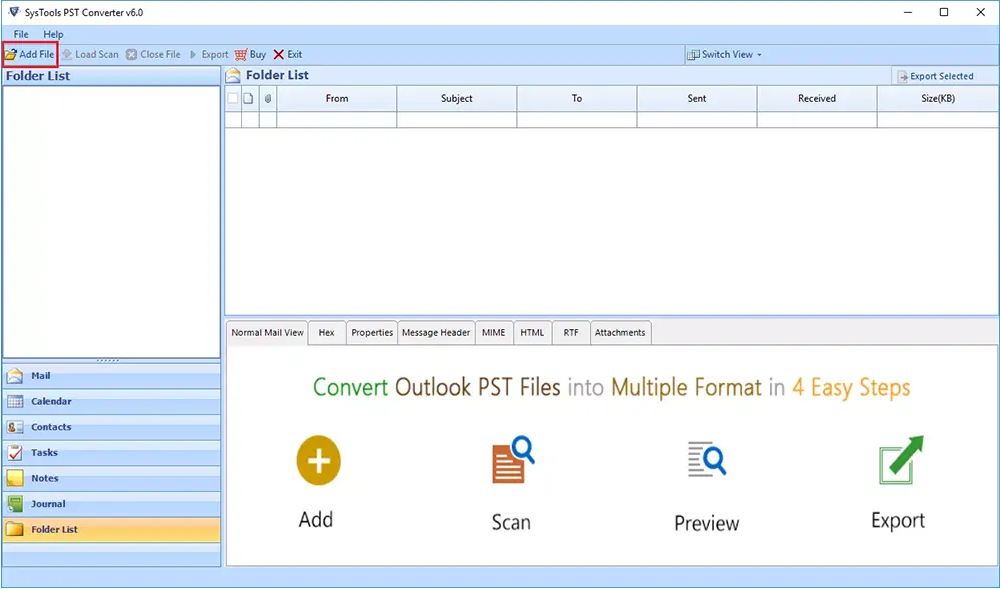 Step 2: Add the Outlook PST file with the Select File option and click on the Add button.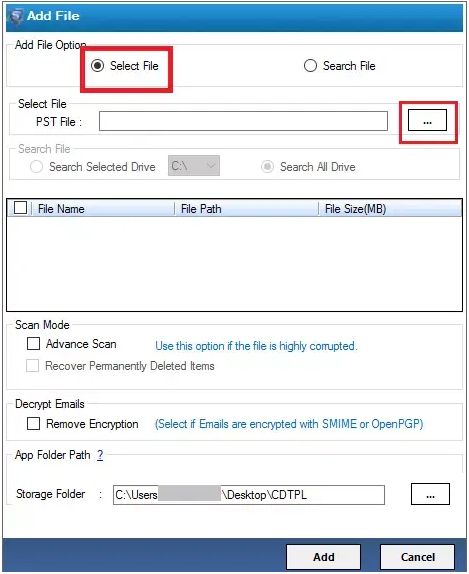 Step 3: The software will load all the files and show a preview of emails.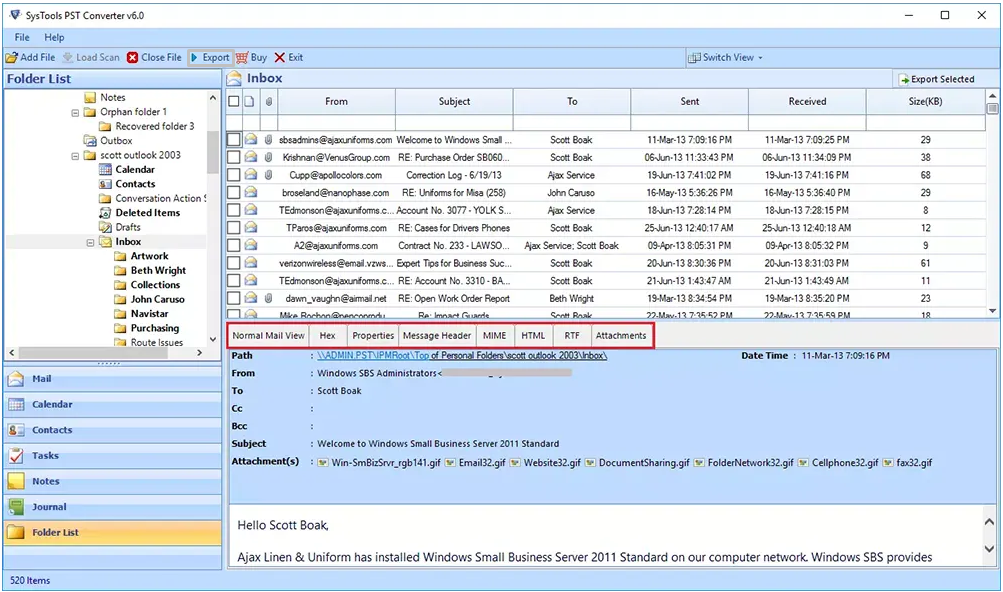 Step 4: Click on Export and select PDF on the next screen.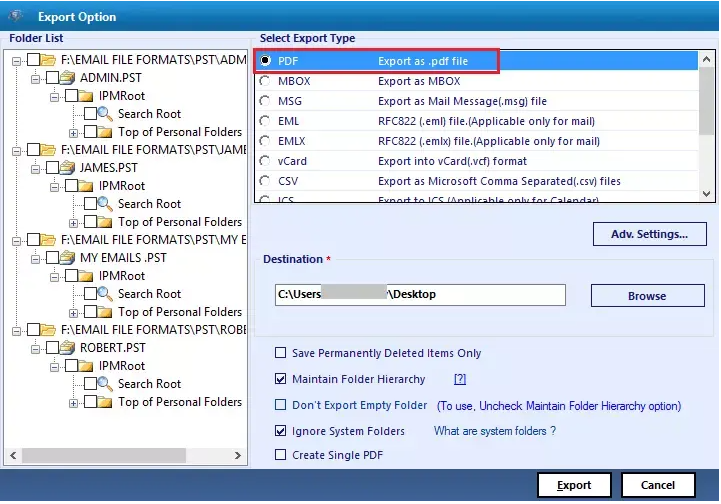 Step 5: Select Adv. Settings and apply if needed.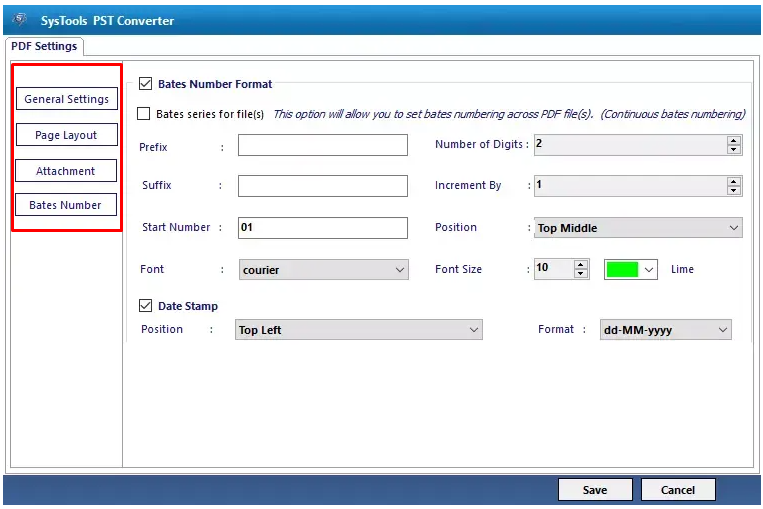 Step 6: Select destination location and click on Export.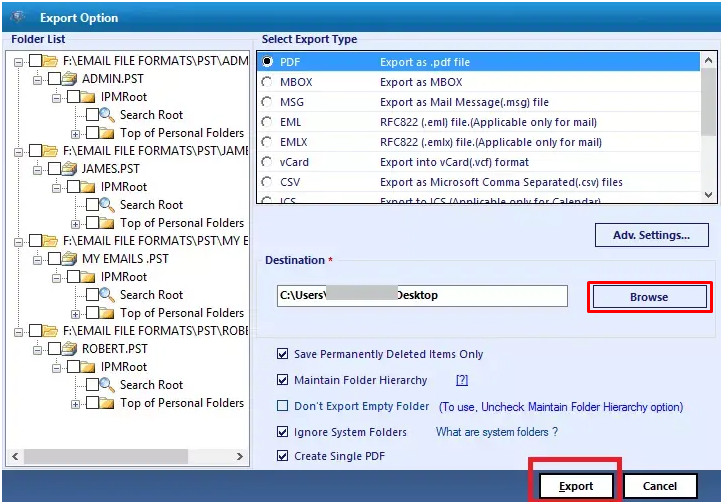 Step 7: Thus, you can export multiple emails from Outlook to PDF.
The following section will help readers understand the highlighted features of the product :
Dual modes (File and Folder) to add any number of PST files in the software
Export Outlook emails, attachments, contacts, calendar, notes, tasks, etc.
Compatible with all versions of Windows OS including Windows 10
Works with both UNICODE and ANSI-type PST file of MS Outlook
No risk of data loss or data corruption during email export
MS Outlook installation is not mandatory to convert email messages
Conclusion
Though Outlook is an efficient email client, its email data cannot be accessed on all computers without Outlook installation. Therefore, people need to export multiple emails from Outlook to PDF to get rid of the portability issue. It is clear from the above discussion that it takes a hefty amount of time to export multiple Outlook emails to PDF using the prescribed manual solution. Hence, comes the need for adopting professional software to batch export emails to PDF. As the software can also export Outlook email attachments, this is considered as the one-stop solution for the users with this need.