Can Outlook Open NSF Files? Stepwise Solution
A frequently asked query explained in this article – "Can Outlook Open NSF Files?"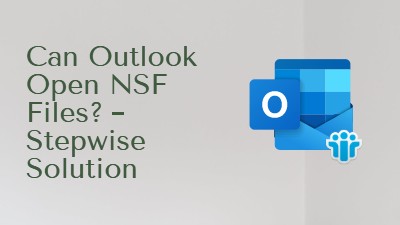 In many cases, users need to access NSF (Lotus Notes database) files in Microsoft Outlook application. However, when they try to import NSF format directly into Outlook program, it fails. Let's take a look at one problem situation related to this question.
Problem Situation: –
"Previously, we used the Lotus Notes 9.0.1 email application for business correspondence. However, for professional reasons, we are now switching to use MS Outlook 2019. Now, the problem is that we have to move all of the old emails into MS Outlook. However, every time we looked for a solution to import NSF files in Outlook, we couldn't find a solution that worked. Finally, I want to know: Can Outlook open NSF files? If possible, then how? Please provide a solution as it is quite urgent. "
As you can see from the above scenario when we talk about importing NSF files to email applications like Microsoft Outlook, it sounds easy, but it's actually difficult. Since NSF is the proprietary format of Lotus Notes, no other email application can make use of it. Hence, the only way is to move its content into a different mailbox file. In this article, we will discuss how exactly Outlook opens NSF files and what are the technical details related to this issue?
Can Outlook Open NSF Files? If Possible, How?
The first thing Outlook users need to know is: Outlook supports Personal Storage Table (PST) file format to store its mailbox data. Whatever file you are uploading, it must be an Outlook compatible file type. Plus the fact that the NSF file is a proprietary format of Lotus Notes, there is no way you can directly import NSF files in Outlook.
Wait! No Official solution does not mean there's no solution at all
While there is no official solution to do this due to the incompatibility of Notes and NSF file, there is a way to achieve the intended result. Outlook can open NSF files by converting NSF data into a readable format for MS Outlook. Since Outlook supports PST format, you need to convert to this file format.
Since email conversion is a complex problem, it requires the help of a suitable software solution. This is where the solution to convert NSF to PST file comes in. It is a useful utility that helps Outlook to open multiple NSF files by converting them to PST format. All this in a few minutes. After the files are successfully modified into PST format, you can import them into Outlook and then proceed to read NSF files in Outlook in the most convenient way.
I. Step by step guide for the required conversion
Follow the steps to open NSF in Outlook:
Step 1: Launch NSF software and click "Add Files".
Step 2: Select the NSF file to open in Outlook.
Step 3: Choose categories like emails, contacts, calendars.
Step 4: Click "Export" to convert NSF file to a readable Outlook file.
Step 5: Import PST to Outlook.
If you want detailed steps and screenshots, please follow the guide given below:
1. Download and install the software on the Windows platform.
2. Click Add File to upload the NSF file.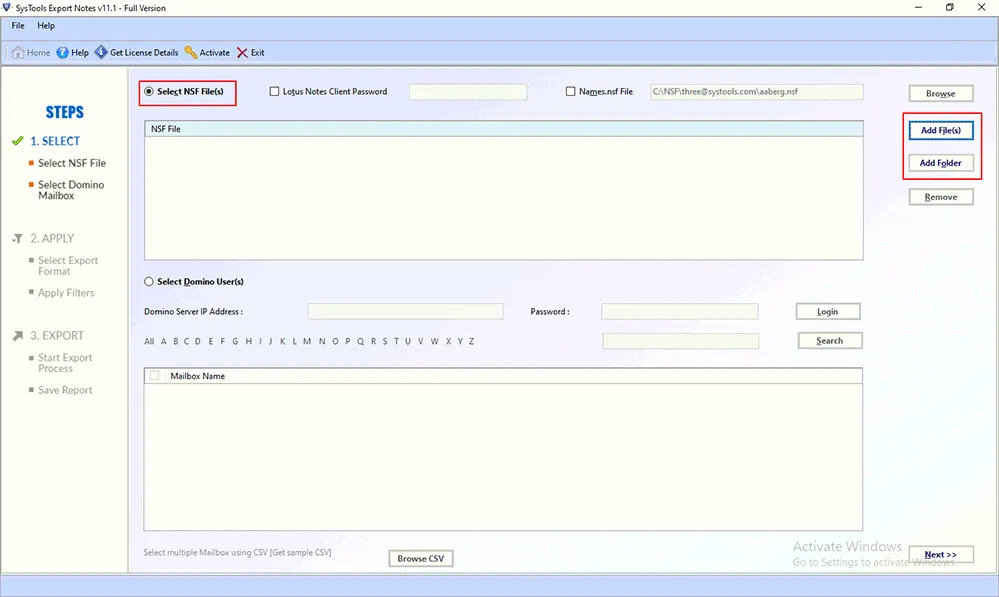 3. You can also select the database file from the Domino server.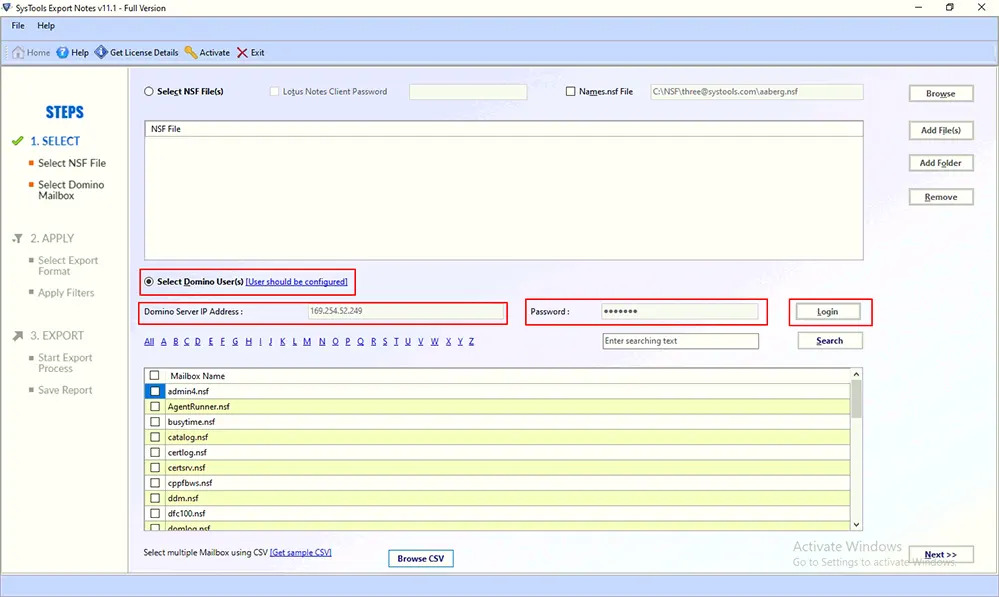 4. After uploading all the files, select the data category you want to open in Outlook.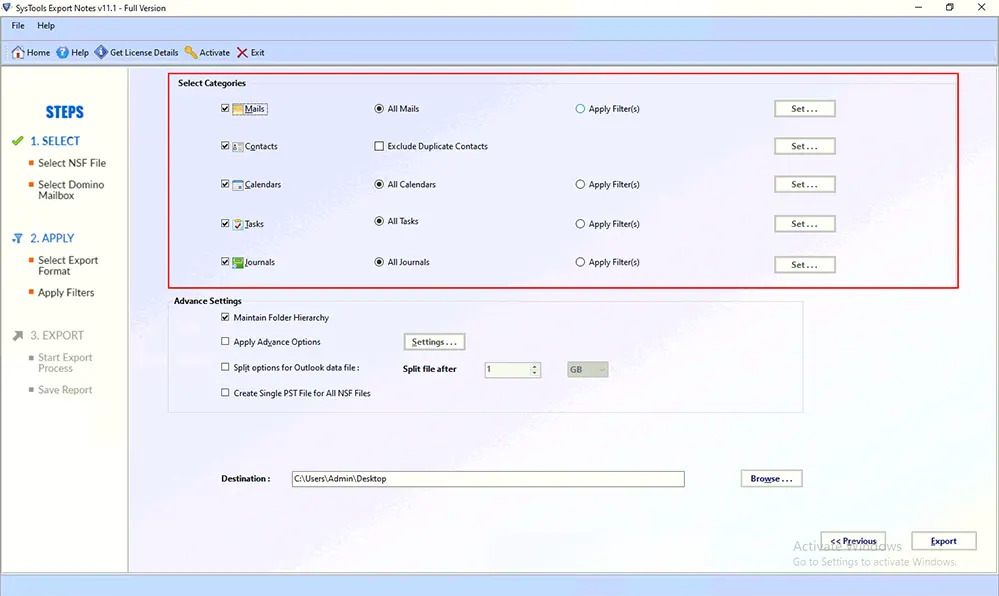 5. Apply filters wherever necessary.
6. Set the advanced settings like email address translation, folder mapping, etc.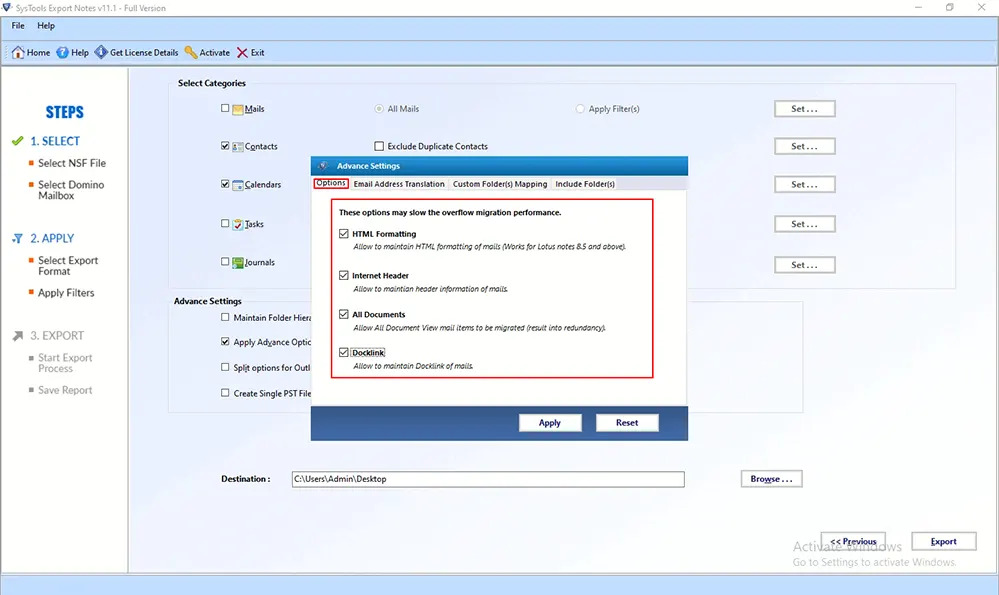 7. After that, click the Export button to start converting NSF files to Outlook format.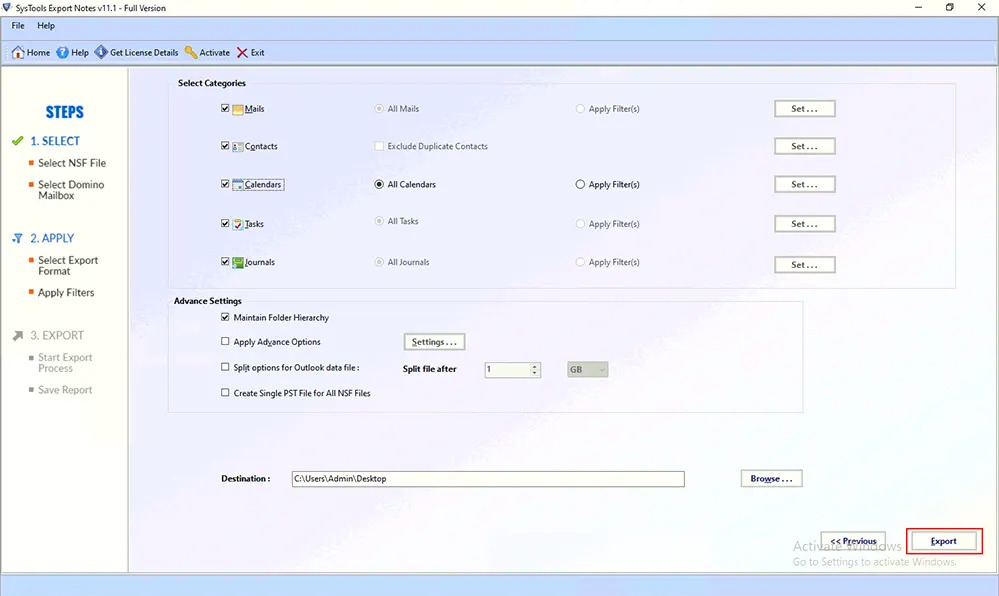 8. Wait for the process to complete.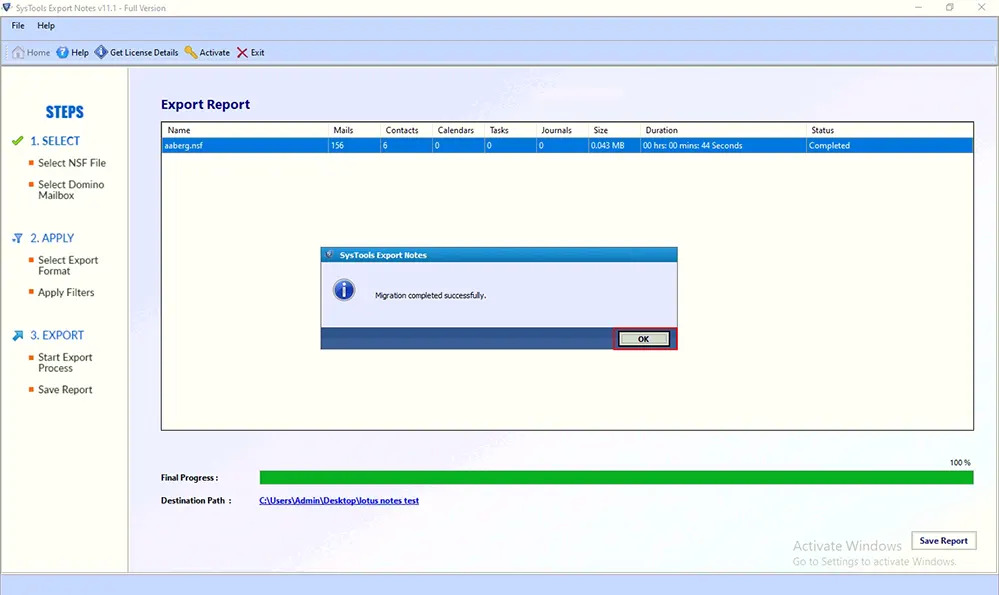 You now have the PST files in your system, ready to open in Outlook.
2. Have the PST File? – Now Import into Outlook 2019, 2016, 2013
With the above solutions, you can easily get Outlook supported files. But for Outlook to open NSF files, we will import their PST equivalents into Microsoft Outlook.
Follow the instructions below to import the file in Outlook.
Open Outlook, select the folder in which you want to add the NSF database file and click File menu option.
Click on Open and Export >> Import / Export to open the wizard.
In the Import and export wizard, choose to import from another program or file.
Click the Next
Next, select Outlook Data File (.pst). Then, click Next to continue the process.
Click Browse to upload the PST file you got after conversion.
Now, select the radio button corresponding to Import items into current folder and click Finish.
Depending on the size of the file, importing a PST into Outlook can take a few minutes.
Why use SysTools conversion tool?
"Can Outlook open NSF files?" – It is easily solved by first converting the database file to PST format and then importing them into Outlook. But it is important to understand how the above SysTools software can help users.
The recommended software allows you to:
Import NSF emails, calendars, tasks, journals to MS Outlook
Option to add NSF files, names. Nsf and Domino files in the software
Always maintain the header elements, formatting, doclinks, and attachments
Filters to move date-range specific data and exclude duplicate contacts
Lotus Notes 9.0.1 necessary for conversion
No need for Outlook to be present on the system.
Furthermore, while there are many incompetent solutions in the online space, blindly following these methods can lead to severe data loss. Additional risk factors are associated with the following technologies:
Broke images
Missing/damaged attached files
Missing/incomplete email headers
Blank email body.
Using the recommended conversion tool will not only avoid any of these problems but will speed up the whole conversion process.
Final Thoughts
This article answers your question – "Can Outlook open NSF files?" So, if you are in need to import NSF files in Outlook, simply follow the above-described solution. It will help you open all your NSF emails in Outlook mail client.
Common Queries
Can Outlook open and read NSF files?
Yes, it is possible to have Outlook read NSF files. But, to do this, you must first convert the file to PST.
The Import/Export wizard has the option to import the CSV file. Is it a possible workaround to get emails using this option?
If you only care about having your email body in Outlook, exporting CSV from Lotus Notes and importing into Outlook is a possible solution. But, it won't keep your attachments, will alter the entire formatting, and will leave your headers empty.
Can Outlook 2019 import and view NSF files?
There is no direct solution to do this manually. However, if you convert the file to PST format, not only Outlook 2019 but you can easily import NSF files in Outlook 2016, 2013, and 2010 versions.