Batch Convert Apple Mail to PDF File Easily
PDF stands for Portable Documented File, which can be used in all the Operating Systems. Adobe PDF files are made in such a way that all the documents can be analyzed and maintained in an easy format. There are numerous formats that are platform-independent or open-source, but none is as flexible as Adobe PDF. Documents are simple to carry around which helps in doing data mobility in a simpler manner. That way, most Mac users convert Apple mail to PDF format so that it can be utilized and carried out easily anywhere.
The process to import Apple Mails to PDF format is not a tough task. There is much software available in the market that can perform this task. Moreover, Apple has also come up with a solution for this problem. In this section, we have covered the method that will help you to understand the process to convert Apple Mails to PDF file format.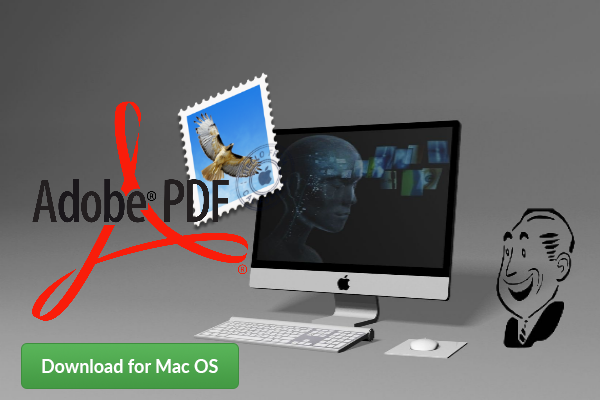 Manual Methods to Convert Apple Email to PDF
Due to the availability of advanced features, users want to migrate all emails from Apple Mail to PDF documents. Here, the following method can be followed to export Mac mail to PDF files efficiently:
First, you need to run the Apple Mail application on the Mac platform
After this, double-click on an email message from the Mail application wizard to open it
Now, choose the Print option from the Mail menu.
Select the PDF drop-down list, and then, click on the Save as PDF option
Next, click the desired folder on Mac where users want to save their email message as a PDF document.
Then, enter the name of the specific PDF in Save As text box, and click the Save button.
Finally, the email message has been successfully exported from Apple Mail to PDF on Mac.
Another Way
Run Mac Mail application.
Select the email message that you want to save as PDF on Mac.
Click on the File menu.
Select the Export as PDF option.
Select the location where you want to save the PDF file.
Click the Save button.
Know How to Save Apple Email as PDF in Bulk
Manually converting Apple Mail to PDF files is a plodding technique that takes a lot of time. Because it only exports one email message as PDF document at a time. So many users drop this free manual method.
Use MBOX Migration tool to convert Mac Mail to PDF format. As a technical expert, I would recommend you to use this tool so that whenever you need to migrate Apple Mail to PDF format you can perform it easily.
Download Now
(Mac) Purchase Now
(Mac)
This method involves only three basic steps:
Select PDF format from the list and Browse the location to save them
And in end press the Export button.
The tool also allows conversion of Apple Mail to Outlook PST, EML, MSG, CSV, etc.
How to Import the desired Apple mailbox into the tool?
If you are unaware of the first step when converting Mac Mail to PDF using the professional tool, then do the following:
Run Mac Mail client.
Select the mailbox (like inbox, draft, etc) that you want to export to PDF.
After that, click on the Mailbox option in the Mail menu bar.
Select Export Mailbox.
Then, choose the location to save the file and click the Choose button.
This will save your mailbox in MBOX format.
Now, you can import this MBOX file into the software and proceed with the conversion process.
Residue
Many a time, it becomes very important to convert data for maintaining the workflow, PDF files are the most portable files that can be used on any operating system. Users need to convert Apple Mail to PDF format so that they can be used anywhere. After understanding this, we have provided manual as well as automated solutions. It totally depends upon the user that what all method they opt.