How to Convert MBOX to PDF for Free – Detailed Guide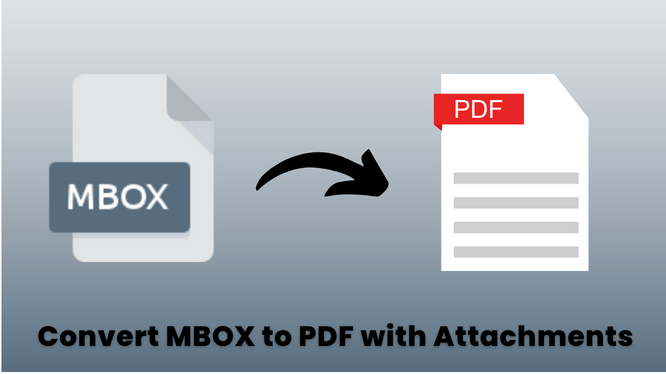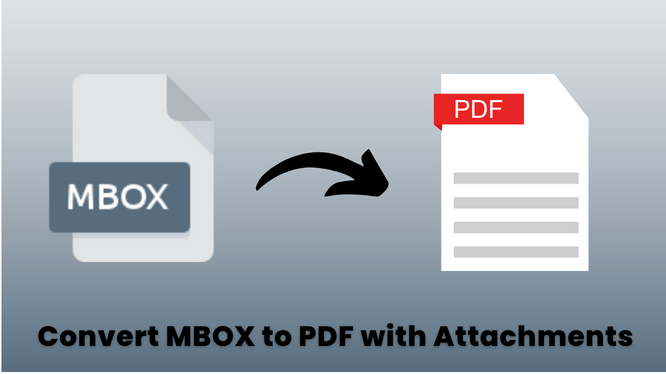 Hey, if you're not sure how to convert MBOX to PDF for free, this post will come in handy. I observed that a lot of people are looking for information on how to get their mailbox files in PDF documents. So, in this article, I'll show you the finest and most cost-effective manual MBOX to PDF conversion techniques.
MBOX and PDF are both incredibly common file formats across the world, as we all know. MBOX files are used by many apps to store their mail data. Because MBOX is a straightforward file format that saves data as plain text.
Within a single database file, an MBOX file represents a mailbox folder holding many messages. Users frequently encounter MBOX files since many email clients use them as their default mail format.
PDF (portable document format) is a popular file format. This platform-independent file format retains all of its original attributes and is compatible with any platform.
There are also hyperlinks, text, forms, photos, and other information in this file. As a result, it's the best file format for sharing data.
The Benefits To Convert MBOX to PDF
The PDF files are compatible with all operating systems and may be viewed on any device, including Android, Windows, Mac OS, and iOS.
PDF files may be password-protected, making them more difficult to unauthorized access than other forms of files.
PDF files allow users to save numerous pieces of information.
The use of PDF files in court hearings is permitted.
Users don't have to worry about data security or characteristics while working with PDF files because they are kept across all computers.
Manual Solution to Convert MBOX to PDF
It's a two-step technique that necessitates the use of Mozilla Thunderbird. We'll start by installing the free add-on, then convert MBOX emails and convert them to PDF.
Please keep in mind that this approach will not store attachments.
Step 1: Get the Add-on for free
Go to MBOX>>Tools>>Add-ons in the email service.
In the search bar, type "ImportExportTools."
Next, check for ImportExportTools NG >> ImportExportTools NG >> ImportExportTools NG >> Import
Add thunders mix.
Now and then press Install, and then restart Thunderbird.
Step 2: Create a PDF file from the emails
Import the MBOX file to Thunderbird by right-clicking on the local folder and selecting >>ImportExportTools>>.
Select the emails you want to convert now.
To convert MBOX to PDF, click right and select Save Selected Messages>>PDF Format.
Finally, choose where you wish the converted files to be stored.
Important Note: Converting MBOX to PDF with Attachments is not secure. When you have no way of knowing who is taking and copying your data without your knowledge. There's also no assurance that the online software will accurately convert MBOX files to PDF.
Professional Method to Convert MBOX to PDF Easily
Because of its versatility, the MBOX file format is becoming increasingly popular. The technique also executes this process in bulk mode at once, allowing users to complete the conversion in a short amount of time. MBOX Migration tool. It easily converts MBOX to PDF with attachments.
Select file(s) or Select Folder can be used to import a single or many MBOX files. The tool Date Filter allows it to convert desired emails from MBOX files. It easily converts MBOX files into different formats like EML, TEXT, PST, MSG, NSF, PDF, and HTML with attachments.
Additional Information : Convert MBOX to HTML in Mac & Windows OS
Step-by-step Process
Download and Run the software in your system.
Click on Add file option to start the whole process.
After that import your MBOX file into the software.
Then, you will get a complete preview of the MBOX file with attachments.
Now, click on PDF file format to change the saving location, and click on Export Button.
Finally, you will get the PDF file in your saving desired location with attachments.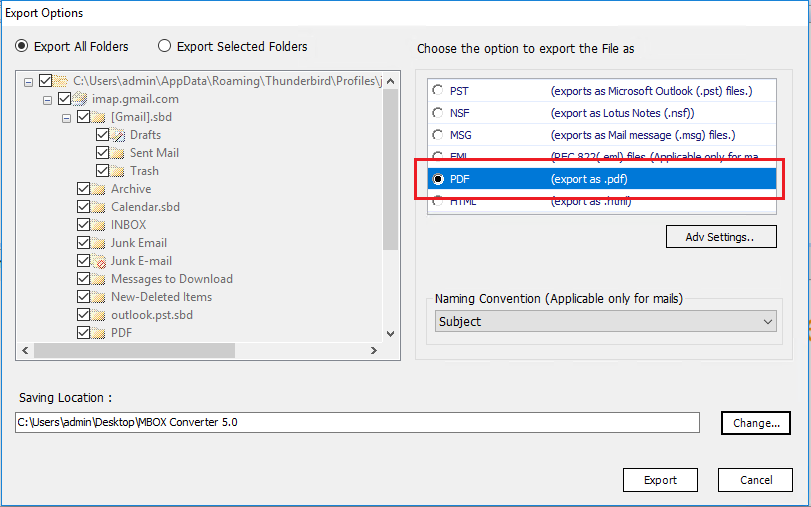 Conclusion
This post explains the best free manual method for convert MBOX to PDF files with attachments. To achieve the greatest results, follow these step-by-step directions to the letter. You'll need software of third-party software if you want to preserve your attachments intact within the PDF files.