How to Export Emails from cPanel to Outlook 2021, 2019, 2016?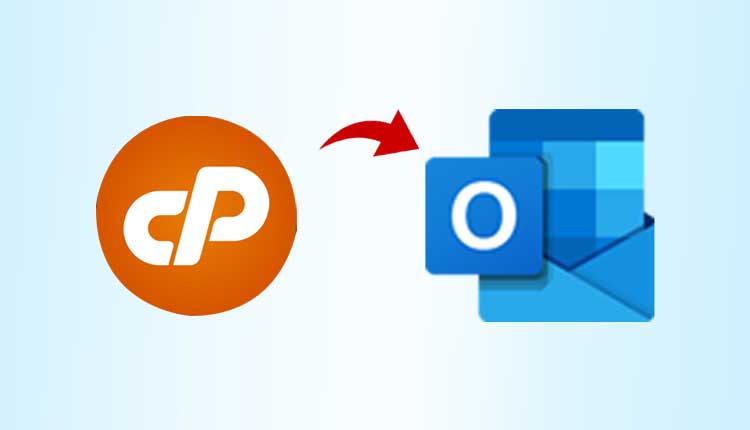 If you use cPanel and wondering about the migration of your cPanel email account to Outlook 2021, 2019, 2016. Then you have come to the right page. Because in this post, we will show you how to easily export email from cPanel to Outlook email client. Here, we will be explaining a step by step procedure to make you understand the entire process in a simple way.
Horde and Roundcube are two webmail clients provided by cPanel for accessing all your emails. You can view all emails in your cPanel account or manage them accordingly.
But, Outlook is a standalone application that manages all user information including email, contacts, calendar, tasks, attachments, and more. Hence, users prefer to switch to desktop based application, i.e. Microsoft Outlook.
Let's look at possible solutions for this situation.
Multiple Advantages of cPanel Email to Outlook Conversion
Notifications are annoying and distract you from your primary activities. In Outlook, you can limit the number of desktop notifications you receive.
In addition, you can also create a search folder for all your important information in Outlook. It's a good idea to have all your important information in one place. Hence, users prefer to export email from cPanel to Outlook 2021, 2019, 2016, 2013 application.
Also, people also switch to Outlook because of the popularity of the Microsoft suite, as here users gets a complete data security.
If you have international clients or colleagues, you can add a second time zone to your Outlook calendar to ensure that calls and video conferences are made at the correct time.
What is the Best Way to Export Email from cPanel to Outlook?
However, there is no direct procedure to complete this export task. Therefore, we have divided this task into three stages to migrate cPanel email account to Outlook. Use the three-step process shown below with step by step guide-
Use Horde to export emails from cPanel.
Conversion into Outlook Data File
Import File into Outlook 2021, 2019, 2016, 2013.
Now, let's understand these three steps in detail one by one to complete the process.
Steps to Extract Emails from cPanel Webmail Mailbox
In order to export emails, follow the steps mentioned below to get started:
First of all, just login with your cPanel account, go to Email Accounts.
Select a domain and then Check Email from the drop-down menu.
Then, click Open after selecting Horde Webmail from the drop-down option.
Then, right-click the mailbox folder you want to export and tap on the Export from the menu.
After that, you'll get a pop-up with a Download into a MBOX file option from the drop-down.
In this step, mouse-click the Ok button to begin the exporting process.
Your cPanel account's emails have now been successfully exported to desktop.
However, Outlook email client does not support MBOX format, therefore, there you will need to convert it first into Outlook supported format. To do so, read the next section.
How to Export Email from cPanel to Outlook Effortlessly?
There is no method to manually convert an MBOX file which is containing your cPanel emails. You'll need to utilize a third-party solution to keep your emails safe. Hence, the MBOX to PST Converter is the best way to export cPanel email to Outlook 2021, 2019, 2016, 2013.
This is a sophisticated gadget that can do your task in less than a minute. So, to learn how to use this application, download it, then follow the instructions.
For Windows OS:
1: In the first step, download and run the software and click on "Add Files" tab.
2: After that, browse the cPanel file from the system that you have exported earlier, tap Next.
3: Once browsed you can Preview cPanel emails and its folders and their subfolders.
4: For exporting to Outlook 2021, 2019, 2016, 2013,  select "PST" and tap "Export" button to get the output file.
For Mac OS Users:
All the Mac users can download the IMAP Mail Backup Tool for Mac OS which will help users to export email from cPanel to Outlook in bulk mode.
Using this software would be quite easy because of its easy to use GUI for exporting the emails. Also, all the converted files can be imported in Outlook 2021, 2019, 2016, 2013, 2010, 2007 & 2003 later.
So, with this professionally tested solution, you can simply convert cPanel email to Outlook without losing the folder hierarchy or data integrity.
Along with these functions, this tool offers a Date-filter option to its users to export the data from a specific time-period only. Now, let's take a look at the step by step guide of this tool.
How Does this Software Works for Exporting Emails on Mac?
Step 1: Initially, download and launch the software, tap the Other option from the tool's interface. Provide cPanel server details and user password along with email address, press the Login button.
Step 2: After that, just tap on the PST radio button and go to the Advance Settings option to export email from cPanel to Outlook for a particular time period.
Step 3: Here, you can even go for the splitting of large files in smaller parts in MB & GB sizes. Or just set the date range in the Date-filter section for a specific time-period, Save these filters to apply.
Step 4: If necessary, then you can check the Delete after Download option to free up the space in the cPanel mailbox by deleting the files after exporting.
Step 5: Finally, browse the location to save the output file on desktop and click on the Start Backup button for exporting.
Step by Step Guide to Import Converted File to Outlook
Outlook has a built-in feature for importing files. Using that, you may rapidly import the file containing cPanel email to Outlook. So, to continue just follow the steps:
1. First of all, run the Outlook 2021, 2019 2016, 2013 application and click on the File tab from the interface.

2. Then, from the next screen, tap on the Open and Export option. To move further, click on the Import/Export button, it will prompt the Import/Export Wizard.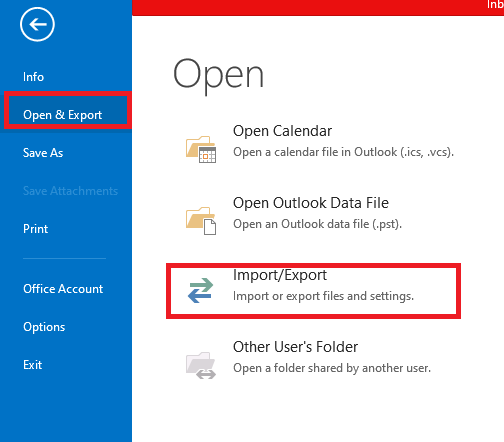 3. Now, in the pop-up dialog box, choose the Import from another file or program & hit the Next button.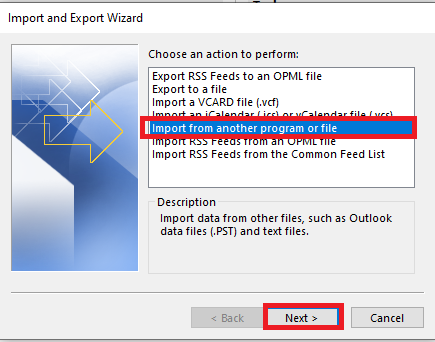 4. Here, pick the Outlook data file (.pst) option >> Next button.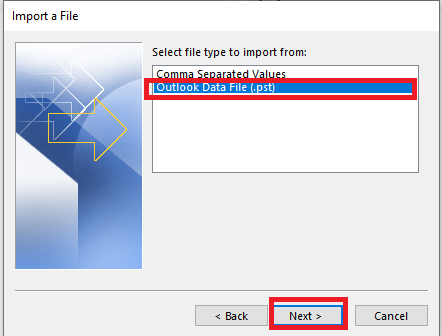 5. After this, you will need to browse the file from your computer to insert it, tap Next.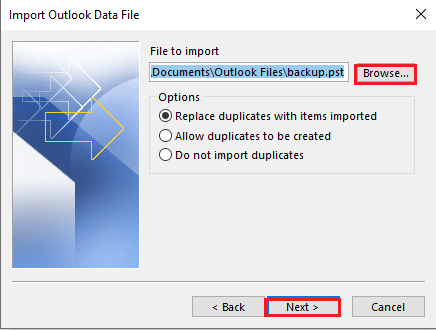 6. So, in the final step, click Finish button to complete the process. It's done.
Conclusion
In this article, we discussed how to export emails from cPanel to Outlook 2021, 2019, 2016, 2013 versions. The process was divided into three phases. To get started, you will need to export emails from cPanel in an Outlook supported format. After that, you just need to import the file into Outlook application of any version. By doing this, you will be able to access all emails in Microsoft Outlook. To perform this task, we have shared both manual and automatic methods. So, one can use the above method and follow step by step to get the end result.