How to Export Contacts from Lotus Notes | An A to Z Guide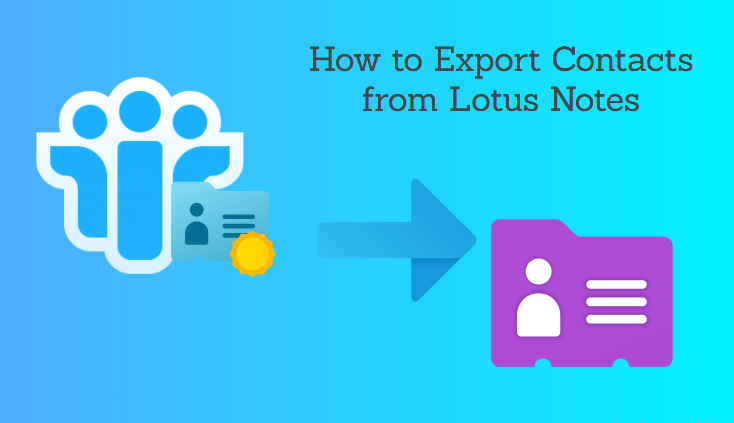 When switching from one email client to another, data must be migrated. And when we talk about contacts, we all know that it's one of the most important pieces of information.
So, whether you're going from one email client to another, or if you want to take back or share contacts, you've come to the perfect place. This blog will go over the many methods to export contacts from Lotus Notes.
Contacts, on the other hand, are critical in any size firm. Because it will aid in your communication with your client or coworkers. As a result, after email conversion, the majority of users seeking contacts transfer from Outlook.
As a result of this article, you will be able to learn two techniques for downloading contacts from the Lotus Notes address book. Now, without further ado, let's get started with the operation.
# Method 1: Manually Exporting Contacts from Lotus Notes
There is, however, a free technique available that allows you to export contacts from Lotus Notes in CSV format. CSV is one of the most widely used file formats for storing contact information. In truth, many email applications, including Outlook, support CSV contacts. To export Lotus Notes contacts in CSV, simply follow the procedures below:
Start the Lotus Notes programme and choose the NSF file to work with.
To display a list of contacts from your Address Book, select My Contacts from the drop-down option.
Select Export Contacts from the dropdown list after clicking More on the right side of the menu bar.
The Contacts Export page will be shown. Select the contacts to export, enter the necessary parameters, add or change the saving location and file name, and select Comma Separated Value as the Save as type option. Select the Export option.
As a consequence, the contacts are saved in CSV format in the location selected.
Once the job is finished, these contacts may be readily imported into any email client. Excel. Alternatively, you may save it.
#Method 2: Use an Automated Tool to Export Contacts from Lotus Notes to vCard.
The vCard file format is commonly used for storing contact information. It is also referred to as VCF (Virtual Contacts File). The vCard best feature is that it is interoperable with a wide range of email clients, smartphones, and other devices. It has all of the relevant information, such as a name, phone number, email address, and a photograph.
Why is vCard the Best Format for Exporting Contacts from Lotus Notes?
We're all aware that the Lotus Notes email client's names.nsf file holds contacts. However, sharing any of the contacts with a non-Lotus Notes user is quite difficult. As a result, people export NSF files to vCard for a variety of reasons. Some of the advantages of the VCF file are as follows:
Because vCard is so small, it can hold hundreds of contacts.
Because vCard is a file format that is independent of operating systems, it may be accessed on any device.
vCard files facilitate the storage and distribution of contact information.
VCF files are compatible with practically all devices, including phones, tablets, and desktop computers. Most email clients, including Outlook, Gmail, Thunderbird, and o, also support it.
How to Export Contacts from Lotus Notes
NSF File Converter is software that allows you to freely convert a names.nsf file to a vCard file. It's one of the most secure and dependable methods for converting Lotus Notes contacts to vCard. Furthermore, this tool can export Lotus Notes mailbox data to a number of file formats, including EML, MSG, MBOX, and PDF.
The Tool Operational Steps
Download and install the software on your computer first.
To add files or folders to NSF files, launch the tool and choose the Select NSF Files(s) radio button, followed by the Add File(s) or Add Folder to NSF Files button.
Select vCard from the Export Format drop-down option.
From the Select Categories drop-down menu, choose Contacts, and then from the Exclude duplicate contacts drop-down menu, choose to Exclude duplicate contacts.
Select Maintain Folder Hierarchy and other additional options under Advance Conversion Options.
Choose the Destination location to save the contacts to vCard.
Finally, pick the Export option to export Lotus Notes Contacts to vCard.
Read More:
Conclusion
Whatever the situation, this conversion is required. If you're looking for a means to export Lotus Notes contacts, this post will go through the top two solutions. So, based on your requirements, you may employ any of the tactics listed above.