How to Import PST Files to Office 365 Mailbox? An Efficient Solution is Explained
Summary: A DIY solution to import PST files to Office 365 mailbox is explained in this writeup. If you are having a similar query, then go through this article, you will get to know about the complete proceedure in step by step way. 
There are many users of Outlook who like to switch from their desktop-based email client (Outlook) to an advanced cloud-based email client like Microsoft Office 365 Outlook.
But, the biggest hurdle in the process is that they don't know the right method to import PST files to Office 365 mailbox.
So, in this article, we will discuss one of the most technical ways for importing PST into the Office 365 user account mailbox.
But, before proceeding with a solution, let's have a quick look at what PST file really is:
What is the Outlook PST File?
A .pst is a file format of Outlook data file which contains email messages, calendars, tasks, details, etc. The elaborated name of the .pst file is 'personal storage table'. This file is generated when you export your Outlook email client data to your desktop.
Following are the steps to export emails from Outlook in the .pst file:
Step 1. Open your MS Outlook application on your desktop. 
Step 2. Go to "File" (located in the top left corner of the window), after that click on "Open & Export" >> Import /Export.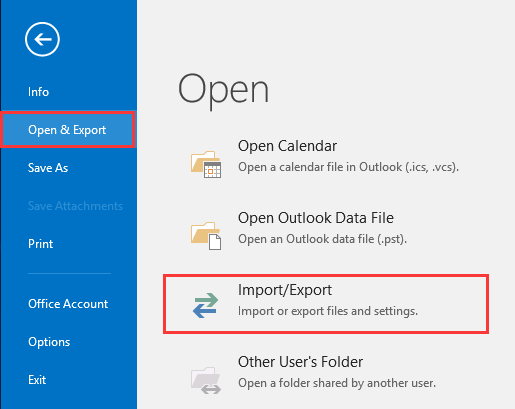 Step 3. From Import and Export Wizard choose "export to a file" option >> Next.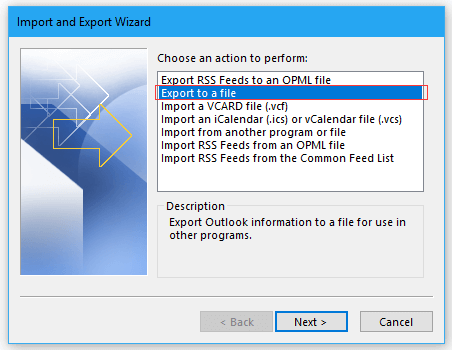 Step 4. In the next window, select "Outlook data file (.pst)" >> Next.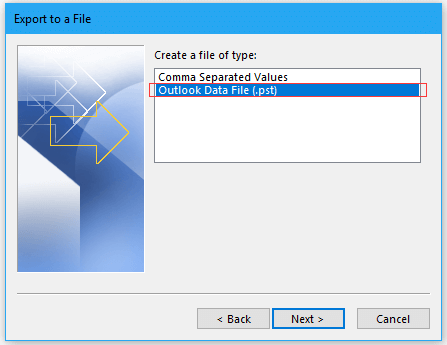 Step 5. Select mailboxes for export from your current Outlook account.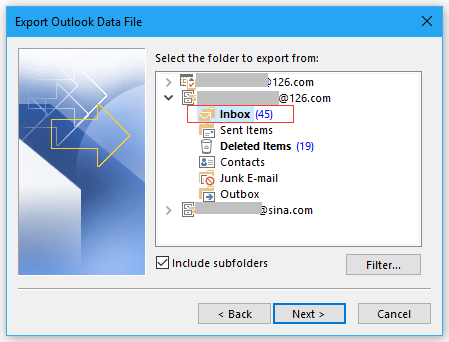 Step 6. Browse the destination location of the data file on the local computer >> Finish.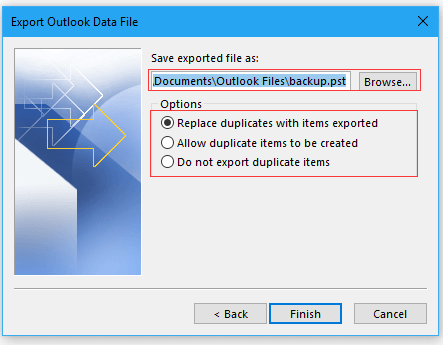 Why Import PST Files To Office 365 Mailbox?
Microsoft Office 365 is the advanced web-based version of desktop Outlook. And, it provides much more functionality for its user than MS Outlook. So, more and more organizations are opting for it and looking for a way to migrate their data to Office 365 webmail. 
If in case, either you want to or you have already switched to Office 365 suite, then you should also take your Outlook data with you. And, this data transfer can be done by importing PST into Office 365 user account. 
Following are the List of Benefits You will Get in Office 365:
Access Office 365 account anytime, anywhere, and from any device
Provides all the Microsoft applications in a single suite
One Drive facility to store important files and folders
Security to very high
Maintains cost is negligible
Managing multiple user accounts from Admin account
Provide flexibility to business organization
Project planning is easy
Also Read: How to Export Microsoft Outlook to Office 365 – Best Possible Way
Issues While Importing PST to Office 365 Cloud
Outlook PST File aka Personal Storage Table is used to store all your Outlook data locally in your system. The data stored in PST files is mainly emails, calendars, contacts, tasks, attachments, meta-attributes, etc.
At times, the user might face some issues while migrating from Outlook. Some of them are:
None of the data items should be left behind or misplaced while importing.
All the data items i.e. attachments & meta, must get properly imported/migrated to a new platform.
The source formatting should be maintained otherwise PST data may get corrupted.
The import process must be automatic & accurate over manual importing.
Importing PST into Office 365 should be easy. Hence, it is recommended that the process should have a graphical user interface rather than a command-line interface.
The size of PST files is one of the major issues.
Hence, all these issues create doubt in the user's mind regarding the importing of PST files to some new platform. Although there is an Azure PST import tool available in Office 365 Admin center is the default utility to import PST files to Office 365 user mailbox, the process is quite cumbersome. If you are new to Office 365, then it is better to help with an expert solution for the process.
This Office 365 PST Import tool is mainly developed to clear out all the above-mentioned issues to import Outlook PST files into Office 365 mailbox.
Best Ways  to Import Multiple PST Files Into Office 365 Mailbox
The challenges faced while performing this operation, are mentioned in the earlier section. We will recommend a perfect solution for all your PST file migration problems. Office 365 import tool is the utility, which supports complete Outlook PST file data migration into Office 365 account.
Features of the Recommended Solution
Import multiple Outlook PST files into Office 365.
Login into the tool using Admin or User credentials
Emails along with attachments & meta attributes are imported into Office 365 mailbox.
Maintains the source formatting by folder orientation.
Automate the import process, aids feature like selective Data migration, filtering options, etc.
No size limitation: In fact, supports the migration of multiple PST files at once to Office 365 mailbox.
Supports transparency: At last, it generates a final report of the process and the user can preview the report too.
Import PST files to Office 365 shared mailboxes using Admin account.
Steps – How to Import PST file to Office 365 Online Account?
The below-mentioned steps will give a clear explanation about how to import PST files to Office 365 mailbox along with the importing screenshots for more help.
Conclusion
In this article, we explain how to import PST files to Office 365 mailbox. Moreover, you can also regulate the import process according to your needs. All the features of the automated tool make it a more powerful and reliable tool. We hope, this tool will resolve your problem of importing Outlook PST files into Office 365 accounts.
Related: Learn How to Take Backup of Office 365 Mailbox – Efficient Approach to Follow