How to Save All Attachments in Outlook to a Folder – Two Quick Solutions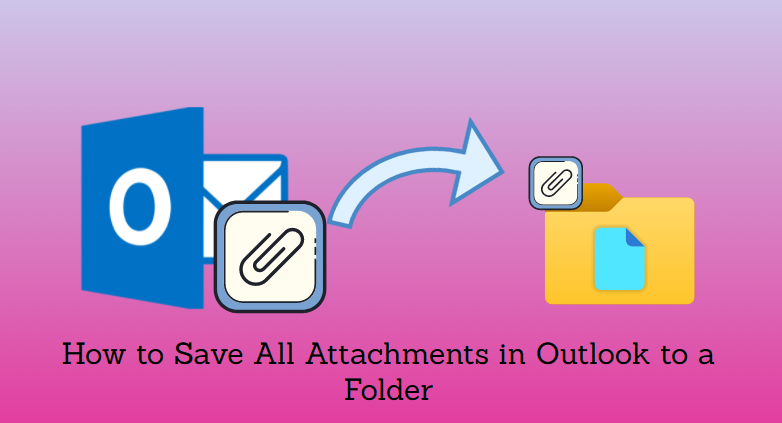 Have you ever found yourself in a situation where you needed to save Outlook attachments to a certain folder? If you answered yes and are looking for a suitable way to save numerous Outlook attachments to a certain folder, then this future article will undoubtedly assist you. In this section, we will elaborate on a result-oriented strategy to meet all of your demands and requirements.
We all know that Microsoft Outlook is the most popular email client owing to its extensive set of advanced features and user-friendly layout. Furthermore, it is frequently utilized by both small and large businesses to manage their daily email demands efficiently.
However, when customers wish to extract all email attachments to a specified location, the operation becomes critical as well as cumbersome. Because the manual method of completing this activity is impractical when the user has a big number of email attachments to save in a certain folder. However, after reading this article, one may easily extract several attachments from Outlook in a matter of minutes with minimal effort and data loss.
We Discussed the Following Points:
Now, let's dive into the blog to learn about all of the different processes.
Prime Method to Save Outlook Attachments to a Folder
Yes, in this part we will go through the simplest way to extract Outlook attachments. Outlook Attachment Extractor is a utility that makes attachment extraction simple and efficient. It is the most effective substitute for the manual technique.
The software is presently upgraded to v9.1, which includes some more sophisticated capabilities such as the ability to extract attachments from Outlook OST, PST, BAK, MSG files. We as it comes up with a variety of filter settings that will allow users to store Outlook attachments based on their needs.
Working Steps of the Tool
1. First, download the tool from the above download button and install it.
2. Once the installation is completed open the tool.
3. Now, choose the Auto Locate Default Storage Location option.
4. Choose the Maintain Folder Hierarchy option.
5. After this select the Destination location where you want to save all attachments from Outlook.
6. Choose the Categories from the Select Item Types.
7. After all the settings click on the Extract button to save all attachments in Outlook to a folder.
Save All Attachments in Outlook to a Folder Manually
Manually extracting Outlook attachments to any specified folder is also an option for users. However, there is a catch: you can only store attachments from emails one at a time. As a result, it is only possible when there are fewer attachments in Outlook. So, if you need to remove a smaller number of attachments, use the procedures given below.
1. First, start the Outlook application on your computer.
2. To save the attachment, select the desired email message.
3. From the reading pane, choose the email attachments.
4. To save Outlook attachments to a specified folder, right-click or click the down arrow button and select the Save All Attachments option.
5. Then, choose the directory where you want to save the attachments >> click Save to finish the procedure.
Why the Automated Tool is Best Solution?
Well, the above manual method is quite useful but for those users who have less number of emails attachment to extract but in the case of a huge number of attachments extraction, this method is time winded. And here tool wins because it comes with various options such as:
Multiple File Format Support – The tool not just extract attachment from PST but is also capable to extract attachments from Outlook OST, BAK, MSG, Mac OLM, and OLK files. Along with that, the tool is also capable to save multiple embedded images from Outlook emails.
Date Filter Option – One of the amazing features of this tool is that users can save attachments according to date using this took.
Save Integrity – To save the folder hierarchy and data integrity the tool comes with four options.
Batch Extraction – The tool has no limitations of the attachment extraction process users can save any number of attachments from multiple Outlook emails.
OS and Outlook Support – The tool support all the versions of Outlook and Windows Operating System.
Also Read: Outlook Not Opening Picture Attachments
Final Thoughts
This blog discusses both the automated and manual methods on how to save all attachments in Outlook to a folder. However, the manual technique offers fewer options and features, which is a disadvantage. As a result of all of these disadvantages and lack of functionality, we recommend that try the automated approach stated above in the article.