Know How to Import Apple Mail to Thunderbird in a Simple Way
As the requirement of users keeps on changing day by day, the choice of email client also changes. For example, Mac Mail users want to move to Thunderbird. In such types of situations, a user needs to import Apple Mail to Thunderbird (for Windows & Mac). Therefore, in this post, we will know how one can convert Mac Mail file to Thunderbird.
MBOX is a type of mailbox storage file format. Moreover, it is compatible with almost all operating systems like Unix, Windows, and Mac OS. Therefore, it supports many email applications regardless of the OS platforms. For example, Mozilla Thunderbird (for Mac & Windows), Apple Mail, Entourage, The Bat!, Eudora, Pocomail, EarthLink, etc.
Since both Apple Mail and Mozilla Thunderbird uses MBOX file, it makes the migration easier. Especially if the Operating system remains the same. Here, you will be able to get separate methods for moving Mail emails to Thunderbird on Mac as well as Windows machines. So, keep reading or jump to your fav section.
Contents:
The day-to-day problems in Mac Mail
So why we import Apple Mail to Thunderbird, the major issues and solutions of using Apple mail are discussed below:
1. The Mail will ask for password repeatedly
This is because of different issues, but to avoid in a simple method verify the settings this will help to avoid this. And another task is that reset your password for your email address within the Account Center and give the Mail the new password.
2. Verify Certificate can't be done or it says it can't verify the certificate
This is just because we use a secure SSL connection. Anyway in order to use the Grid connection from the SSL the Incoming and Outgoing mail server to be the access domain. Or we can choose to continue or ignore the warning.
3. The Send item won't show in the sent folder
While using IMAP mail requires providing a specified folder for saving the sent message. For Configure follow the below steps:
Press and Highlight the Sent folder for your accounts
Choose Mailbox menu
Next, choose to Use This Mailbox Forwarding
Select Sent
These problems will lead the client users to export Apple Mail files to Thunderbird. Now below shows the solutions regarding receiving and sending emails. It also mentioned that this problem can be eliminated by converting Mac mail file to Thunderbird PC.
Not Receiving Email
Once in a while, Apple Mail i.e., mail.app stops receiving new mail. To verify whether we are getting new mail can be done via webmail, another email client, or computer. To fix this just go through the below-mentioned steps:
Select "take all accounts offline", and wait for some seconds
Then select "take all accounts online"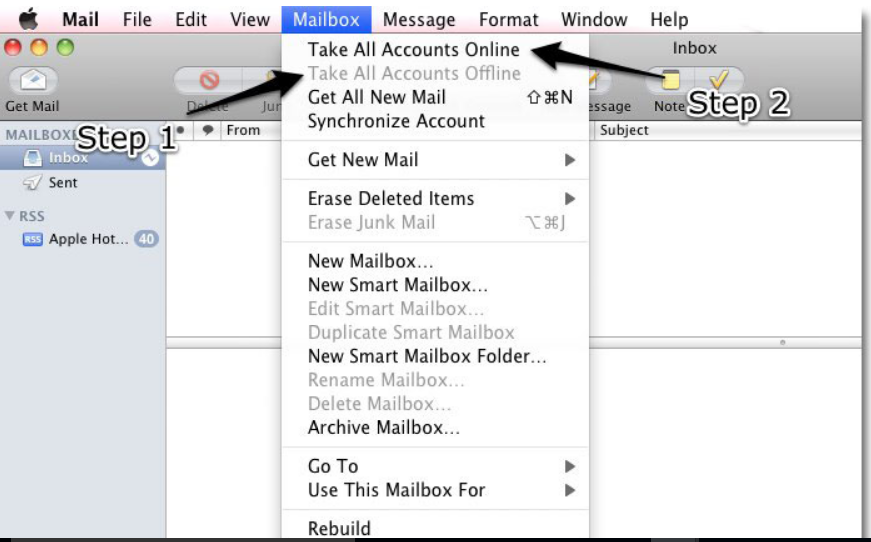 NOT ABLE TO SEND EMAIL
At the first close the mail.app fully. You can do this by either command-Q or by selecting Quit. After this just re-open the application by pressing the stamp icon on your dock.
Then, confirm that your email settings are configured correctly.
Easy Methods to Import Apple Mail to Thunderbird
As Thunderbird is compatible with both Windows & Mac operating system. That is why there are two different solutions available to Import Apple Mail to Thunderbird. It totally depends on a user, which he/she wants to use.
Method 1: Migrate Apple Mailbox to Thunderbird for MAC
In order to import Mbox to Thunderbird for Mac manually, a user needs to follow the steps mentioned below:
Close Apple Mail application on the local machine to migrate Apple Mail to Thunderbird
You need to open Thunderbird for Mac on the local machine system and click on the three-line box from the right pane

Then, click on Tools >> Import option from the displayed menu

From the multiple options displayed in the current wizard, select the Mail option and click Next to continue

After that, choose Apple Mail from the display screen and click Next and proceed

Now, you can easily see a folder with the name "Apple Mail Import" from the LHS of the Thunderbird. It will contain all your data maintained in the Mac MBOX file.

The mentioned steps will help to export MAC mail file to Thunderbird.
If the procedure turns out to be inconvenient for users, they can opt for the professional tool for Mac OS. It allows you to move to Thunderbird as long as you have the MBOX mailbox files. Thus, there is no constraint of using Apple Mail.
Method 2: Mac Mail to Thunderbird Migration on Windows OS
On Mac OS it is really easy to convert MAC mail files to Thunderbird. But, when it comes to Windows OS, your best bet is to opt for a professional solution.
SysTools has the best software to import MBOX files into Thunderbird. It allows the users to add MBOX files of all kinds (.mbox, mbox without extension, .mbx, .mbs), EML, Maildir, and EMLX files without any hassle.
Download Now
(Win) Purchase Now
(Win)
Make sure to try the free demo version first to ensure the software's working. Although it will limit the number of emails you can transfer to Thunderbird, the rest of the features work as intended. So, this is your way of confirming the process' success and ensuring if you wish to opt for the full licensed version.
The process to migrate Mac Mail to Mozilla Thunderbird is as follows:
In Apple Mail, right-click on a mailbox and click on Export mailbox to get MBOX file containing the mailbox data (Skip this step if you already have the MBOX file).
Move the MBOX file to the Windows system and make sure that Thunderbird is not running.
Run the software and click on Add File button.

Select the Apple Mail MBOX file and click Open.

In the next window, select Local Folders and apply additional settings as per requirements.

Click the Import button to start the import process.

That's it.

Important: It is technically impossible to directly import a mailbox file in the Thunderbird IMAP account. This is the reason, we advise you to select a POP account or Local Folders as the destination folder. You can then select and move the imported emails from these folders to the IMAP account within Thunderbird if required.
A Quick Overview of Benefits that Professional Tool Brings
This software is specially designed for Windows OS users that allow users to migrate multiple Apple Mail to Thunderbird for Windows. In addition, there is even a Mac version to meet the demands of the Mac user community.
The software is compatible with all email application i.e. Apple Mail, EarthLink, etc., that uses MBOX file to store data.
It provides such a simple interface that anyone can use it without any effort. So the import Apple Mail to Thunderbird is made so easily.
Also exports all emails along with attachments without any issue.
Moreover, it does not compromise data integrity and original formatting.
Conclusion
As the demand of a user is increasing, the choices of email applications are also increasing. Therefore, users keep on switching between the email clients. One such scenario occurs when users are searching for the solution to import Apple Mail to Thunderbird. However, the Thunderbird application is supported by both Windows and Mac OS. Therefore, we have discussed different methods for both of them. A user can choose between them based on their requirements.