Import MBOX Files to Thunderbird Mac & Windows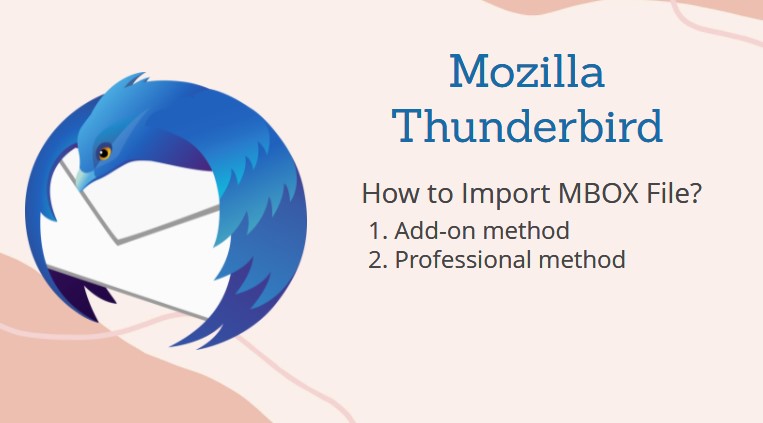 "Last week, I have received MBOX files from one of my important clients and wanted to import MBOX to Thunderbird. For this, I used ImportExport Tool of Thunderbird but failed in my efforts. I tried it three or four times, but nothing worked. Then, I get a little tensed as I needed those files urgently. I searched for some other manual methods. However, unable to find any other relevant process for this. Now, I am posting here to get any manual approach to add MBOX file to Thunderbird on Mac. Please suggest a suitable solution."
Using ImportExportTools is the only manual method to perform this task. If it fails, then users need to go for a third-party program. In the upcoming part, we will discuss a superb utility for this. We will also revisit the manual method to ensure that users are aware of the correct sequence of steps.
How to Import MBOX Files to Thunderbird on Mac & Win
To import MBOX mail to Thunderbird "ImportExportTools NG" add-ons installation is obligatory because it enables the import functionality of the Thunderbird.
Before initiating the import operation, it is recommended to take a backup of the MBOX data files. It is so because manual procedures are prone to permanent data loss and backup ensures that the data can be restored in case the file goes inaccessible or corrupted. Let us discuss the different techniques to add MBOX to Thunderbird profile; users may require these techniques due to different necessities.
You may be interested in reading – How to Open MBOX Files in Outlook?
Approach 1: Free Way to Import MBOX to Thunderbird Mac
Follow the down-mentioned guidelines to move MBOX mail to Thunderbird on Mac:
Open the Thunderbird application on your Mac.
Install ImportExportTools NG add-on/extension into Thunderbird, if not already installed.
After restarting Thunderbird, select the Local Folders account.
Hit the Alt+T key to open the Tools menu and select the ImportExportTools NG option.
Select Import MBOX file from the appeared list of options.
It opens the MBOX Import wizard. Click on the Import directly one or more MBOX files option.
This time, you have to click on the Ok button to import MBOX to Thunderbird email client
If you are required to import MBOX file with subdirectories then, you can choose Import one or more MBOX files, with its subdirectory and then click Ok.
Now, browse the MBOX data files from their location and click on the Open button for adding the MBOX files to Thunderbird
After importing emails to Thunderbird, users can access them anytime via the desktop email client. Furthermore, one can store the MBOX files on an external hard drive or other off-site location to access them from other compatible email clients i.e., Netscape, Entourage, Spicebird, AppleMail, PocoMail, Eudora, etc.
Limitations of Manual Method
Available manual procedures sometimes fail to complete the task. The failure cannot be resolved easily without the help of a technical expert. And also there is the chance of getting corrupted. Moreover, converting MBOX to Thunderbird is one of the crucial steps. It should be performed cautiously. This is because even a single wrong step may put your data in danger.
High-risk of permanent data loss
Not suitable for a large amount of data
Time-consuming procedure
Technical knowledge is a must
The add-on may not be compatible with the Thunderbird version you are using.
As manual method comprises many serious issues that can cause corruption or data loss. To overcome the cons of the manual method, we recommend to users one of the most tested and trusted utilities: Thunderbird Import Wizard. The software allows users to import MBOX emails with attachments to Thunderbird.
More details are in the next approach.
Approach 2: Professional Way to Add MBOX File to Thunderbird
Thunderbird Import Wizard is getting more and more famous due to its flexible features. The main motive behind the design of this application is to make it convenient for Mac users to import MBOX files into Thunderbird. The method also performs this task in bulk mode at once making it easy for users to finish the migration quickly. One can import single or multiple MBOX files through its Select file(s) or Select Folder option. The tool supports importing the desired emails from MBOX files via its Date Filter.
Apart from all of these, the program is supported by the latest versions of Mac Operating systems. Moreover, the folder hierarchy is preserved throughout the entire process. This utility is designed with such high technical algorithms that it does not have any file size limitations. Installation of Thunderbird is required in the system.
Steps While Import MBOX Files to Thunderbird on Mac
This software allows you to migrate Apple Mail to Thunderbird on Mac as well as from all other applications that support MBOX file. It supports Mac OS X 10.9, 10.10, 10.11, 10.12, 10.13, 10.14, 10.15 and macOS 11, 12, 13, 14, 15, 16, 17.
Download Now
(Mac) Purchase Now
(Mac)
Run the tool on your Mac system.
Select the Browse MBOX/MBX/MBS file(s) option and click the Next button.

Click on Add File(s) button.

Choose one or multiple MBOX files for the process, then click Choose.

The tool will display all the selected files. To proceed further, click the Next button.

In the next step, you will get an option to Apply Date Filter. Choose this optional date range to move only selective data.
After this, choose to Select the Identities options (choose only POP account or Local folders).

Put a checkmark in Maintain Folder Hierarchy option (It is optional).

In the final steps, hit on Import.

You can see the progress screen on the software panel. Click OK once the process completes.

You can view the export report if required.

You can easily view and import MBOX files in Thunderbird profile on your Mac machine.

Steps to Add MBOX Mailbox to Thunderbird on Windows
Other than Mac, there is another variant of the tool available for Windows users.
Download Now
(Win) Purchase Now
(Win)
To begin the transfer of MBOX to Thunderbird, launch the application on your machine.

Click on "Add File(s)" or "Add Folder" according to the need.

First, pick the file or files that you need to upload and then click on Open.

After this, choose Apply Filters option and apply any kind of filters. Then, click on Set.

Another option will be to Select identities (select Local folders or POP accounts). Along with this, check the box available in front of Maintain Folder Hierarchy (it is optional)

Finally, hit on "Import" button.

The software will display progress for the complete process. Click on OK to finish the task.

For saving the completion report, pick any desired location and then hit on Save Report.

Once performed all the above steps, now access the MBOX files in Thunderbird profile.
What MBOX Files Can be Imported in Thunderbird?
The source of the MBOX file can be:
MBOX files derived from desktop email applications like Thunderbird, SeaMonkey, Netscape, Outlook for Mac, Apple Mail, The Bat!, etc.
MBOX files are derived from webmail services like Gmail, Vault, Horde webmail, etc.
Files from backup services like Backupify, Spanning, etc.
A file obtained after conversion from other mailbox formats.
To Sum It Up
MBOX is a file format used by various email applications. Thunderbird is one of the most commonly used platforms. However, importing MBOX to Thunderbird on Mac is a very challenging task for most users. Considering this, we have discussed two methods where the first is manual and the other is automated.
The manual approach is fine to execute, however, if users do not have the basic technical knowledge then they should prefer the automated software. Due to its user-friendly interface, even a novice user can add MBOX files to Thunderbird very easily using this utility.