Easy Steps to Sync or Migrate Google Calendar to Outlook
If you want to migrate Google calendar to Outlook, you don't need to repopulate the Outlook calendar with all the events and appointments. You can simply choose to export the calendar files from Gmail account and import them in Microsoft Outlook.
In fact, you can even sync Google calendar with Outlook, so that all the updates you do in Gmail calendar are automatically shown in Outlook.
We have methods with step-by-step instructions for both these cases.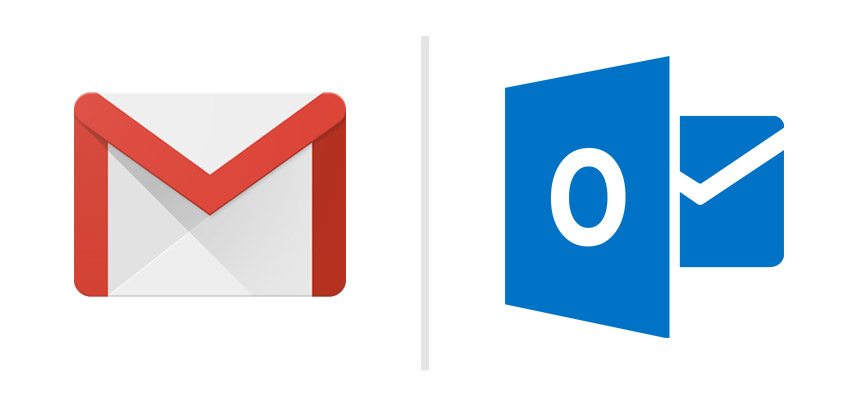 So, let us start.
Google Calendar & Microsoft Outlook
Google Calendar is one of the best time scheduling and management calendar services that allows users to create, edit events. Reminders are enabled for events, with multiple options that are available from time to time. The calendar in Gmail is automatically synced with your account. There are many cases when the user needs to move their Gmail calendar to Outlook account. The movement of the calendar to Outlook allows the user to prepare and get familiar events to Microsoft Outlook interface. Today we will be going to discuss a method to migrate Google calendar to Outlook very easily.
Earlier when the user wants to export their Google calendar they need to re-enter their appointments but this process is not valid anymore. To import Google calendar into Outlook, you don't have to re-enter all of the appointments. Instead, you need to export your Google calendar to a file, and then import into Outlook. It's not a one-click button process but it is pretty easy to perform.
Steps to Migrate Google Calendar to Outlook Account
The process to import calendar from Google to Outlook is divided into the two-step process. The user needs to export Google calendar to a file and then move it Outlook account.
Step 1: Export Google Calendar
Log in to Gmail account, and go to Calendar.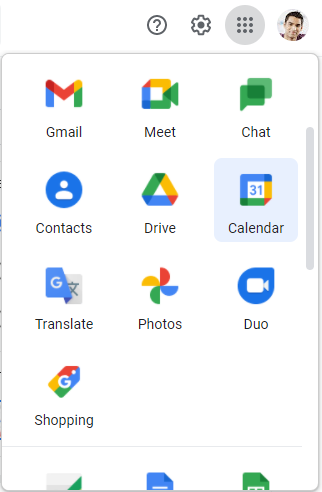 Hit the Gear button and then go to Settings.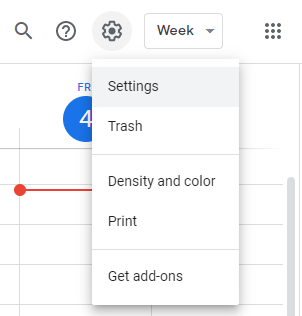 Choose the Import and Export option and click on the Export button.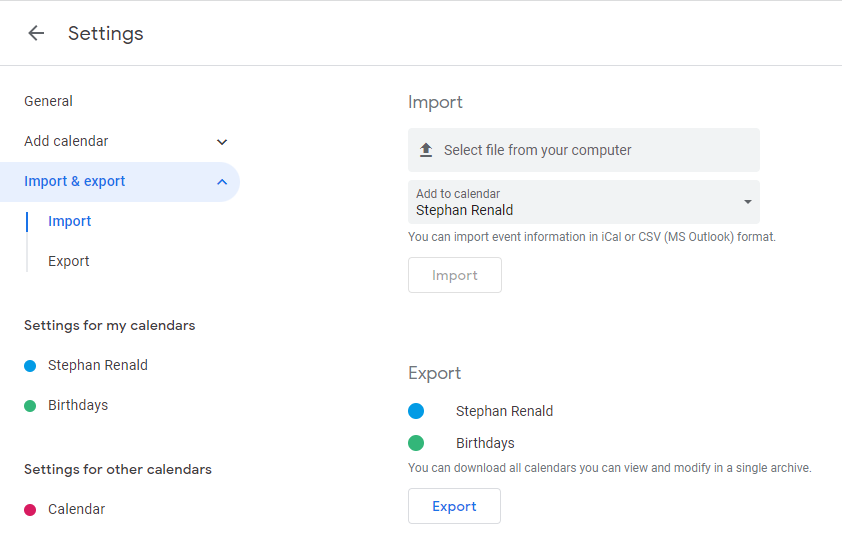 You would get a zip file you need to unzip and extract all the ICS files containing calendar data.
Now you're ready to import your Google Calendar into Outlook.
Step 2: Import Google Calendar to Outlook
Open MS Outlook and go to Calendar.
Choose File | Open & Export | Import/Export.
Select Import an iCalendar (.ics) or vCalendar file (.vcs), and then click on Next.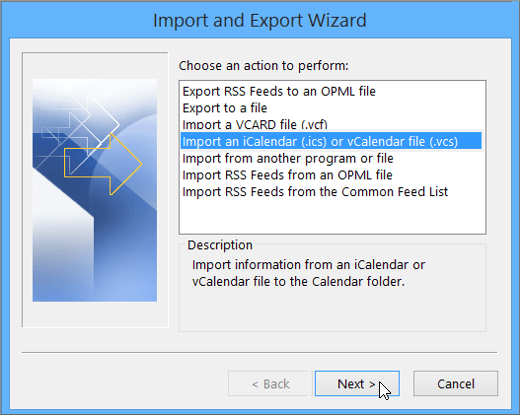 Browse the ICS file you got after extracting the Google calendar ZIP file, then select the file ending with @gmail.com and click on OK button.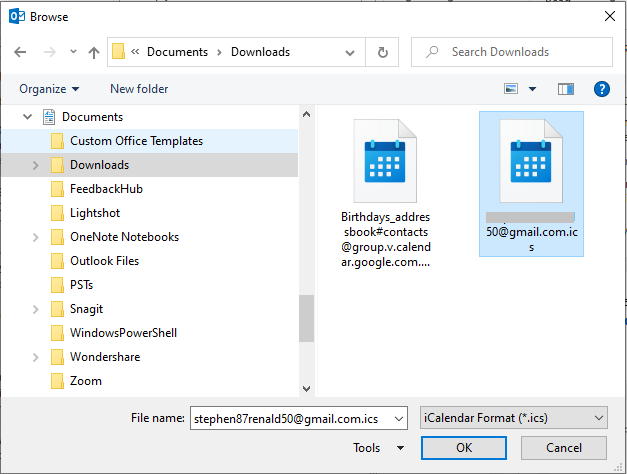 You will now be able to view your Google calendar events in Outlook calendar.
Steps to Subscribe / Sync Google Calendar to Outlook
This set of instructions will allow to you subscribe the Gmail calendar in Outlook, thus effectively syncing both.
1: Get the calendar address from Google Gmail account
Subscription of the Internet calendar ensures the Outlook copy remains up-to-date to the Google calendar.
Log in and open the Google calendar account.
In the left hand panel, move your cursor over the calendar you want to sync with Outlook, click on the three dots icon and select Settings (In some cases, it may render Settings and Sharing option)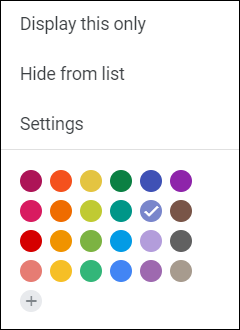 Click on the Integrate Calendar option, scroll down and copy the Secret address in iCal format.
2: Sync the calendar in Microsoft Outlook
Open Outlook.
Go to File menu | Account Settings | Account Settings.
Open the Internet Calendars
Click on New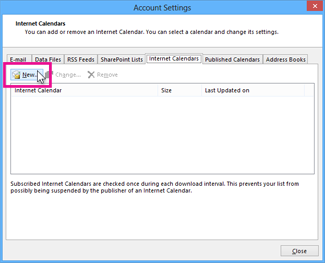 Paste the copied address in the blank field and click the Add

Give it a name and click the OK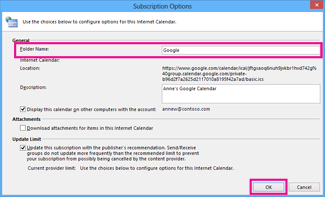 That's it!
Outlook will periodically check and update the Google calendar events.
This completes the process to sync Google calendar to Outlook. Do note that the changes you make in Outlook will not reflect on the Google calendar. But all the changes made on the Gmail calendar via a browser will be automatically updated on Outlook. This is due to the fact that you have subscribed Google calendar from Outlook.
Steps to Import Gmail/Google Workspace Emails, Contacts, Calendars to Outlook
The method to move Google calendar to Outlook account manually is very easy to perform and gives immediate results.
But if you want to move more than calendars, i.e., you also want to migrate Google emails, contacts along with calendars, then the manual method is nowhere near perfect. In this case, Gmail data backup method will be your partner with end-to-end encryption for safe and secure migration.
It will help you save your data in PST format that can be easily imported in MS Outlook 2019, 2016, 2013, 2010, 2007 & 2003.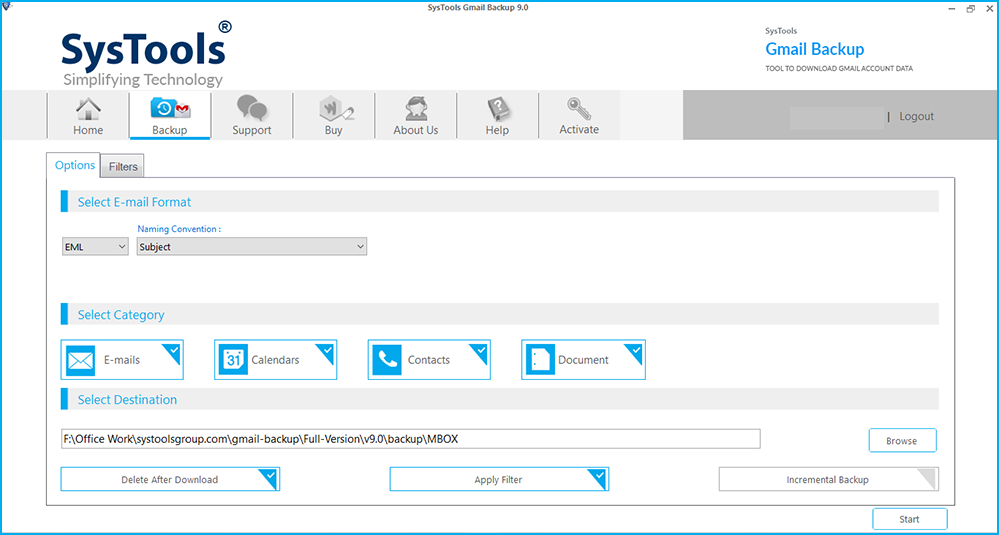 Note – If you want to move data from multiple Google accounts at once i.e., from a Google Workspace domain, then opt for Google Workspace export solution. It allows you to migrate Google calendar to Outlook account fast and easily along with emails, and contacts.
There are thousands of users who have undergone this process via this procedure which made this process much simpler for them.
Conclusion
We have covered the process to migrate Gmail calendar to Outlook so that user can fetch their Google calendar events in MS Outlook email client. Though the manual process is not much difficult but using a tool may ease up your manual work especially when more data is involved.