Best MBOX to Outlook Converter by SysTools
Have you ever encountered a problem during the MBOX to Outlook conversion process? If so then, do not need to worry because in this blog we are disclosing an eminent product which is the best to perform MBOX to Outlook Conversion. Here we go!
MBOX to Outlook Converter software v5.0 is the most searched software on the Internet for the conversion process of MBOX to Outlook 2019/ 2016/ 2013 and below. This product is designed to easily migrate inbox.mbox, draft.mbox, Sent.mbox, Trash.mbox as well as deleted .mbox data into Outlook.
The software comprises multiple amazing features like:
• Convert MBOX/MBX/MBS files into Outlook PST in an effective manner
• Capable to migrate all email content from selected MBOX files and folder
• No requirement of MS Outlook for the conversion process
• Capable to browse and export orphan MBOX file into PST
• Provides different preview modes to view MBOX emails with attachments
• Auto-detect MBOX Supported email client present in your system
• Convert MBOX file into multiple file formats like PST/ EML/ MSG/ NSF/ HTML/ PDF quickly
• Supports bulk conversion of multiple MBOX emails into PST file format
• Compatible with all the available versions of Windows OS including Windows 10
After all the features let's see the System specification and installation process.
Also read
System Specification and Installation
To install this software, all you need is Windows 10 or below version of Windows machine with minimum requirement of 1 GB RAM (2 GB is recommended), at least 80 MB of free space in the hard drive and 1GHz processor. If you fulfill all the given requirements, proceed MBOX to Outlook Conversion with the steps given below:
Install the Software
Step 1: First click on MBOX Converter.exe file to start the installation procedure and click Next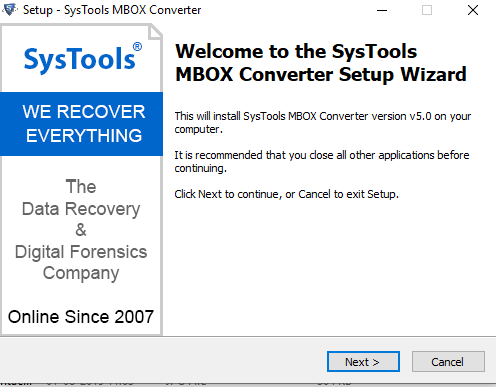 Step 2: Now, Under License Agreement window select I accept the agreement option and then click on Next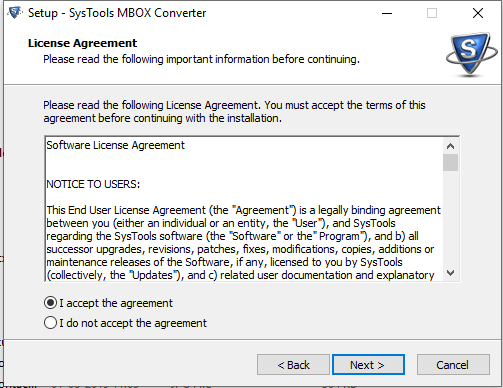 Step 3: After that, click on Browse button to choose the destinations path where you want to install the software then Next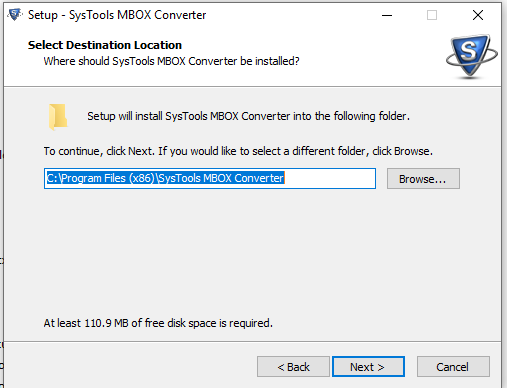 Step 4: Under Select Start Menu Folder window, click on browse Button to provide the shortcuts, then click on Next button.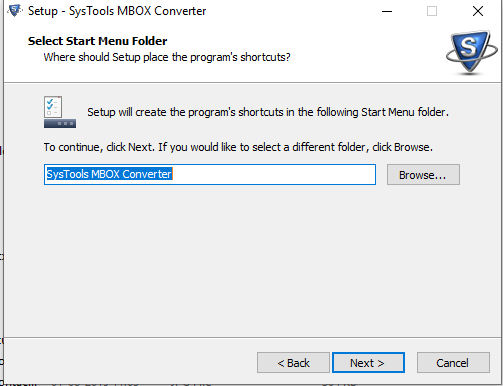 Step 5: Now, under Select Additional Tasks window, select the check-boxes as per your requirement.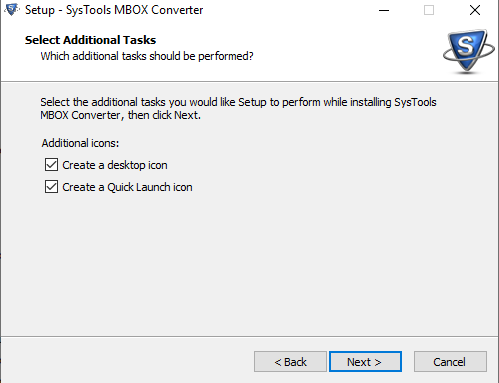 Step 6: Now, review your selection under Ready to Install window and click on Install button to start the installation process.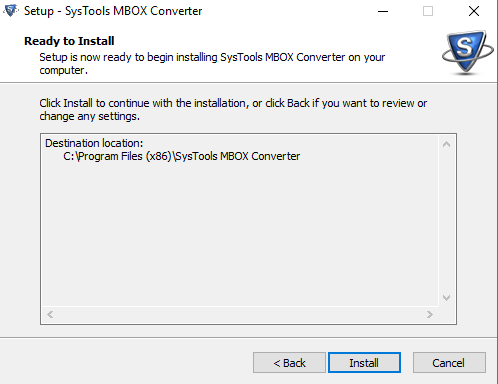 Step 7: The Installation window will show you the installation process. Once the process is completed then click on the Finish button.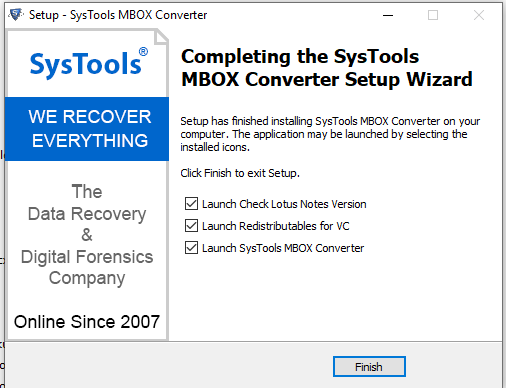 After the installation process let's see the working steps of MBOX to PST Converter Tool.
Working Process
The Key point of this software is simple and easy user interface which makes this program very simple.
Step 1: To start the conversion, first launch the program
Step 2: Now, click on Add Files button to add single or multiple files into the software
Step 3: In this step, you will get two options:
Default Profile Configured: After selecting this option, the application will automatically fetch data from the default location.
Select Files(s)/Folder from File System: By choosing this option you have to fetch MBOX file from the desired location.
Choose an option as per your requirement. In this blog we will choose Select Files(s)/Folder from File System>> Next
Step 4: Now, click on […] button to browse the MBOX file which you want to convert into PST.
Step 5: After selecting the desired MBOX file click on Open button.
Step 6: There is also Folder Mode in this software to select bulk MBOX files at once.
Step 7: Now, click on Process button to start the scanning process.
Step 8: You can see your mails by clicking on any mail in Mail section.
Step 9: MBOX to PST Converter Tool gives you an option to preview your emails in various views. For example; Normal Mail View, Hex View, Properties View, Message Header View, MIME View, Email Hop View, HTML View, and Attachment View.
Step 10: You can check the checkboxes corresponding to each email which you want to convert in PST and then right-click to Export.
Step 11: For bulk, conversion choose the Export button on the top of the menu.
Step 12: In this step again you will get two options.
Export All Folders:- This option will allow you to export all your MBOX files at once.
Export Selected Folders:- By choosing this option you will able to export only selected folders.
Step 13: Now, choose the desired location for resultant converted files by clicking on Change button.
Step 14: Now, select the PST as Export option
Step 15: After that, you can optionally choose the Split PST button to split the mailboxes data in the preferred size. Because Outlook gives you 50 GB of storage space and if the data item exceeds the limit of storage, then data will start to corrupt.
Step 16: After all the settings, click on Export button to start the process of conversion.
Step 17: After the Export process completed successfully click on OK button.
Conclusion
If you are searching for fast and reliable software for MBOX to PST conversion process then you can trust MBOX to Outlook Converter because there are thousands of satisfied customers of this product, who use this software and they do not have any problem regarding this tool. Eventually, after considering all the features of this product I would like to rate this tool 9.5 out of 10. The demo version of this tool is also available to explore the features of the software. So download the tool and start the conversion of MBOX to PST in a smart way.