An Alternative to Google Takeout – Personal & Business
Best Google Takeout Alternative Tool

This blog is aimed at discussing the user problems where they search for a Google Takeout alternative tool that would backup Gmail account data or export G Suite data. We will find the best alternative tool for Google Takeout and much more.
Let's look at one user's issue regarding Google Takeout.
"Browser: Google ChromeOperating System: Windows 8
Drive on the Web
To whomsoever, it may concern,
I attempted to download my data from Google Takeout many times but this Google Takeout fails every time when it comes to 99.9%. It prompts a "network failed" error. I have wasted a lot of my internet usage and time in downloading 2.11GB of my Google data but I failed every time.
I urgently need to save emails to hard drive.
Please help me immediately. Thank you."
Like the above-mentioned user queries, there are many cases where the users face problems because their Google Takeout doesn't work. So let us talk about some of the most common Google Takeout error.
Why Users Need a Google Takeout Alternative?
Some Google Takeout error that the users are having are as follows:
Query #1: "I was able to download the small size (2GB) files after the 2nd or 3rd try. But now I cannot complete a download of my 15.45GB Gmail archive. I keep getting the Google Takeout Network Failed error message.How can I contact Google Takeout Help team? I need to download an archive of my Gmail account ASAP. Thank you."
Query #2:
"Hello,I need to backup my Google Drive, its size is 13GB.
Thus, I launched Google Takeout, I selected the service and it started the process; then, after 47 minutes, it was 100% complete and I am unable to download the ZIP file because it says the process has failed.
Any ideas regarding this?
Best Regards"
Query #3:
"Hi,I want to use Google Takeout to download all my 15K photos. When I download the archive there are only about 2000 photos that get downloaded.
It's a big problem for me if I will never be able to download photos. Please help me out, guys.
Thanks"
Query #4:
"Users Affected: ALLProblem Description: Cannot Use Google Takeout – Disabled on my domain
I want to use Takeout to save an archive when any user leaves my domain. When I visit the Takeout page and try to do this then I receive an error that it isn't enabled.
How can I enable this useful feature? Or is there any substitute tool that can help me save multiple user accounts data at once? Please help me with how to use Google Takeout.
Thanks!"
Query #5: "I am trying to change the file type (.zip/.tgz) of Google Takeout backup but I keep getting incomplete archives. I have requested for at least 9 takeouts. Any ideas, please help me?"
Query #6: "Since I want to backup all the G-Apps email account data from all of our users. I was wondering if this can be done by the admin for all accounts in my domain? Or will I have to perform Google Takeout process for each user? Please help me as I am unable to understand how does Google Takeout work!"
Google Takeout Errors
After looking at the above-mentioned user problems; we can infer that the Google Takeout limitations that made the users search for Google Takeout alternative are as follows:
Has Backup Size Limitation: In the case of backing up Google user account data, there is a size limitation and users face errors when the size limit is exceeded.
Google Takeout Fails Frequently: Seems like Google Takeout fails even when the backup procedure is 100% complete and it shows the error: Google Takeout Process Failed.
Google Takeout Disabled: This error occurs when a backup isn't successful as the admin faces an issue of permissions.
Downloading Photo Fails: This error is a Google Takeout download error which occurs when you to try to download a large number of photos from Google Photos. The backup of photos done is incomplete.
Google Takeout Network Failed: This error occurs when the internet connectivity fails and there is no option to resume the process even when the internet is connected
Cannot be used for Multiple User accounts: An admin user cannot perform a download of multiple Google Workspace user account data. Downloading multiple Google users' account data is not possible.
Google Takeout Archive Incomplete: Similar to Google Takeout error 4; the users face issues when they create archives as the resultant archive ZIP file contains incomplete data.
Google Takeout Slow: Downloading files using Google Takeout takes a lot of time.
Efficient Google Takeout Alternative Software
Therefore we can say; Google Takeout has many limitations. The users should not compromise on such failures and should rather seek a substitute program of Google Takeout.
Let's discuss a tool that allows us to overcome the disadvantages of Google Takeout and helps to download data from Google Workspace and standard Gmail account.
Download Now
(for Gmail) Download Now
(for Workspace)
Note: This Google Takeout Alternative application is suggested on the basis of satisfactory customers ratings and features.
Why should we use this software as Gmail Takeout Substitute?
These tools have user-friendly interfaces which allow the user to use and save their Gmail account and Google Workspace email account data efficiently.
The following is the screenshot of the User interface of these tools:
—> UI of the software Google Takeout alternative for Gmail account:
—> UI of the tool for Google Workspace email account: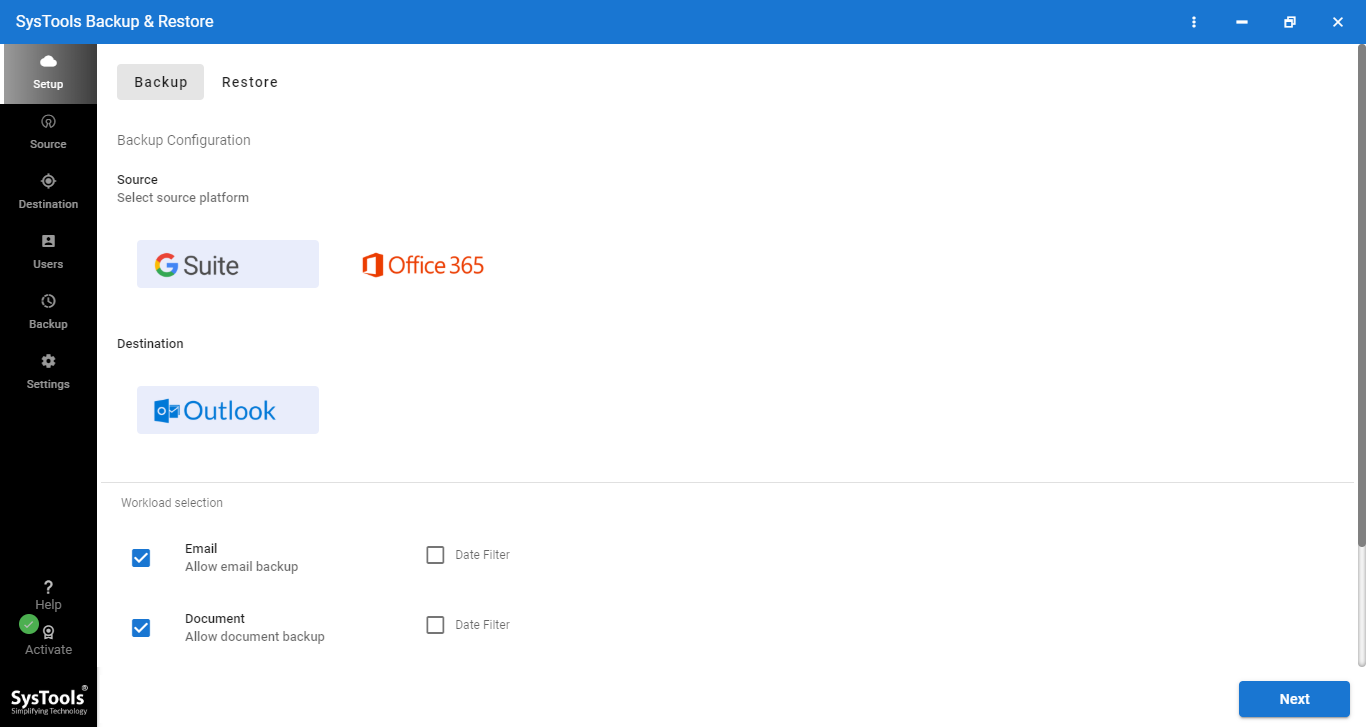 Another best feature is that these tools have no size limitation for saving Google data locally (tested for 2TB data).
These applications provide options to download single as well as multiple free or paid Gmail account data also.
You can resume the process from where it stopped due to internet connectivity issue or any other issue. These programs provide uninterrupted facility to save free or paid Gmail account data.
As compared to Google Takeout, these programs are faster as the users get the option to manage the internet bandwidth.
This utility also saves your email attachments too and keeps the formatting of its meta attributes intact.
The utility for Gmail provide the downloaded data in various formats like EML, MSG, PST, and MBOX.
There is also an option to download selective data or folders using these Google Takeout alternative software.
Conclusion
In this blog, we have discussed the reasons why a Google Takeout alternative is in need, the Google Takeout error, tools that are much more reliable and efficient to use as compared to Google Takeout and the features of these utilities.
In conclusion to this blog, we can say that the users are frequently facing multiple problems when they use Google Takeout; Hence a Google Takeout alternative software can be utilized by the users in order to achieve the following functionalities:
Migrate single or multiple Gmail or Google Workspace email account data.
Less time consumption.
No size limitation.
Uninterrupted Gmail or Google Workspace email data download.
Note: It is preferable to use the trial version of these Google Takeout Alternative tools before opting for the full licensed version of the software. This ensures that the software working is synonymous with your needs.