Convert Outlook Email to HTML : Explore Some Popular Methods
Are you an Outlook PST user but need to convert your data in HTML format? Do you want to open a PST file without Outlook by simply using your web browser? Stay tuned, as this blog is going to explain two easy methods to convert Outlook email to HTML.
Since Outlook data is stored in PST format and this file type is not compatible with any other email client, users find it difficult to access PST data without Outlook. If someone is looking for an easy way to open and access Outlook PST file without Outlook, opening the file in the web browsers is a convenient option. And to do so, they need to convert Outlook emails to HTML.
Benefits of Using HTML File Format to Open Outlook Emails
HTML is deemed as one of the best file formats to save email messages. This file can be easily opened in any web browser including Firefox, Chrome, Safari, Internet Explorer, etc. If someone has orphan PST file and want to open data quickly, they can go for PST to HTML conversion.
Reasons to Convert Outlook Email to HTML
Outlook PST file needs Outlook installation to access the data. But, not having MS Outlook should not be the hindrance on your way to open PST file. Converting the data to HTML is a great option for you. If you save Outlook PST email to HTML, you will be able to open and read the Outlook data in web browser.
User Query Related to Outlook Email Conversion
"I have come across an orphan PST file that I need to access and read some emails. I do not have Outlook installed on my computer and neither wish to do so. So I am considering other ways to open Outlook emails without Outlook installation. I have read that saving Outlook emails to HTML is a good option, but I am unaware of the technique. Can anyone suggest me a viable approach to export PST data to HTML without Outlook. I will be ever grateful. Thanks."
Techniques to Save Outlook Email in HTML Format
There are two commonly-used techniques to convert Outlook email to HTML file format. These are manual method and smart method. Here, we will discuss both the techniques for you.
Manual Technique to Move Outlook Messages in HTML
To open emails from Outlook to HTML format with manual options, follow these steps:
a. Start Outlook email client on your computer.
b. Open the email that you want to save as HTML formatting.
c. Select File menu and then choose "File Save As" option.
d. A window will appear pop-up on the screen. From it, you have to choose the folder where you want to save the converted data.
e. Also add a file name choose HTML as the File Save As option to convert Outlook email to HTML.
f. Click on Save and the selected PST email will be saved as HTML format.
Limitations of the Manual Approach
The manual approach we just discussed above is easy to perform. But it is only suitable for single Outlook email conversion. If the requirement is to convert multiple Outlook emails manually, users need to perform this same method repetitively. Thus, the process will become lengthy and time-consuming for the users.
Automated Solution to Convert Outlook Email to HTML
As you have read in the earlier section, it becomes really tedious for the user to perform bulk Outlook emails into HTML format. Nowadays, people do not have time to perform such lengthy processes. Hence, people choose to use some smart solutions like PST Converter for this purpose. This application is the perfect software to save PST messages in HTML.
Besides converting Outlook emails, the software can also save other PST data like Contacts, Calendar, Notes, Journal, Tasks, etc. Not only that, they can also use this program to export Outlook data file in different other formats like MSG, EML, VCF, ICS, etc. This application can also process orphan PST file without Outlook installation. Using this utility, date-based email conversion and selective email migration are also possible.
Steps to Save PST Email Data to HTML
Here are the steps for running PST Converter Tool for PST to HTML export.
Step 1: Download and install Outlook PST Converter.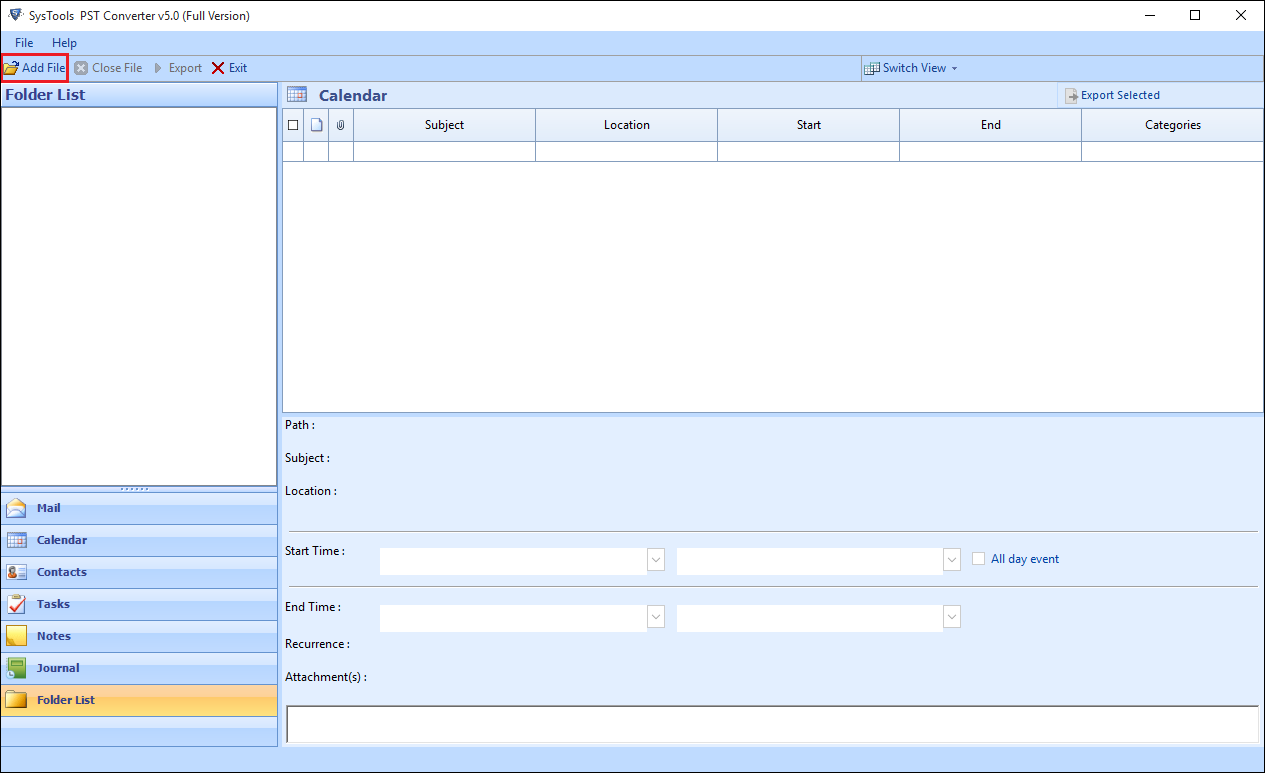 Step 2: Open the software to add PST files.
Step 3: Preview Outlook emails and choose HTML from Export file list.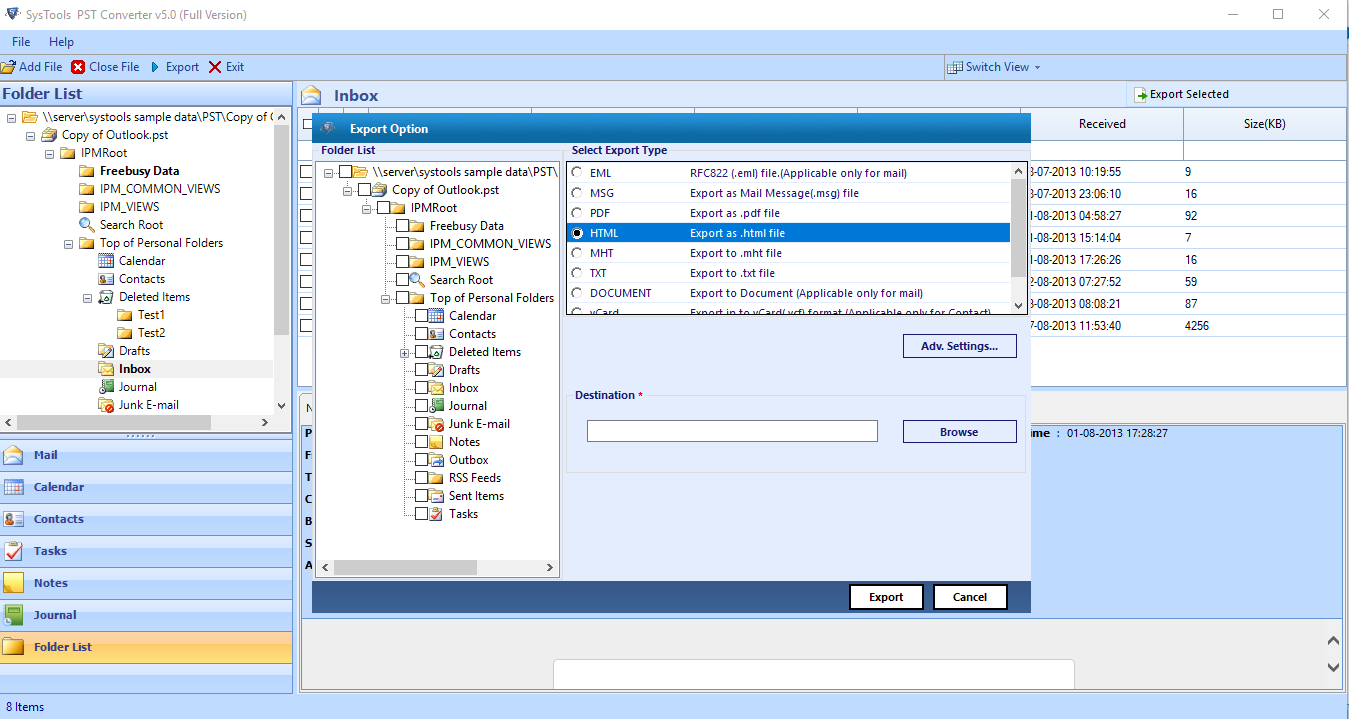 Step 4: Apply advanced settings and click on Export.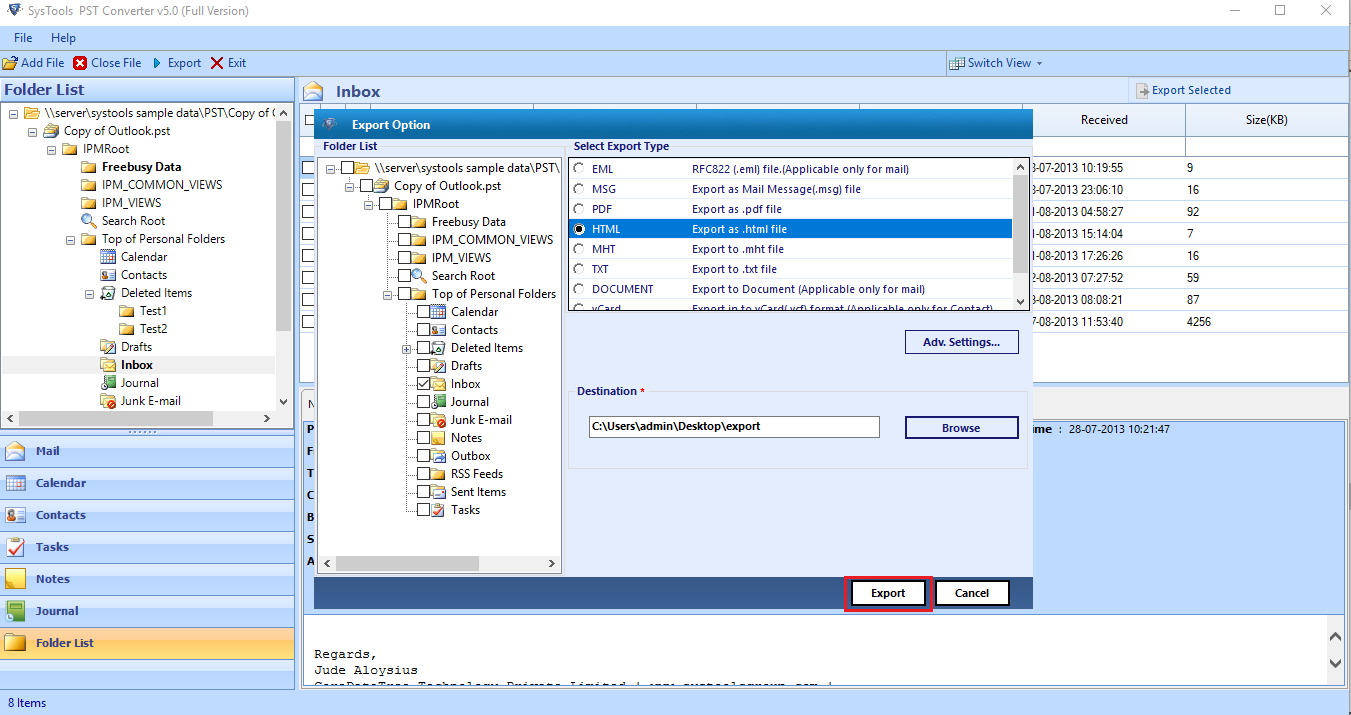 Conclusion
All web browsers support HTML file format and for this reason, people often want to convert Outlook email to HTML. By doing so, users can open PST data on browser without installing Outlook application. This blog discussed some popular methods with step by step guide. Users can choose the methods based on their needs and apply them without facing any trouble. Since the software allows a quick and hassle-free way for PST to HTML export, this should be your choice for multiple email conversion.