Reliable Methods to Convert PST to PDF File with Attachments
Microsoft has provided the Outlook application for personal data management and communication purposes. However, its usage is very common among users. But, it is known to all that PST file emails can be easier to carry around and share when they are stored in PDF format. The following segment will explain how to convert PST to PDF files using various approaches.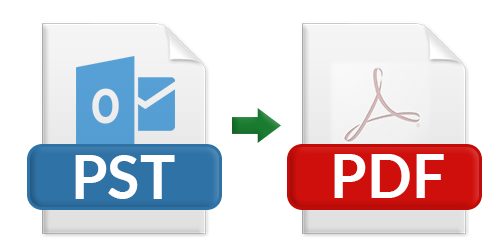 Benefits of Converting Outlook PST file into PDF
There are plenty of benefits associated with Outlook. However, converting its email data to PDF has some advantages too, such as:
The messages are easier to carry around with wider accessibility options
Opening Outlook messages are no longer dependent on the email platform
Emails can be read as well as shared with others after conversion in PDF
Single message archiving/backup becomes feasible and convenient
PDF being the best and most versatile document format out of all the rest is the chosen one by most users when planning to store messages. It often leads to scenarios where one must export multiple Outlook emails to PDF. Since Outlook primarily uses 4 formats across Windows and Mac OS, there are 4 such scenarios:
PST to PDF
OST to PDF
OLM to PDF
Here, we will focus on the first and most searched query i.e., PST to PDF conversion.
How to Convert PST into PDF with Different Methods
Two ways can be opted for converting emails from PST file to PDF format. The first one is by doing it manually without using any extra software, while the latter suggests the use of a third-party application.
Free Manual Methods
Keep in mind that to use manual methods, you must have Microsoft Outlook installed on your system. After all, you cannot convert the data for free without actually accessing it. So, import the PST file in Outlook and use either of the given manual solutions.
Copy-Paste Method
Built-in Outlook Option
So, let us start.
Copy-Paste Method to Export PST Files into PDF document
In order to convert emails from PST files manually, you can go for the standard process of copy-pasting the contents to a Microsoft Word document. However, in order to copy-paste content into a PDF file, you must have a licensed copy of Adobe Acrobat. Nevertheless, if there isn't one, the following workaround can be used as an alternative solution:
NOTE: Office 2007 and previous versions don't offer the option to save file as PDF, so this method only works on Microsoft Office 2010 and later versions.
1. Copy the contents of your email by using CTRL + A command followed by CTRL + C.
2. Open a blank document on Microsoft Word and paste the contents into the file.
3. Now while saving the document chooses the Save As type as PDF.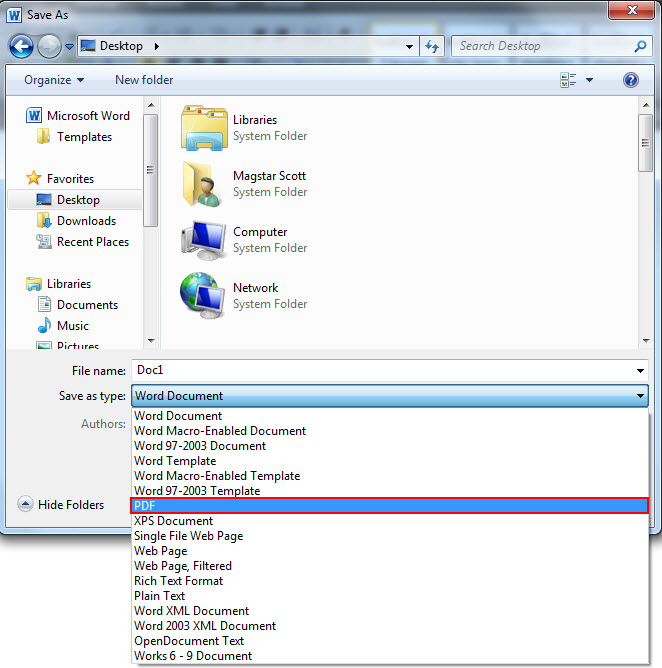 4. Save the document with the name of your choice at a desired location on the machine. This will save PST email into PDF file.
It is clear that the method will not include message header details and other properties related to the email, which might make it hard for you to distinguish them from the other emails.
In order to include the message header details along with the message body, you can use the Forward option before copying the message. Click on Forward and the message-related details and basic header details are included in the message body, which can be copied to the document and then saved as PDF.
Built-in Outlook Option to Print Emails in PDF Format
In this method, we will use the Print command in Outlook to get PDF files.
Open the PST file email.
Hit the Ctrl+P key.
Click on Print options.
Select Microsoft Print to PDF in the dropdown menu.
Also, tick the Print to a file checkbox.
Click on the Print button.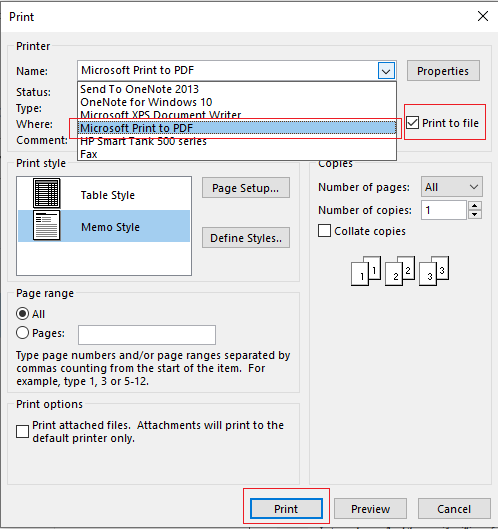 In the window that appears, browse the location where you want to save the PDF file.
Select All files in the file type dropdown and give a name to the PDF file ending with .pdf extension (like this name.pdf).
Save the file.
That's it. You can open the PDF file to view your data.
You will lose all your attachments here. A better way is to go for the professional automated solution.
Automated Solution to Convert PST Email Data in PDF File
Using the manual procedure for converting PST email messages to PDF is a tiresome method owing to the fact that it works with only one message at a time. This results in the consumption of a lot of time, especially with bulk Outlook PST emails.
Instead of going for this lengthy method, you could rather choose a third-party tool. For instance, PST migrator for Outlook is one of the most used applications in the market that offers guaranteed output and performs the conversion in bulk. All you have to do is, select the Outlook data file containing messages for conversion and use it with the tool. The output PDF files are saved at the defined location without demanding extra effort from the user. Moreover, the email attachments are also embedded within the respective output PDF files.
Here, we are explaining only the Windows-based software. You can also use the Mac-based utility, if required, from the migrator page.
Steps to Convert PST into PDF Using Software
Step 1: Download and launch PST to PDF Converter.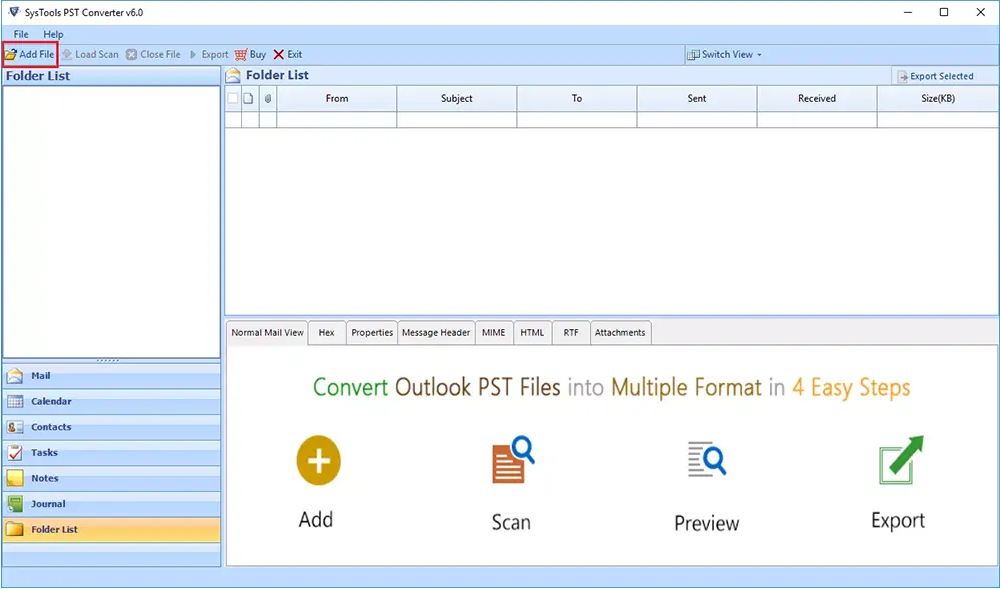 Step 2: Click on Add File button and add PST file to convert into PDF.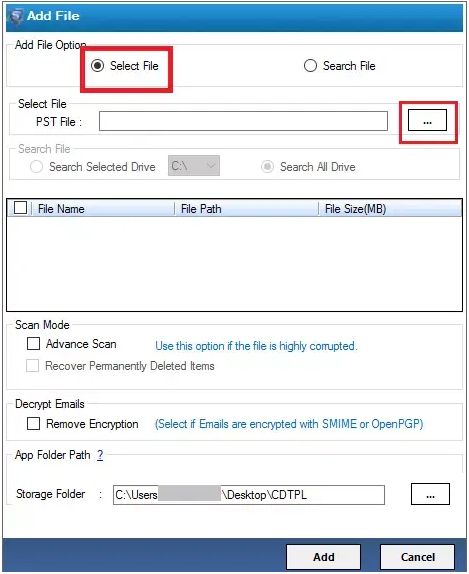 Step 3: Preview emails and click on the Export button.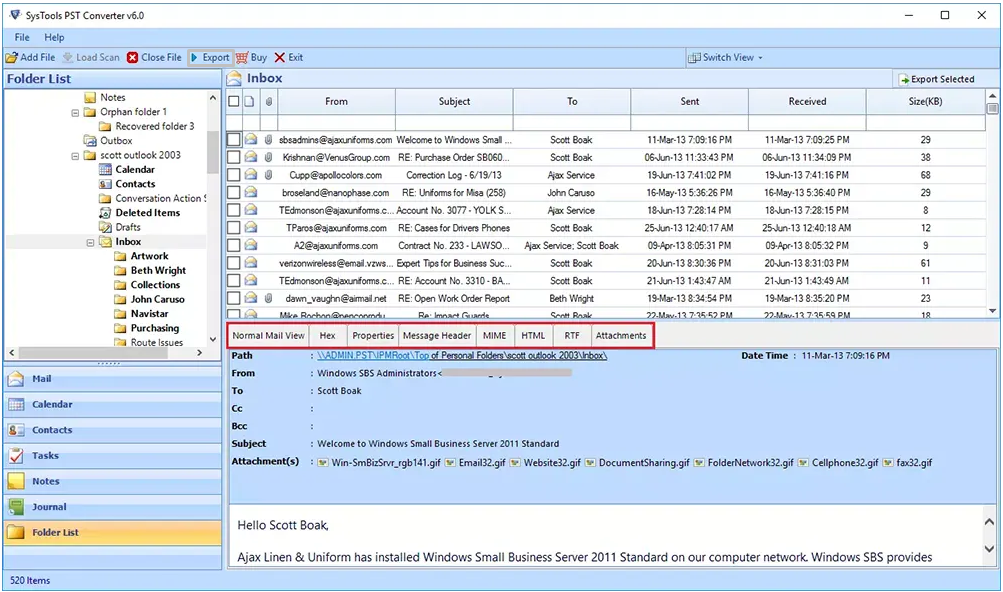 Step 4: Choose PDF as the export type from the given list of options.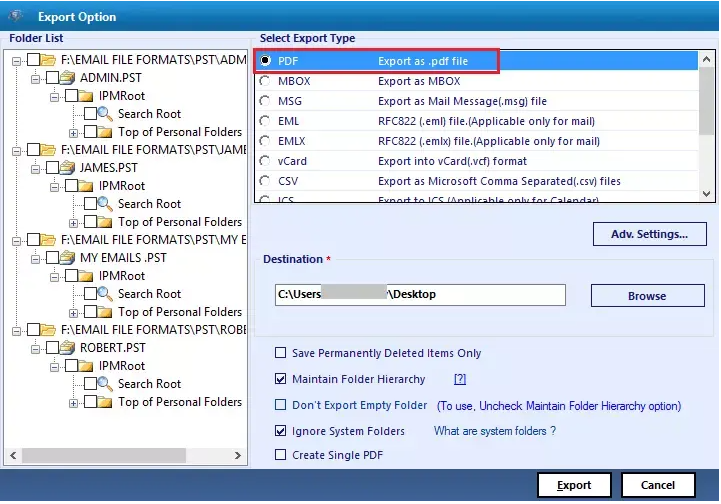 Step 5: Select Advanced Settings to apply PDF-related settings.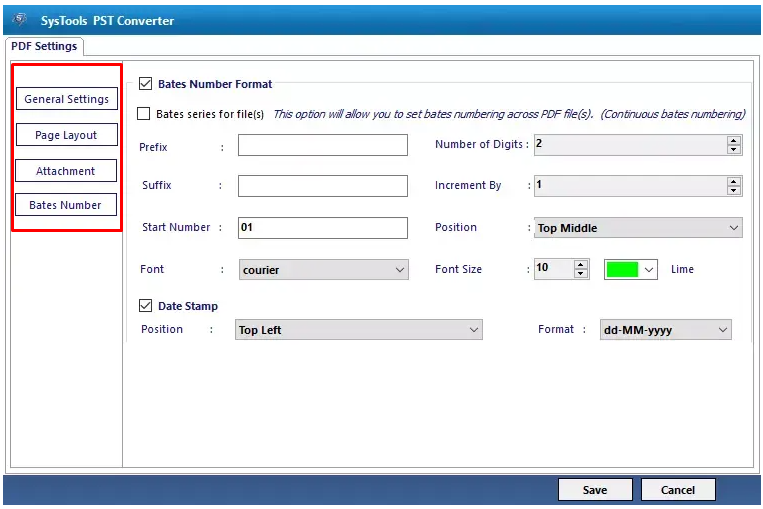 Step 6: Click on the Export button and the tool will start converting PST files into PDF with attachments.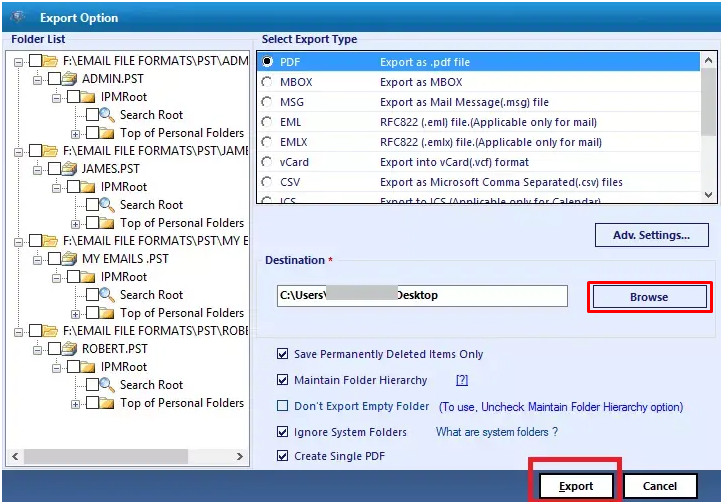 Concluding Words
Now you know how to convert PST into PDF with and without using an application. Choose the method that suits you most and proceed accordingly. If you are looking for a free method, the manual method will be suitable for you. But if you are looking for a smooth and error-free process, the recommended software is the best for you. It even repairs corrupt PST files before conversion if you use the Advanced scan mode in the Add File window.