Extract All Attachments from Gmail – Best Guide
This blog is aimed at presenting how we can extract all attachments from Gmail, the manual & automated ways by which we can do so & much more.
Why should we Export Attachments from Gmail?
Let's explore scenarios where users prefer to export Gmail attachments to hard drive.
Scenario #1: "All the attachments in my Gmail inbox are using a lot of space. I want to backup Gmail emails and attachments from Gmail to the desktop so that I can free my Gmail storage space. Please suggest ways to do this. I need a solution that would download all attachments from Gmail at once."
Scenario #2: "I need copies of my Gmail attachments at my desktop because I frequently face internet outage. This causes a lot of trouble; so please suggest a solution to download Gmail attachment in bulk. Thanks!"
Scenario #3: "I recently came across a feature that allows us to download all attachments of an email at once. I was wondering if there is any method to export multiple attachments from Gmail emails at once?"
In conclusion to the above scenarios, we can say that the reasons to copy Gmail attachments on local drive are:
Free Gmail storage by saving attachments to hard drive & then deleting the attachments from Gmail.
Keep the attachments locally so that they can be accessed in case of internet connection loss.
Bulk download Gmail attachments for offline access.
Let's find out methods to extract all attachments from Gmail.
How To Extract All Attachments From Gmail Manually?
We can download Gmail attachments manually. Let's explore how.
Export Gmail Attachment To Computer:
Open the Gmail account and choose an email whose attachment needs to be extracted.
Bring your mouse cursor over the thumbnail, then click the Download button.
Export Gmail Attachments On Android Phone:
Open the Gmail app.
Open the email.
Tap on the Download button.
-> Extract Photo From Inside An Email
Some photos are sent inside an email message, and not as an attachment. If the photo was inside the email:
Open the Gmail app.
Open the email.
Touch & keep holding the photo.
Tap on View image.
Tap on the photo.
In the top right, tap on More.
Tap on Save.
Save Gmail Attachment to iPhone and iPad:
-> Extract a Photo Attachment
Open the Gmail app.
Open the email.
Tap on the attachment to open it.
Tap on the attachment again.
In the top right, tap on the Share icon.
Tap on Save Image.
Drawbacks of Manual approach
The above-mentioned manual method to move attachments from Gmail has various limitations, they are:
We cannot download Gmail attachments in bulk from all the emails.
We have to save each file individually which is frustrating as well as time-consuming.
In order to overcome the above-stated problems; we should try an alternative method to do so.
The best possible substitute for this manual method is using a tool that automatically extracts attachments from Gmail account.
Automatically Extract Attachments from Gmail Account.
The best-automated tool to extract all attachments from Gmail is a tool to backup Gmail data. After all, it provides a dedicated option to save the attached files on disk. Other advanced options like folder filters and time filters allow selective data export which benefits many users.
Let's discuss the features of this tool & why we should prefer this tool as an alternative to download all attachments from Gmail at once.
Why should we use this software?
This tool has a user-friendly UI that allows the user to use and save their Gmail account attachments easily.
This software keeps the formatting of the downloaded attachments intact.
You get to bulk download Gmail attachments to your flash or local drive.
There is a delete after download feature that allows you to delete emails with attachments after their download is complete.
Provides folder filer to export selective Gmail mailbox attachments locally.
You just need to select data items you want to save & the downloading process will start & all the items will be extracted automatically.
You get an uninterrupted facility to save Gmail attachments as you can resume the process from where you left it.
Users can export emails from Gmail to PST, MBOX, EML, MSG, and PDF file formats which can be accessed on Thunderbird, Outlook, Outlook Express, Mac Mail.
Another attractive feature of this software is that; It provides an option to migrate Gmail calendar to ICS and Gmail contacts to VCF files.
Steps to Extract Gmail Attachments:
1. Start the software and complete the login process.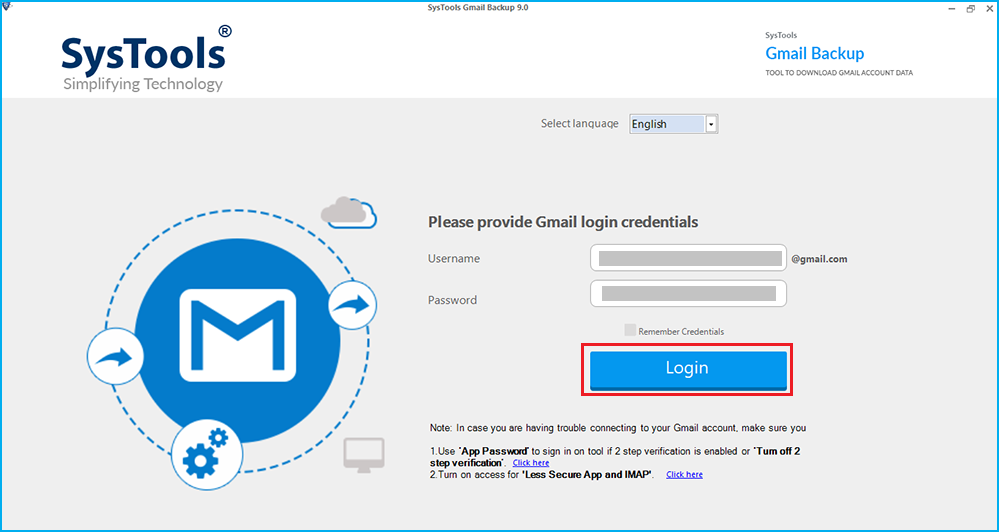 2. Select "PDF" from the dropdown list, then choose "Save attachment on disk".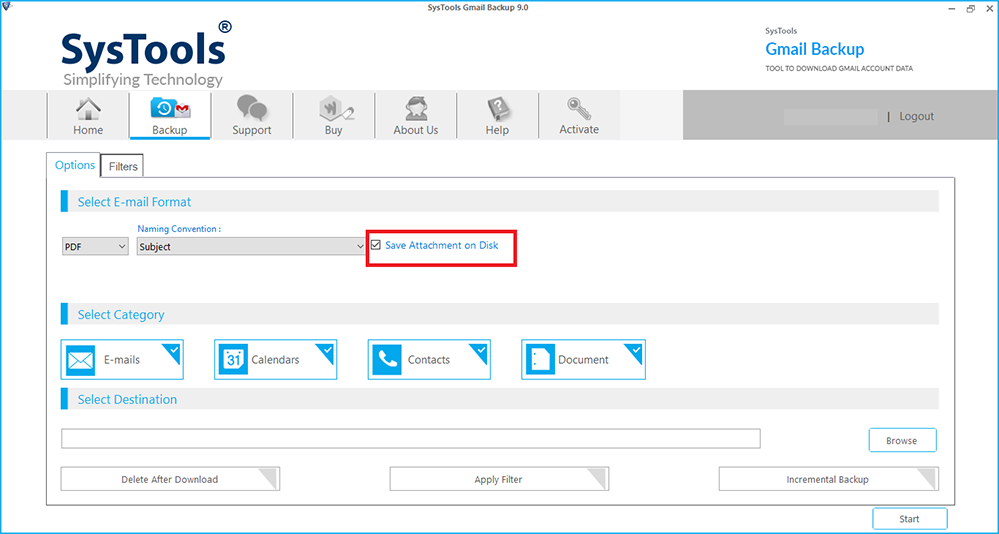 3. Select E-mails from the Category section.
4. Click Browse to select the destination to save all Gmail attachments.
5. Click Start to start exporting Gmail attachments to computer.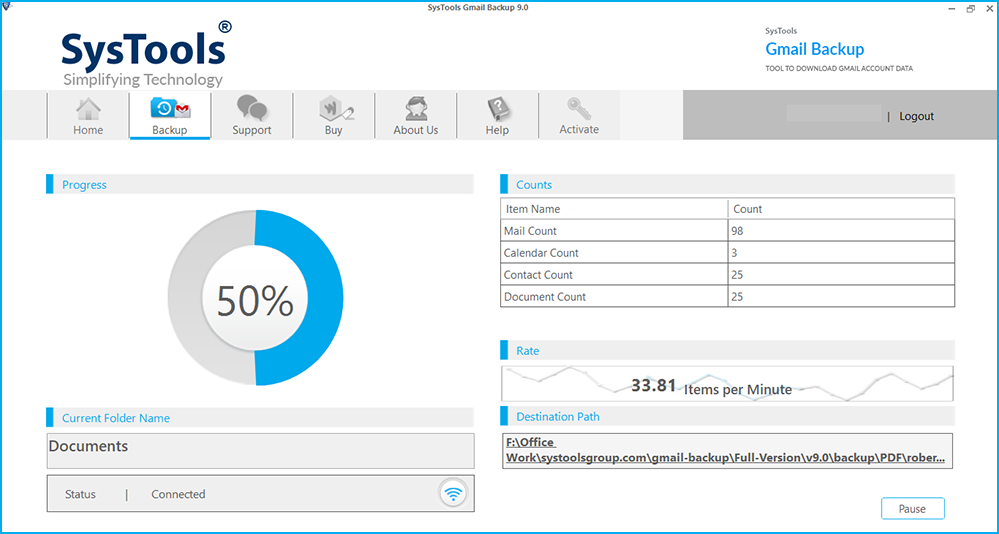 6. Finally, go to the folder that contains all the attachments.
It is evident from the above steps that the software incorporates methods to save attachments on disk when PDF is selected. It means that the tool will export Gmail emails to PDF and save the subsequently attached files all at the same time. If you don't require the PDF documents, ignore or delete them and focus on the saved attachments.
Conclusion
In this blog, we have explored why we should extract attachment from Gmail to desktop, how to save Gmail attachments manually as well as using an automated solution that would extract all attachments from Gmail in a more efficient & easier manner.
In conclusion to the above-stated issues; we can conclude this automated software could be used to achieve the following motives:
Extract all attachments from Gmail at once.
Copy contacts & calendars from Gmail account to your hard drive.
Keeps formatting of the attachments intact.
Consumes less time.
Automatically downloads the attachments.
Automatically delete emails & attachments after downloading them to free Gmail storage.
Note: It is recommended to use the trial version of this tool before investing money in it.