How to Repair Corrupt Outlook PST File in 2022 – Verified Methods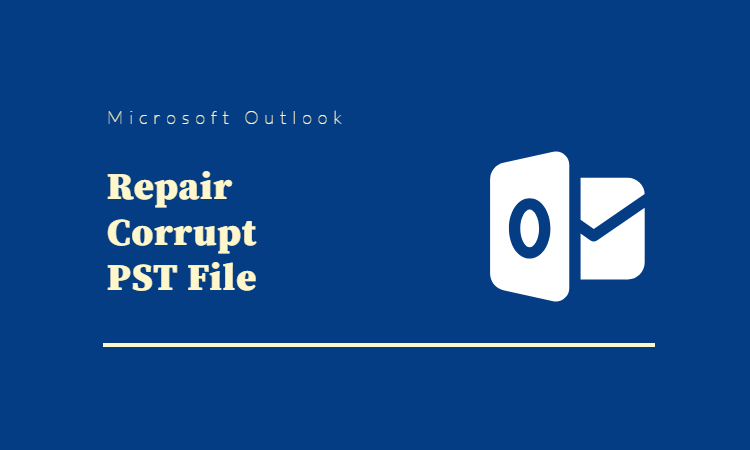 Microsoft Outlook Personal Folders File is prone to errors and corruption. It is evident from the sheer number of queries you find on the internet that the Outlook data file (PST) is easily damaged. But, you cannot just stop using an otherwise excellent utility like Microsoft Outlook because of this. Therefore, in this write-up, we will guide you through the process to repair corrupt PST file.
Microsoft Outlook comes with an in-built utility to fix Outlook data file. And normally, it is sufficient to deal with PST file corruption. But, we will go one step further and show you what exactly to do after you successfully repair PST file with ScanPST, the in-built utility. After all, you need to take a few actions to recover the fixed data.
Table of Content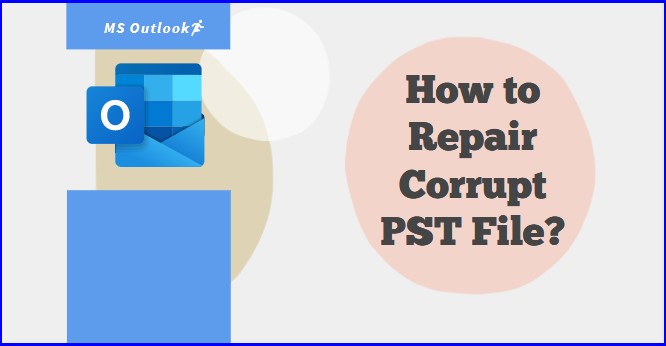 Location of Outlook's Inbox Repair Tool
Outlook's in-built Inbox Repair Tool, also known as ScanPST, is installed along with Microsoft Outlook. It is present in the default installation directory of MS Outlook. SO, you will need to locate it first before using it.
Given below is the location of Inbox Repair Tool for different Outlook versions:
Outlook 2019 & Outlook 2016:
C:\Program Files (x86)\Microsoft Office\root\Office16
C:\Program Files\Microsoft Office\root\Office16
C:\Program Files (x86)\Microsoft Office \Office16
C:\Program Files\Microsoft Office \Office16
Outlook 2013:
C:\Program Files (x86)\Microsoft Office\Office15
C:\Program Files\Microsoft Office\Office15
Outlook 2010:
C:\Program Files (x86)\Microsoft Office\Office14
C:\Program Files\Microsoft Office\Office14
Outlook 2007:
C:\Program Files (x86)\Microsoft Office\Office12
C:\Program Files\Microsoft Office\Office12
How to Repair PST File with ScanPST Utility?
Now that you know where ScanPST exists, it is time to repair corrupt Outlook PST files with Inbox Repair tool. Follow these step-by-step instructions to recover and extract emails from damaged PST file in an easy manner:
Close Microsoft Outlook application.
Navigate to the aforementioned location where ScanPST exists.
Right-click on it and Run as administrator option.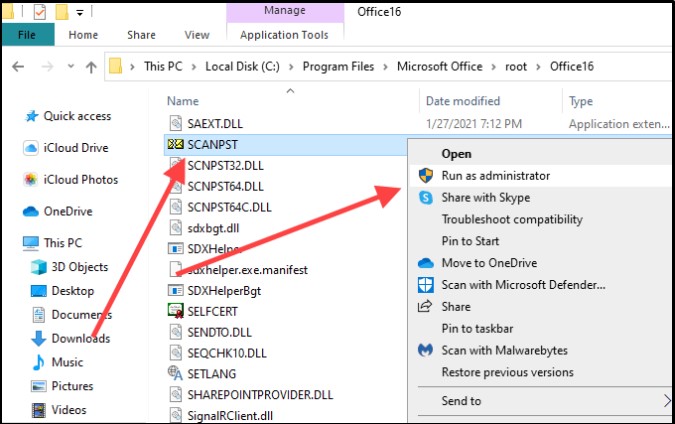 Click on the Browse button to select the PST file you want to repair.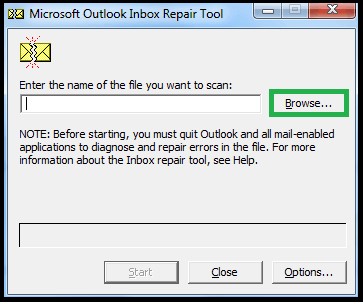 If you are unaware of the location of PST file, then Open Outlook, go to File | Account Settings | Data Files to view it. Then, follow the steps from the beginning.
Click on Start button to start the scanning process. Be patient since it may take a while to check the PST issues.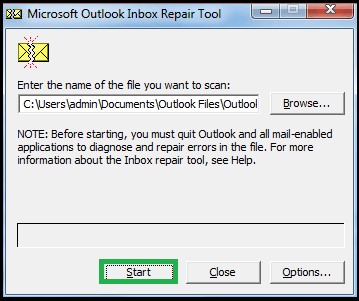 Make sure to tick the checkbox of Make backup of scanned file before repairing and click on the Repair button.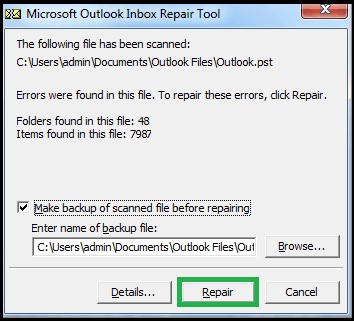 After repairing the PST file, click on the OK button.
Run Microsoft Outlook, and it should automatically start using the repaired PST file. If you use multiple profiles, then make sure to choose the profile with the PST file you repaired earlier. Also, you will find a BAK file in the same location as the repaired file.
Recover Personal Folders or Lost & Found Items
Inbox Repair Tool sometimes places the recovered items in a separate folder instead of their original place. In such cases, you will need to create a new PST file and move the recovered data into this file.
The recovered data is present in either the "Recovered Personal Folders" or "Lost and Found" folder.
In Outlook, go to File | Account Settings | Account Settings.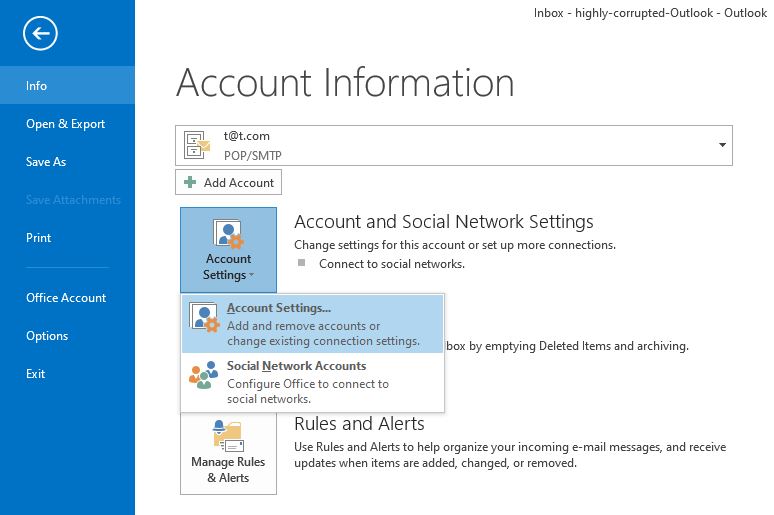 Go to the Data File tab and click on the New button.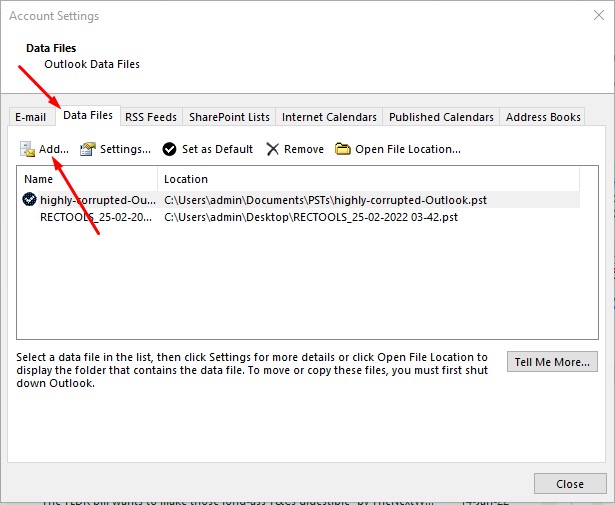 Give a name to your new PST file and click the OK button.
Drag the contents of the Recovered Personal Folders or Lost and Found to the newly created data file.
After that, you can choose to delete the Recovered Personal Folders or Lost and Found folder from Microsoft Outlook.
Recover Additional PST Items from BAK File
If you are missing some data items even after recovering them from the Recovered Personal Folders or Lost and Found folder, then you can try to get them from the original backup copy. This backup copy is none other than the BAK file that the ScanPST tool created before repairing corrupt PST file.
Do take care to copy data items that are missing from the repaired PST file but are present in the original copy. This is to avoid duplication of data.
Make a copy of the BAK file on your computer (it is present in the same location where your repaired PST file is present).
Rename and change the extension of the BAK file from .bak to .pst (you may go to its Properties to do so).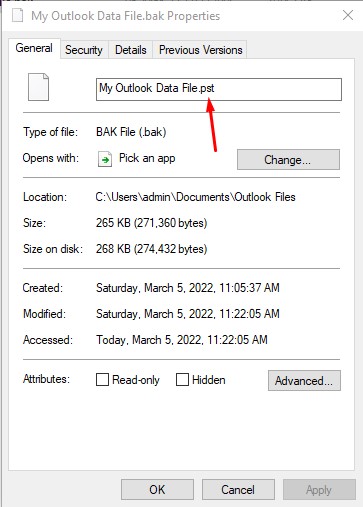 Now, go to Outlook File menu | Open & Export | Import/Export.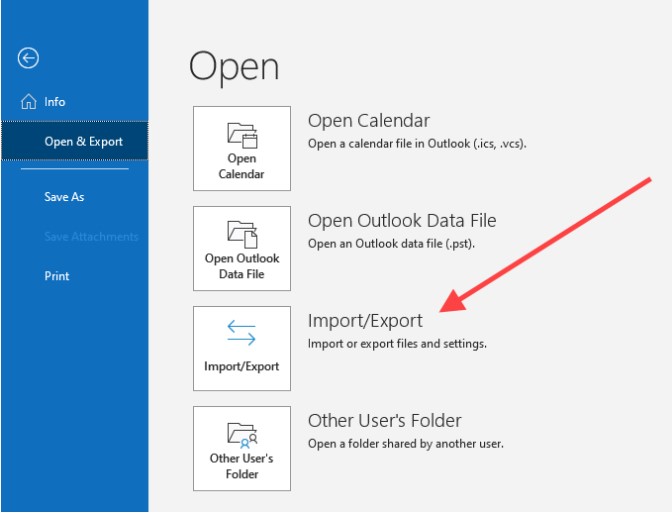 Choose Import from another program or file, then Next.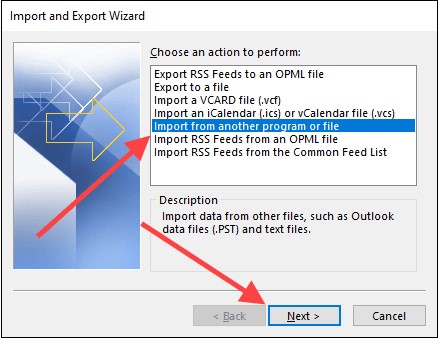 Choose Outlook Data File (.pst), then Next.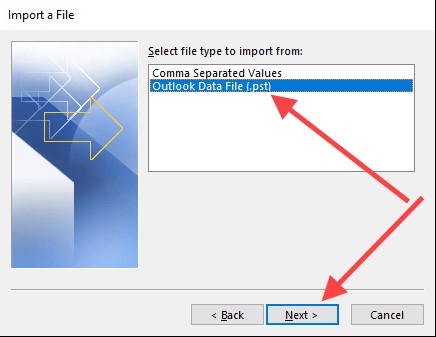 After that, select Browse and choose the Outlook data file that you just renamed.
Choose Do not import duplicates, then Next.
Tick the Include subfolders checkbox, select Import items into the same folder in, then choose the New PST file that you created in the previous "Recover Personal Folders or Lost & Found Items" section.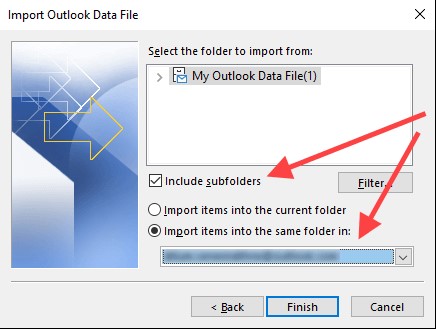 Click Finish button.
Now, you will have to manually confirm that the previously missing PST data items are now available. If not, then the PST data file is severely corrupted and it's beyond the scope of the Inbox Repair Tool.
Third party tool to Repair Corrupt PST File
When Inbox Repair Tool fails to resolve PST errors, whether corruption, damage, or other Outlook issues, a professional third-party tool to repair corrupt PST file is required.
Feel free to utilize PST Repair Tool for a safe and efficient fix. It repairs damaged Outlook PST file in a few simple clicks. Plus, you get to see the actual recovered items, even in the free demo version. Thus, you know what you are investing in beforehand.
This tool fixes the PST file regardless of the size or corruption level of the Outlook data file. It also recovers emails, attachments, contacts, calendars, tasks, and journals of Outlook 2019, 2016, 2013, 2010, 2007 & 2003.
Steps to Repair PST File without ScanPST:
Run PST Repair Tool on your system.
Choose PST scan mode: Quick & Advance.
Preview the recovered Outlook items.
Export repaired data in healthy PST file.
Video Tutorial to Showcase the Repair Process:
This is undoubtedly the best software to opt for when ScanPST does not work.
Frequently Asked Questions
1. How do PST files get corrupted?
There are many reasons behind this. Most issues are related to Outlook, PST file, and the computer system like the abrupt shutdown of Outlook, system crashes, virus attacks, interference of other programs like an antivirus or firewall, PST file too big to manage, bad hard drive sectors, etc.
2. How to prevent PST file corruption?
Take backup of your PST file at regular intervals.
Always close Microsoft Outlook manually before shutting down the Windows.
Keep checking the hard drive for bad sectors
Make sure that the PST file is not oversized
Get rid of additional Outlook add-ins.
If you can, avoid sudden interruptions to your power supply.
3. What to do if PST file is corrupted?
If the PST file is corrupt, you need to repair it. Thankfully, Outlook comes with an Inbox Repair utility to fix PST file. But, in case this ScanPST stops responding after clicking repair and is unable to repair PST file, then third-party tools are the best alternatives.
We have provided one such program in this article to repair corrupt or damaged PST file of Outlook 2019, 2016, and previous versions without any hassle.